Leia a análise em Português aqui
Martin Dunhoff, Audiovector Sales Director, travelled expressly to Portugal to present the Audiovector R8 Arreté loudspeakers at Ultimate Audio. JVH listens and reports.
I have listened to the Audiovector R8 Arreté for the first time, in November 2021. They play for a different team now, so I was delighted to hear them playing again at Ultimate Audio. This time at a public presentation by Audiovector's Sales Director Martin Dunhoff, followed by a tasty musical demonstration by Miguel Carvalho and, of course, with a completely different team line-up: 
Audiovector R8 Boulder Amplifiers, Inc. 3060
CH Precision L1/X1 
AQUA acoustic quality Diva Mk2 /Formula Dac 
IDEON audio absolute server 
Esprit Cables Gaia G9 cables 
Entreq Hero ground solution 
Critical Mass Systems Maxxum Rack
Photo gallery
x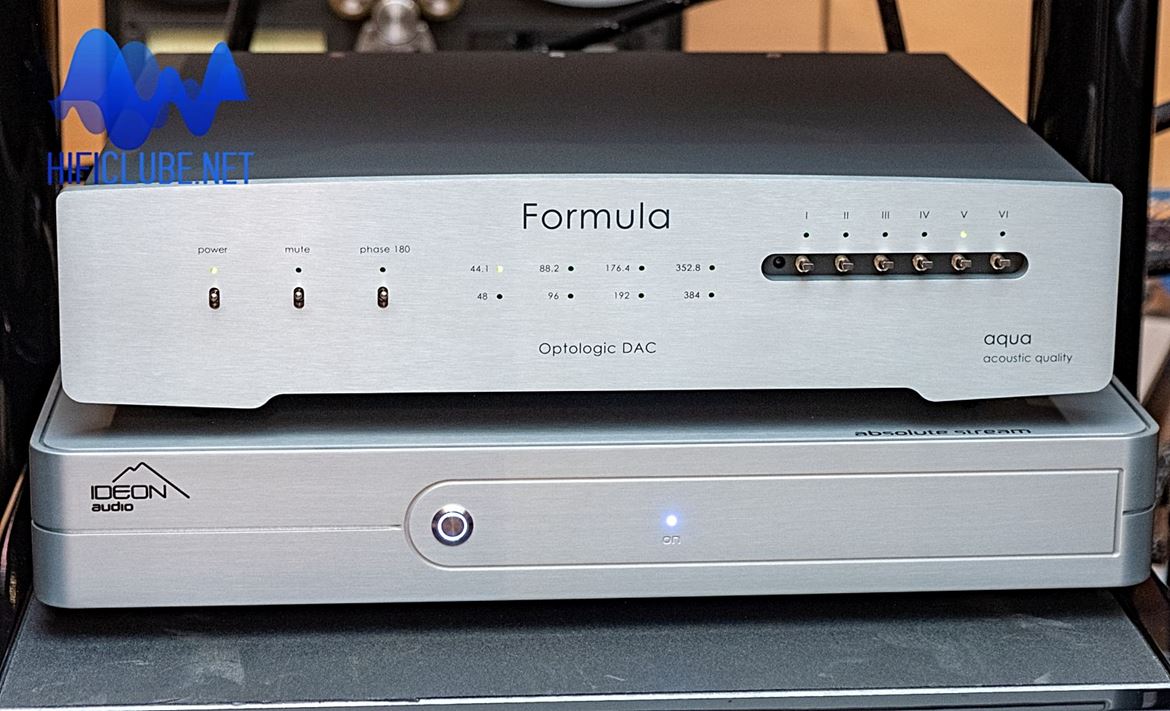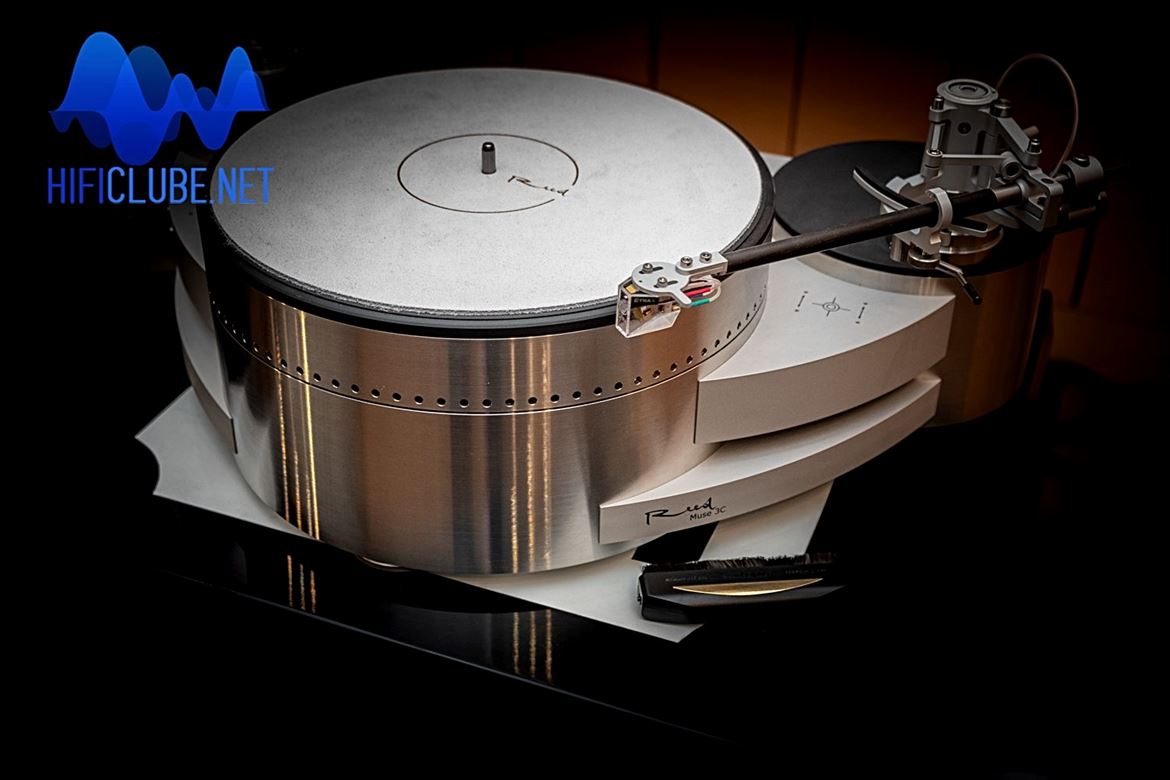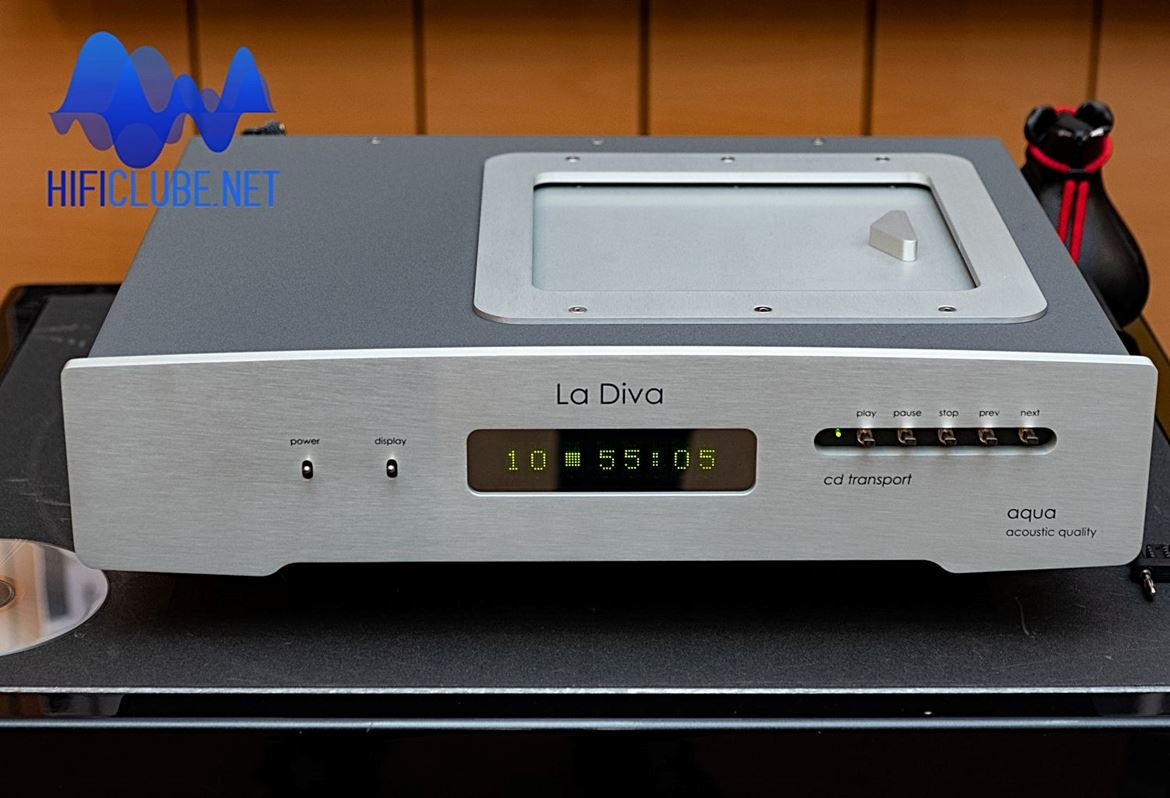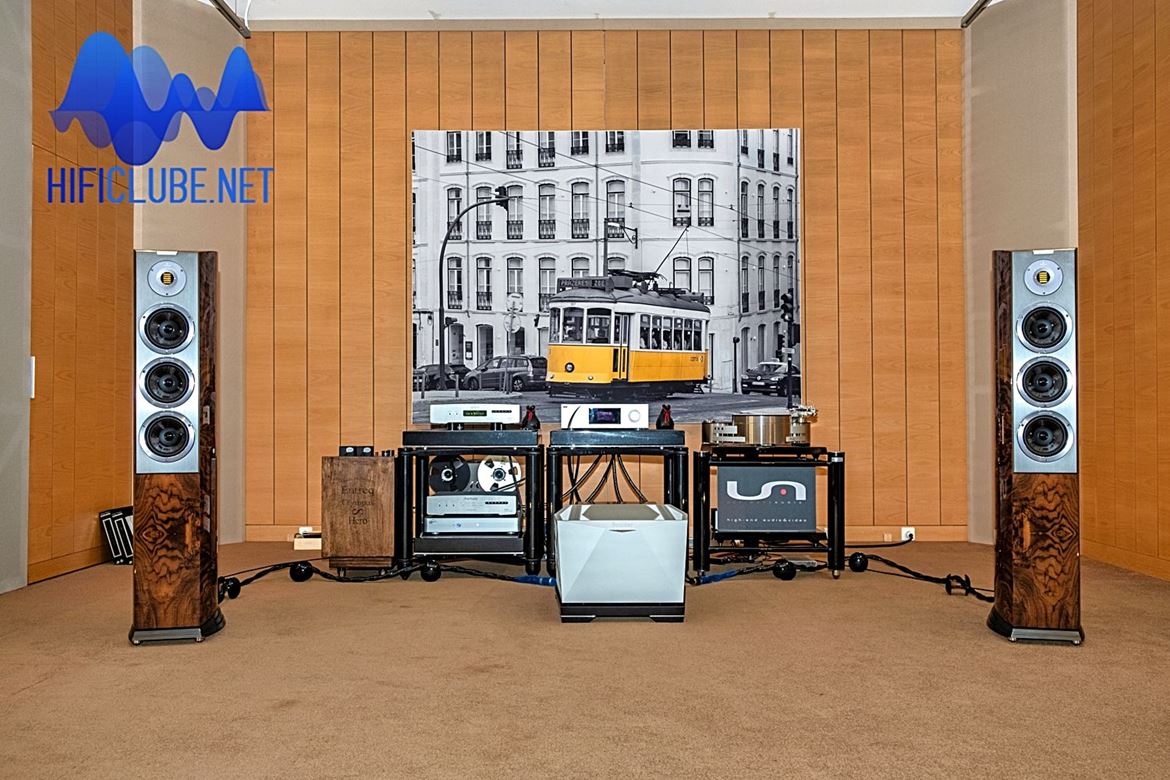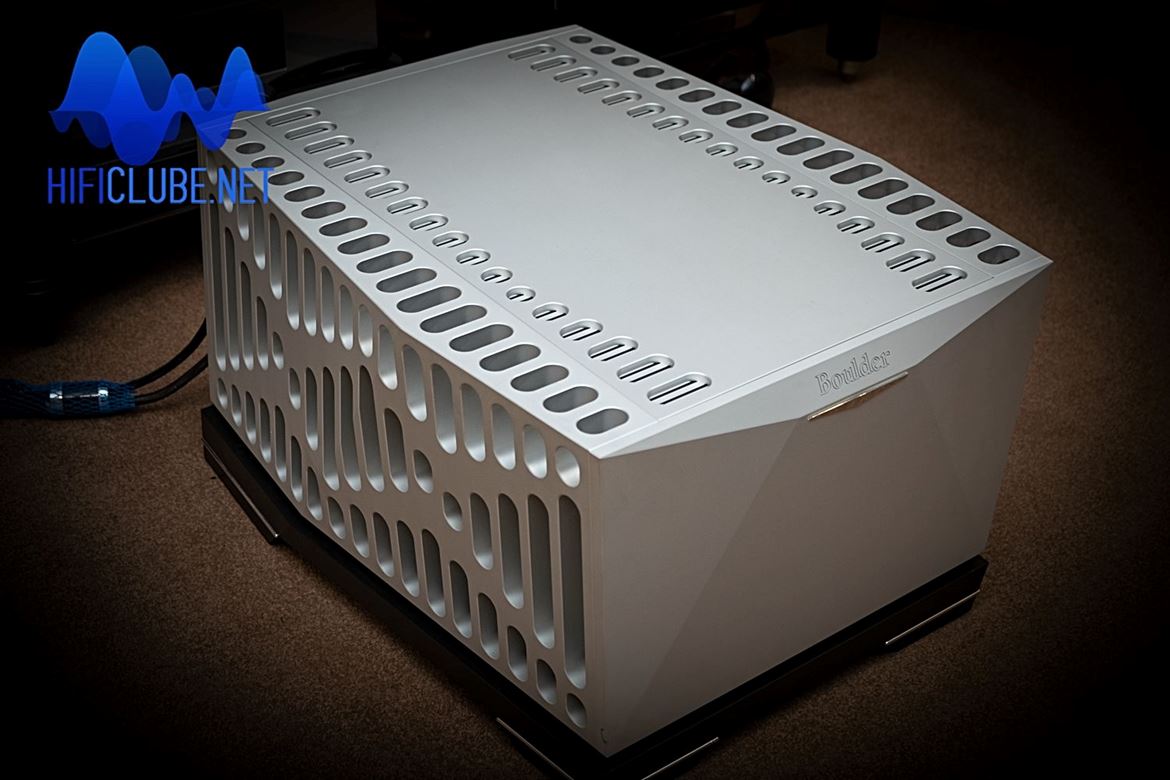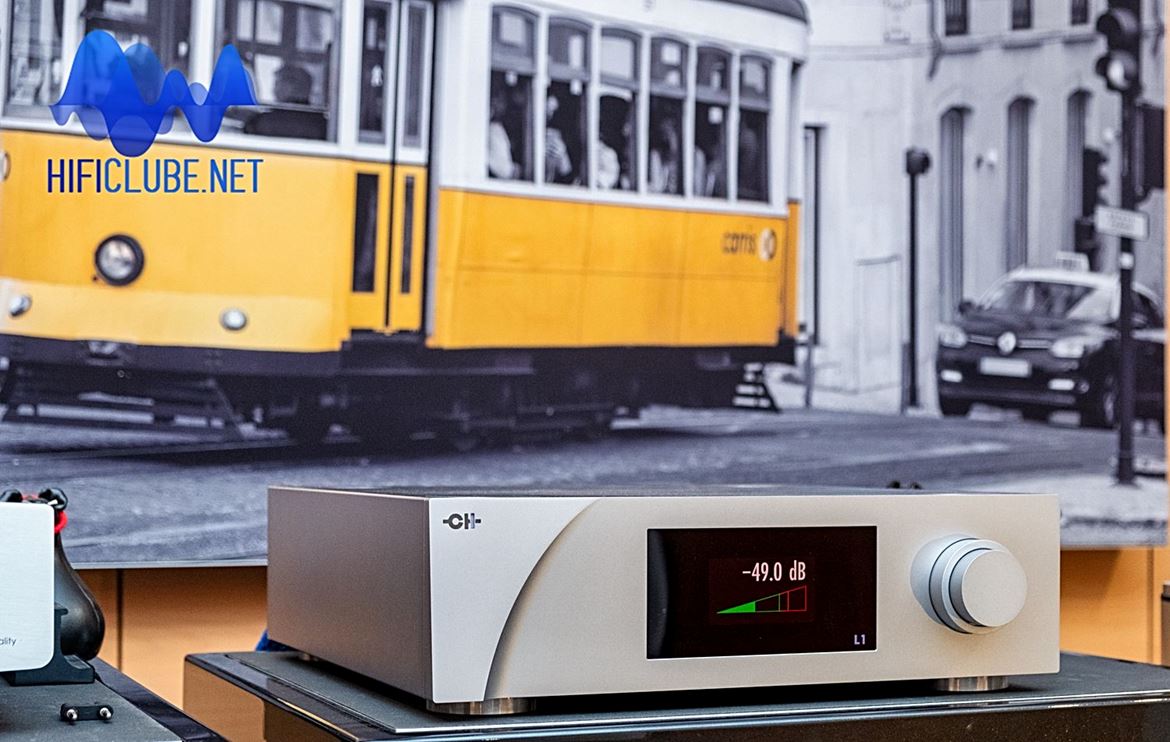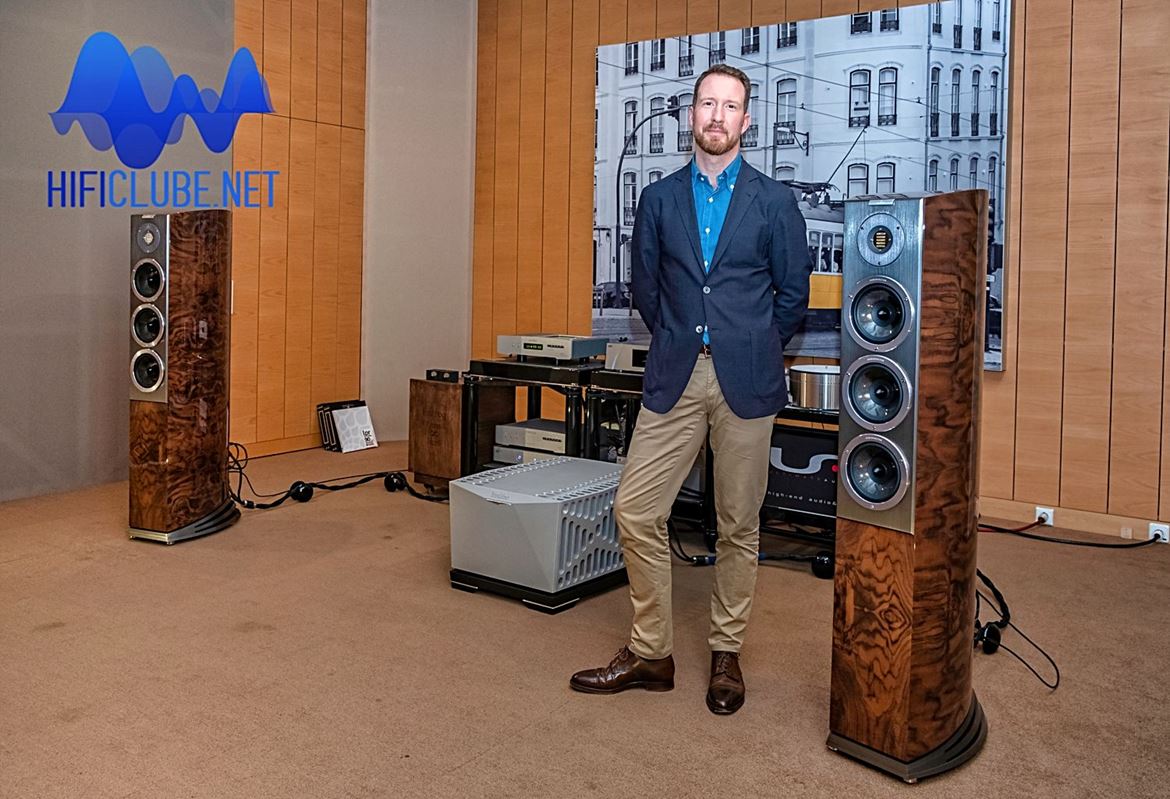 The R8 Arreté is a smaller scale R11 Arreté, sumptuously finished in Italian birch (you can opt for the Piano finish in grey, black, or white). The thick aluminium alloy baffle is matte-finished. The R8 uses cutting-edge components like carbon and aramid fibres driver cones stiffened with resin and titanium coil formers to reduce hysteresis.
More than meets the eye 
On the surface, the R8s are 3-way loudspeakers, with an AMT Integrator quasi-dipole tweeter, three 6.5-inch midrange units and a hidden sub-bass system that fires down at the bottom smartly tilted by a plinth with a sleek three-slot grid design. But R8s are more than meets the eye.
Isobaric configuration
The sub-bass group consists of two drivers of different diameters: 8" + 6" in an isobaric (tandem) configuration reflex design, whilst a 4-inch rear-firing midrange driver opens up the stereo image.
Notes:
Two woofers in tandem correspond to one woofer mounted in a box with twice the internal volume. But isobaric systems are not distinguished by sheer bass extension, rather by tension and power, which you can feel in your guts.
Freedom Circuit
Also new here is the possibility of 'draining' the loudspeaker baskets low voltage differential to ground via an optional grounding terminal filter with two long cables, one per channel (Freedom Circuit).
The baskets are made of aluminium, but there are always ferrous impurities that can create magnetic fields, causing induction distortion.
A speaker with shark gills
The solid aluminium convex backbone has 'breathing' grids (or is it gills?) that are integral to the quasi-dipole configuration of the whole system and significantly contribute to the spatiality and depth of the image.
The convex 'armature' has four grids that fulfil different functions: at the top a five-slot grid to 'decompress' and let the AMT tweeter breathe to the rear; in the middle, a seven-slot grid for the 4-inch rear-firing midrange driver; and further down two seven-slot grids that work as reflex vents, the bottom one charges the isobaric system.
The three drivers have different cut-off frequencies in a ladder arrangement, the top one having a long overlap with the AMT tweeter. And don't forget there are also 'slots' in the 'basement' for the low bass energy to expand freely into the room. The whole concept is about freedom of sound.
The polar response must be close to a figure of eight, which is more typical of panel and electrostatic loudspeakers. Albeit a somewhat uneven eight, the R8's rear radiation is less than 1/4 that of the front radiation.
Arete means excellence
The R8 Arreté derive from the R11 Arreté. When I asked Ole Klifoth the origin of the Arreté designation, he explained:
'The word comes from the Greek Arete meaning 'absolute excellence' and is also associated with moral virtues, courage and efficiency. And we think that the R11 has all that. Here are 35 years of studies and experiments. It is the ultimate exponent of our capabilities: Arete, therefore.'
R11 Arreté listening analysis
Below are my audition notes of the R 11 Arreté back in 2017. The R8 Arreté shares many of its characteristics: 
'Exceptional timbre purity, evident in the fluidity of the strings and female voices, coupled with an overall transparent feel of the surrounding air, which can only be related to the AMT open-back tweeters.
The eight 'woofers' mounted on the rear' keel' give it great macro dynamic authority. The dipolar effect contributes to the 3D image, texture and sonic 'corpus' by acting as an acoustic structure supporting the colouration-free midrange.
Seamless integration of all the units, with excellent cohesiveness of the multiple drivers, results in a subjective linear response. All the drivers sing in unison: from the faintest sigh of a soprano to the controlled explosion of orchestral 'tutti'.
Stable and wide 3D stereo image, with excellent lateral dispersion and uncanny illusion of depth.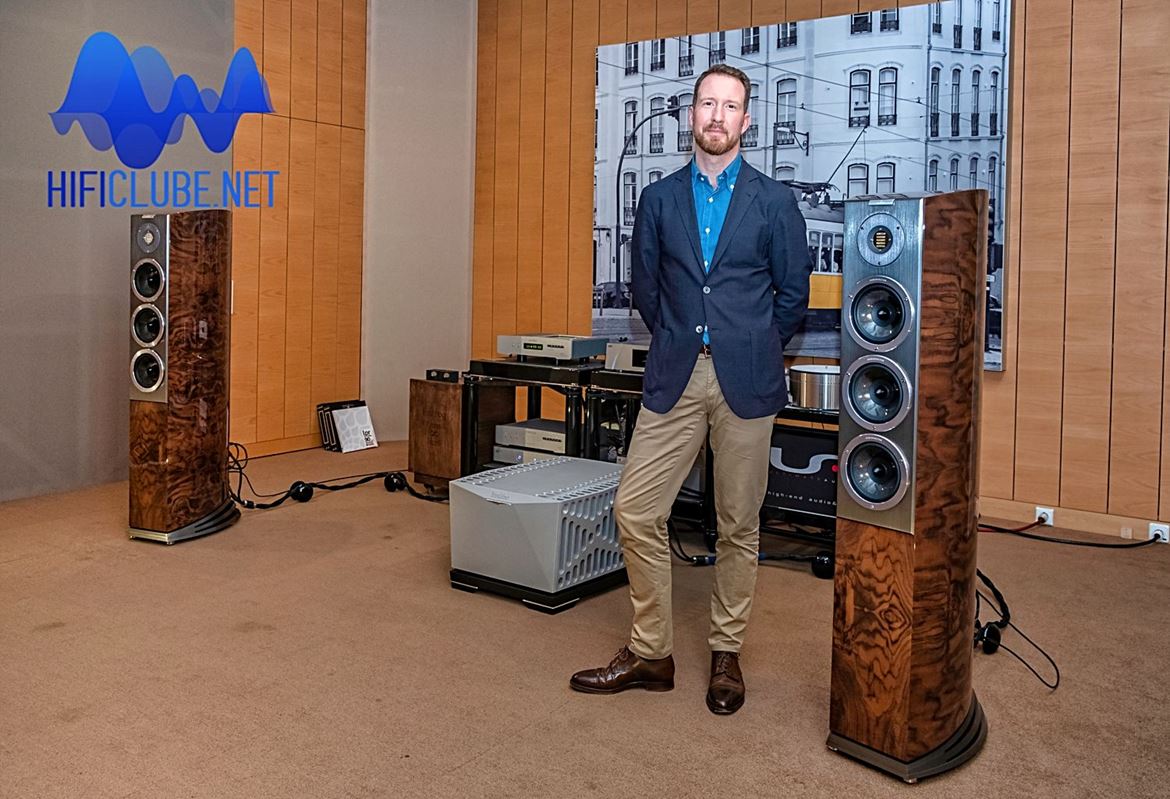 'Voicing is fifty-fifty measurements and listening. But listening always prevails' says Martin Dunhoff
Music, Miguel!
The session opened with Chantal Chamberlain singing 'Beautiful Life' from the album Temptation. This is the track I selected for the presentation video. Listen below and find out why.
Simple orchestration, with a well-defined piano, emphatic bass and the drummer using brushes and bass pedal with aplomb. A powerful, somewhat 'husky' and larger-than-life voice, a choice of the production, no doubt. The system allowed us to 'see' and 'feel' the singer. Lovely, Chantal!... 
Shivers down my spine
Miguel Carvalho (I learned today that he likes to 'crank up the volume' because he was a disc-jockey in his youth) gave us Angelina Jordan's amazing performance of Bohemian Rhapsody by Queen. I've listened to it many times before on YouTube, but this was something special. Mind you, she was only fourteen at the time!
Sends shivers down my spine, body's aching all
The time
Goodbye, everybody, I've got to go,
Gotta leave you all behind and face the truth
It sends shivers down my spine, indeed. Alas, the truth is that only a few privileged people can buy a system like this one. But you can listen to it for free at Ultimate Audio.
Then came 'You and Your Friends', by Dire Straits, with the system revealing Marc Knopfler's artistry albeit not forgiving the 'electronicity' which is only too typical of the band's records. Loud and clear.
Leave the thorn, reap the rose
It's not the system's fault, as was evident when listening to the purity of Cecilia Bartoli's unique voice, singing Il Trionfo del Tempo e del Disinganno, Lasisa la spina, cogli la rosa, by Handel: 
Lascia la spina
Cogli la rosa
Tu vai cercando
Il tuo dolor
Ego sum abbas
Next was 'Dolphy', by Michel Portal, to display the extraordinary power, control, and transient attack of the Boulder 3060, followed by 'Ego sum Abbas', from Carmina Burana's chamber version, conducted by Peter Matei, with all the diabolical snap and wallop of the Kroumata Percussion; and we closed with 'Gaivota', by João Lóio a homage to the Portuguese language.
Indeed, a system of excellent quality that deserves a closer listen in Ultimate Audio's main auditorium.
The R8 still costs a hefty €60 000. However, given both the price/quality and size/bass performance ratio, I can still mark it out as 'Highly Recommended' in its class, whatever that means in a market with fierce competition. It would be best to listen for yourself before buying and do compare it with other models in this price range. 
For further information contact your local dealer or: