Leia o artigo em Português aqui
JVH reports from the Kroma Mimi Xtreme world's first exclusive audition for Hificlube.net.
In its never ending quest for perfection in musical reproduction, Kroma Audio, a Spanish loudspeaker manufacturer, has upgraded its awarded Mimi stand-mounted two-way monitor by changing both drivers and keeping the same cabinet made of Krion.
The new Mimi Xtreme two-way monitor uses now a Mundorf AMT Series 60W ribbon tweeter based on Dr Oskar Heil's AMT original design and a Purifi Audio 165mm driver substituting respectively for the Hiquphon silk dome tweeter and the Scanspeak mid-woofer of the previous version that, I hope, will not be discontinued given its worldwide success and sound quality.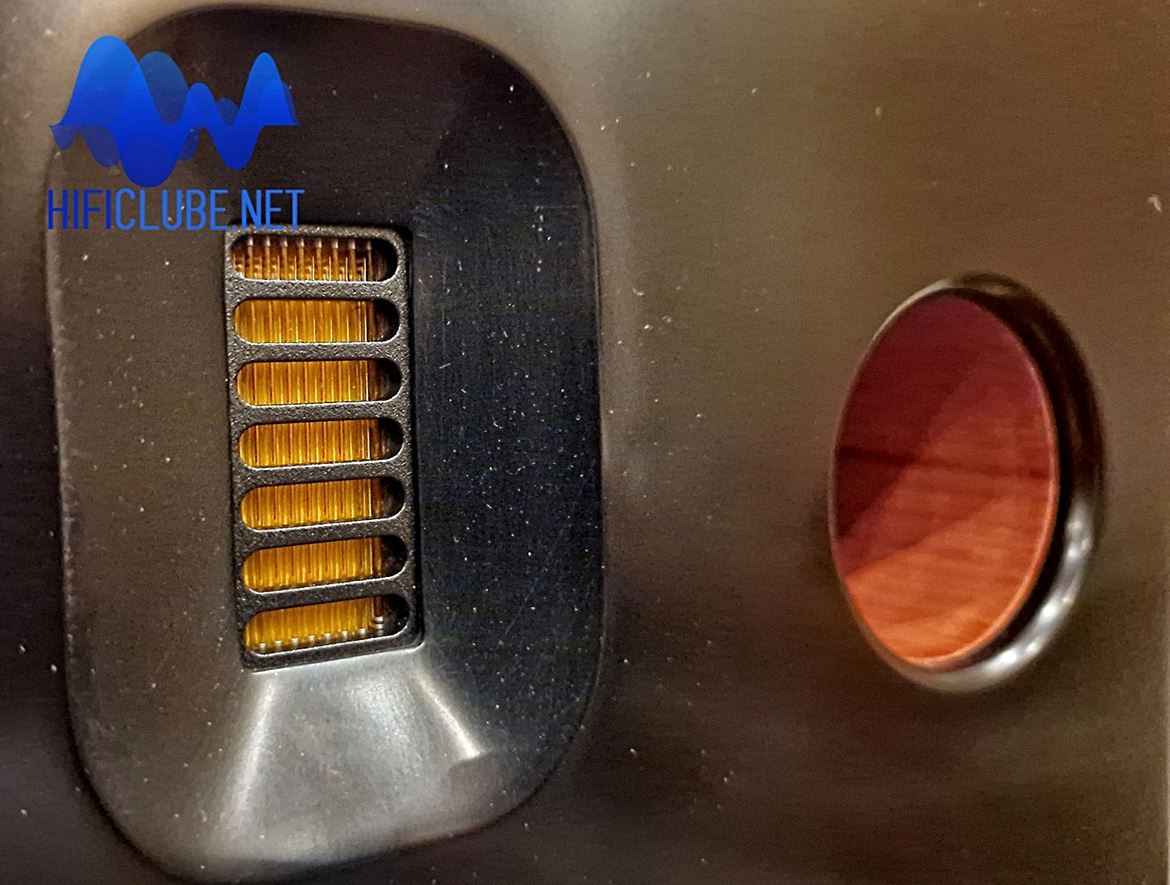 The Purifi Audio long-stroke mid-bass unit also comes from Denmark and has a distinctive 'crumpled' rubber-surround geometry that reduces harmonic and intermodulation distortion. It looks as if it was gnawed by your dog. But Purifi guarantees it 'woofs' better this way. The Purifi Audio unit further boasts a low/constant force factor favouring long excursions without distortion. 
Measurements also show this is almost a full-range driver with a linear response from 100Hz to 5kHz ideal for two-way systems (see graphic below).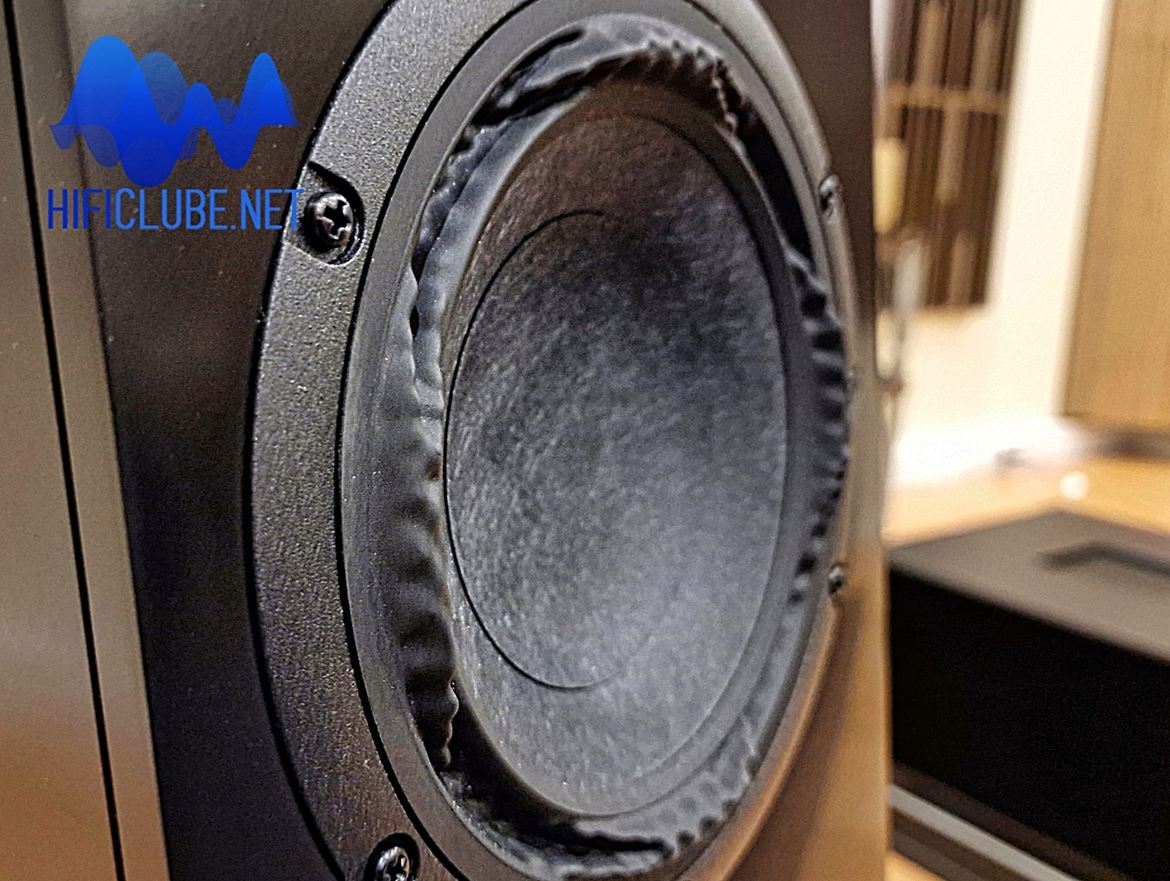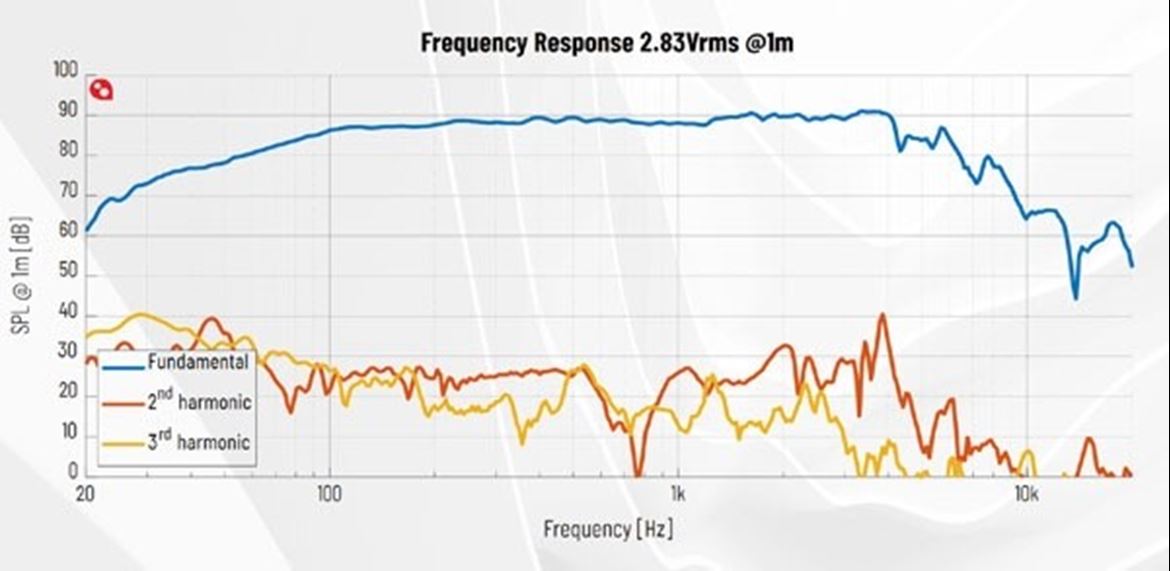 Crossover by Javier Millan
The passive crossover was designed by Javier Millan and comprises a 4th order 24 dB per octave high-pass filter cutting at 2750Hz to a 2nd order 12dB per octave low-pass filter, with phase rotation compensation. Sensitivity is 88dB/1W/1m, while nominal impedance is 4 Ohm. Both sensitivity and impedance are lower than in the previous version. All components are of the highest quality from Duelund and Mundorf, and the crossover is isolated in a hermetically separated chamber.
Kroma is made of Krion
Kroma speaker cabinets are entirely made from Krion, a non-conductive and non-magnetic composite material made of aluminium trihydrate and resin, with a total absence of metallic elements – not even the screws are metal! 
Kroma has chosen Krion to manufacture the speaker cabinets because of its high acoustic insulation capacity, further damped inside with 5mm bituminous felt.
Dedicated stands are also Krion, with Panzerholz plate and feet (extreme density plywood). Because all metal parts were abolished, Mimi is attached to the plinth using plastic blobs to prevent slipping.
Bending the laws of physics
Nature cannot be fooled (laws of physics included), but you'll be surprised to find out that Mimi Xtreme has better bass extension than expected from such a small stand-mounted monitor (39.8 × 20.8 × 25cm excl. stands). 
I measured -6dB at 50Hz (ref. 200Hz) at 1 m. The 2" direct port is tuned to 43Hz and helps maintain the response almost down to 30Hz (-10dB), which is quite an achievement for a small monitor, while the resonance frequency of the mid-bass unit (30Hz) is kept at bay.
With room reinforcement, a 30Hz marble tone is still distinctly heard at the listening position, albeit at a very low level. Usually, small monitors give it up below 40Hz, with chuffing from the port and no usable output from the cone. Mimi Xtreme dies away slowly down to 20Hz (barely) in a dignified and peaceful manner without bumps or cancellations.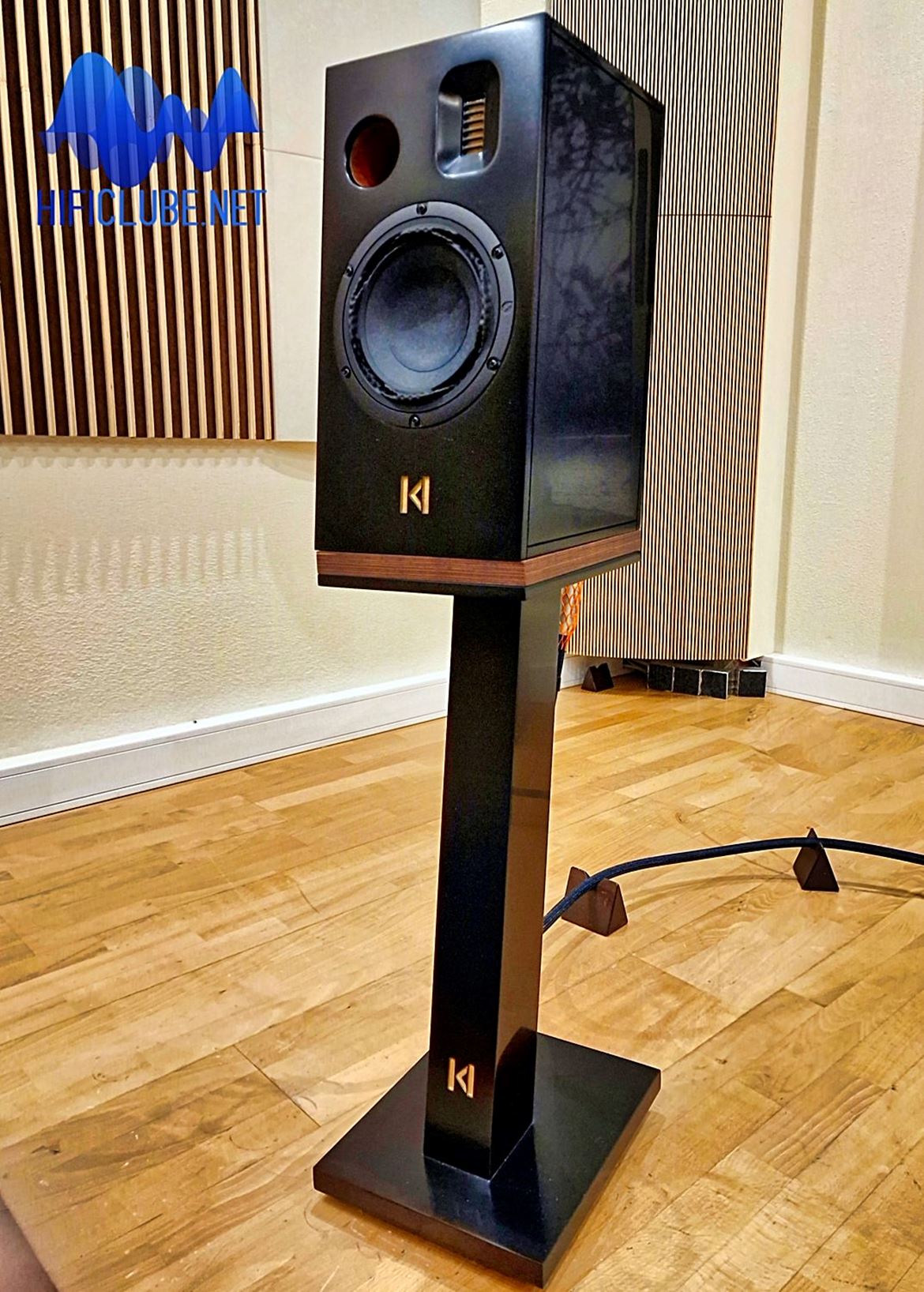 A clean dive
It's the quality of Mimi Xtreme's bass extension that impresses the most, not how deep it goes. It always sounds clean and in control as the port contribution is not achieved at the cost of turbulence. 
…it's the quality of Mimi Xtreme's bass extension that impresses the most, not how deep it goes…
The Mimi Xtreme cinnamon colour wooden port works its magic from 100Hz down to 30Hz ever so discreetly, yet effectively, not affecting male voice unduly or lower-mid definition.
This is a technical triumph for a front-mounted port that does not emit spurious resonances nor contributes to diffraction problems in the midrange. 
Flamenco guitar
Kroma uses cedarwood for the port, also used in Spanish Flamenco guitar building, instead of the standard PVC, which has a natural pipe resonance that causes midrange colourations not present in the Mimi Xtreme or in any of the Kroma models I have heard so far.
The reflex port contribution is musically related and does not have spurious resonances causing audible colouration and overhang even when pushed hard.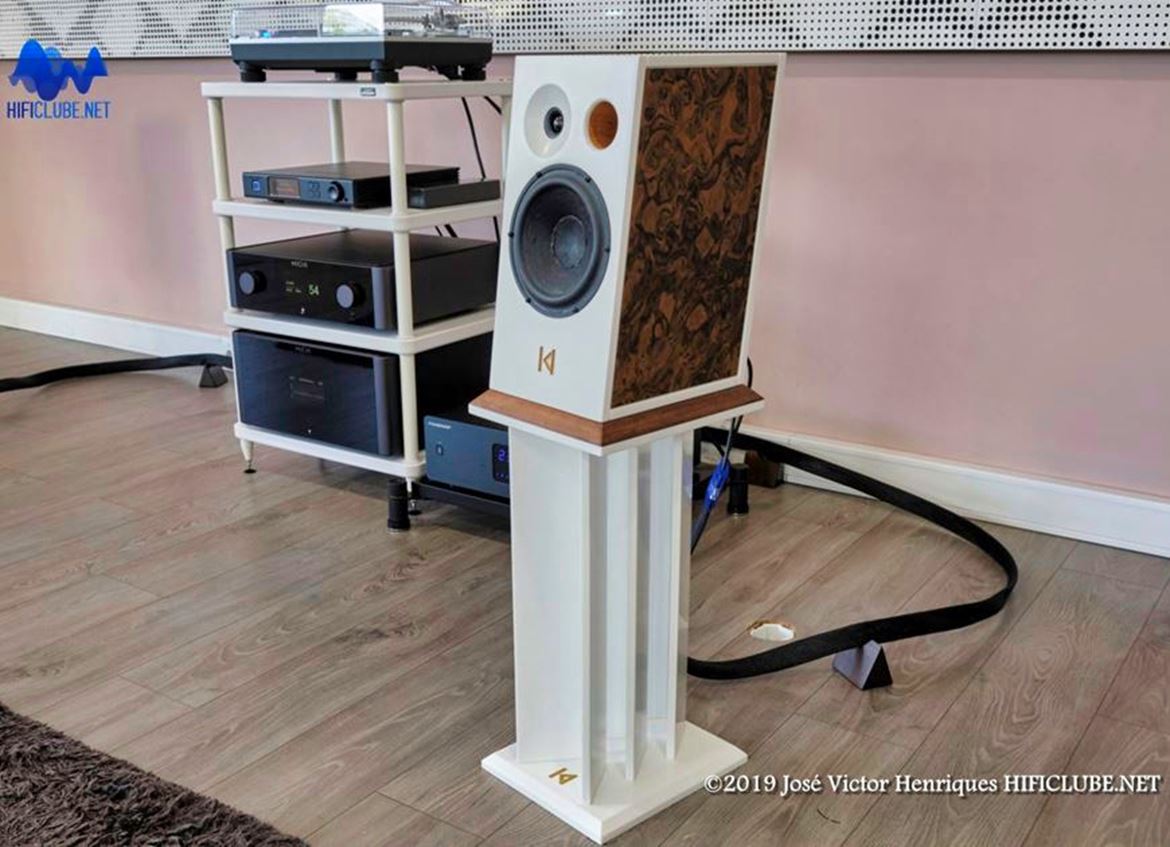 Los Miuras
Cabinets may be decorated to taste with carbon fibre inlays on the sidewalls, also available in genuine 24-karat gold leaf, walnut wood (above) and other artistic finishes by the painter Juan Pablo Vacas. However, the Mimi Xtreme pre-production model I heard was as black and lustrous as a Miura bull.
…Mimi Xtreme was as black and lustrous as a Miura bull…
Mimi Xtreme dressed in black for the occasion, mounted on dedicated stands, also made of Krion - with wooden feet, not metal spikes.
This is the report of our secret meeting in a well-treated listening room at Ultimate Audio, the official distributor in Portugal.
King Leonidas
Associated equipment comprised a Pilium Leonidas integrated amplifier and a transport/converter duo Accuphase DP450/Aqua Formula xHD Optologic DAC as the source. 
The Formula is a purist design and has no digital filter implemented in the DAC. It is supposed to sound better with Hi-Rez files (96kHz and above) due to the unfiltered aliasing distortion of Red Book material. I only listened to CDs, so I feared that, given the revelatory character of the AMT tweeter, it might harm high-frequency performance. Not at all. It always behaved audibly very well.
Thus, only the silver-coated conductors of the Siltech loudspeaker cables were to blame when the highs sounded a little too hot for my taste. So, they were replaced with much cheaper copper Esprit Celesta cables, with which I managed to get a better tonal integration. An interesting experience for 'negationists' who deny the importance of cable matching in audio systems.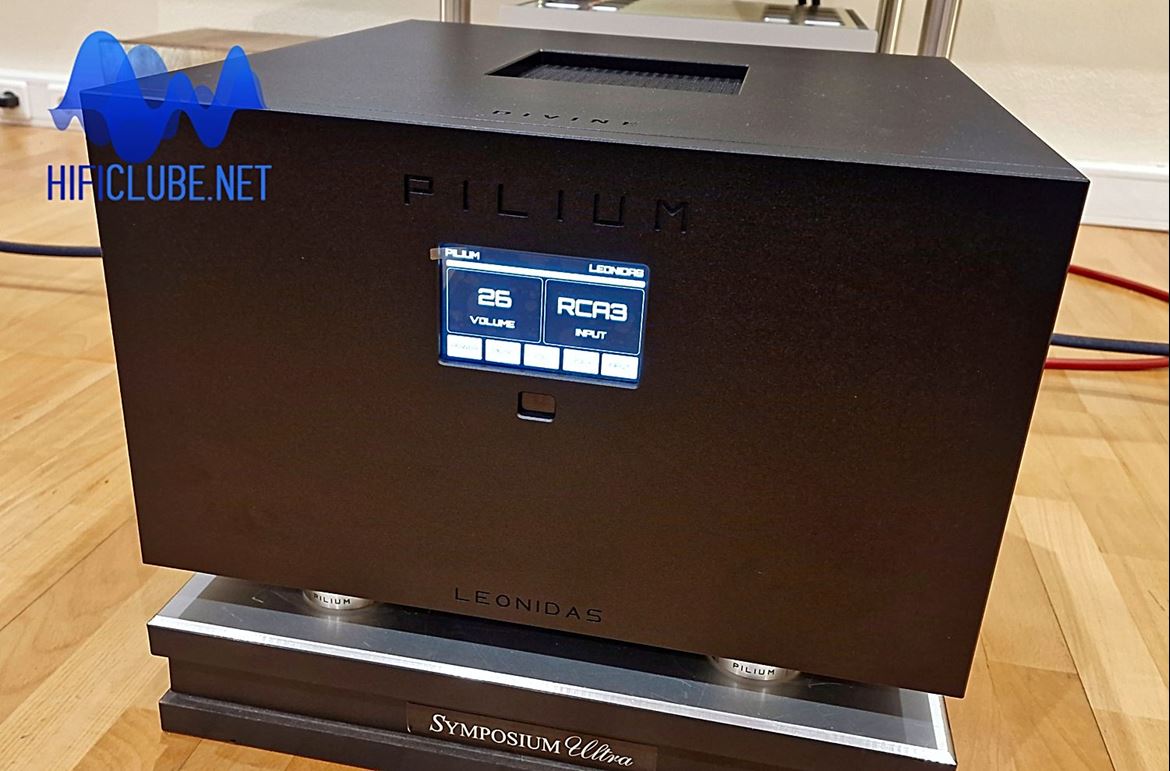 Some valve amplifiers were also available for listening, but I was happy with the Leonidas' performance and kept it as the system anchor for the whole session.
Mimi on steroids
Although I know better now (see crossover slopes above), Mimi Xtreme sounded to me like a 1st order crossover monitor with the two units working as one in the nearfield – voices sound authentic and natural even at close range.
…voices sound authentic and natural even at close range…
As with all ribbon tweeters, vertical dispersion does not match horizontal dispersion. If you stand up, you can hear a slight change in tonality.
And this is about all the negative criticism I could muster for Mimi Xtreme. Other than that, this is a Mimi on… steroids!
Olé, Mimi!
I started the audition appropriately with Los Miuras from the CD 'Toros y toreros en Sevilla'. 
Hombre! Mimi Xtreme can paint a vast canvas of sound with all the sections of the Soria 9 military band, directed by Abel Moreno, perfectly placed in space. You could pin-point or follow the individual performance of each musician from the small flute flourishings to the big tuba and major drum keeping cadence with the snare, whilst you are constantly aware of the whole band bulging in front of you.
And Mimi Xtreme never felt intimidated, not even when the trumpets and trombones were blowing hard. Olé! Que viva España!...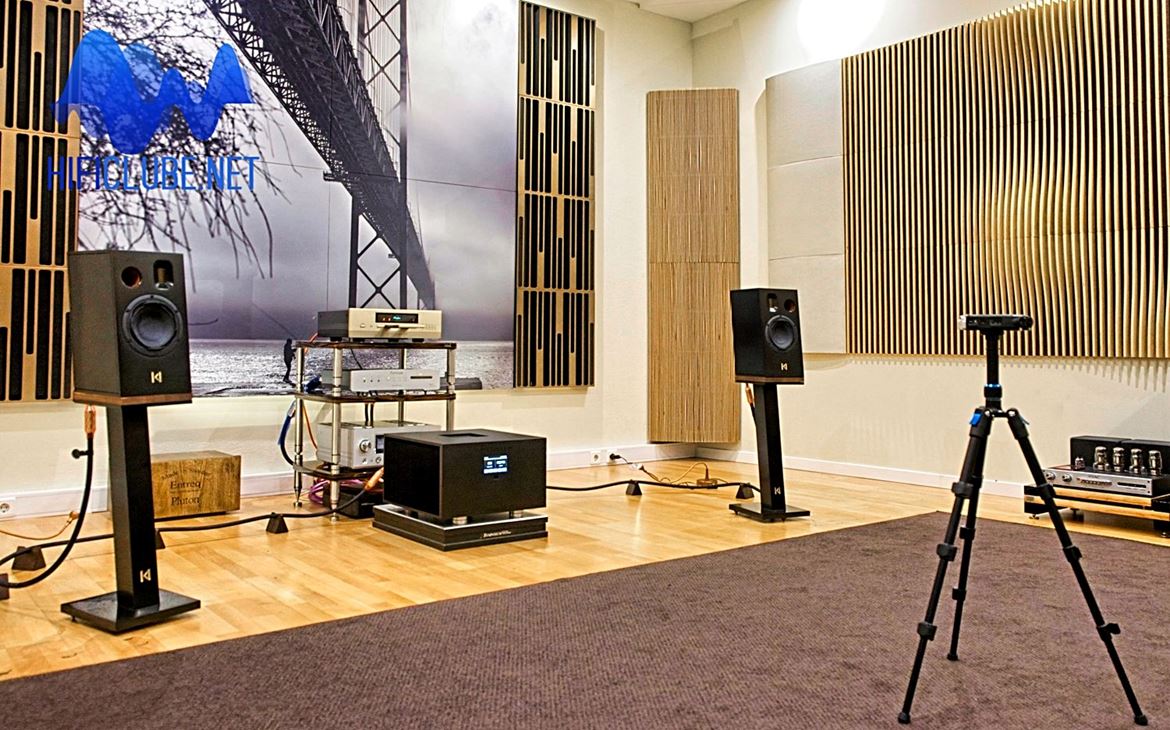 Brave new world
I was so surprised by how well the Mimi Xtremes could handle large forces without audible stress that I ventured into an even more complicated task: the allegro con fuoco grand Finale of Dvorak's Symphony No. 9 in E minor, with the Cleveland Orchestra directed by Christoph von Dohnanyi. 
I am not going to lie; Mimi is an Xtreme(ly) capable monitor; but, alas, it cannot mimi(c) a wideband 3-way system and move air the same way. 
…Mimi Xtreme delivers wonderfully vibrant sounds…
And yet, Mimi Xtreme delivers wonderfully vibrant sounds and nothing seems to be amiss: from the delicious flute-playing and the gracefulness of strings to the powerful trombones and percussion maximising dynamic contrasts in the tuttis, when the orchestra swayed me with epic sweeps. In the end, the finale had all the impetus I could wish for.
Slavia Ukraini
Then I thought, they are ready for a grand piano, the percussion instrument that separates real stuff from audiophile toys.
So, I played the unedited live performance of Liszt Hungarian Rhapsody No.12 by the Ukrainian classical pianist Valentina Lisitsa as a homage to her people now suffering the horrors of war. 
The original recording was made by my good friend Peter McGrath, then Audiofon's Chief Engineer, with a Nagra 24-bit digital tape recorder, and it sounds superb.
Valentina plays the piano as if she were possessed, in a good sense, of course, and Mimi Xtreme did not let her down, nor did it transform the Bösendorfer into Linus' piano. You can hear every minute detail, the power and decay of the piano chords vibrating and the wooden resonances.
Listen, o ye of little faith!
But don't take my word for it; listen to the video above. The sound was recorded 'live' in-room directly from the loudspeakers with a 24-bit 96kHz digital recorder and a pair of cardioid mics crossed at 90º placed 2.5 meters away (you can see the position of the microphone in the video).
Note: video and sound were recorded separately to keep the microphone stationary.
I am sure you can't help wondering how good it must have sounded in the listening room, considering this is a YouTube video with MP3 sound. And you are right. Mimi Xtreme is as good a performer as Valentina herself. They were terrific playing together!
Mimi was named after Puccini's 'La Boèhme', and they also have a unique way with voices. Listen to some choral music, and you'll be amazed at how well you can 'see' every single tree whilst still making sense of the beauty of the whole forest.
Or try something more prosaic like 'Three Little Words' by Dominique Fils-Aimé. She uses her voice like an instrument, both single and multiplied, thus performing also as the backup choir, and Mimi Xtreme laid bare all the studio tricks.
Finally, 'Rose' by percussionist Manu Katché, an ECM recording featuring Jan Garbarek on tenor saxophone. So once again, listen and behold o ye of little faith. Pay attention to the shimmering delicacy of the cymbals, the trumpet and saxophone interplay, and the drums and double bass rhythmic dialogue.
Mimi vs Mimi Xtreme
The original Mimi excelled in its full sound, surprising deep bass, wide soundstage, and intrinsic musicality. Mimi Xtreme kept all these critical characteristics whilst sounding faster, cleaner, tighter, more precise, dynamic, transparent and informative. 
Still, some might prefer the original Mimi's sweet demeanour, easy-going, almost nonchalant way with music, and that life-like sound that demands emotional involvement, as opposed to Mimi Xtreme's more cerebral, lively, and perhaps less consensual approach.
Like Piaf, je ne regrette rien
I love Mimi in all its guises. They are like twin sisters with different personalities. I could live with either of them, or both, and regret nothing. With Mimi, I could enjoy my music informally on a day-to-day basis; with Mimi Xtreme I could enjoy music and critical listening too.
Disclaimer: This is a personal and subjective assessment based on a first audition, including some measurements and technical specifications. Readers can listen and judge for themselves at Ultimate Audio, in Lisbon or Oporto, or their local dealers.
Produto: Kroma Mimi Xtreme
Preço: € 10.500 + taxes
Distribuidor: Ultimate Audio