Leia o teste em Português aqui
JVH visited Ajasom to listen to the Mola Mola Makua/Kaluga Class D duo driving a pair of Vivid Audio Kaya K90.
I must have been one of the first journalists to whom the Mola Mola Makua/Kaluga were introduced, still in prototype form, during the 2012 HighEnd Show in Munich.
I recorded the event for posterity in a video (watch below). Bruno Putzeys briefly discloses the NCore modules and reveals that brands were already interested in using them in their amplifiers.
Little did I know that Marantz was one of them, which used the NCore more than five years later in the top-of-the-range PM-10 and also in the excellent 'Ruby' by the late Ken Ishiwata, who presented it in person at Audioshow 2019, and which I later tested for Hificlube.net.
At the time, I also wrote in my report:
Bruno Putzeys explains all about the new Mola Mola series of electronics. The name and logo were inspired by the Moon Fish that you can watch swimming at Lisbon's Oceanarium halfway into the video. The amplifiers use the excellent NCore 1200 modules. This is probably the best pure Class D amplifier I have ever heard.
A preamplifier with an integrated DAC is also in the making. Prices will be a little steep, but they sound very promising.
But let's hear (as far as possible amid the background noise) from Bruno Putzeys himself.
Note: my video camera battery failed halfway through the interview, so I had to use my SLR to finish it. You will notice a clear downgrade in the audio quality, although the video is still excellent.  
People may change, their work remains forever
The audiophile world is not as conservative as it used to be. Mola Mola has changed hands, and the distributor in Portugal is now Ajasom.
Bruno Putzeys also left Mola Mola to found Kii Audio. And he is now at Purifi (the man does not stop). Purifi Audio produces drivers for loudspeakers and modules for Class D amplifiers (what else?).
These modules are well-rated even in 'objectivist' circles, where people only listen to what they measure and always have the red wine analysed before drinking it. Good for them.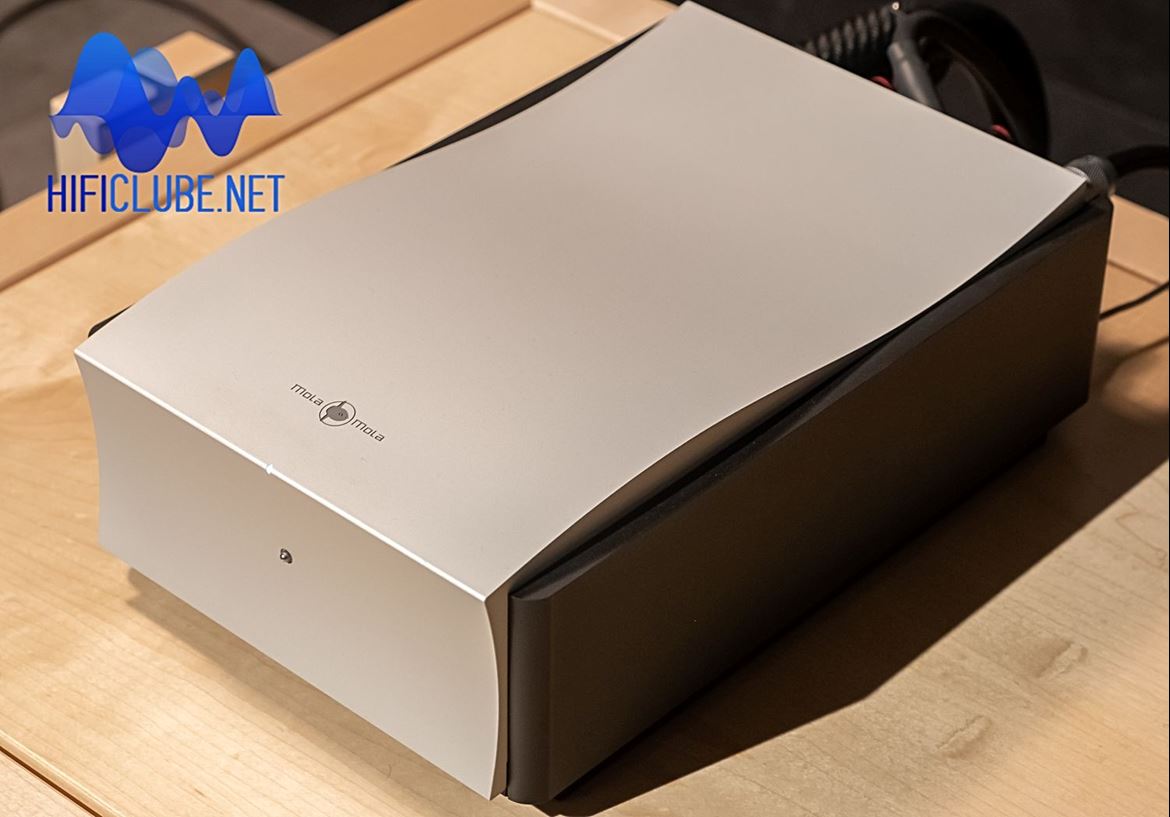 Makua&Kaluga
Hello, Makua and Kaluga. How nice to see you again!
It's been ten years since Bruno introduced Mola Mola to me in Munich, and they are still as fresh and beautiful as ever.
The design is clean and simple, with curved lines like sea waves, where Mola Mola swims, or like a skateboard track if the reader thinks nature and poetry have no place in audio criticism.
This time, the meeting took place in the Ajasom main auditorium, where they gallantly powered a pair of Vivid Audio Kaya K90s, with a Bergmann Galder turntable + Odin arm and Lyra Delos cell in the front row. All cabling was by Shunyata.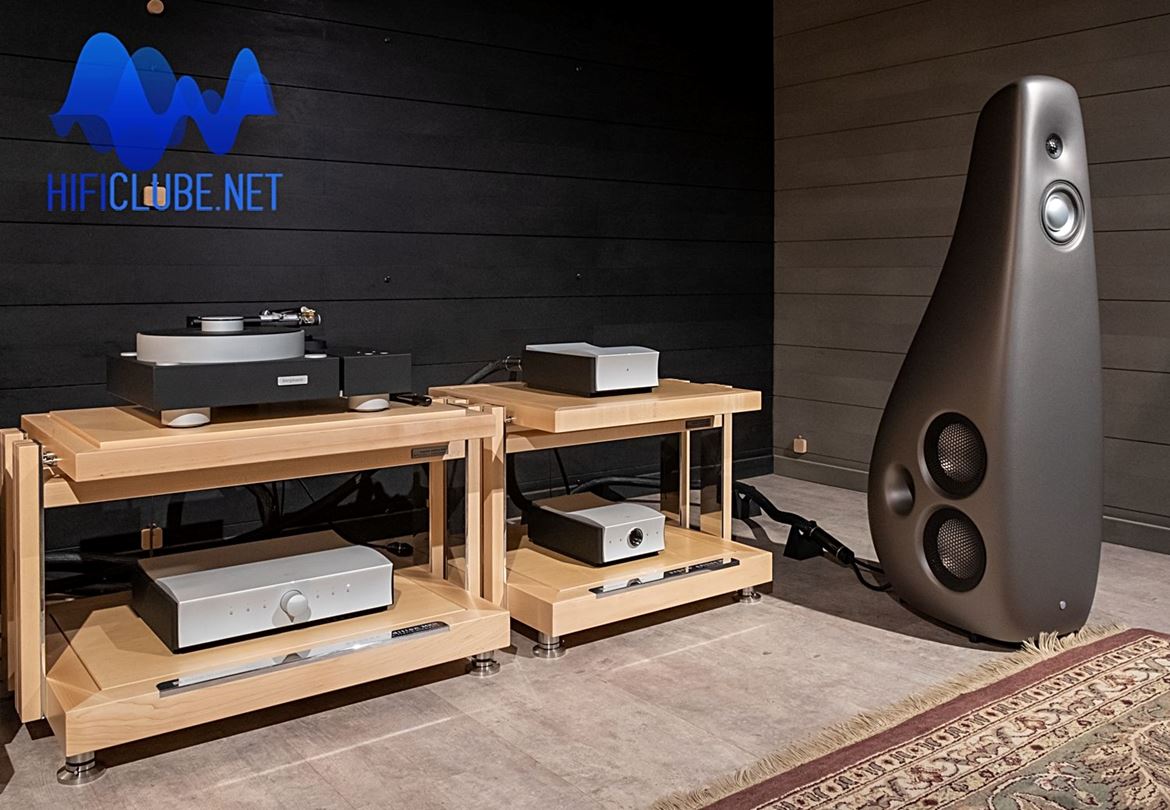 Fighting global warming
NCore modules initially mounted in the Mola Mola amplifiers are the solution to many of today's audio problems - and the world's too - as they are 90% efficient and energy saving.
So much so that the EU will impose Class D as mandatory to meet decarbonisation targets one day. Valves, that come mostly from Russia, will be banned and people will listen to them secretly in catacombs.
They easily inject 400W or more into a pair of speakers, whatever the impedance, and stay cool, both temperature-wise and because the treble is sweet, unlike the Class D competition.
As for the taut, intense bass, it's already known to be one of Class D's virtues. It remains cohesive, defined and with excellent rhythm, even at high sound pressure levels, aided by the remarkable Vivid Audio Kaya K90s.
...the EU will impose Class D as mandatory to meet decarbonisation targets one day...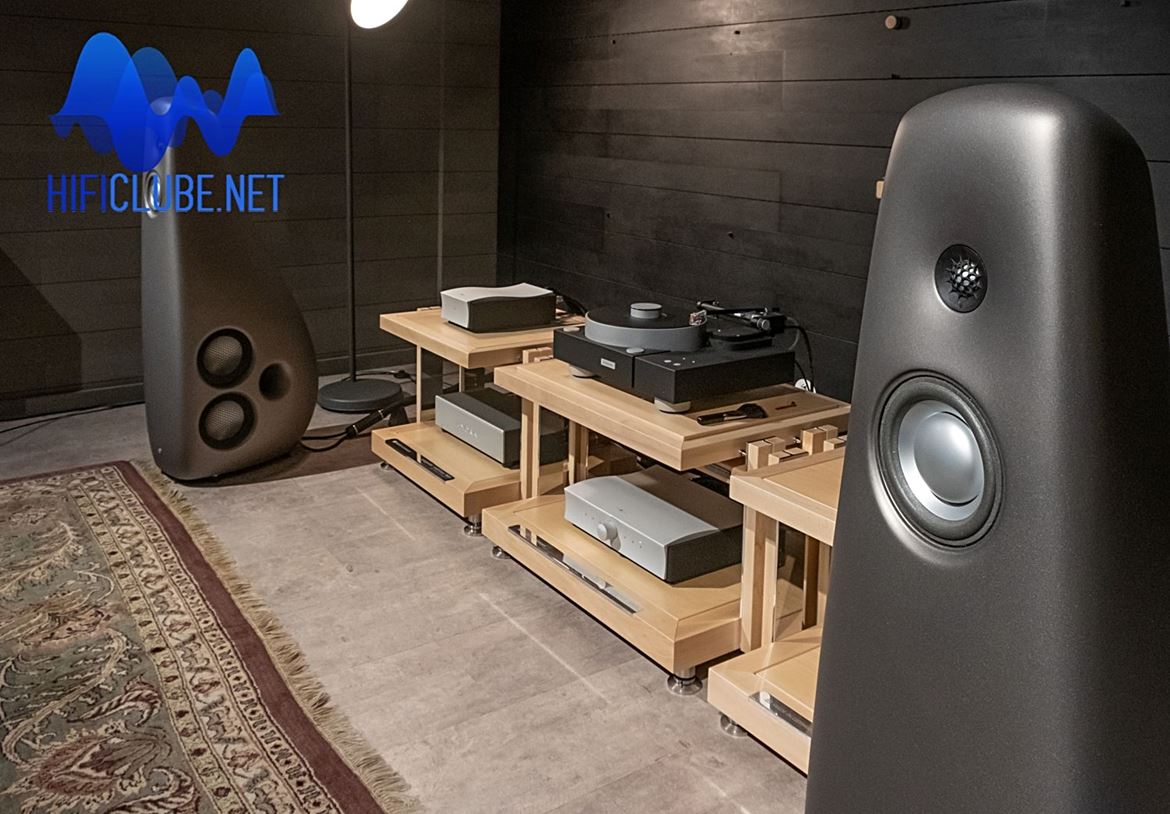 Further, it's also 'musical', something I never thought I'd say about a digital amplifier, perhaps except for the original TACT, which had limited power, and bearing in mind that the Devialet are Class A/D hybrids, not pure Class D.
Mola Molas may not have the finesse of a Class A amplifier, which would have to be much more expensive to match their sound quality. Besides, it will never have this much power available even at double price.
Maybe they falter only in the department of depth and three-dimensionality of the stereo image to a €30,000 Class A amplifier. Maybe. Because I didn't miss anything important in all the familiar tracks I heard at Ajasom: it was even possible to listen to the 'walls' of concert halls.
Note: read the pdf of the NCore white paper below.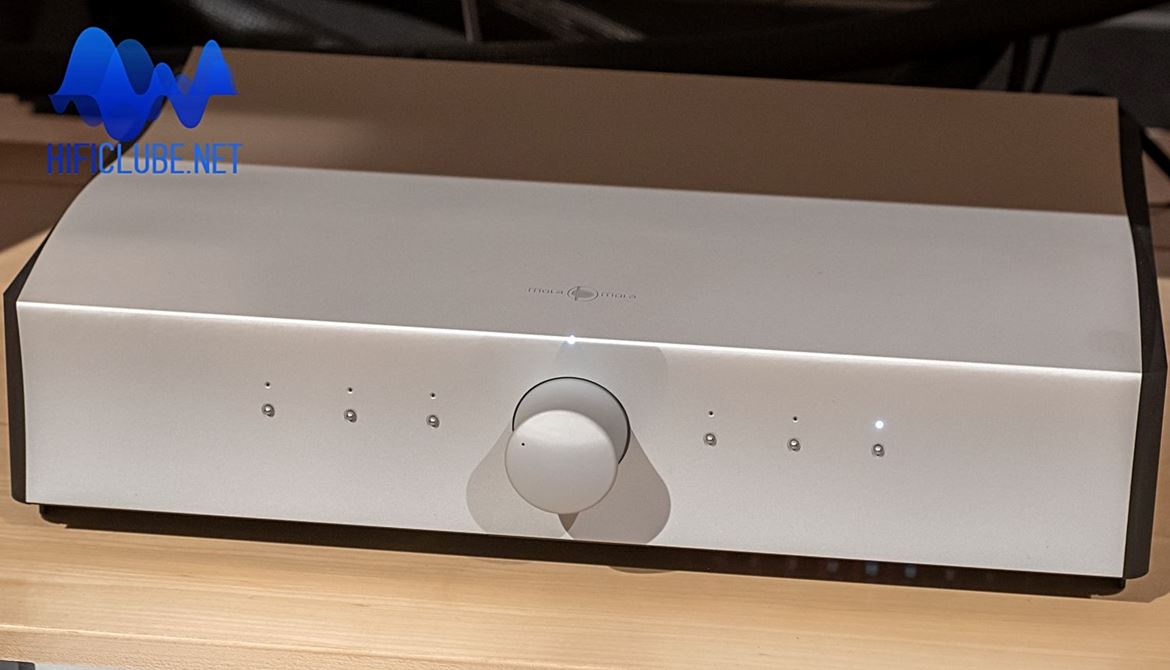 The Makua preamplifier is another functional work of art. The full-fledged version includes a Phono stage, DAC and control app.
So even if you don't go for the Kaluga Monos (€11,980/pair), the Makua pre (starting at €8,490) is an excellent solution for any high-end system.
The DAC is also a creation of Bruno Putzeys, so you can count on zero jitter or very close to that. The DAC can be bought separately under the Tambaqui name (€9,990).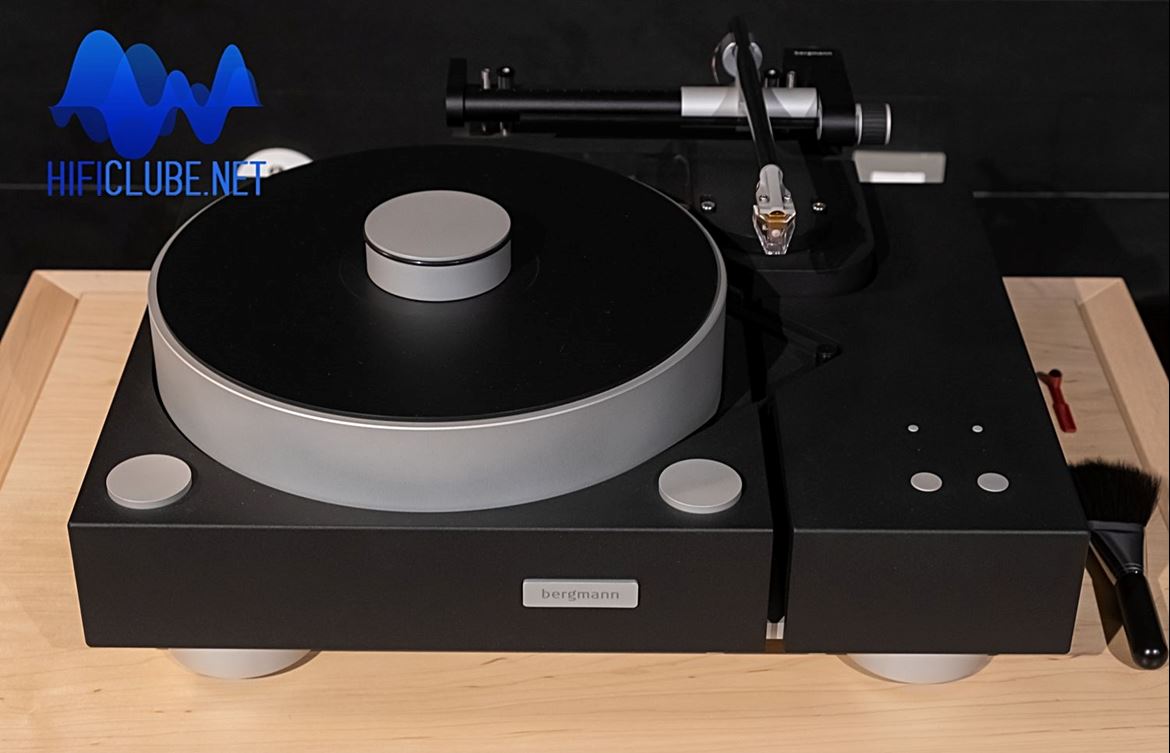 Let the music begin
We opened with the Cotton Club LP. The Mola Molas allowed me to appreciate the trumpeter's mute technique, the remarkable intervention of the bass pole trombone, and the perfect timing of the tuba and drums.
Scorrendo unite from Verdi's Rigolleto, with Solti directing, followed. Wow! The Mola Mola managed to separate all the voices from the chorus without losing the ensemble's 'vision', as I could almost see them.
We moved on to streaming, with several exclusive tracks from Nagra, all recorded live at the Montreux Festival. It's as if we were there with Nina Simone and Suzanne Vega, standing and cheering in the middle of the audience.
In the video you can hear a jazz group, which I couldn't identify - nor could YouTube, thankfully because it didn't block it.
The recording was made live in-room and there is no post-processing, although video images for illustration purposes and sound were not recorded simultaneously for best results. You are not listening to an LP in the video but to streaming, as I said.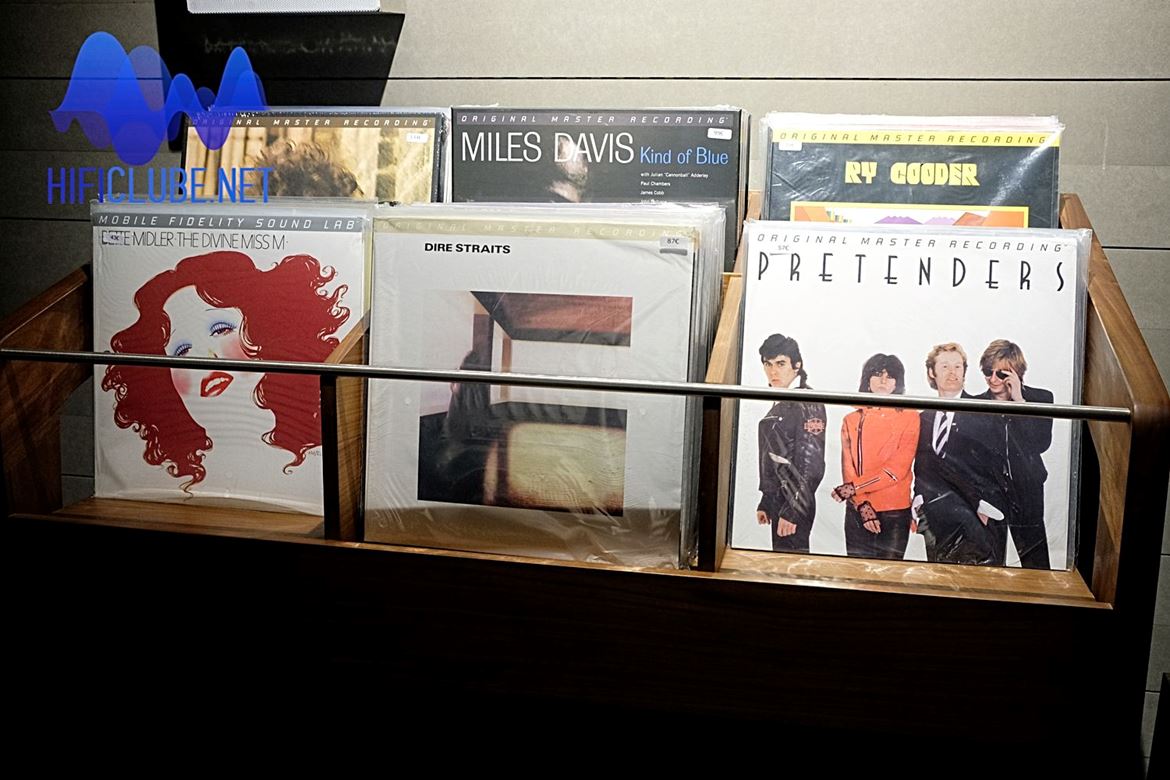 This system will stay on demonstration in the Ajasom auditorium and is well worth a visit. You can even bring your favourite LPs or buy the exclusive Mobile Fidelity editions also available.
Don't hesitate to contact AJASOM in Portugal or your local dealer.
TLM 963 480 041 | TLF 210 541 838
Full system:
Bergmann Galder + Odin and Lyra Delos
Mola-Mola Makua with Phono and Dac modules
Mola- Mola Kaluga Monos
Vivid Audio Kaya K90
Power cables
Shunyata Alpha NR e XC
Interconnect cables
Shunyata Alpha RCA e XLR
Shunyata Alpha
Speaker cables
Power Conditioner
Shunyata Hydra Delta D6
 
Racks
Finite Elemente Pagode Edition MKII