Leia a crítica em Português aqui
Model 40n stems from Marantz's usual recipe for success. Add a pair of loudspeakers, and you are ready to enjoy both analogue and digital sources, including LP and streaming.
Marantz 40n looks were inspired by Model 30. But the 40n is a universal amplifier unlike the Model 30. All the analogue line and Phono MM inputs were kept. Still, Marantz beefed it up with integrated DAC and streaming features (Ethernet, Wi-Fi and Bluetooth), coaxial and optical input, USB A (pen and hard drive) and HDMI ARC to connect your TV to your sound system, thus overcoming the dynamic limitations of slim soundbars.
Is there anything missing? For 90% of home applications, no. But as an audio critic, I must show I did the homework, so I think Marantz could have gone a bit further by providing a USB-B input for connecting to a PC. I am just saying.
And too bad the HDMI ARC input isn't also compatible with my Oppo's HDMI output, so I could listen to SACD with the 40n's internal converter, which is a low jitter type. I've heard DACs with better linearity, true. But the amp is excellent, and you can't have everything - never look a gift horse in the mouth: Marantz Model 40n offers high-end design and sound at a mid-fi price.
...Marantz Model 40n offers high-end design and sound at a mid-fi price...
The 40n costs €2,499, despite being made in Japan - not China, and is even cheaper than the award-winning Model 30 sibling, which turns out to be only a Class D integrated amplifier with no digital features.
Marantz Model 40n vs Model 30
And what else sets them apart? Everything except the frontispiece, where a front operational panel, with amber-coloured LED light leaking sideways from behind, 'hovers' in front of a 'dimpled' concave panel mimicking carbon. That's until you find out they are both made of hard plastic.
Apart from the aesthetic function, the sub-panel houses the On/Off button on the left side and the 6.3 mm headphone jack on the right side. That's it.
All other buttons are installed on the front panel under the circular OLED display a la Marantz. The two larger ones are the source selector and volume; the four smaller ones are from left to right: Source Direct, Bass, Treble and Balance.
Class D vs Class A/B
The similarities end here. The Model 30 uses NCore 500 Class D modules, as does the 'Ruby'. The 40n is a conventional 70W/8Ohm Class A/B amplifier, much like the PM8006, with an improved power supply and HDAM output modules to ensure backup power when feeding low impedance speakers.
This explains the substantial difference in weight (the 40n weighs 17Kg) due to the toroidal transformer and heat sinks, which Class D amplifiers do without.
It's like riding a bicycle
Marantz 40n is an ergonomically well-designed and straightforward network amplifier you can use without taking a computer course. It's like riding a bike; you never forget it - if you've used one Marantz before, you know how to use them all.
...using a Marantz is like riding a bicycle; you never forget...
Maybe that's why Marantz didn't provide the USB-B input, which implies the installation of an Asio driver in the computer. So, with the USB-A input, you only need to insert a pen drive with musical content, and that's it.
Through the USB-A input, the 40n accepts all types of digital files. Lossy: MP3/WMA/AAC; lossless: WAV/ FLAC/ALAC up to 192/24 and DSD128 (DoP), taking advantage of the D/AES9016K2M conversion chip.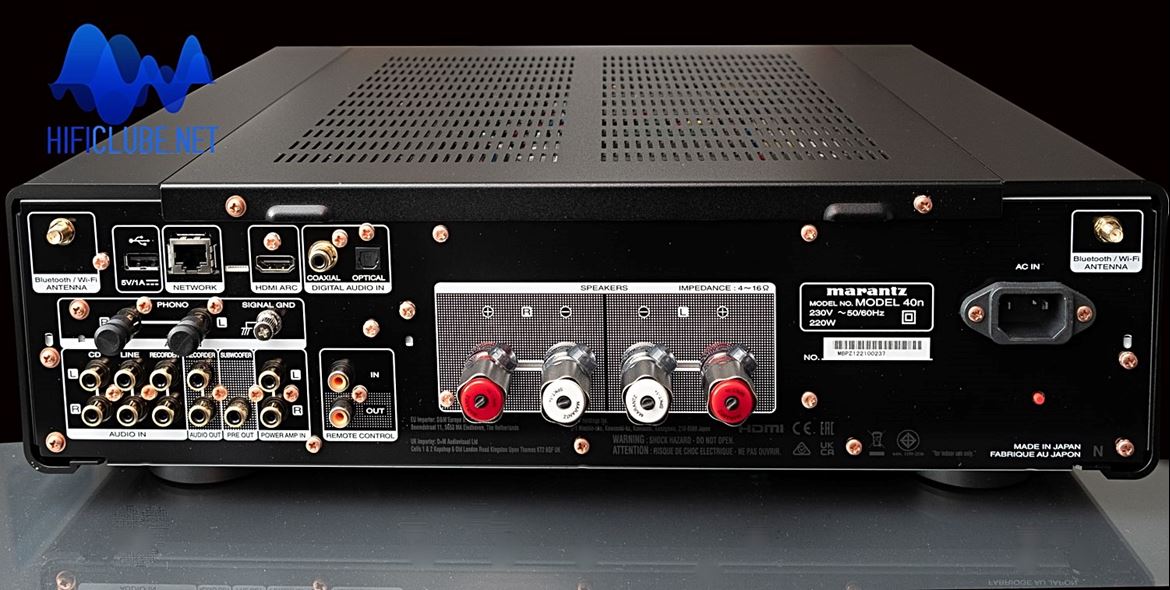 Never say never
The 40n is not MQA-compatible, and anything above 192/24 or DSD128. However, I found it will play PCM352/24 and DSD256 files by downsampling them - it never says never.
And it also played tracks with native MQA encoding as FLAC 44.1. If you want to go further, up to MQA 352.8, you'll have to use Roon via AirPlay streaming.
You can access all the features of the Marantz 40n by taking three different routes: by handling the buttons, using the elegant remote control or with the Heos App.
However, only the Heos app gives you access to the streaming functions where you can select Tidal, Spotify, Amazon Music, Napster, TuneIn, etc. Unfortunately, Qobuz is not on the list.
And that's also valid for USB. With the buttons and the remote, you'll never get there. On the other hand, you can command it via Alexa (Android) or Siri (iOS). I didn't try it – Alexa makes me nervous…
Easy on the ear, easy on the wallet
I still prefer the original design of my Naim Atom, but the 40n has more power and arguably better sound.
...I still prefer the design of my Naim Atom, but the 40n has more power and better sound...
And I include here the headphone output too, which has enough power even for recalcitrant planar headphones like the Hifiman HE1000.
I know we're in the realm of pure subjectivity, yet the 40n has set itself up as the paradigm of the 'easy-on-the-ear' sound. The treble is sweet, the midrange is creamy, and the bass, while not too taut and deep, is not 'woolly' either.
Marantz sound
Some people call this 'valve sound'; I call it 'Marantz sound'. You can still adjust it to taste with the tone controls. But I prefer 'source direct', which disables everything but the volume.
...the closest sound a McIntosh fan can get to without shelling out big bucks...
The Marantz HDAM modules determine the quality of the sound. And these have been tuned in such a way that the sound is basically the same regardless of the source and whether it's via Ethernet, Coaxial or USB (I haven't tried the Phono input). Even Bluetooth sounds good!
Marantz 40n offers the closest sound a McIntosh fan can get to without shelling out big bucks. Recommended by Hificlube.net
Marantz Model 40n Network Integrated Amplifier
Price: €2499