JVH spent some time with the €6,999 HiFi Rose RA-180 Class D integrated amplifier to establish a new spiritual relationship with music, albeit in inner conflict with his esthetic sensibilities.
'L'important c'est la rose' is a famous song by Gilbert Bécaud, also sung by Amália Rodrigues. The rose refers to the symbol of the Rose-Cross to which Bécaud was devoted:
Dis à ton tour maintenant
Que la vie n'a d'importance
Que par une fleur qui danse
Sur le temps... 
For the Rose-Cross fraternity, a medieval religious sect with roots in ancient Egypt, the rose (soul) is important, not the cross (the body), because life is transient and fleeting, like all material (and technical) things.
Sean Kim of Hifi Rose could be a follower too because the RA-180 has a pure musical soul in an eccentric body. 
Rose-Cross devotees seek the redemption of man (in this case, the object) through the perfect union of the lower temporal aspects with the higher eternal nature.
So do not be seduced or disillusioned by the design of the RA-180 - the important thing is the rose - the sound. And I am captivated by its sweetness, warmth and enveloping feeling (no one would say it's Class D). It's also fast and dynamic - even explosive.
'Startling factor'
The 'startling factor' of this amplifier is astounding. High-speed transients seem to come out of nowhere and hit you when you least expect them, especially with classical music, and not just drum transients and the 'beat' of modern music: choirs sound unusually dynamic and,er, 'human' in tone and timbre. 
I am listening to Messiah as I write, Gardiner's version, with women instead of children in the chorus, and I have never heard the verses of the libretto sung with such enthusiasm and stamina, with the tonic syllables so well marked: 
He shall reign for ever and ever
King of Kings and Lord of Lords 
And as for the final Amen, in the end, it was I who said Amen! I even blessed myself...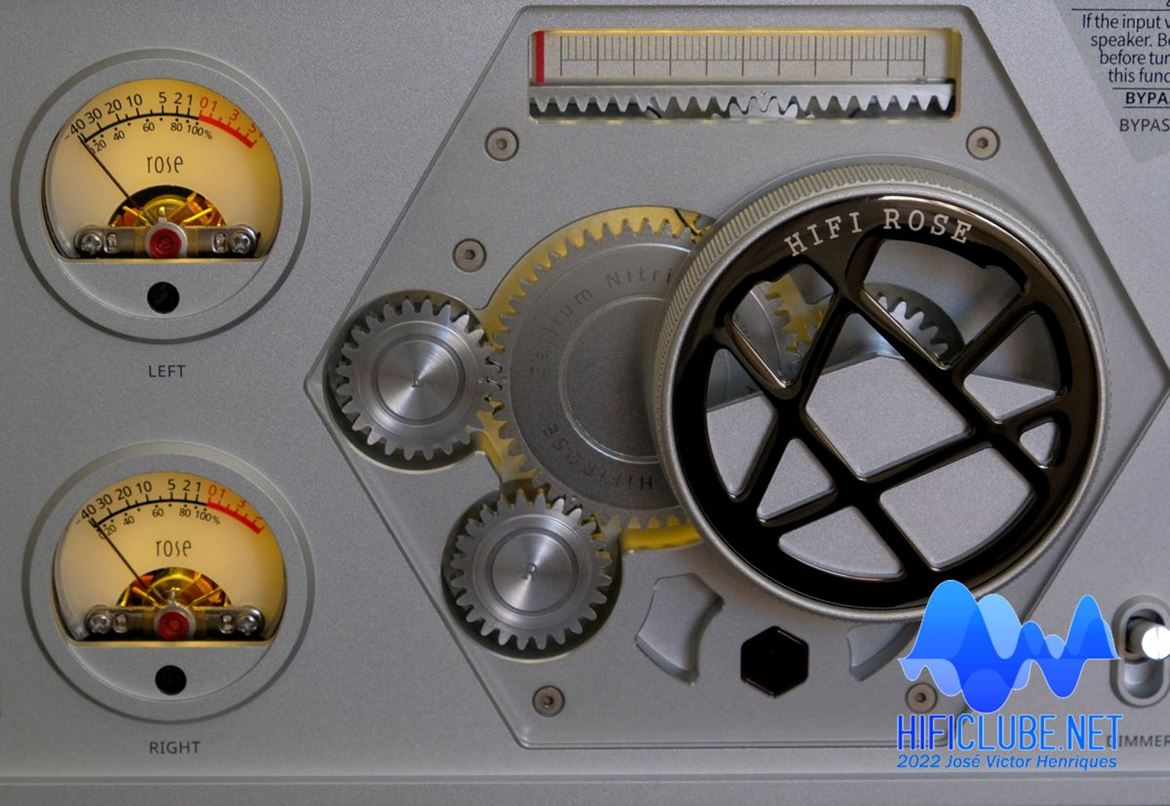 Reality Clash
The sound is so pleasing that it clashes with the crude reality of the exposed pinionsand sprockets, plus the 17 buttons (!) with nine different shapes for each function on the control panel - not to mention the 16 speaker connection terminals in the back! But we will get to that in a minute.
Fun to play 
Just the fun of seeing (and hearing, especially when using the remote or app) the volume control mechanism at work is worth a visit to Ajasom. I immediately felt like listening to Pink Floyd's 'Time':
Ticking away the
moments that makeup
a dull day...
The rotary knob turns a larger cog wheel that engages two smaller ones (right and left channels) while moving a red needle horizontally in a backlit rectangular window. Suddenly I expected steam to start rising ...
Note: The app only works as an electronic remote control. It does not control any streaming functions.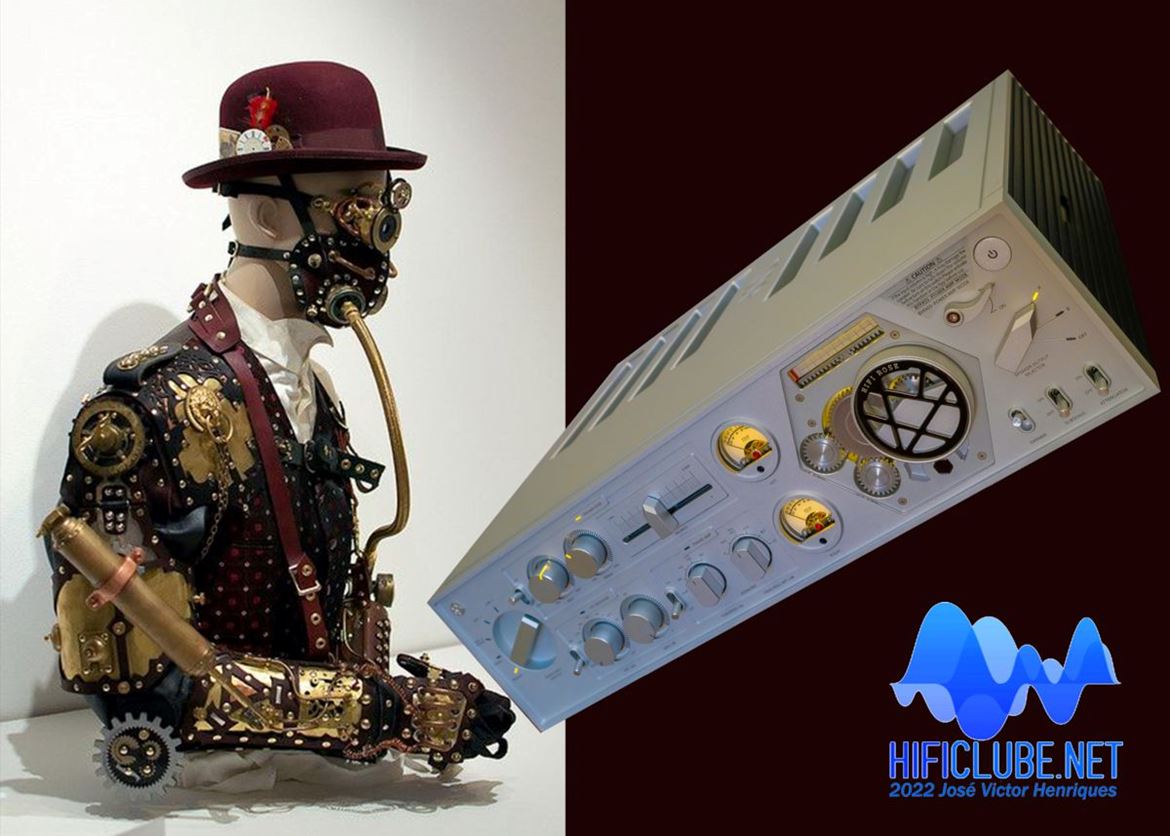 From Steampunk to Mad Max
Steampunk inspiration literally screams in your face. No wonder it is mentioned in all the press releases.  
There are also allusions to 'Mad Max' iconography, meant as a visual and artistic provocation led by the design anachronism and retro-futuristic eccentricity.
It offers a journey inside the machine like the naked mechanisms of high-precision Swiss watches, which made me to listen to Welcome to the Machine by Pink Floyd:
Welcome my son
Welcome to the machine
Where have you been?
It's alright we know where you've been
With the round, warmly lit VU meters and the iconic shape of the source and A/B selector switches, there's more than a nod to Nagra.
One cannot be indifferent to this radical design approach as it flies in the face of everything HiFi Rose has presented so far and all precedents in my experience with integrated amplifiers.
In an interview with Hifi News, Sean Tim described the front panel:
'It's like a schematic diagram from left to right – the input feeding the pre/control stage, to the volume and speaker selection – expressed with lighting and a beautiful, retro design'. 
The soft finish of the solid aluminium case makes you want to touch it as it feels as smooth as a rose petal. 
Just like Simone in 'Paixão', a song that is a hymn to eroticism: 
Vou ficar até ao fim do dia
Decorando tua geografia
Let me stay untill the end of the day,
Decorate your geography. 
EISA award? 
The RA-180 was recently unveiled at HighEnd 2022. Hificlube was supposed to publish the first review, but Hi-Fi News beat us to it by a month.
This unusual 'haste' by Hi-Fi News can only mean that the RA-180 will be awarded by EISA in August, perhaps with a Technological Innovation and Design.
Class D analogue amplifier
I find it curious that Hifi Rose chose a Class D (PWM) amplifier topology for its first all-analogue amplifier. There is no sign of a DAC or streaming stage. 
But there is a sophisticated Phono floor with multiple equalisation solutions; tone controls centred on 100Hz and 10kHz, channel balance, and the ability to use a high-pass filter in bi-amplification mode as if it were an external electronic crossover!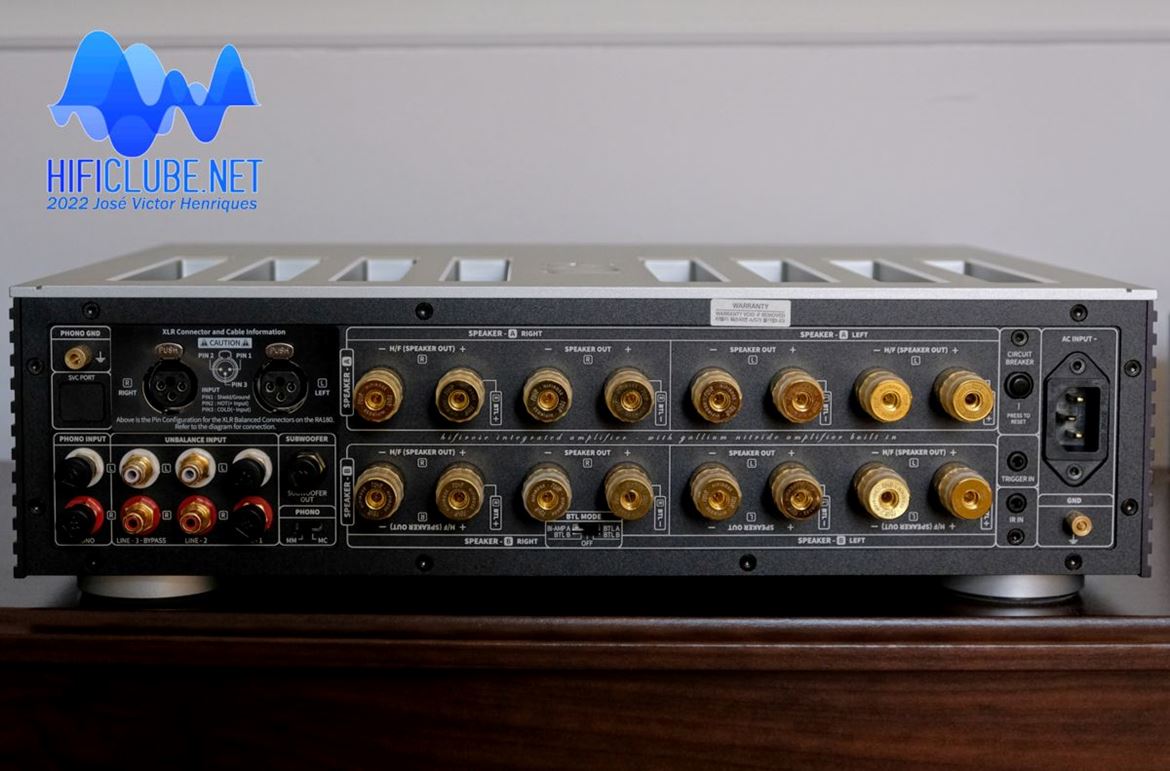 Four independent amplifiers
The innovation in the RA-180 is not only at the design level. For example, the amplifier system consists of four Class D amplifier modules based on GaN (gallium nitride) transistors, whose switching speed is significantly higher than that of their silicon counterparts, which improves linearity. 
Hifi Rose calls it Class A/D, but it should not be confused with Devialet's technology.
Notes: 
- Harmonic distortion is very low, but noise is not. Like all Class D amplifiers, it is susceptible to radio interference (RF) and electromagnetic interference (EMI)
- An inductor does the output filtering, which can affect the response depending on the impedance of the associated connected speakers.
- Unlike other Class D implementations, the RA-180 gets warm. 
But do not worry, you'll only hear good (and warm) sound. I did. 
Read the manual carefully to learn how to connect the RA-180 in stereo mode to a pair of A or B speakers (but not both pairs simultaneously); in bridge mode (2 x400W), in bi-amplification mode (4 x 200W), single or bi-amplification mode with HF crossover and equalisation (only the high frequencies from 600 to 6 kHz).
Thus the 16 output terminals are not intended for use in AV applications; they cover all the possible configurations for connecting the amplifier to the speakers of a stereo system.
The 'intelligibility' of each instrument's tonal and timbrical unique character - from strings to woodwinds; brass to percussion, was evident on every record I heard.
H/F Crossover
What's the point of configuring one of the modules in each channel to feed  the tweeter only with frequencies above a certain range if the signal still has to go through the speaker's high-pass filter?
HiFi Rose says the amplifier performs even better when the bandwidth is limited. And the same applies to the tweeter, which is freed from frequencies that it does not reproduce anyway. 
Just be sure to choose a cutoff frequency equal to (usually 2.5kHz) or preferably lower than that of the speaker's high-pass filter because you also have to consider the filter's slope. 
You also have the advantage of being able to control the volume independently. For example, if you have an external super tweeter, set it to the highest frequency (6 kHz) and adjust the output volume to your taste.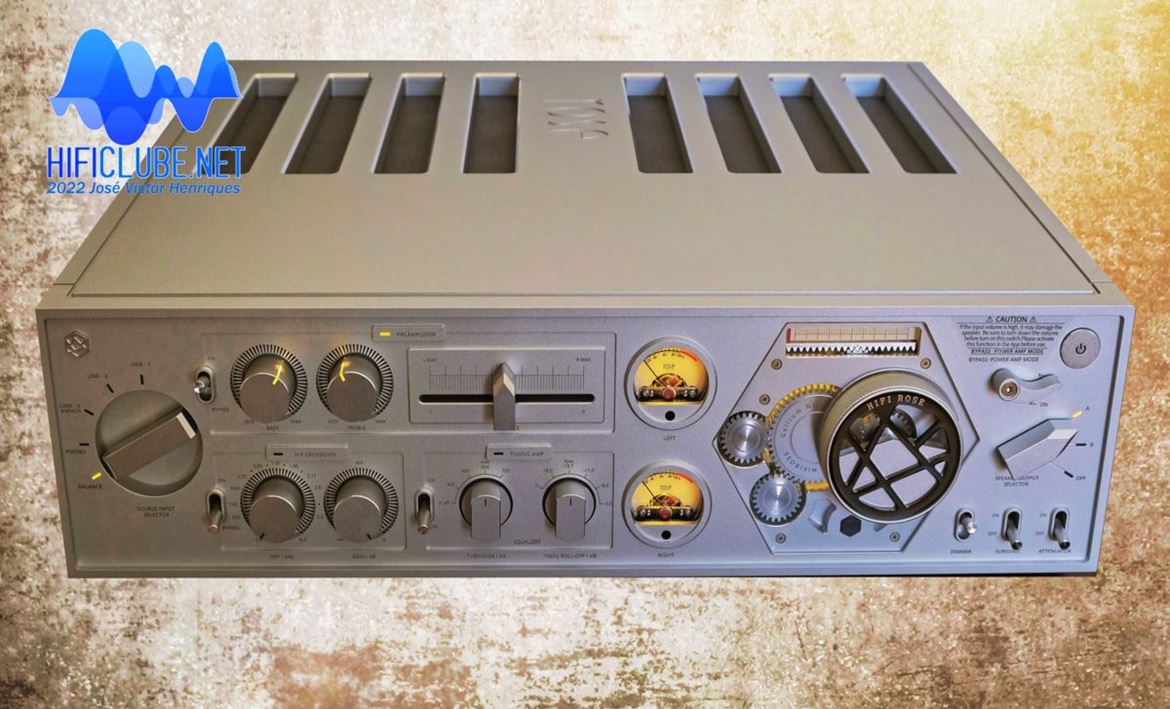 The logic of chaos
At first glance, the control panel appears chaotic. It consists of four independent buttons (all with different format): Source Selector, Volume Control, Preamp Bypass, and A, B or Off Output Selector; six equivalent toggle switches mainly for bypass functions; and subpanels for specific performance areas, each with its own set of buttons: tone controls, channel balance, H/F Crossover and Phono (RIIA equalisation).
Phono equalisation also looks complicated but follow the RIIA chart or the one that applies to the vintage label in question: Decca, Teldec, Columbia, etc., and you will not have any problem.
Turning the tables
I do not have a turntable (I lost patience many years ago, although I admit it sounds better under certain circumstances). As sources I used my Oppo CD-player and streaming via Roon from a Chord Mojo 2 DAC (with jack/2xRCA cable), so I could also experiment with bypassing the preamp.
The RA-180 wiped the floor with a pair of original Concertino Sf's in standard and bi-amping configuration with active 'HF crossover'. 
Honestly, I did not hear any improvement with the latter option. The treble sounds cleaner, and the soundstage seems to expand, but some sound cohesion is somewhat lost. Perhaps I could achieve this if I had invested more time in tuning.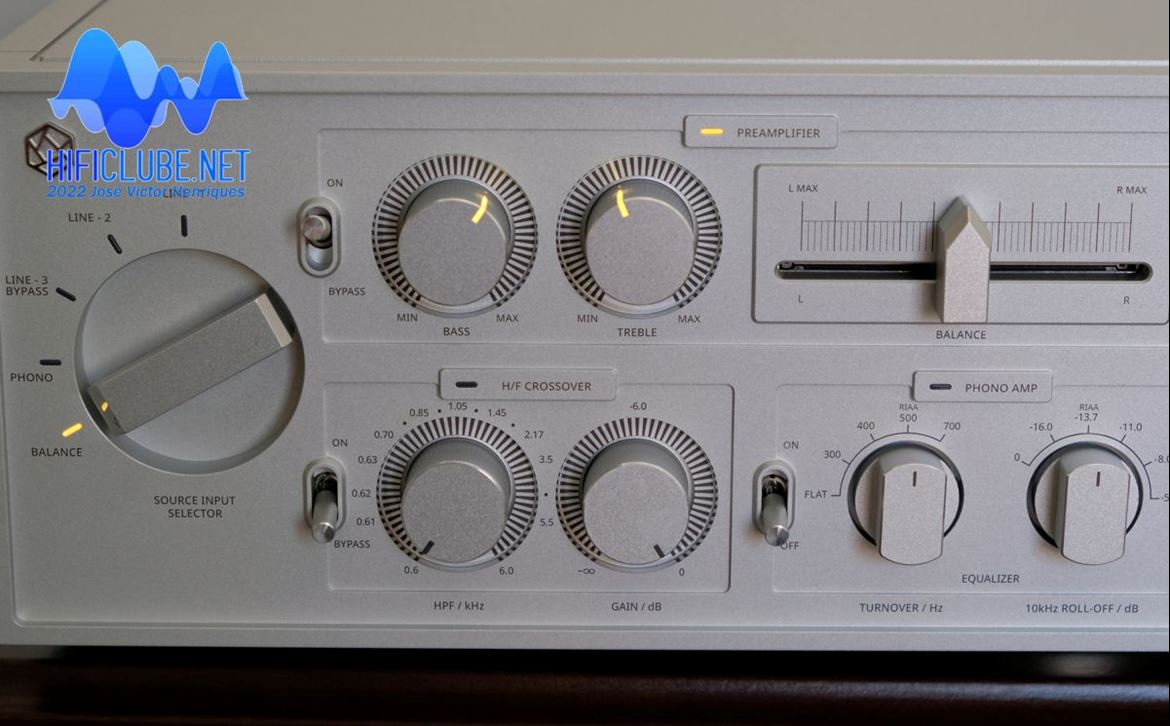 Instead, I have sometimes taken the easy way out by using the tone controls with good results, boosting the bass by 3dB up and 'rounding' the treble by -2dB on some records. It all depends on your loudspeakers and the music you ate listening to.
Powerhouse
The RA-180 is a powerhouse. It doesn't have the same transparency as the Mola Mola, which uses NCore modules. However, the sound is more homogeneous and coherent, and the attack and response are just as impressive, if not better.
And it manages to be sweet (the strings sound delicious) without lacking the clarity of the voices, male, female and children (choruses sound divine).
The intelligibility of the tonal character tonal of each instrument - from strings to woodwinds; from brass to percussion, was evident in every recording I heard. 
Even the electronic instruments and percussion held up to occasional excess without a whimper. Of course, all speakers have an ideal cruising speed. With small speakers, the sound can slosh if the volume is too high. Try it out with your own speakers.
I could listen to it for hours — especially pianos, whose timbre and dynamics never ceased to amaze me.
The look of love 
Whether you like or hate the look of the RA-180 doesn't matter. C'est la rose l'important, and it redeems you with the fragrance of its sound and the essence of music.
Listen at Ajasom and compare it with other amplifier technologies: from valves to Class A, A/B and D solid state in the same price range. You'll be as surprised as I am by this first attempt at an integrated amplifier from HiFi ROSE which will cost you one euro less than 7 000€.