Ler artigo integral em Português
The Ferrum brand is relatively new. It was created in Poland in 2020, and in just two years, it has introduced three killer products, all now tested by Hificlube.net with good marks and even granted awards. 
Ferrum was not born out of the blue. It is the daughter of HEM, owned by Marcin Hamerla, known for being the real father of the famous Mytek analogue digital converter.
A streamer in the making?
Firstborn was the HYPSOS programmable universal power supply (1.195,00€), followed by the OOR headphone amplifier (1.195,00€). Finally, we have the Ferrum ERCO (2.395,00 €), a headphone amplifier (and a preamplifier with XLR and RCA outputs to drive a pair of active speakers or an external amplifier). But above all, it is a high-quality DAC. 
ERCO only lacks the streaming function, which I am sure will be the next newborn of the Ferrum family. I suggest the name Byxo, which means 'ear' in Ukrainian the same way Erco means 'ear' in Esperanto.
Diamonds and rust
All Ferrum desktop products look alike: the same box (21 x 20 x 5 cm) identified by the illuminated iconic 'diamonds and rust' logo. They only vary in the functions they perform and, therefore, the control layout on the front panel. 
Well, the HYPSOS PSU has a small display, which I wish had also been used for the ERCO instead of the small led that changes colour according to whether it is receiving analogue (yellow), digital (orange for PCM and white for DSD) and MQA (green, blue and magenta) signals. But there is no colour coding for the different sampling frequencies. So red indicates an error, not a Red Book signal, and a white led flashes when installing firmware. And that's all the information you get.
Another EISA award?
Otherwise, it has a reasonably sized rotary volume knob and two selectors: one for gain and one for sources; and two headphone outputs: a conventional 6.3mm jack and a not so traditional balanced 4.4mm, which replaces the professional XLR on the OOR, my all-time favourite.
Alas, a 4.4mm balanced jack is not standard, so I couldn't test what must be the best output as I did not have a suitable cable: my apologies. Even so, I soon became a true ERCO fan. In foresight, another EISA award for Ferrum is coming. Wanna bet?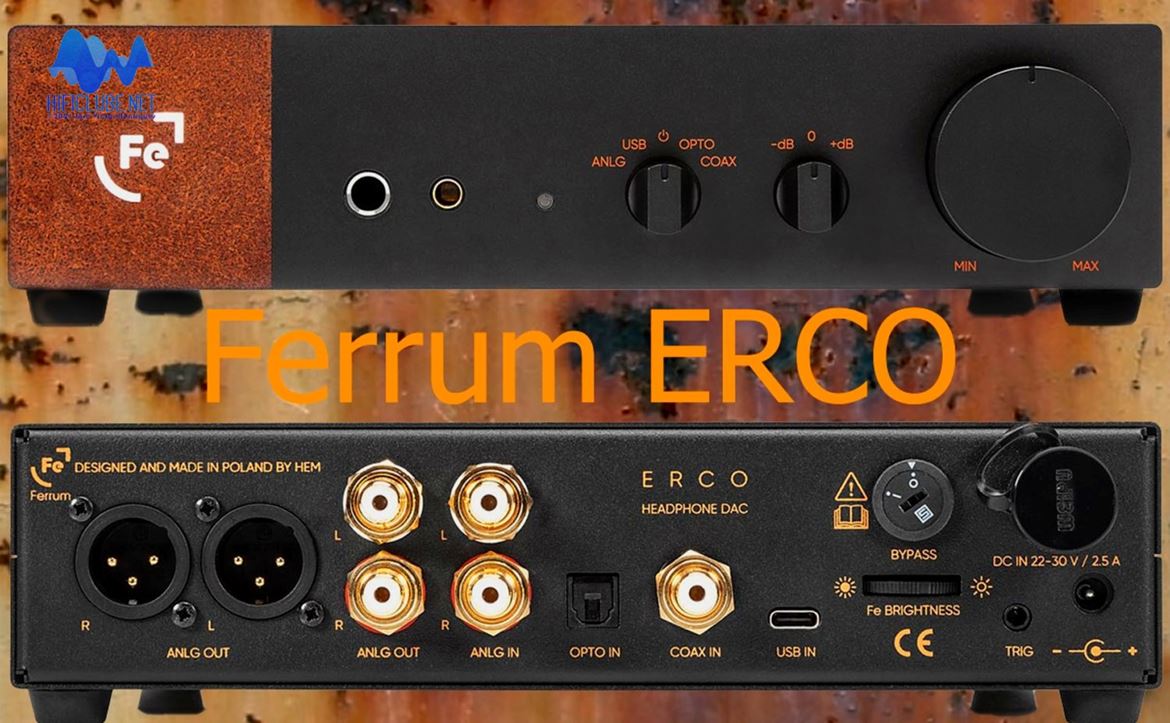 USB-C
USB-C inputs are more common in smartphones. I would have preferred a USB-A or even B, which is more stable. Always check whether the USB-C plug is well fitted in case of any signal lock failure. 
Another piece of advice: don't mess with the rotary bypass knob at the back. The idea is to allow you to control the volume on an external device, but an oversight can be fatal.
Coaxial (24/192 and DSD64 via DoP) and optical (96/24) inputs are limited. As always, high resolution is only possible via USB.
ERCO=OOR+DAC?
Ferrum substituted ICs for OOR's discrete output stages. Unfortunately, the internal space is the same, so Ferrum had to find room for a completely new digital section with an ESS Sabre ES9028PRO chip (PCM 384/32 and DSD256 + MQA based on an ARM STM32H7 chip); hence the components in the analogue stages had to shrink somehow. 
Gain-card with a twist
ERCO's output stages are based on Linear Technologies LT-1210 wideband current feedback amplifiers (two per channel in balanced mode). It is basically a gain-card like the ones used in Clones and Moonriver 404 amplifiers (LM3886), also known for their clean, fast sound and lightness of character.
However, Ferrum 'voiced' the LT-1210 output amps to sound as close to OOR as can be. And they did a good job too. I could have been fooled had I not known ICs were being used. Well done, guys!
Analogue in analogue out
The gain selector only works when headphones are being used. When used as a preamp, signals pass straight to the output through the quadruple (2 x balanced) Alps Blue potentiometer. 
Unlike most competitors (e.g. Naim Atom), analogue signals are kept pure and are not (re)digitised for processing and volume control and converted back to analogue. That's a thought-full technical decision. Thanks, guys!
HYPSOS + ERCO
The Ferrum ERCO comes with a 24V wall-wart PSU. But I still had the HYPSOS PSU around and didn't hesitate to connect it with the Power Link umbilical cord (99€). 
However, the difference is not as evident as with the OOR. So much so that I kept the recommended 24V voltage, even though the ERCO can handle up to 35V! With OOR, I cranked it up to 30V.
The higher the voltage, the lower the current, and ERCO seems to strive on current more than voltage, or so I heard – literally. It still sounds better with Hypsos, but it is no longer a must-have. Save a lot, sacrifice a little.
Power aplenty
Anyway, the ERCO has power aplenty; it is even more powerful than the OOR. I connected my Hifiman HE1000 with the 6.3mm jack, and even with the selector in the unity gain position, it had the power to spare. 
The balanced headphone output is even more powerful. I can only guess how it will easily wipe the floor with even the most recalcitrant planar-magnetic pair of headphones.
The sound quality of the ERCO's unbalanced output is very similar to the OOR's balanced output. I said similar, not equal. 
OOR vs ERCO
The sound of the OOR is darker and fuller, more – dare I say it? - analogue. Not that the ERCO sounds 'digital', whatever that means - far from it. The ERCO sounds more lively, agile, faster, and focused, albeit less full-bodied than the OOR, hence lighter in character but more informative.
The comparison is unfair because OOR needs an external DAC (I used a Hugo 2), and ERCO is self-sufficient.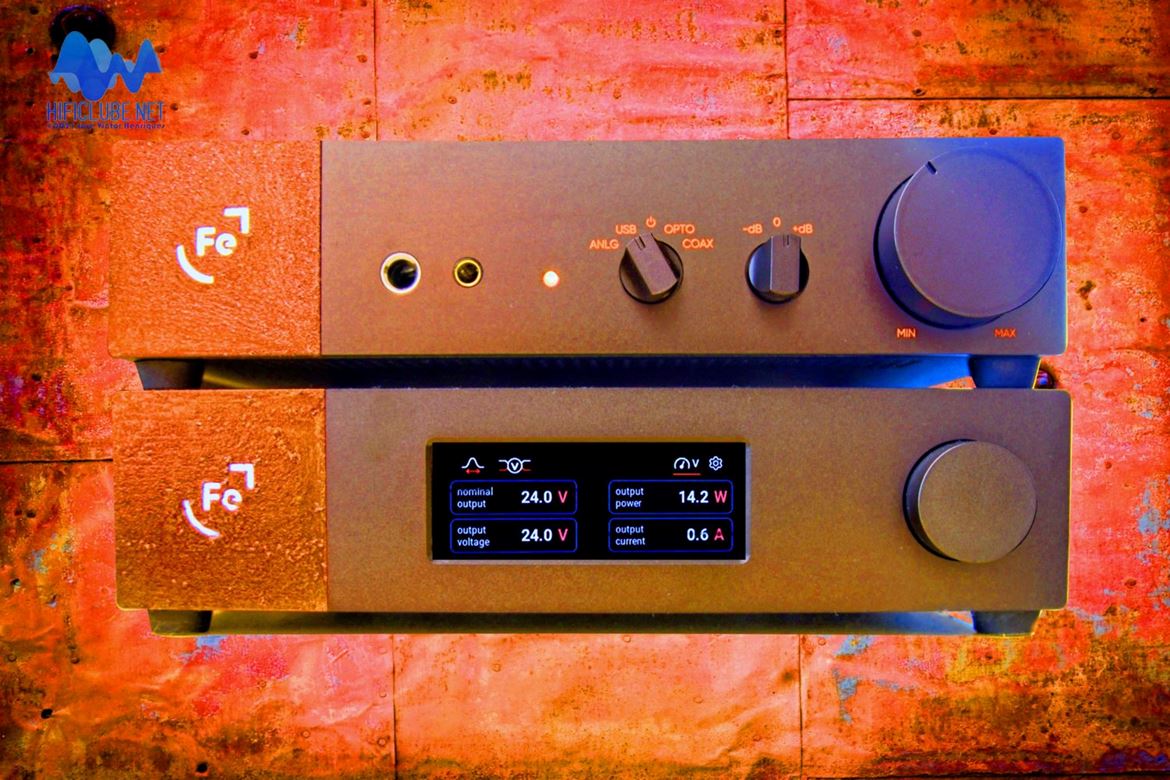 From DSD256 to full MQA
Once I installed the driver (only for Windows/PC) to listen to high-resolution files with JRiver and run Roon, ERCO fulfilled all my expectations, with PCM384 and native DSD256 conversion and full decoded and rendered MQA up to 352.8kHz.
…jitter level is so low that even YouTube sounds excellent!...
But it was while playing back the sound of Tiny Desk concert videos on YouTube, I was left flabbergasted. Please note that ERCO does not upsample signals - it's a bit-perfect DAC. But the jitter level is so low that even YouTube sounds excellent!
A 'dilemma' that gets into your head
Install an ERCO on your home system and listen to 'Lous and the Yakuza'. Lous (Marie-Pierre Kakoma) is a young Belgian of Congolese origin. Surrender to her many charms... vocally and otherwise! To which the hoarseness in her voice adds even more sensuality. 
The opening song 'Dilemme' grows on you and will stay in your head all day long:
Si je pouvais je vivrais seule
Loin des problèmes et des dilemmes
Na na na na 
Pay attention to the Yakuza girl's choir underpinning Lous' exotic voice and phrasing. Revel in the interplay between drum pedal, electric bass and synthesiser with perfect timbrical discrimination of overlapping 'bass' notes reproduced by different instruments. As for the drummer sidestick and rim-click timing technique, it will leave you gobsmacked.
Famous last words
Suppose you had a fine DAC and had accepted my previous suggestion to buy the OOR. Keep it, by all means. However, if you need a new DAC and headphone amplifier, ERCO might just be it. At least, add it to your (very) shortlist.
When in Portugal, visit AJASOM or visit your local dealer to listen to ERCO, and bring your favourite headphones. You'll be as amazed as I was. Or even more.