Estelon launches its new flagship model EXTREME at Munich High End Show
Estelon's relentless pursuit for perfection in speaker design and all the knowledge accumulated through the years of progress has been invested in the new product that is to be launched at Munich HIGH END Show on May 15th. With the utmost pride we present the new flagship model - Estelon Extreme.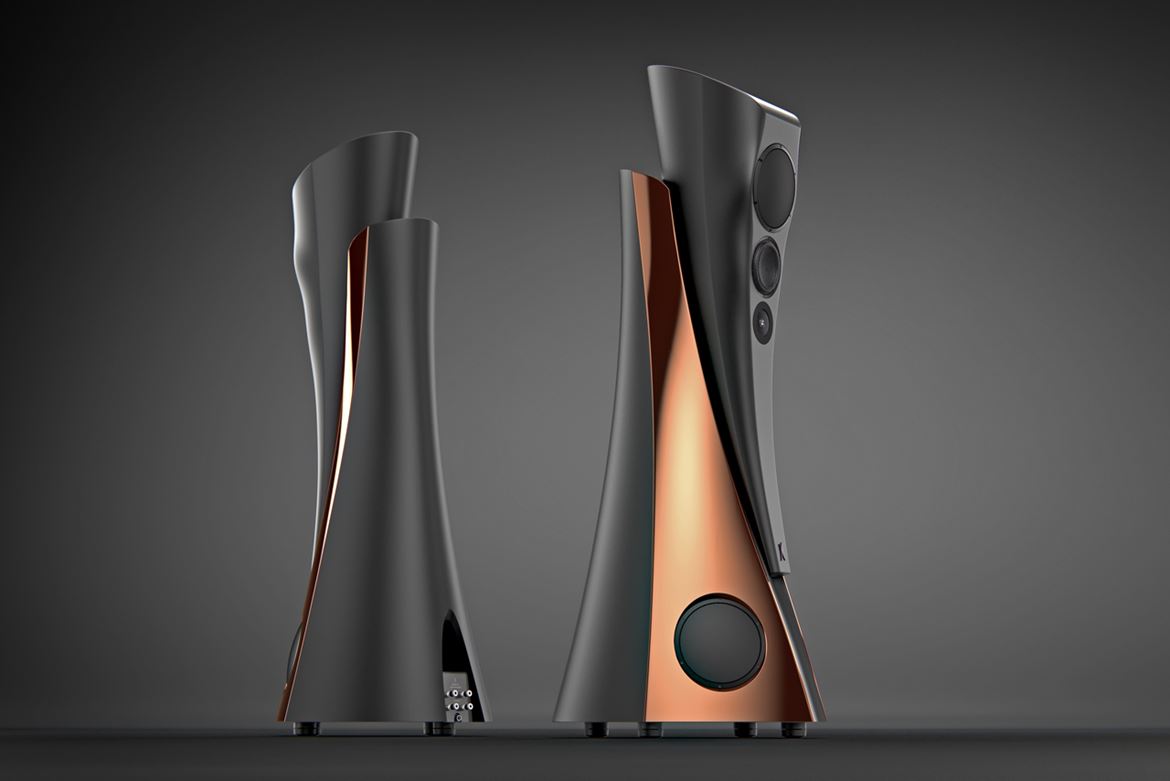 The proprietary marble-based composite material with the finest aesthetic finish presents the familiar sculpture-like design that Estelon has trademarked over the years. The most noticeable change in Exteme's design is that it is built of two modules. The upper module allows the speaker to be adjustable by user for optimizing the sound in regard of room specifics (speaker height is changeable from 177 to 207 cm).  The two module design also isolates the high, medium and mid-bass drivers from the vibration that the lower positioned bass drivers provide. Symmetrically arranged bass drivers work in equal conditions, which results in outstanding bass performance.  To achieve the maximum performance, the listener can also adjust the tweeter to his listening position.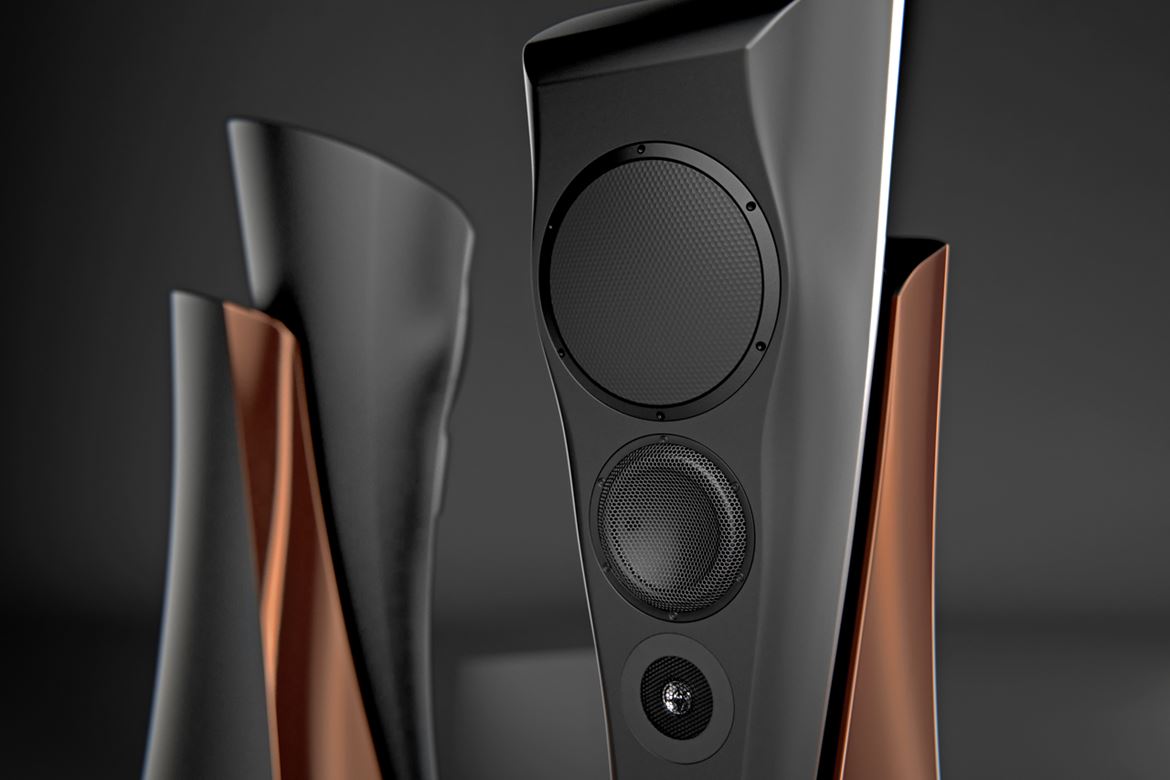 The design features best components available, including new aluminum woofers (2 x 10") and mid-woofer (10"), ceramic midrange (7") and diamond tweeter (1,5"), all custom designed by Accuton.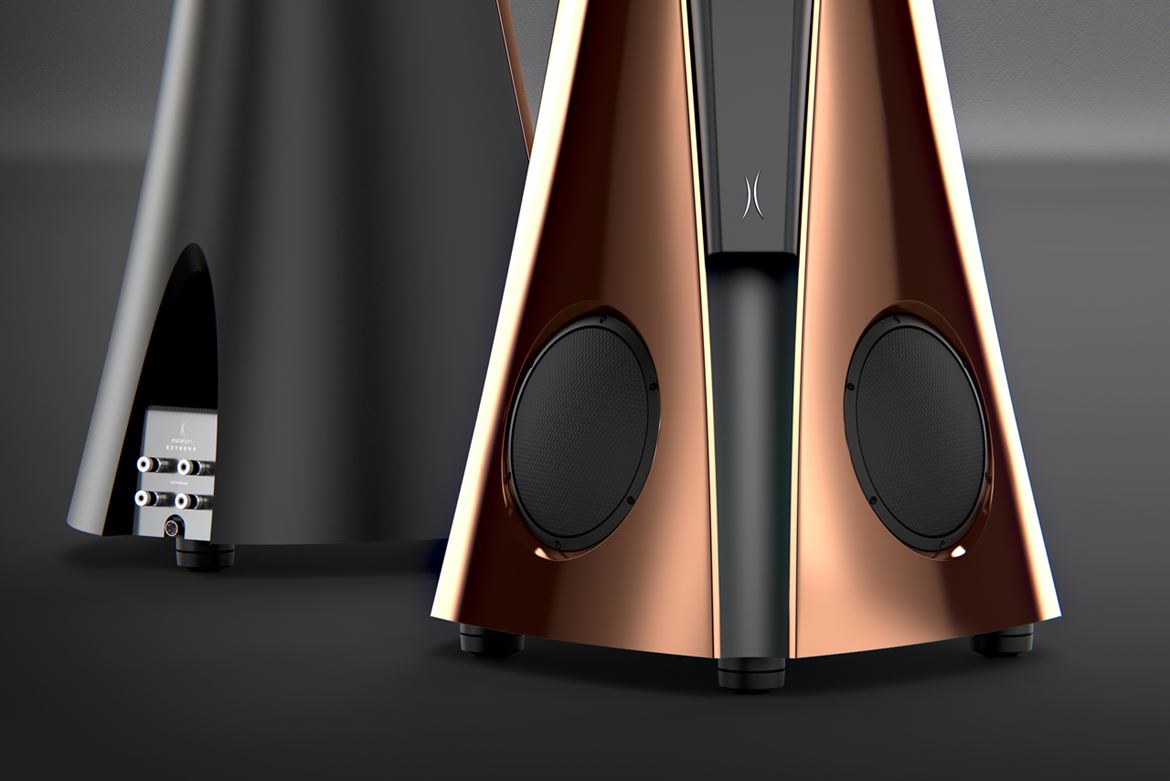 Suggested retail price in Europe 170 000 EUR.
Note: from the Estelon press-release
Auralic Aries
You might have heard some rumours about me but now I am about to be finally released. You know what I can do? Let me tell you real short: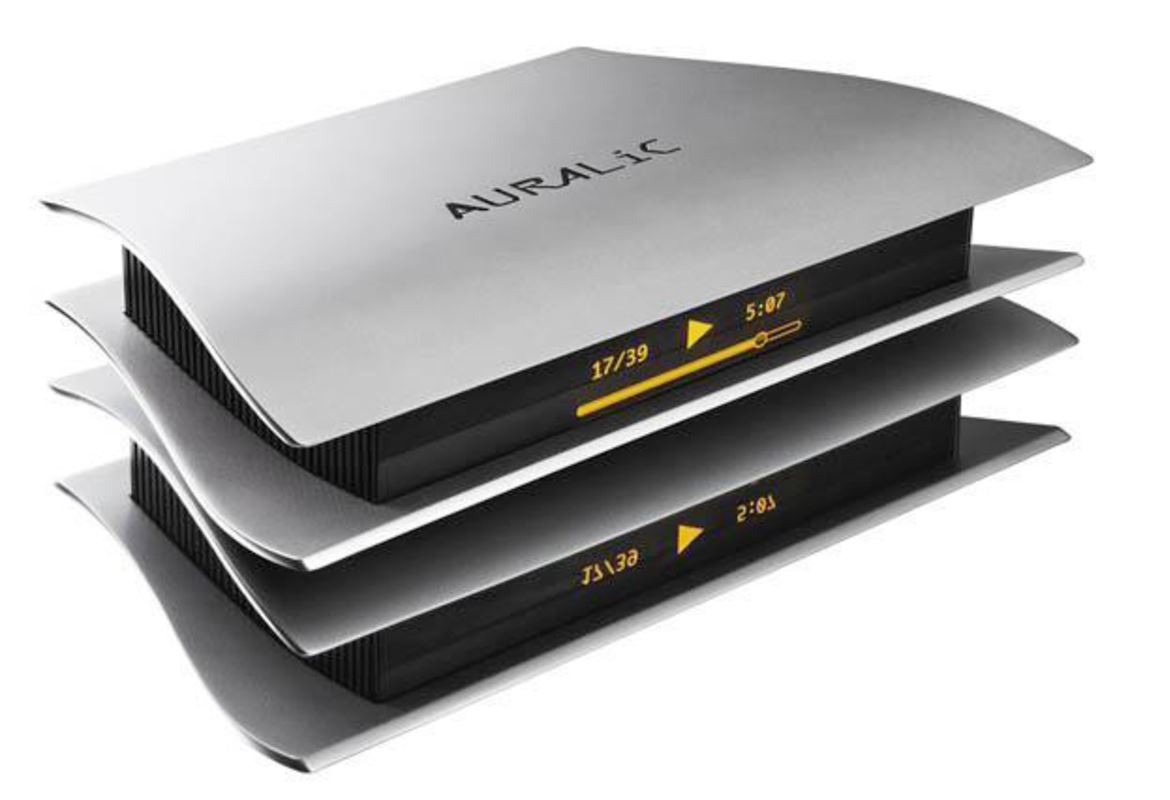 I can stream ANY music from a network attached storage or computer. I don't care if it's PCM-Data in up to 32 Bit/384 kHz, a DSD- or double-rate-DSD-stream. 


To make this even more impressive: I can do that over a wireless connection! No one else can! That makes me just perfect for HiFi -and multiroom systems!


I play all your favorite music from streaming services like Qobuz or WiMP. These services are fully integrated into my system.


You can control me with a beautiful app. No matter what platform you are using (iOS, Android, Windows, OSX or Linux) - I offer you a free app for your Tablet, Computer or Smartphone


Since my brain (a Quad-Core-ARM-Processor) is so intelligent and strong, I will offer lots of more features like room correction in the future. These updates will be completely free for the user.


My heart (an extremely precise femto-clock) beats precisely for the music.


And you know what's best? You can pre-order me now. Shipping will start shortly after the High-End-Show with a limited number of units. So be quick!
Well, that's all for today, folks. I am looking forward to seeing you soon. What about the High End Show this year? That's where my premiere takes place.
Note: from the Auralic Aries press release
Gryphon Pantheon
Joining the Gryphon pantheon of some of the world's finest loudspeakers is the appropriately named Gryphon Pantheon. It slots into the Gryphon line-up as the brand's most compact (relatively speaking) floor-standing model alongside the highly praised Pendragon and Trident II and stand-mount Mojo.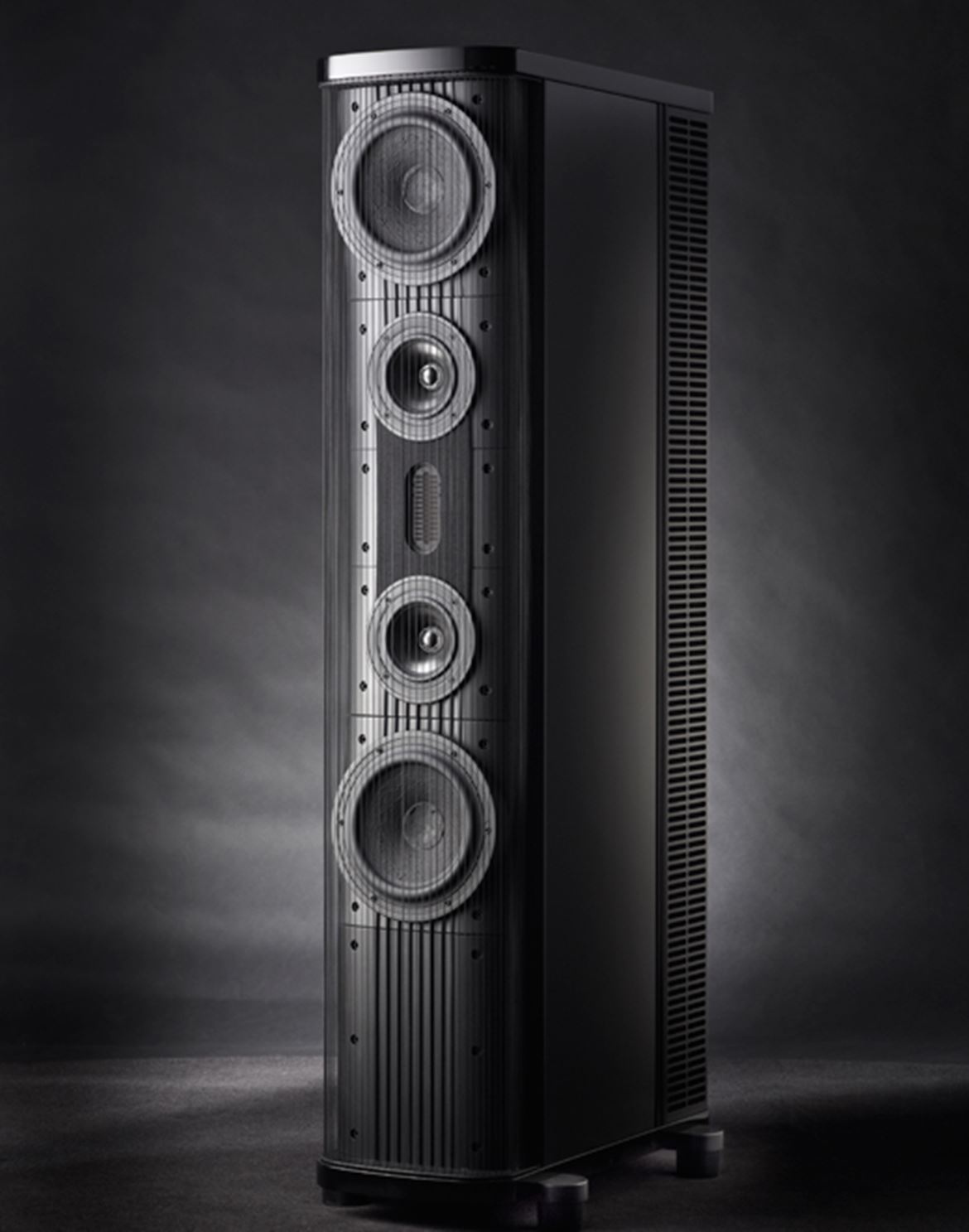 Like its predecessors, Pantheon employs proprietary constant phase technologies to ensure that all drivers are in phase at all frequencies at all times, allowing the Gryphon Pantheon to re-create the original acoustic event with holographic realism and ultimate resolution.
Drivers
Like all Gryphon loudspeakers, the high-frequency range in the Gryphon Pantheon is handled by an extraordinary Air Motion Transformer (AMT) drive unit with an extremely low-mass folded metal diaphragm capable of instantaneous response and a highly desirable point source sonic presentation.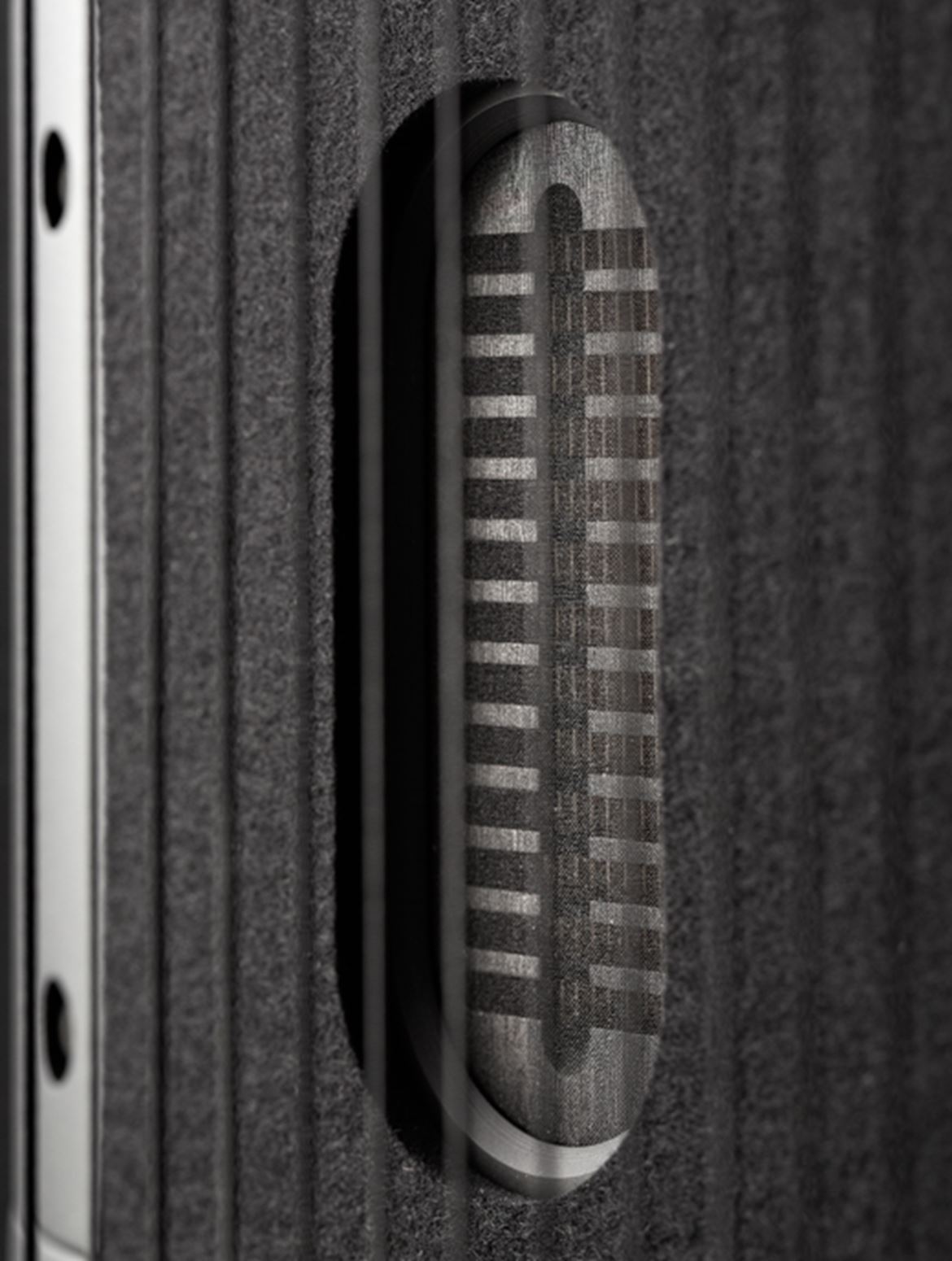 The Pantheon cone drivers are made in Denmark by ScanSpeak to Gryphon's exacting specifications and custom designed for low Q and minimal dynamic compression. The dual 8" bass drivers and dual 5" midrange units are specially developed with tightly focused, ultra-linear motor systems for maximum force and focus and total control of the motion of the layer-damped fiberglass cones.
Crossing Over
The fourth order filter network is based exclusively on the finest components (Duelund, Jensen, Holm, Mundorf) in a layout carefully calculated to eliminate electromagnetic interaction and fitted to a decoupling platform to prevent vibration. The crossover network is pre-biased by a 28 V battery for constant charge to the electrolytic capacitors in the impedance correction circuit. Battery-biased "Class A" operation ensures a smoother, more richly detailed three-dimensional presentation.
The hand-adjusted Pantheon crossover network performs with impeccable precision and transparency.
Elegant Functionality
The five-driver, three-way Gryphon Pantheon is housed in a sleek, tall, massively braced sculpted enclosure with precisely contoured modular baffle and driver surrounds and baffle covering carefully selected and applied to effectively address baffle reflections and eliminate diffraction phenomena.
Independent baffle elements for each driver break up the pathway through which vibrations would otherwise be transmitted in a single, shared baffle. The five dedicated Pantheon baffles allow precision time alignment of the individual drivers based on the now classic, subtle Gryphon baffle curvature.
Beneath its stylish exterior, Gryphon Pantheon offers an inert, non-resonant platform for the drive units combining extensive internal bracing and damping material with separate, precision tuned reflex chambers for the dual bass drivers and an isolated, sealed chamber for the twin midrange units.
The side panels are an ingenious modular construction for simple removal and replacement at any time.
Like every Gryphon product, Gryphon Pantheon is designed by Gryphon founder and CEO Flemming E. Rasmussen and manufactured in Denmark.
Pantheon will be introduced at the Munich High End Show in May.
Note: from the Gryphon Pantheon press release pdf
Constellation unveils new Inspiration Series at Munich High End Show
Constellation Audio, the innovative manufacturer of high performance amplifiers, preamplifiers, and digital playback systems, is pleased to announce the debut of its new Inspiration Series preamplifier and amplifiers at the Munich High End Show in Munich Germany from May 15 – 18.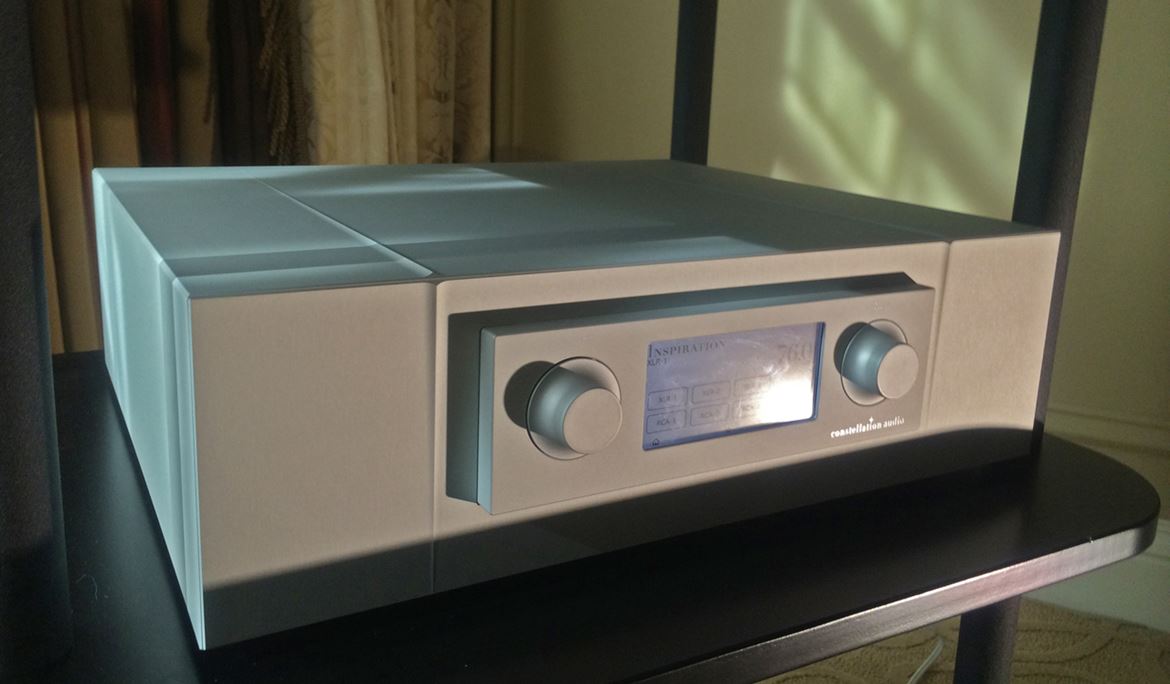 Derived from the highly acclaimed Reference and Performance Series components which established Constellation Audio as a premiere electronics manufacturer, the Inspiration Series components bring the engineering, design, and manufacturing expertise of Constellation Audio to a new generation of listeners.
Drawing on their rich heritage, Inspiration offers listeners the best of Constellation Audio designs, performance which has been distilled to the essence, but not diluted. The amplifier and preamplifier are the first of the Inspiration Series components to be released, with an integrated amplifier, phono preamplifier, DAC, and media player to follow later this year. Murali Murugasu, CEO of Constellation Audio, states that the Inspiration Series "are landmark components that offer a unique value proposition to the high end audio customer. Their ability to deliver such high performance at a relatively modest price is unmatched in our industry."
According to Peter Madnick, VP of Engineering for Constellation Audio, the reasons for being able to bring the Inspiration Series of components to market are unique.
"Because we do everything in-house, we are able to utilize many of the same circuit topologies found in our more sophisticated designs. The strong aesthetic family resemblance is achieved through using the same industrial design team (led by Alex Rasmussen of Neal Feay) which created the Reference and Performance Series products." Inspiration power amplifiers are available in both stereo and monaural configurations and are designated AMP 1.0 and MONO 1.0, while the preamplifier is called PREAMP 1.0.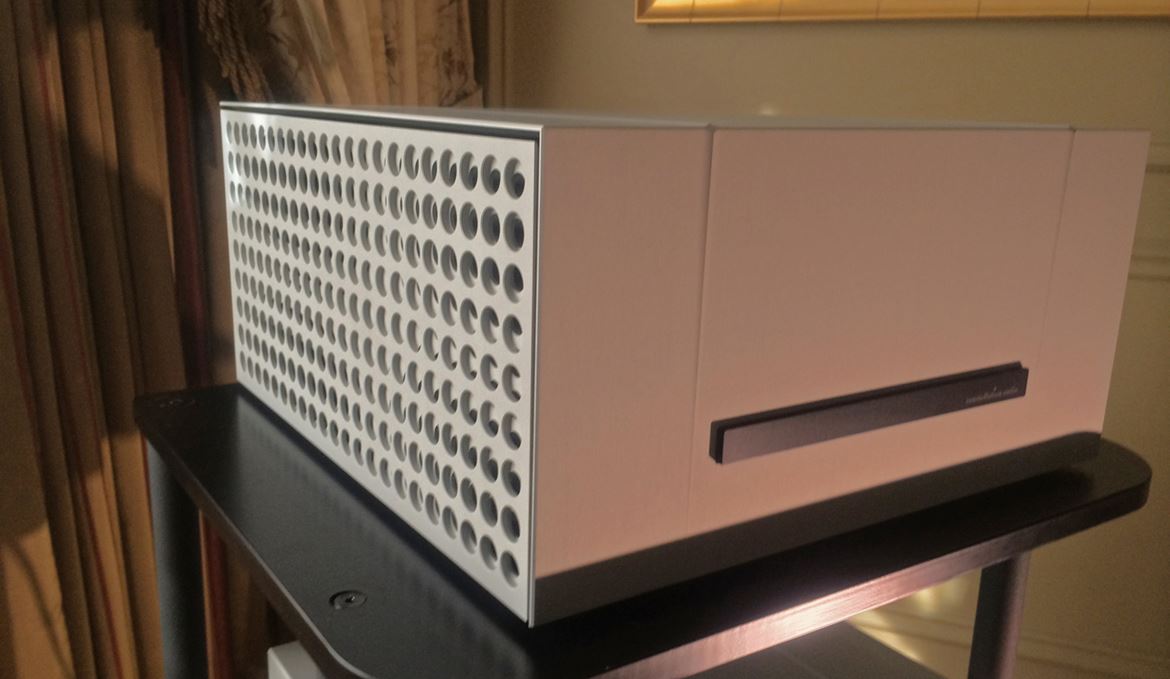 The heart of the amplifiers' design is our unique Balanced Bridged circuit topology, which combines multiple single-ended amplifier modules in a fully balanced design – the same design used in our Reference and Performance Series amplifiers. To assure a perfectly balanced signal, the AMP 1.0 and MONO 1.0 also incorporate the servo circuits in our Line Stage Gain Module to make certain that both halves of an incoming signal are perfectly balanced, no matter what the source. With AMP 1.0 delivering a conservatively rated 200 wpc into 8 Ohms (400 wpc into 4 Ohms) and MONO 1.0 delivering twice that (into 8 and 4 Ohm loads respectively) per chassis, it is highly unlikely that anyone will exhaust the dynamic reserves of these powerful amplifiers.
From the Reference Series' Altair II to the Performance Series' Virgo II to the new Inspiration Series PREAMP 1.0, the lineage is unmistakable. Technologically, PREAMP 1.0 uses the same Line Stage Gain Module design in a fully balanced configuration as does its more costly siblings. To this, we incorporate such real world features as a home theater bypass, remote turn-on/turn-off capability, and an elegant machined-aluminum remote control. PREAMP 1.0 is equally suited to be the centerpiece of a great music system or as an integral part of a multi-channel home entertainment system. Either way, the user gets the benefits of Constellation Audio performance and design in an affordable package.
Constellation Audio will be demonstrating the new Inspiration Series at the Munich High End Show at: Building: ATRIUM 4, First Floor, Room F-118
Note: from Constellation Inspiration Series press-release pdf
Absolute Sounds at Munich High End 2014
New product highlights include:


Audio Research: Striking new range with all-new design, exclusively revealed by the American kings of valve-based audio


Constellation Audio: Ultra high-end hi-fi's new dream team unveils its latest Inspiration Series


Copland: New DAC/valve headphone amp from Denmark's finest


Dan D'Agostino: Stunning Momentum Integrated amp – another masterpiece in aluminium and copper from the founder of Krell


darTZeel: The Swiss masters of sonic neutrality showcase their LHC-208 'danalogue' integrated amplifier


Devialet: Radical enhancements to the Parisian company's already revolutionary range of ADH (Analogue Digital Hybrid) amp components


Jadis: French valve specialist shows off the sumptuous new I-50 integrated amp with KT150 tubes, plus a remarkable high-end turntable


Magico: First-ever opportunity to hear the peerless £600,000 Magico Ultimate loudspeakers at a public event!


MartinLogan: Gorgeous new Crescendo tabletop wireless speaker will be present, alongside several surprises from the Kansas-based audio innovators


Sonus faber: Debut for the Italian maestros' luxurious, state-of-the-art Lilium loudspeakers


TechDAS: Following the extraordinary Air Force One turntable, Japan's vinyl evangelists ready Air Force Two for takeoff.


iFI iDSD Quad-Speed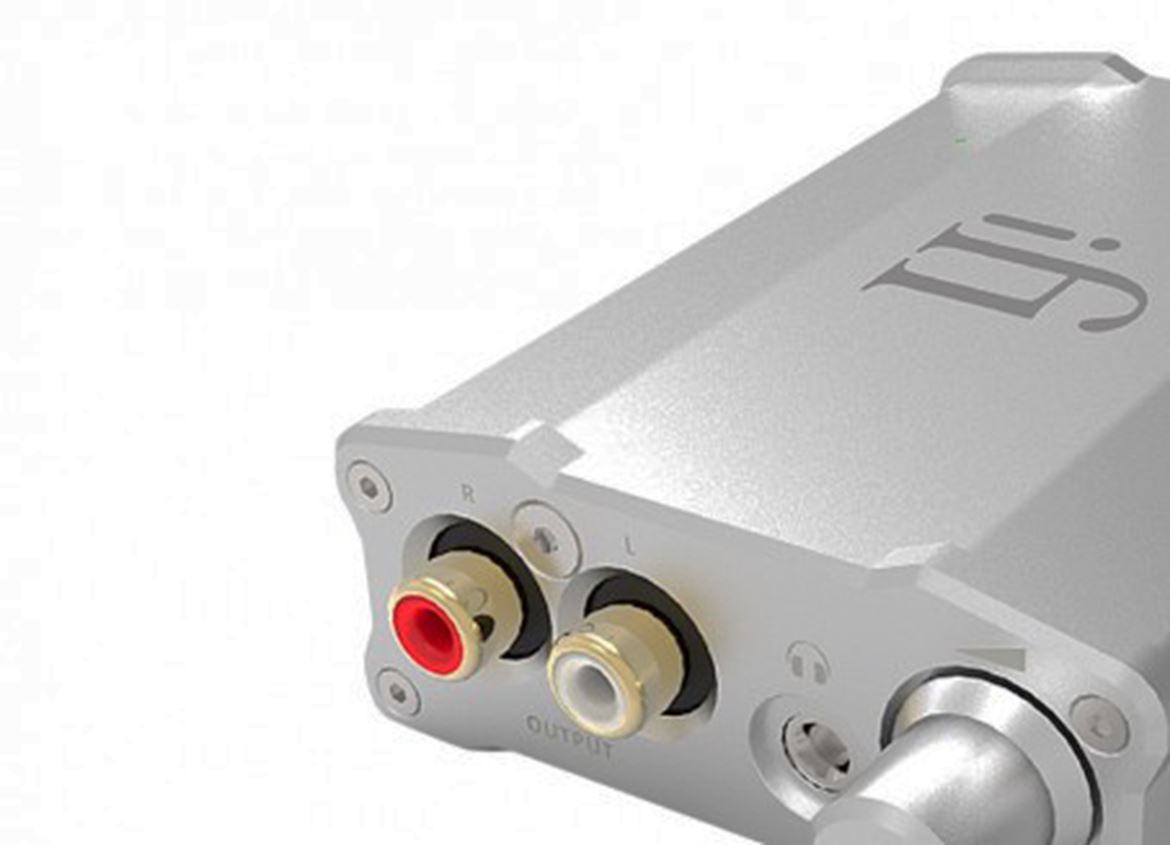 Quantum leap to Quad-Speed DSD 256 on nano iDSD
Not to rest on our laurels, iFi is absolutely over the moon to announce that with the latest firmware update, the nano iDSD is now capable of True Native Quad-Speed DSD256 playback at 11.2MHz/12.4MHz.  The nano iDSD is already the #1 seller in Japan and with the free Quad-Speed DSD256 upgrade, there is nothing to touch it.
ASIO 2.2 native DSD transfer  
Previously, the only native DSD transmission protocol was DSD over PCM (DoP). With the latest iFi driver, one can choose between ASIO 2.2 or DoP for native DSD playback.
Note: from iFI iDSD press release.
PS Audio To Show DirectStream DAC and 'Sprout' at Munich High End Show
Cutting-edge DAC and prototype lifestyle product make European debuts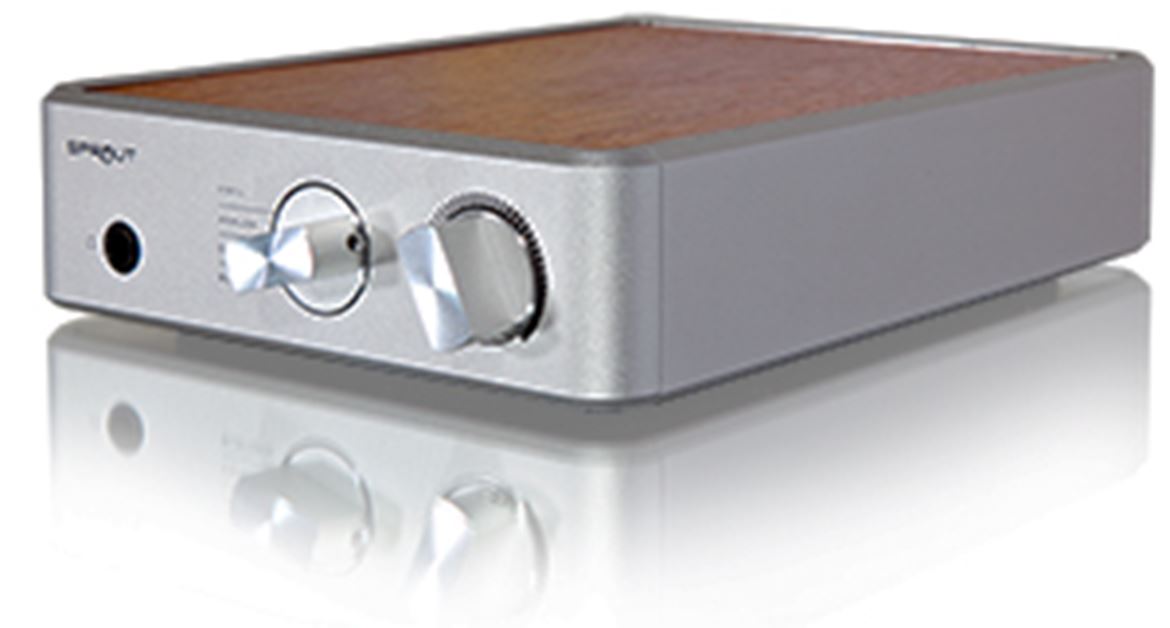 Boulder, CO: (May 9, 2014) – PS Audio, manufacturer of fine audio equipment for over 40 years, is proud to announce the European debut of two of the most important products in the company's history: the game-changing DirectStream DAC, and a pre-production prototype of 'Sprout', a high-quality, compact all-in-one intended for the lifestyle market. PS will be exhibiting in Halle 2 Stand B04 of the Munich High End show, at the Munich MOC convention center. The show runs from May 15-18, 2014; May 15th is trade-only.
 
DirectStream was introduced in March, 2014, amidst major industry interest in its unique design and construction, as well as its stunning sound quality. DirectStream converts all inputs to DSD, resulting in a substantial increase in detail from PCM inputs.

"The response to DirectStream proves to us that listeners want the experience of live music in their homes, and their present equipment just isn't giving it to them," said Paul McGowan, Founder and CEO of PS. "DirectStream reveals to listeners all the music that's been hidden in their existing libraries of CDs and digital files, and once the difference is heard, they simply can't go back. That's why DirectStream has been the most successful product launch in our history."
 
'Sprout' is the brainchild of Scott McGowan, PS Audio's Sales Director, and son of Paul McGowan. Designed as the simple but high-quality hub of a home music system, 'Sprout' is a 50 watt/channel integrated amplifier which includes a phono preamplifier, DAC, headphone amp and a Bluetooth receiver. 'Sprout' can thus play music directly from a turntable, any digital input, and wirelessly from a smartphone.
 
"Many of my friends want the concert-hall sound of PS Audio's products, " said Scott, "but they can't afford them, and they don't have room for them in their homes.  'Sprout' will give them the kick-ass sound and build-quality of PS' traditional products, in a simple, small unit whose design will fit in modern homes. 'Sprout' will play music from any source, in the way that people listen today—at a price they can afford."
Note: from PS Audio press-release
 
DirectStream will be demonstrated in a two-channel system utilizing Raidho loudspeakers; 'Sprout' will be demonstrated with Audeze headphones being driven by 'Sprout's' headphone amplifier. Both Paul and Scott McGowan will be on hand to conduct demonstrations and answer questions about the new products.
 
'Sprout' is being shown as a pre-production prototype; it will be introduced to a mass audience soon, by means of a crowd-funding campaign on Kickstarter. "Most people of my generation—in their '20's and '30's—have grown up with earbuds and cheap plastic home-theater systems, and have no idea how great music at home can sound," said Scott McGowan. "This product is our first step in growing awareness of awesome home audio—so we think 'Sprout' is an appropriate name. We expect big things from this little guy."
European "Premier" of the Nagra HD-DAC
Nagra makes its own impression concerning high definition in music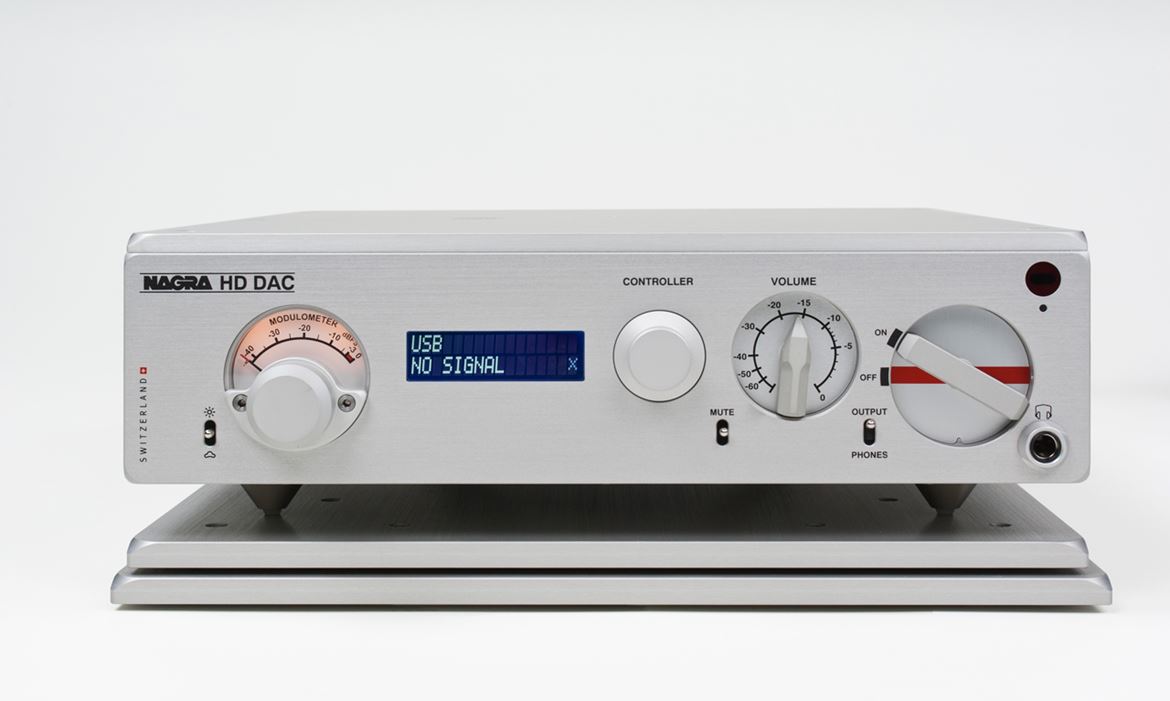 High-End show Munich, Germany – 15 May 2014
Since the invention of the first Nagra back in 1951 which revolutionized location sound recording, the Swiss manufacturer hasn't stopped innovating, allowing continuous progression towards sonic reproduction perfection.
The DAC Digital/Analog converter introduced in its definitive version in Munich represents a new milestone in this direction, typical of the brand, with its alternative solutions, sovereign musicality designed to last.
This converter, baptized the HD DAC, was unveiled in prototype form in "Avant premiere" at last year's High End show. In the interim period, the company's engineers have continued optimizing the unit, and it is now in its final version ready for delivery.
The converter uses an innovative technology based on a double DSD format at a sampling frequency of 5.6 MHz, 128 times superior to that of a standard audio CD and twice that of an SACD. This technique allows the resolution to be pushed to extremes. For this digital section, Nagra worked hand-in-hand with Andreas Koch of AKDesign, a pioneer of the DSD format with a great reputation in professional studio environments. The designers concentrated particularly on the signal path and clock precision, so as to provide efficient solutions to the most common problems of digital drift and jitter. An ultra-high performance signal correction algorithm was developed specially.
The analog section was also developed using different routes, without any constraints. A glimpse inside the device reveals circuits with an aspect totally different from those normally employed. Amongst other things, one can see Nagra isolated transformers, used to drive an output circuit designed around a single ended tube. These transformers that provide a voltage gain (No gain is electronically produced), are exceptional pieces, of extremely complex design. Designed and wound in-house, they took several months to perfect. They guarantee a very large bandwidth while maintaining perfect phase correlation. The stability of the analog stage is globally such that no feedback was introduced.
The presence of numerous Nagra branded capacitors also grabs ones attention: They were specially made specifically for this device. Some of them adopt very peculiar technologies, such as bees wax. Some of them were even given cryogenic treatment.
The unit totals 25 independent decoupled power supplies, all highly precise and with very low noise. Most of the critical components were made-to-measure, exclusively for Nagra. Two external power supplies are used to power the analog and digital parts of the unit separately.
Upon request, these can be replaced by the Nagra MPS multiple power supply allowing the maximum performance to be achieved.
Flexible and adaptable
The Nagra HD DAC DA convertor was designed to be flexible, even in a professional context. It sports a complete connection panel and is able to accept all formats, PCM 24 bits up to 384 kbits/sec, DXD and DSD x 2. Extensive effort was made to design the audio USB input, particularly where the clocks are concerned, to maintain an extreme precision in terms of data flow management. The unit thus demonstrates comfortable operation in all situations even computer-based environments.
Sumptuous listening
Throughout its development, the Nagra HD DAC benefitted from a process of validation through listening sessions, with the aim of pinpointing the natural sound characterizing analog master recordings. This method enabled the purest possible sound to be harnessed. Total reproduction of transients and harmonics, exempt from traditional artifacts characterized, until now, by normal digital-to-analog conversion techniques the Nagra HD DAC operates in total respect of the music, maintaining its special presence and depth.
Presented for several trials by the specialized press, the unit received a particularly enthusiastic reception.
Nagra HD DAC
Principal characteristics
Digital inputs: 2x S/DIF, 2 AES/EBU, 1 Optical, 1 USB Audio (mode 2), 1x I2S (Nagra format).
Sampling frequency: 5.6 MHz, 72 bits.
Analog outputs: 1x stereo on RCA, 1x stereo XLR (symmetrical on transformers available as an option).
Compatible digital formats: PCM 24 bits up to 384 kHz, DXD, DSD x 2.
Bandwidth: 5 Hz à 40 kHz (+0 – 3dB).
Signal-to-noise ratio: -128 dBr (linear).
Distortion: < 0.02% (à -20dBFS).
Dimensions: 310 x 350 x 76 mm (12.2 x 13.7 x 3 inches).
Note: from Nagra HD DAC press-release