Prepare to be immersed in this tale of a Portuguese company that's (re)defining history in the world of high-end audio: INNUOS, an acronym for 'INNovation throUgh Open Systems'. Join JVH as he uncovers the whole story behind this incredible enterprise.
It all began in 2009, when Amelia Santos and Nuno Vitorino, a dynamic Portuguese couple and Computer Engineering graduates from the prestigious Instituto Superior Técnico in Lisbon, embarked on their professional journeys at Tesco and Deloitte in London.
Nuno, an avid audiophile, took pleasure in assembling his audio equipment on the kitchen table, much like me with my first amplifiers and speakers using imported parts from London. But Nuno Vitorino dared to go further.
From Passion to Profession
Innuos was initially born out of Nuno's hobby. He constructed a compact server using third-party components and his own software to house his CD collection, creating a personal home streaming platform for himself and a handful of close friends. As he built more servers and sold them on eBay and Amazon, he found success beyond his wildest expectations.
Recognizing the market potential for these products, Amelia, armed with an MBA from INSEAD, made the bold decision to concentrate on Nuno's side venture.
Algarve: Where Innuos (and the Sun) Shine Brighter
In 2013, the couple returned to Portugal, choosing the sunny Algarve region as their base—not as tourists, but as entrepreneurs. They intentionally decided to operate outside of Lisbon or Porto, believing in Algarve's potential for growth beyond tourism. With an international airport, enviable quality of life, and the capacity to attract foreign talent, the region had much to offer. Financial support for entrepreneurship and employment, such as the CRESC Algarve 2020 program, further solidified their choice.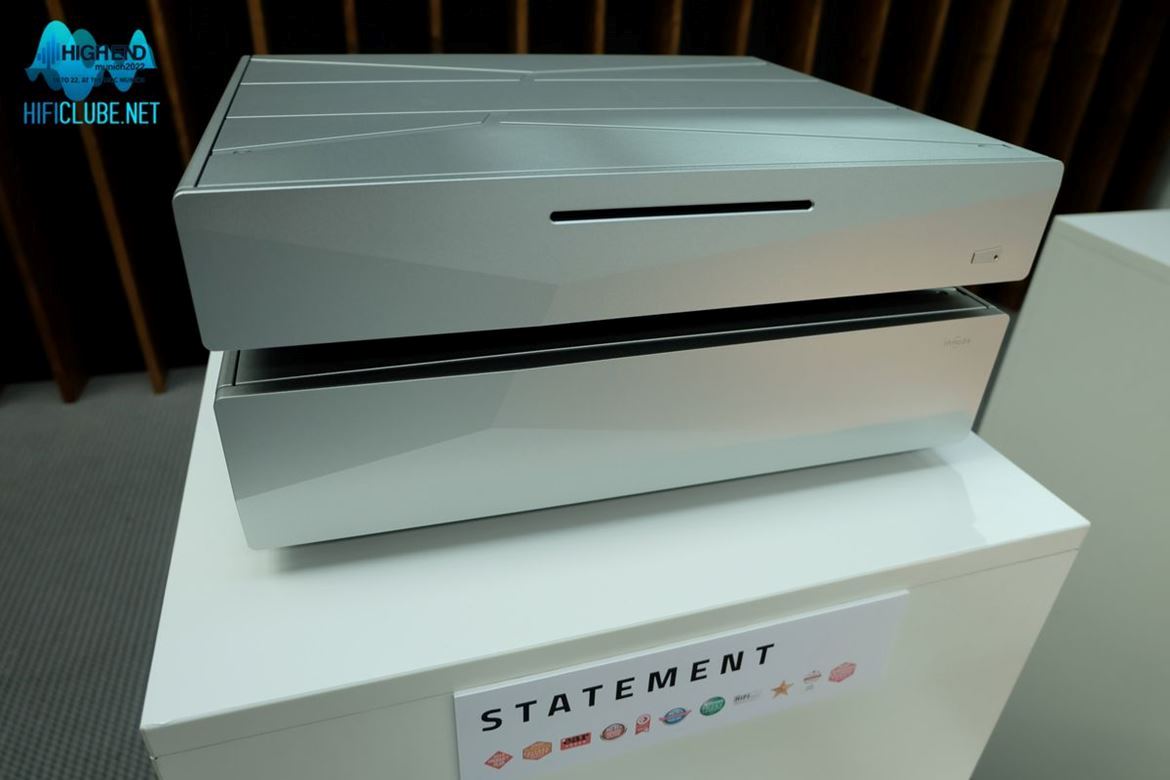 Innuos specializes in crafting top-tier digital audio products and bespoke software, with a primary emphasis on music servers, streamers, and accompanying accessories for discerning audiophiles and passionate music enthusiasts. Engineered for exceptional sound quality and seamless user experience, Innuos products enable listeners to indulge in their digital music libraries without any compromises. Among Innuos' acclaimed offerings are the ZENmini, ZEN, and ZENith music servers.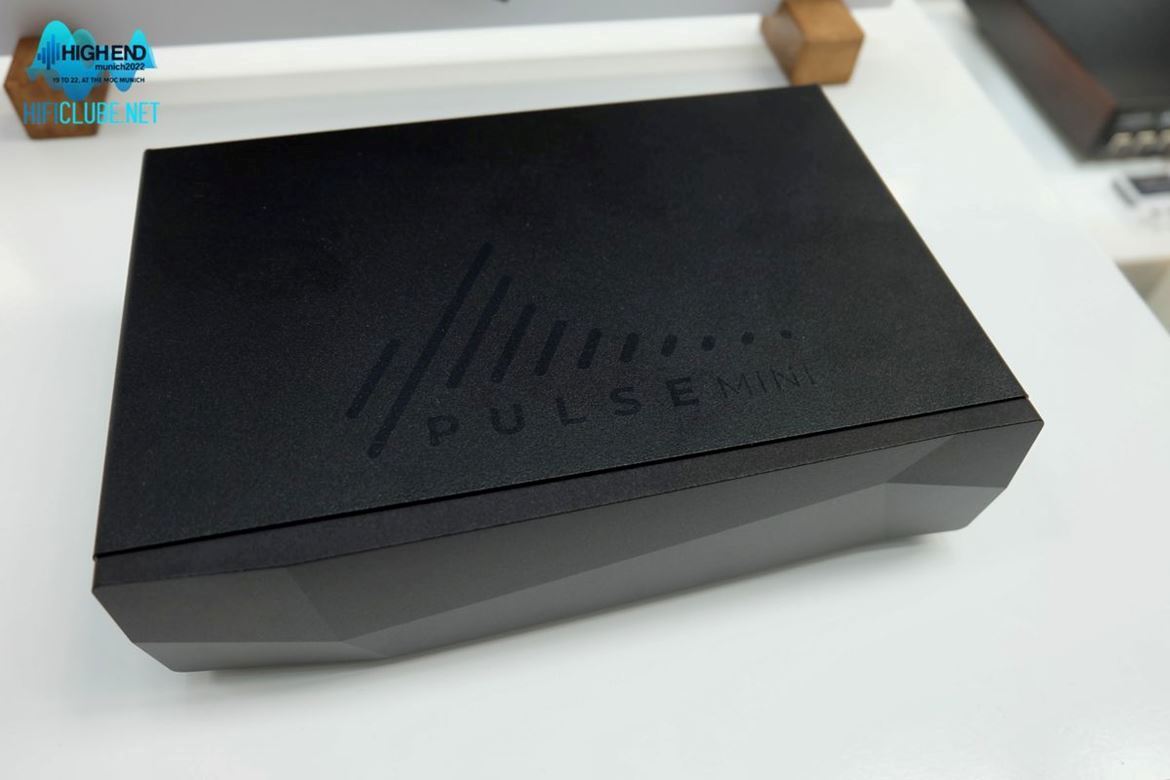 Innuos Pulse: The Heartbeat of Your Music
Innuos boasts an expansive product lineup, ranging from the budget-friendly PULSE streamers starting at 1,000 euros to the high-end Statement model, featuring up to 8 TB of local SSD storage and a price tag of 20,000 euros.
These devices come equipped with a variety of features, including CD ripping, music library management, multi-room streaming, and compatibility with popular music streaming services like Tidal, Qobuz, and Spotify. Users can even play digitized CDs using Innuos' dedicated app.
A Global Footprint
Over the past seven years, Innuos has expanded its presence across the globe, now represented in 42 countries, with 99% of its production dedicated to exports, including the competitive US market. There, Innuos has successfully challenged numerous American high-end audio technology brands. Today, the diverse team comprises around 45 individuals from ten different nationalities, with 30 of them based in the Algarve.
Earning R.E.S.P.E.C.T.
Innuos has accomplished what many others could not, including some Portuguese manufacturers I've personally tried to help in their quest to export products worldwide. Innuos stands as the only Portuguese audio manufacturer to have earned the respect of its international peers and the press.
Innuos' products have received rave reviews, accolades, and endorsements from some of the world's most prestigious hi-fi magazines, including The Absolute Sound, Hi-fi News, and Stereophile. Hificlube.net is proud to have joined their ranks, albeit not as frequently as we would like.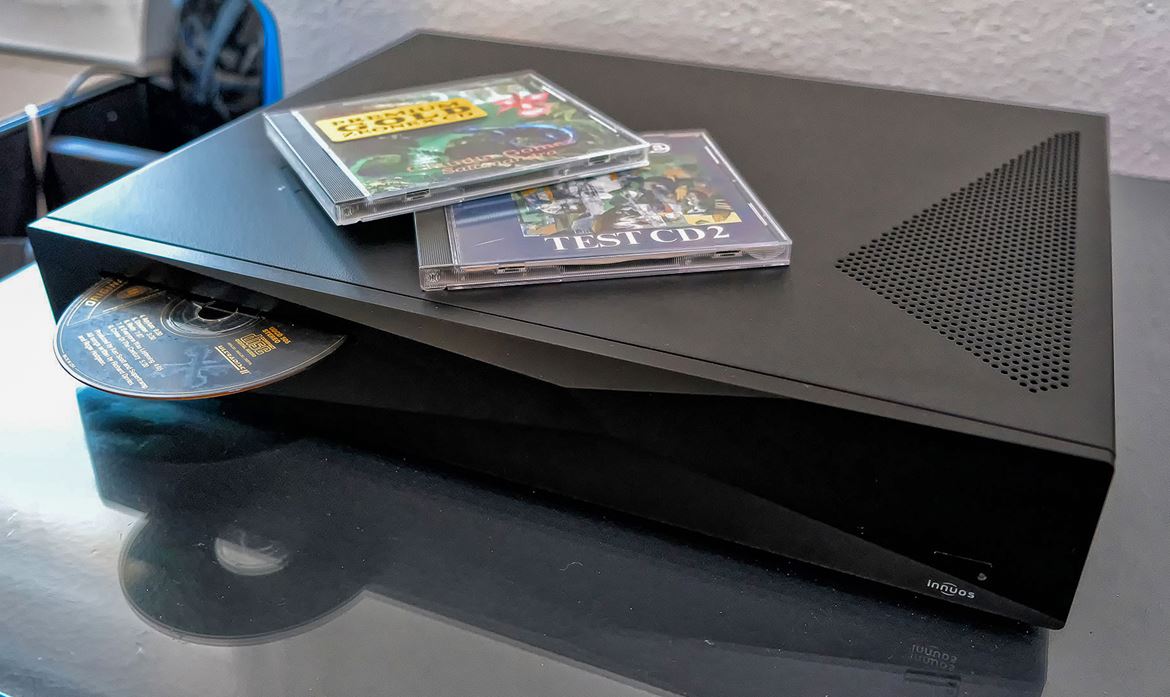 HIFICLUBE.NET Listens Intently
Over the years, we have kept a watchful eye—or more accurately, a discerning ear—on Innuos products. Our journey began in 2017 when we first reviewed the Innuos ZENith MkII. The original review is quite extensive and in Portuguese, so allow me to share a translated summary of our conclusion:
"Aesthetically, the Innuos ZENith MkII exudes sophistication with its sleek, unassuming black design. While incorporating an LCD or OLED touchscreen on the front might elevate its appearance, it would also significantly raise the cost. Instead, smartphone apps serve as a universally accessible, practical, and budget-friendly alternative.
Performance-wise, the ZENith MkII consistently lives up to the manufacturer's promises, delivering exceptional versatility, compatibility, stability, and user-friendliness, as long as the digital copies meet operational requirements.
Sonically, the Innuos ZENith MkII can be likened to the delectable, succulent Algarve oranges. It features a rich texture, expansive dynamic range, and profound harmonic depth while accurately rendering timbres without any discernible harshness. The result is a truly sweet and gratifying auditory experience."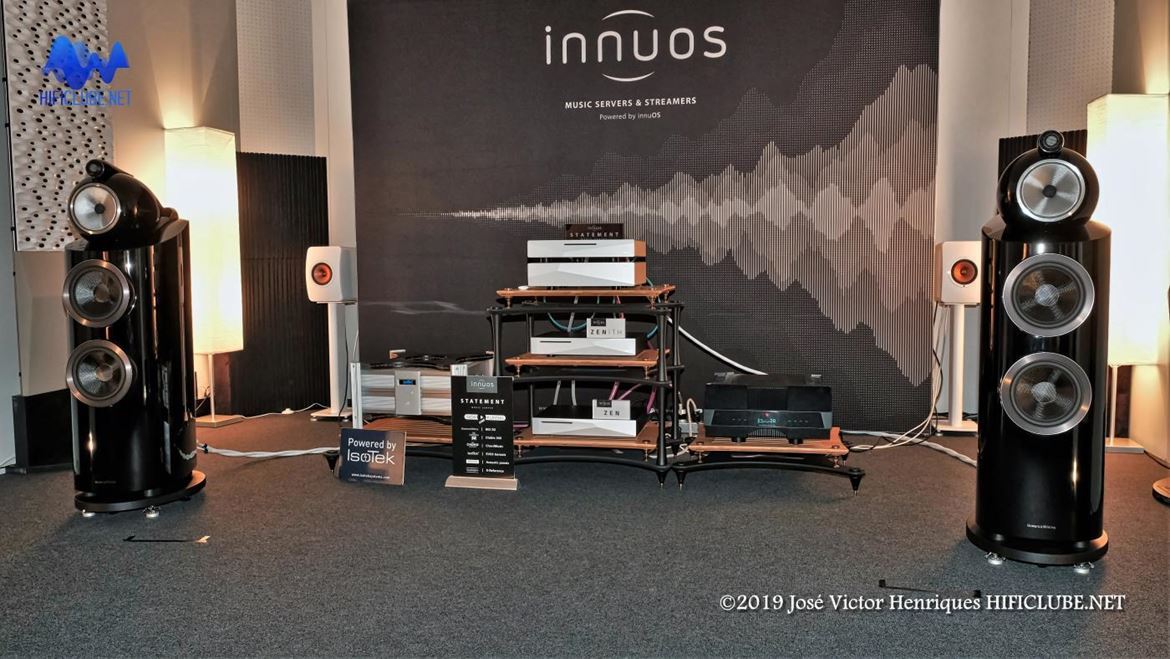 High End 2019, Munich: ZENith III vs. Statement
Innuos has come a long way since the inception of the original ZENith series, now in its MkIII iteration. In 2019, Nuno Vitorino unveiled the Statement model at the High-End event in Munich, demonstrating its indisputable superiority over the ZENith III. I participated in the comparative A/B test and documented my observations:
"In an acoustically optimized shipping container, equipped with a sound system featuring B&W 802D3/Gryphon Diablo loudspeakers, Innuos showcased the undeniable supremacy of the Statement model, now in its final version, over the Zenith III.
Despite maintaining the same input level on my digital recorder, the Statement appeared to generate a more 'voluminous' sound, marked by a rich harmonic texture, intricate tonal structure, and exceptional dynamic capabilities.
As a bonus, this extraordinary audio device is proudly manufactured in Portugal!"
Nuno Vitorino confidentially revealed to me that a USB reclocker is in the works, suggesting even more thrilling innovations on the horizon."
These anticipated innovations soon materialized in the form of the Phoenix USB Reclocker and PhoenixNET Audiophile Grade Network Switch. Some may argue that reclockers and switches don't make an audible difference. I respectfully disagree.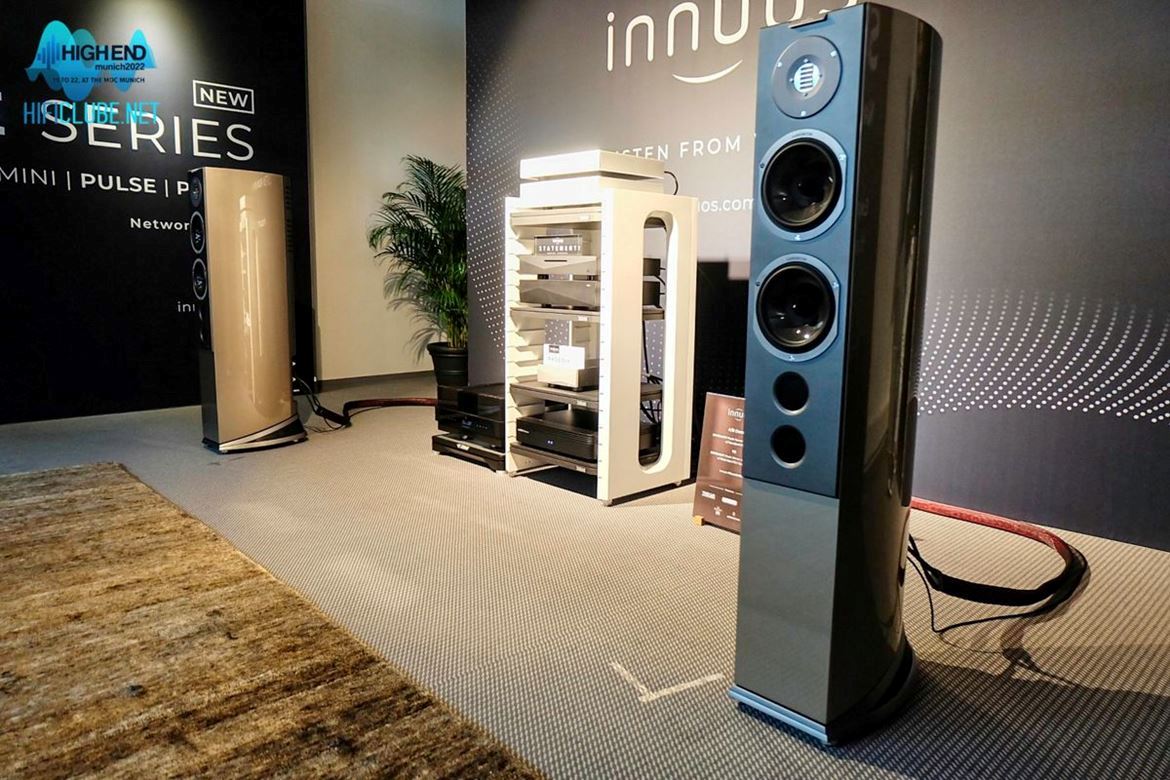 NextGEN and Pulse At High End 2022 in Munich
Innuos unveiled the Next-Gen Power Supply Upgrade for the Statement. Pedro Henriques shared his insights in his report:
"Innuos maintains its unique position as a rare Portuguese gem in the audio universe. But nationality alone isn't the only reason Innuos deserves our support. While the road to hell is paved with good intentions, Innuos has gradually forged its path towards audio nirvana. The PSU Next-GEN is merely another stride on the journey to the Holy Grail."
The event also saw the introduction of the PULSE Series of budget-friendly streamers: PULSEmini, PULSE and PULSAR, prompting Pedro Henriques to remark:
"The names evoke images from a science fiction film. Yet it seems almost fictional: Innuos servers at a price point comparable to Chinese products. Who said only the affluent were entitled to a slice of heaven?"
Revelations Abound In Munich
Steven Gomes showcased the remarkable difference the new NEXTGen power supply brings to the performance of an already high-quality server like the top-tier Statement.
Nuno Vitorino himself introduced (in Portuguese) the new PULSE affordable servers with the signature "Innuos sound," starting at just one thousand Euros: PULSEmini, PULSE, and PULSAR (the latter featuring an external power supply). Note: watch the video above for more information.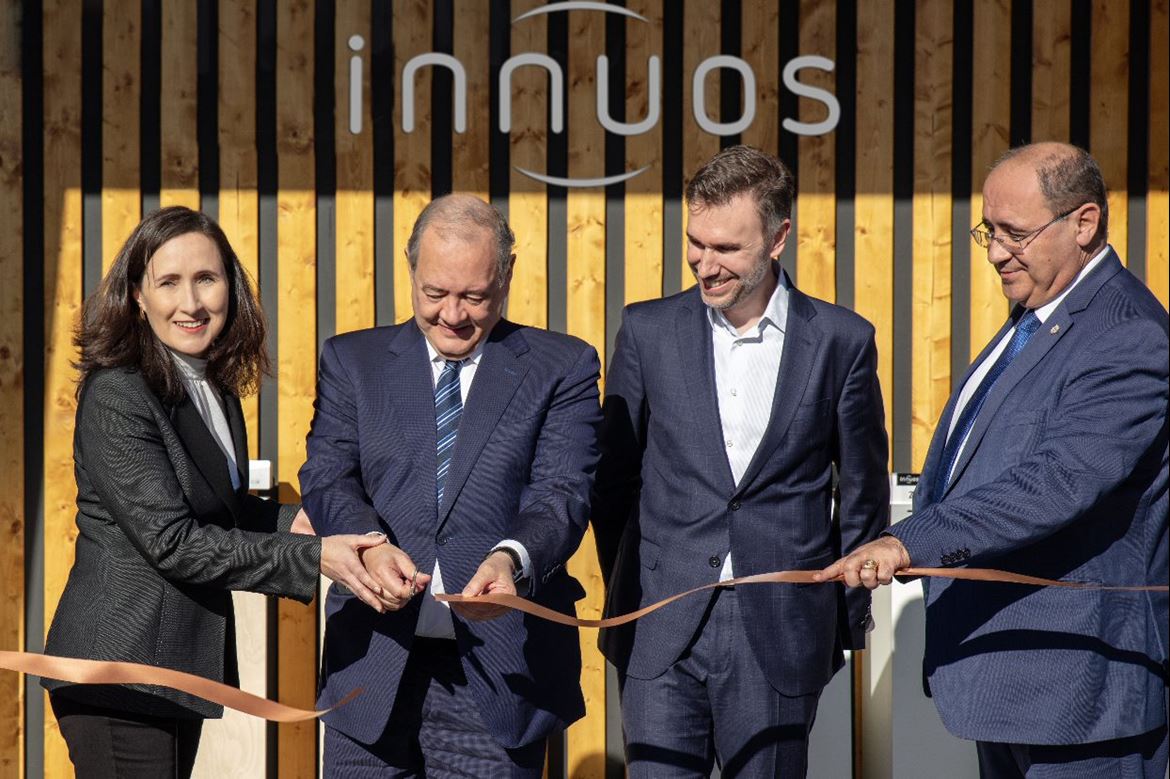 Innuos' New Premises
Recently, Amelia graciously invited us to attend the inauguration of Innuos' new facilities in Faro, spanning nearly 1,000 square meters. Since we couldn't make it on such short notice, the following report is based on photos and information provided to us by Innuos.
The event welcomed the Minister of Economy and the Sea, António Costa Silva, local dignitaries, and representatives from national partners and distributors. As the company consistently invests in research and development, forging connections with universities is a crucial aspect of its growth strategy. Thus, representatives from the Instituto Superior Técnico, where Amelia and Vitorino graduated, and the University of Algarve were also present.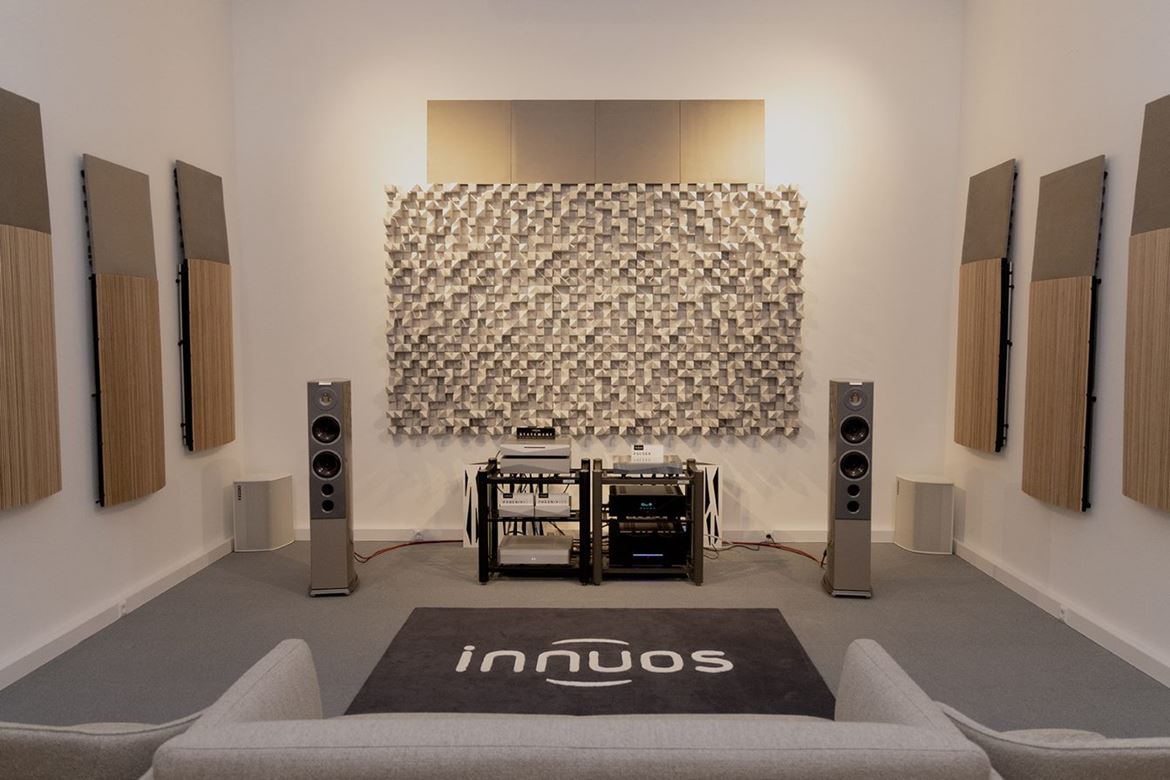 Striking the Perfect Balance
The new facility, which received an investment of over 800,000 euros, houses an ESD-protected electronics/assembly laboratory to safeguard sensitive integrated circuits from electrostatic discharges. Advanced humidity and temperature control systems ensure optimal quality and longevity for the products they develop and manufacture.
Recognizing the high calibre of equipment offered to the market, Innuos constructed a cutting-edge demonstration auditorium within the new facility. The interior dimensions adhere to the famed golden ratio for optimal acoustic performance, with triple-insulated walls. Additionally, the auditorium boasts acoustic treatment and a dedicated power supply circuit to ensure the best possible sound performance.
A Glimpse into the Future
Innuos' plans involve exploring new markets like Hong Kong and Singapore, extending their reach to professional music recording studios, and delving into digital audio for infotainment in the automotive industry—a sector projected to be worth 43 billion euros by 2025.
Soaring to New Heights
At Hificlube.net, we congratulate you on your extraordinary global success and the inauguration of your new premises.
As you embark on this thrilling new chapter, we wish you every success in your future endeavours. May you continue to break barriers, venture into new markets, and reach even greater heights in the audio manufacturing industry. We eagerly look forward to witnessing the incredible innovations and achievements that await Innuos.