I'll be the first to admit that too many wine analogies in audio criticism can make you throw up (pun intended). But please bear with me while I get to grips with the Western Electric 91E 300B tube integrated amplifier. Let's drink a glass of sound together.
Audio equipment and wine ratings often rely on subjective experience rather than objective measurement. While a fine wine's chemical profile can reveal some of its organoleptic characteristics, it cannot fully express what makes it so unique and enjoyable. Even if a bottle of Petrus fails a stringent laboratory test, wine connoisseurs will prize it for its distinct flavour and sophisticated bouquet.
Similarly, the Western Electric 91E integrated amplifier, which is built around the legendary 300B tubes, may fail to impress if subjected to a standard SINAD test.
It does, however, offer a rich and engaging listening experience that goes beyond mere numbers and specifications if you take the time to listen to it (after you've warmed it up).
When you immerse yourself in the soundscapes it produces, you'll realize that the true value of this tube amplifier lies in the sheer pleasure it offers the senses, bordering on intoxication, like a good wine.
The W91E's performance weaves a seamless musical tapestry around the listener transporting them to a realm of unparalleled listening pleasure. Its warmth, depth (in the sense of gravitas, not extension) and smoothness all contribute to this captivating experience. Therefore, in the world of high-end audio, you also must consider the intangible and subjective elements of sound, not only the numerical specifications.
After all, what truly captivates us in the Western Electric 91E integrated tube amplifier is the perfect marriage of science and artisan art. No wonder it is part of the Ten Collection, curated by Ricardo Franassovici.
Ken Kessler dixit
I must admit that I read my esteemed colleague Ken Kessler's superb review of the WE91E and secretly wished I had written it. Paul Miller, who conducted the lab report, and I have also published a couple of reviews together for Hi-Fi News, so I felt empathy and some nostalgia too. I hope Ken doesn't mind my quoting him. Even though I haven't reviewed as many low-power tube amplifiers as he has, over the course of our concurrent almost 40-year career as reviewers, I agree with his bold statement:
"This is the best low-power amp I've ever heard, its scale and naturalness rivalling anything I can name – whatever the wattage." Ken Kessler, Hi-Fi News, March 2023.
And yet, I wasn't surprised by Miller's lab report that essentially supports Western Electric's own specifications for THD over 8 ohms: 14W/3%, 16W/5%, and 20W/10%, respectively.
Subjectivity vs Objectivity
So, we are facing again the subjective vs. objective approach debate. How is it possible that an amplifier with such high measured THD may even sound good, even though on its behalf it has twice the power of other 300 B-based amplifier iterations?
Haters will no doubt respond that it's because we are both hopelessly biased, while faithful followers will take our opinion based on decades of listening experience at face value and feel even more inclined to listen for themselves. As they should, since a 21,000 euros tube amplifier is not the kind of product to buy blindfolded if you catch my drift.
As a Portuguese poet from the XVI century once wrote, "It's better to try it than to judge it; / But let those who cannot try it, judge it." (Lusiadas, Canto IX, stanza 83)
Well, I have tried the WE91E now, therefore I can judge it. You may also judge it based on my review until you can try it personally (there are not many available for listening). That's what reviews are for - to prepare you for your own experience.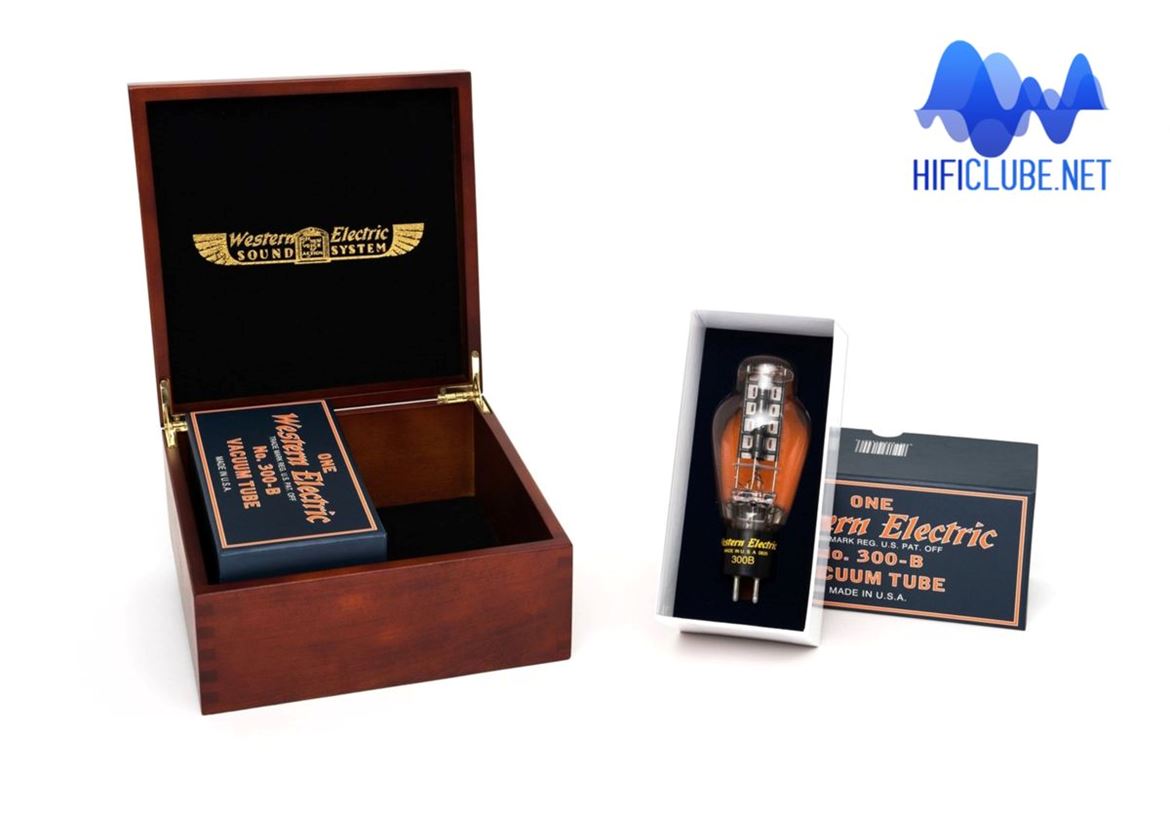 Whitener and the WE 300B
Western Electric began producing the original 300B power triode in 1938, and kept going for 50 years. Since production has stopped in 1988, Chinese and Russian manufacturers made it available in the niche audiophile market. The reliability and audio quality, however, were never the same.
Charles Whitener acquired the naming and technological rights to Western Electric from AT&T (the parent company) in 1995. In 1997, he resumed production of the 300B tube after experiencing a few setbacks, drawing  on the knowledge of some of the workers from the original WE plant.
They first relocated to Huntsville, Alabama, and then to Roseville, Georgia, where the WE91E integrated amplifier and the 300B tubes are now produced. Given that the tubes cost €1500 for a matched pair and have a 5-year warranty rather than the typical 90-day for NOS surrogates, they must be something special. And indeed, they are.
Eye-catching design
The iconic WE91A single-ended integrated amplifier, produced in 1936 for the film industry, was the inspiration for the WE91E, but other than the use of 300B tubes in the output stage, there may not be any other obvious similarities.
The WE91E eye-catching design is sure to impress the eye of the beholder, not just the listener. With its elegant glass caging, etched lettering, and black (or optionally, champagne or silver, the latter being more costly) anodized aluminium frame, the amplifier seamlessly combines modern sophistication and cutting-edge technology with vintage allure.
A Raspberry Pi3 computer module drives the striking LCD centrally placed on the fascia, making it simple to read the function and volume control levels even at a distance. The source access keys are on the left side of the display. On the right side one finds the power button, a headphone jack for private listening and a large rotary knob. This knob uses relays connected to low-noise resistors and an optical encoder to ensure accuracy and minimize interference.
To enhance the amplifier's user-friendly appeal, a stylish metal alloy remote control is included, allowing for adjustment of basic functions such as balance, muting, display dimming, and source input level matching (trimming)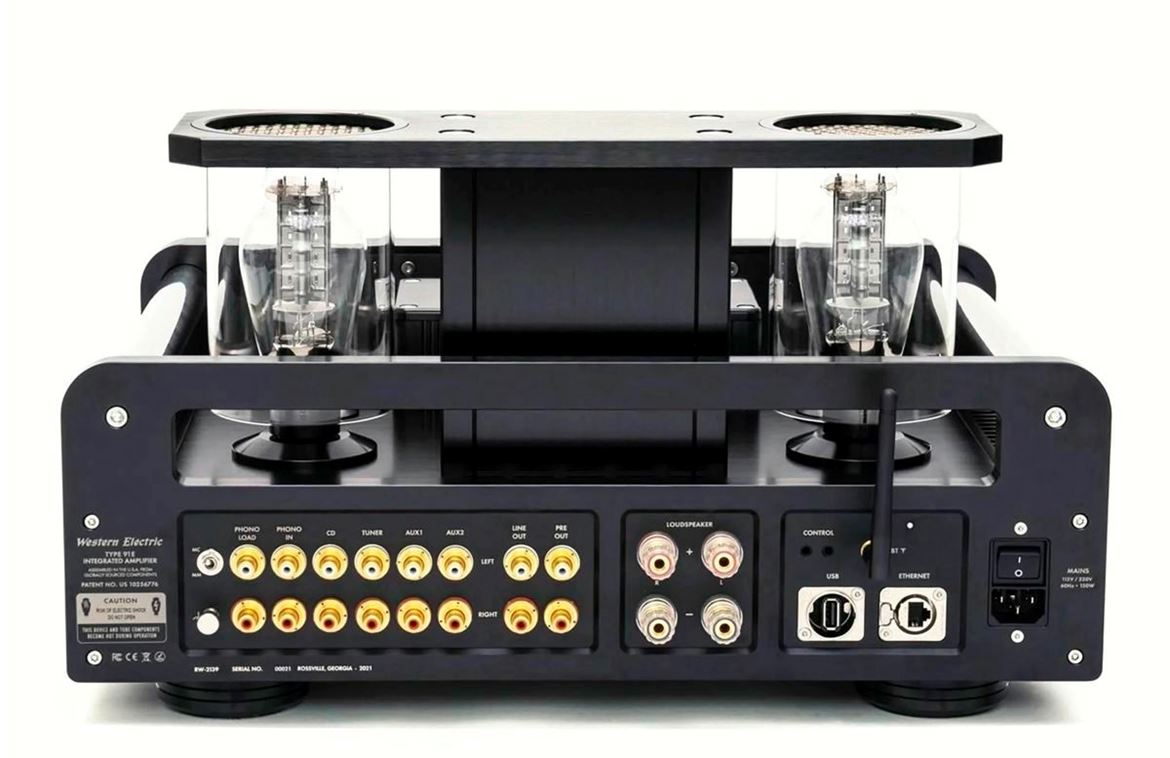 Bluetooth for streaming
Surprisingly for a single-ended (SE) tube amplifier, the WE91E also features a Bluetooth® antenna that enables seamless wireless streaming. In addition, it has four RCA inputs and a dedicated Phono input with an MC/MM toggle switch and external loading RCAs, making it a versatile package, although no balanced connections are offered. The USB-A and Ethernet (RJ45) ports are reserved for factory maintenance and updates. There's also a Line Out for an external preamp and a Pre Out for an external amplifier, a feature I was not tempted to use.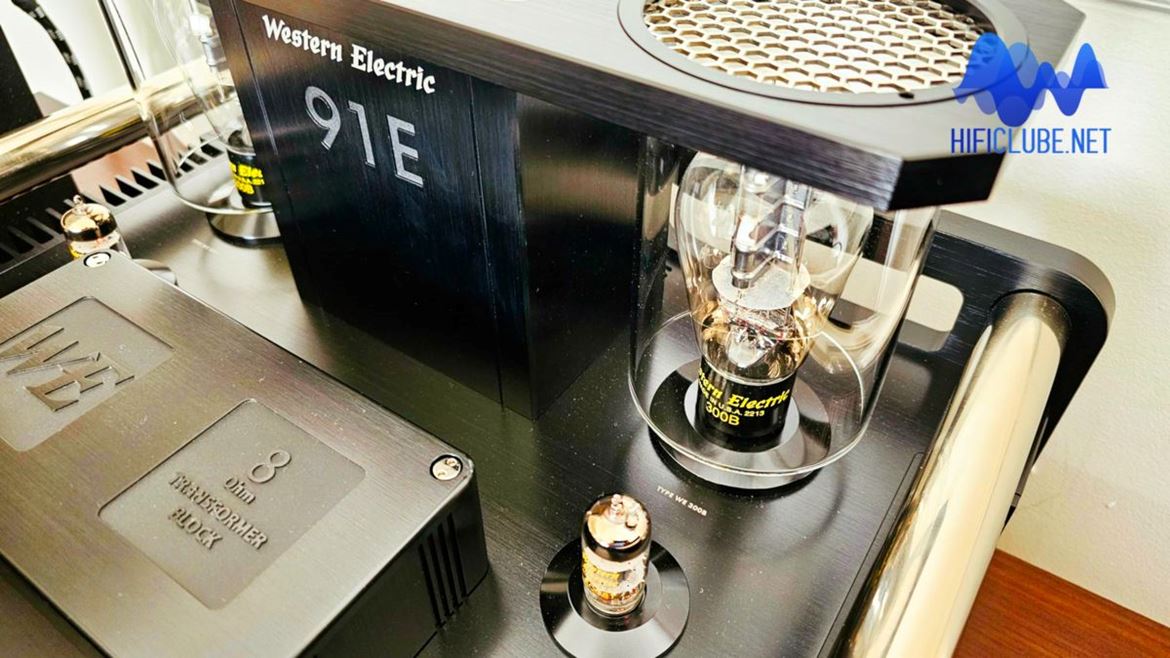 Swappable output transformers
The WE91E comes equipped with a small and lightweight dedicated toroidal output transformer, designed specifically for a single load. This is unlike most tube amplifiers that use bulky multi-tap output transformers with multiple windings. Therefore, it weighs only 22 kg, despite its robust and purpose-driven appearance, and is easy to move onto a shelf, thanks to its convenient full-length, nickel-plated handles.
Smaller transformers have significantly lower hysteresis that manifests as a lag in the response of the magnetic field, resulting in energy loss, which may distort the audio signal - so the less hysteresis, the better.
Single-impedance transformers generally also have lower winding capacitance, contrary to multi-tap transformers. The WE91E output transformer block is available in either 4 or 8 ohms (optional) and is included in the retail price. Additional blocks, including 16-ohm, can be purchased separately for a fee, usually around 1000 euros.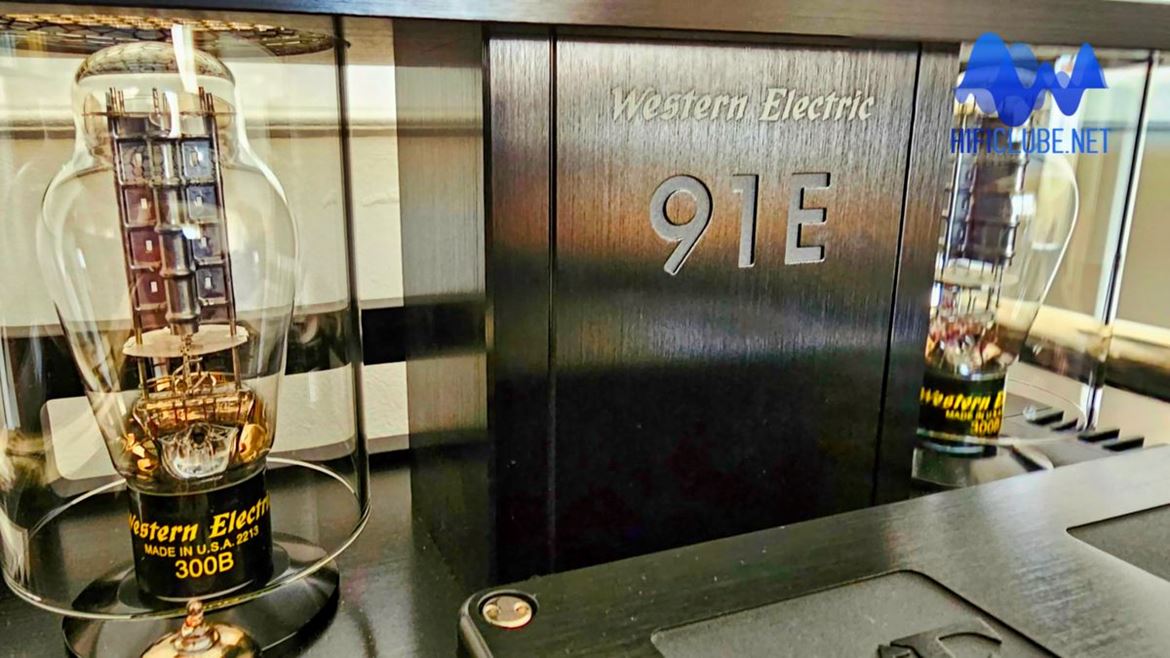 Double power
The 91E uses two 300B tubes (one per channel) for the power stage and a pair of ECC81 tubes for the preamplifier stage. Both the tiny ECC81 and the 300B tubes are deck-mounted, with the latter being protected by cylindrical glass chimneys with the top covered by a metal mesh roof.
A microprocessor automatically biases the 300B tubes each time the amplifier is turned on, dispensing with manual adjustments. The filament polarity of the 300Bs is also switched each time the WE91E is turned on to further prolong tube life.
The WE91E doubles the power output compared to other 300B iterations, by using Western Electric's patented (SCCS), steered current source technology, also known as parallel feed constant current source, which took five years to develop. The current is controlled by a solid-state FET circuit that keeps it constant independently of the load at the output terminals.
In this enhanced parallel feed topology, the audio signal is separated from the DC bias voltage. The output transformer is AC-coupled to the plate of the 300B tube only allowing alternating current (AC) signals to pass through while blocking direct current (DC). This helps to remove the DC bias voltage from the transformer, eliminating magnetic distortions caused by DC.
The result is a cleaner audio signal while allowing the use of smaller and simpler transformers with no need for a gap in the core, which is required in laminated transformers to handle DC as opposed to toroidals.
The SCS (Stabilized Current Source) provides a constant current to the tube and output transformer, ensuring the stable operation of the tube. Reducing the tube current and AC power dissipation, it also allows for more power to be delivered to the load without overstressing the tube. This results in output power in Class A of more than double the conventional 8-10W for a 300B tube.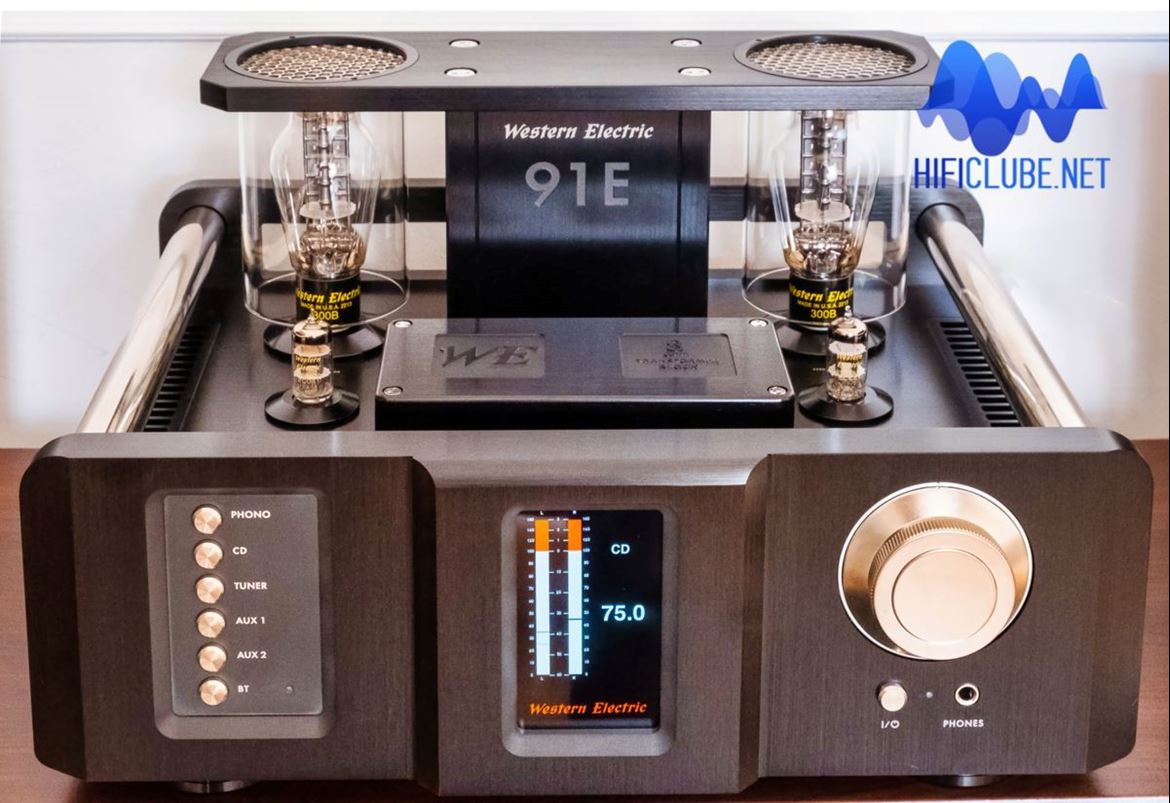 Spirit Of Communication
At switch-on, the WE91E first displays the "Spirit Of Communication" aka "Golden Boy" logo (see cover photo), created by Evelyn Beatrice Longman in 1914 for AT&T as a symbol of the company. Then it performs a 30-second count-down for warming up; and an additional 30 seconds for bias adjustment, which it does each time you turn it on to prevent tube bias drift.
The microcontroller that performs this automatic adjustment relies on a digital converter to sample the plate voltage and current before adjusting the grid voltage to the proper value. Truly ingenious! After the initial warming-up stages, the display changes to vertical meters for power output while also indicating the source.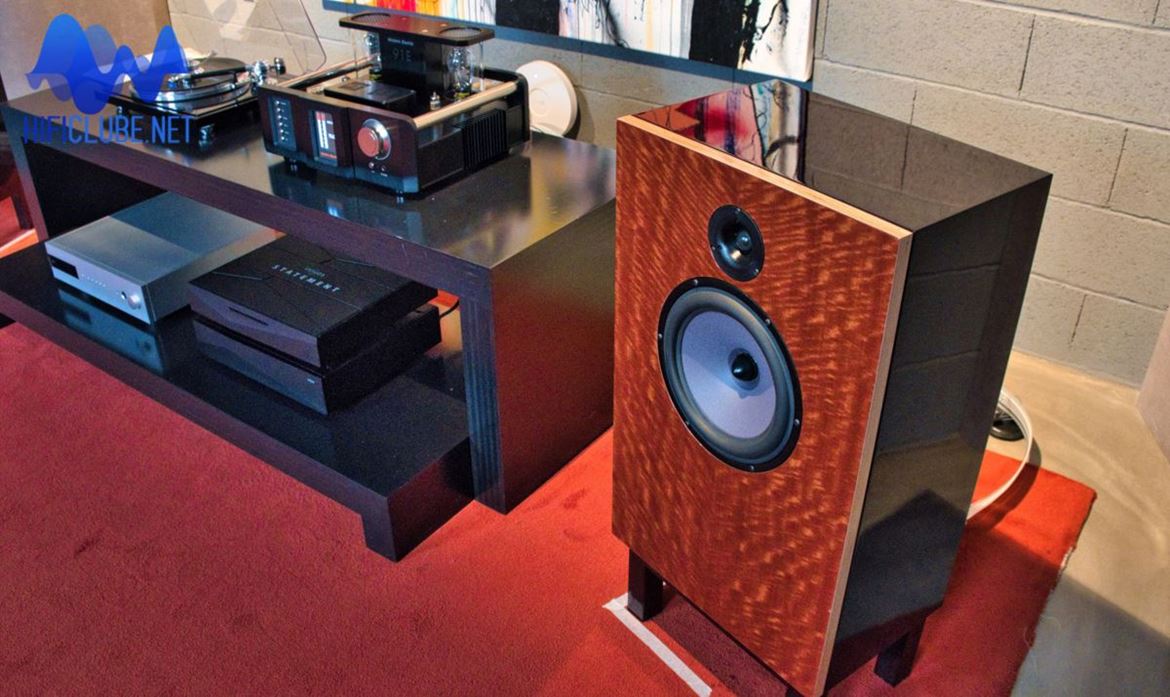 Listening context
Please note: the following results were obtained with the WE91E driving speakers with high sensitivity and/or stable 8 ohms nominal impedance, such as Devore Fidelity speakers (you may use horns, of course).
I had the opportunity to listen to the WE91E in two different contexts. First, in a well-treated listening room at Imacustica (our local distributor), driving a pair of DeVore Fidelity O/96 speakers (a match made in heaven) with a selection of high-end ancillary components, such as the dCS Bartok Apex and the Innuos Statement.  
There and then, I was mesmerized by the alluring 300B tube sound. The WE91E gives you the expected warm, lush, exquisitely detailed sound, and the emphasis on tonal richness which is typical of all 300B single-ended amplifiers. Also as anticipated, the midrange performance delivered a lifelike and engaging listening experience by reproducing vocals and acoustic instruments with an organic quality that is difficult to replicate with other amplifier types.
However, the WE91E further demonstrated having astonishing articulation and control over bass frequencies (for a SET), as well as the rare high-frequency extension that precludes excessive tube warmth from affecting the general tonality. I don't recall hearing that from any other 300B single-ended tube amplifier. It's remarkable how a fragile 20-watt tube amplifier produces the sense of "fresh-airiness" one only experiences live.
Breathe in the fresh air
The WE91E single-ended tube amplifier is indeed surprisingly good at distinguishing between the fresh atmosphere of an outdoor concert and the saturated 'air' typically found in enclosed concert halls. This became particularly clear to me when I listened to Mariza's "Concert in Lisbon", a live outdoor concert in Belém, Lisbon on the River Tagus.
The WE91E can reproduce even the finest details of a live performance, such as the movement of air molecules carrying the energy of the audience standing further away from the stage. This allows you to clearly hear the activity far into the background. Of course, this is the responsibility of the sound engineer, but the WE91E does its job justice. This creates a close-encounter kind of experience that gives the listener the feeling of being part of a virtual crowd immersed in the music.
Collective Catharsis 
I attended this live concert, which was a real collective catharsis where thousands of people cried tears of happiness and sorrow, longing and love. I witnessed how an anonymous crowd came together by sharing emotions, like a family celebrating the divine blessing—or, more likely, the curse—of being Portuguese that emanates from fado.
To give you a glimpse of what I'm talking about, I recorded this live in-room video of Mariza singing "Chuva" from the same album.
Sound investment
This uncanny ability to effectively convey both spiritual emotion and the sense of physical space is a testament to its exceptional design and performance, which transcends the confines of conventional listening experiences by creating a truly immersive and inclusive environment for the listener.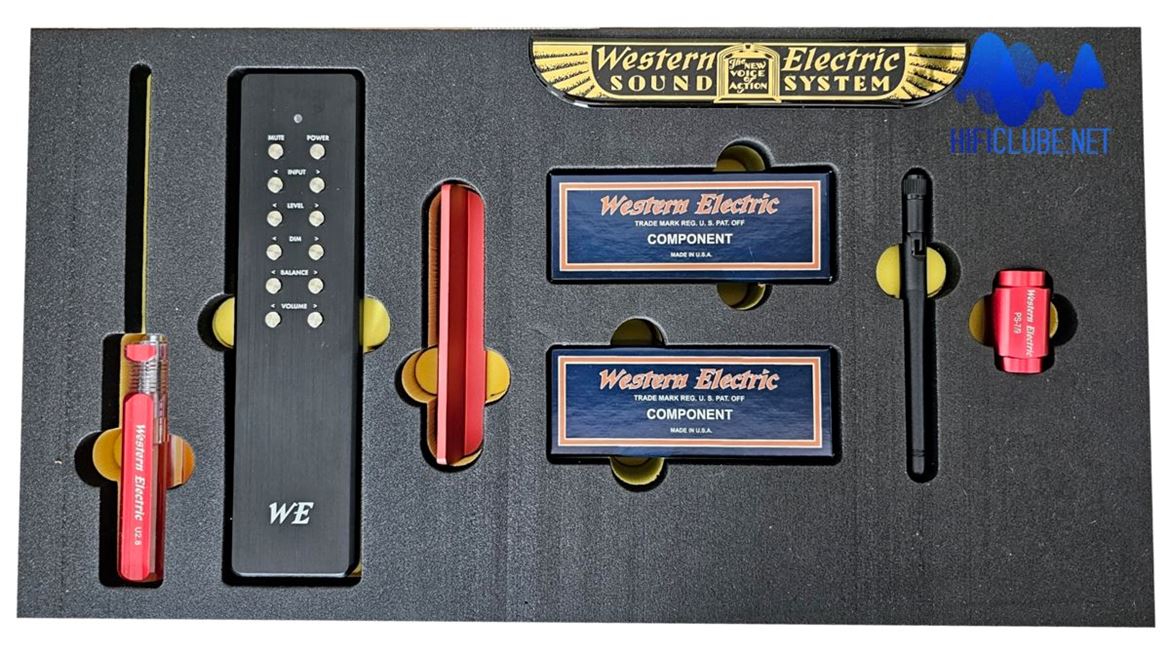 Sweet home listening
To listen at home, I used a HiFi Rose RS520 for streaming and an Oppo CD/SACD player as a digital source and connected the WE91E to a pair of DeVORE micr/O speakers (review here).
Fortunately, the distributor had already installed all the tubes in the WE91E, which was a relief since doing so would have required removing the protective glass sleeves. This is a risk I was happy to avoid. All I had to do was connect the cables and attach the Bluetooth antenna.
I have deserted the analogue field a long ago, even before the world discovered with dismay that the LP was a double agent working undercover for the dark force of the digital empire. So, no, I did not listen to any analogue source, just digital. I have nothing to say about the Phono preamp circuit performance, sorry guys.
Initially, I used my Samsung Galaxy S23 Ultra to stream music wirelessly via Bluetooth. Later, I explored my CD and SACD collection, as well as high-resolution files from Tidal and Qobuz.
With Bluetooth, I noticed an 'air rarefaction' and a 'rounding' of high frequencies in comparison. Even so, I admit that I enjoyed listening to Bluetooth for casual daily sessions. And it worked flawlessly. Of course, it was with CDs and high-resolution files that the WE91E truly lived up to its fame and delivered on its promise.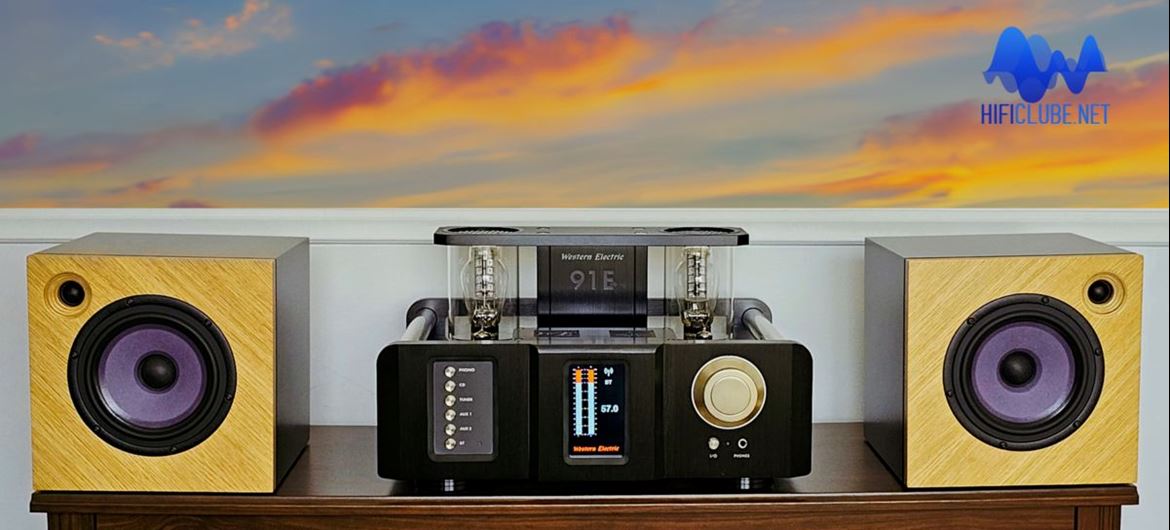 Final listening impressions
Miles Davis, Kind Of Blue
The richness and warmth of the 91E's tube sound beautifully capture the depth and emotion of each instrument, allowing the different textures of Davis' trumpet, Coltrane's saxophone, and Evans' piano to shine through. This seemingly fragile amplifier handles dynamics and timing so well that the millionth audition sounded as fresh as the first one.
Led Zeppelin, Whole Lotta Love
As the electrifying riffs of Led Zeppelin's 'Whole Lotta Love' soared in the room, it became clear that the Western Electric 91E could handle even the most demanding rock music with ease. The powerful guitar tones were well reproduced, conveying the raw energy (read controlled distortion) of Jimmy Page's playing, while John Bonham's thunderous drumming rang out with authority and force despite the DeVORE O/micro diminutive size. The midrange was exceptional, allowing Robert Plant to raise his voice without being overshadowed by the rest of the band. The 91E proved that it can bring the excitement and visceral impact of a live rock concert right into the listener's home.
Betty LaVette, You Don't Know Me At All
Listening to Betty LaVette's 'You Don't Know Me At All' from the album "The Scene of the Crime" has reached a whole new emotional depth. LaVette's powerful, raspy vocals were rendered with incredible intimacy and realism, so it felt like she was standing right there pouring her heart out. The backing instruments were well-defined and balanced, with the amp showcasing the bluesy guitar licks and the driving bass lines that underpin the track, with the O/micros faltering only in the extension department, not in definition and articulation.
Van Morrison, Astral Weeks
The dreamy, poetic world created by Van Morrison in "Astral Weeks," was delivered intact by the Western Electric 91E and DeVORE O/micros. The folk-infused melodies and intricate arrangements were presented with stunning clarity and detail, allowing each instrument to breathe and resonate naturally. Morrison's unmistakable voice was warm and enveloping, conveying the raw emotion and introspection of his lyrics. The 91E's spacious soundstage and excellent imaging capabilities made for an enthralling and intimate listening experience.
Jethro Tull, Aqualung
Jethro Tull's "Aqualung" progressive rock masterpiece was brought to life with stunning accuracy and energy. The distinctive flute melodies and intricate guitar work were presented with exceptional clarity and precision, while the amplifier's handling of dynamics ensured that the band's complex arrangements retained their impact and momentum. Ian Anderson's powerful vocals soared effortlessly above the mix, with the 91E maintaining an excellent balance between the various instrumental elements. Thoroughly enjoyable.
Joyce DiDonato, Stella Di Napoli
DiDonato's stunning vocal range and soulful delivery were rendered with astonishing clarity and presence so that every note felt like a tender caress. The rich orchestral accompaniment was lush, if not full-bodied, and the 91E handled the complex harmonies and dynamic shifts masterfully. The listening experience was simply breathtaking and demonstrated the amplifier's ability to convey the drama and emotion of operatic music as well.
Conclusion
Priced at €21,000, the Western Electric 91E integrated amplifier may not be the most affordable 300B valve-powered SE amplifier on the market. However, it is a worthwhile investment for those who have access to highly sensitive speakers, value the intangibility and subjectivity of the listening experience, and appreciate audiophile artistry. It, therefore, gets a strong recommendation from Hificlube.
Western Electric 91E
Price: € 21.000 
Distribuidor: IMACUSTICA