DeVORE Fidelity Micr/O speakers are a true marvel of audio engineering, as awe-inspiring as the honeybee that defies the laws of aerodynamics to fly.
Just as bees have evolved to overcome the limitations of their wing size to be able to fly, John Devore has crafted a cube-shaped speaker – arguably the least favourable shape for a loudspeaker – that delivers high-quality sound.
This technical achievement showcases the power of creativity and innovation, proving that even the most unexpected solutions can yield extraordinary results.
The Micr/O is a 10x10x10 inch MDF sealed cube with no internal bracing whatsoever, featuring a plywood baffle veneered with a thick sheet of genuine white oak wood. It comes equipped with the drive units and the crossover originally developed for the stand-mounted O/baby: a horn-loaded 0.75-inch VIFA textile dome tweeter (with the horn integrated into the baffle) and a 6.5-inch paper SEAS woofer.
Intriguingly, the tweeter was also initially designed as a super tweeter for a different speaker: the Orangutan Reference.
The whole results in a rather unassuming speaker. Yet, these small cubes surpassed all my wildest expectations and offered a rich, dynamic, and uncoloured sound that is nothing less than exceptional.
Join me as I delve into the intricacies of John Devore's latest and remarkable audio creation, which, much like the agile honeybee, defies the laws of physics and delivers a simply unforgettable performance.
Small Size, big Sound
Ironically, the primary advantage of the DeVORE Micr/O lies in its compact size - small enough to fit on a bookshelf without occupying excessive space, it boasts ample power to deliver high-quality sound. This makes it the perfect choice for those seeking a rich audio experience without the need for large, cumbersome speakers.
…these small cubes surpassed all my wildest expectations…and are nothing less than exceptional.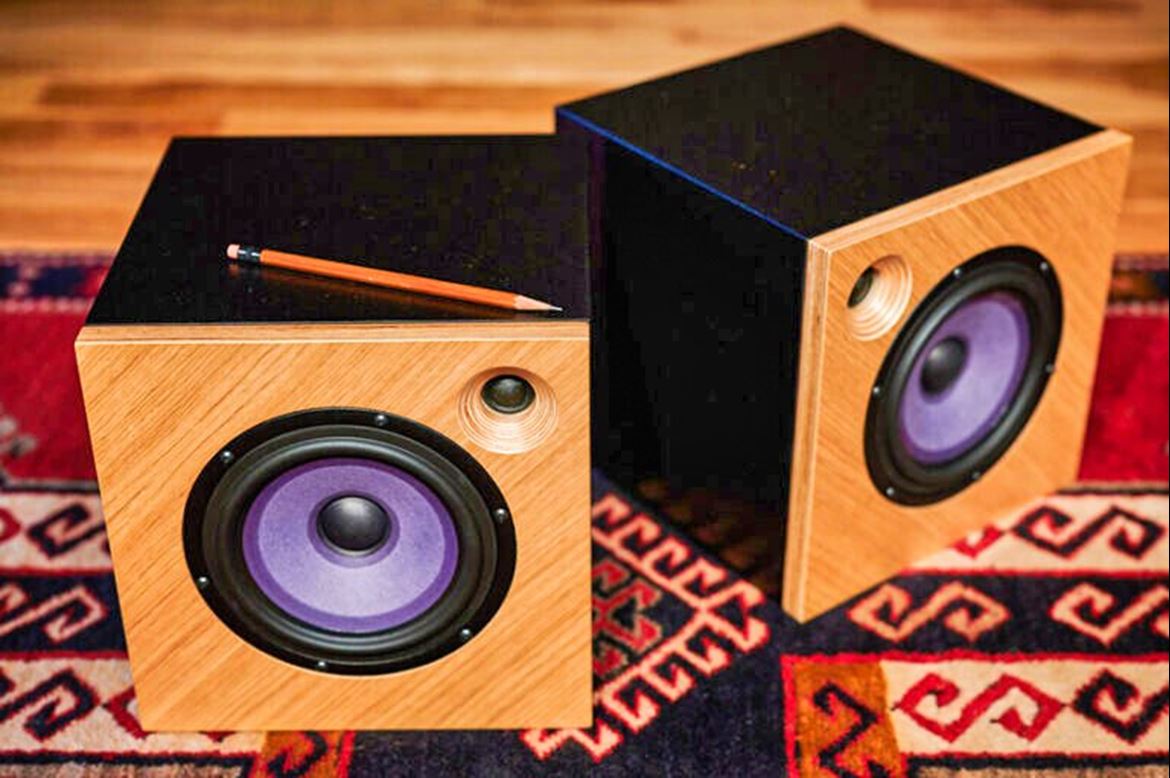 Aesthetics and Versatility
The DeVORE Micr/O has a sleek and stylish design that complements any modern home or office. My units featured the standard white oak baffle finish, and while the construction quality is good, it does not quite match the Orangutan O/96 and O/93 I have also had under my scrutiny these past few weeks.
The speaker terminals are somewhat flimsy, and I recommend the use of banana plugs, if possible, as they might break if you tighten the cables too much.
Amplifier Compatibility
The Micr/Os are also ot as sensitive as the O/96 and O/93 Orangutans, regarding amplifier selection. In line with the same naming code, it could be referred to as the Micr/O 89, given that John Devore indicates its sensitivity to be a mere 89 dB. This suggests that, unlike the bigger sisters, they may not be the optimal choice for single-ended tube amps.
The relationship between speaker impedance and amplifier output impedance and power is critical. Because speaker impedance varies with the frequency, one must choose an amplifier that is capable of driving the speaker linearly over its entire frequency range.
However, according to John Devore, the Micr/O has a nominal impedance of 8 ohms, with a minimum of 7.5 ohms across most of its frequency range: 50Hz to 25kHz. So, despite its lower sensitivity, any decent tube amplifier can produce a satisfactory sound pressure level at all frequencies.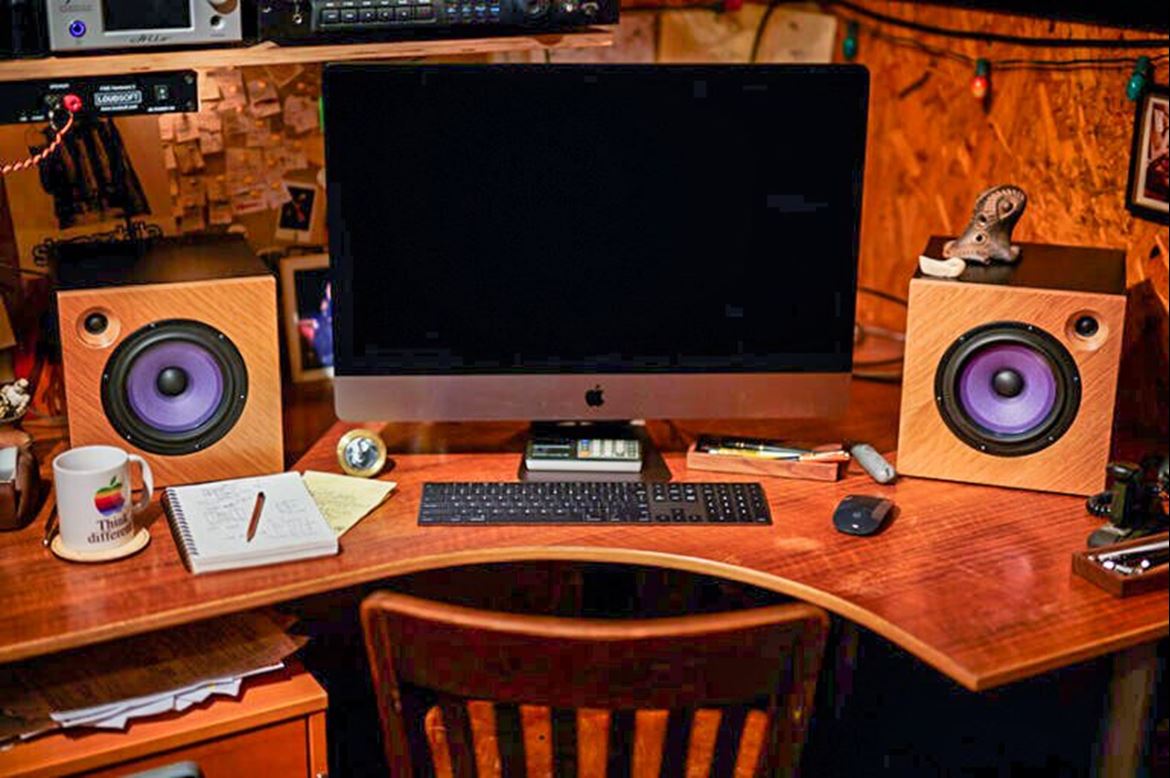 Desktop and Stand-Mounted
You can, of course, place the Micr/Os on stands, as I have done. Just make sure your ears are slightly above the height of the tweeter when you are seated.

Still, I found they are even better as desktop speakers, so I also set them up flanking my computer with the tweeters on the outside, as shown in the picture above, courtesy of DeVORE Fidelity. This configuration allows for a studio-like near-field listening experience.
Many 2-way monitor speakers do not integrate well at such a close distance, nor do they deliver clean, tight bass so close to the front wall. The Micr/Os are the exception, as they sound natural and coherent, much like a speaker with a single full-range driver.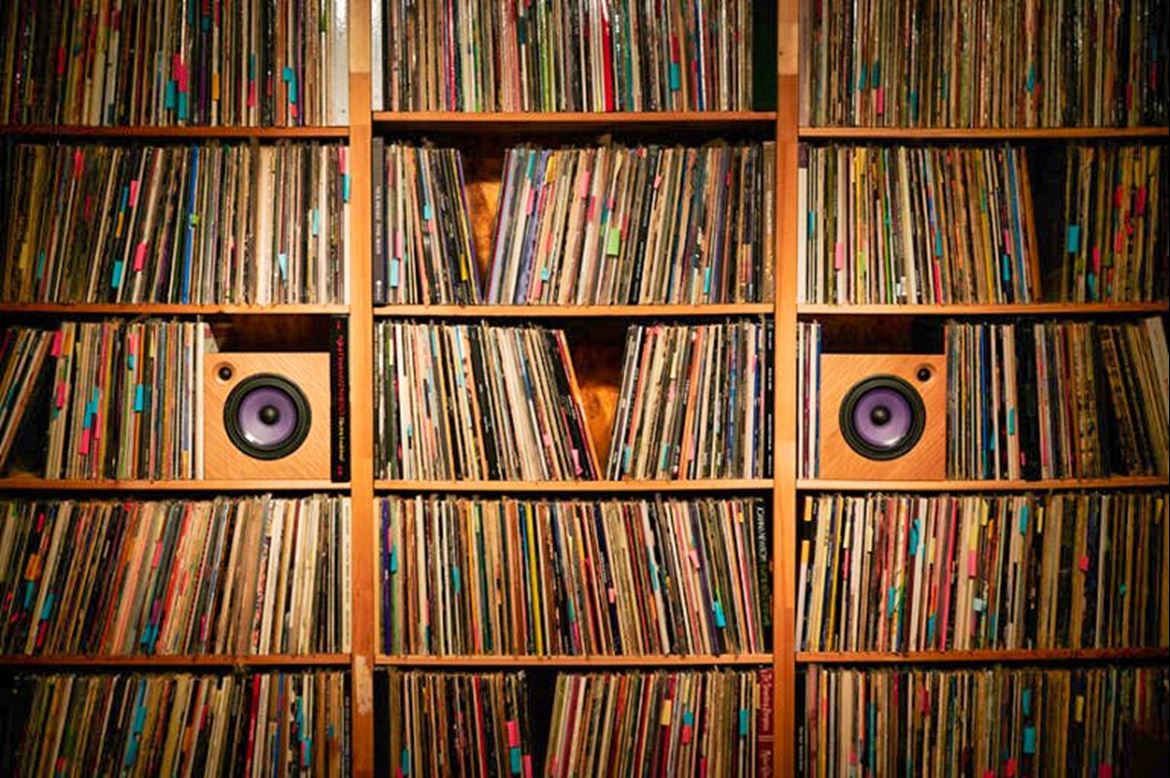 Minimal Room Interaction, Maximum Performance
TheDeVORE Micr/O speakers show minimal interaction with their acoustic environment. Unlike many speakers, especially bass reflex systems, which are strongly influenced by the room boundaries, the DeVORE Micr/Os seem to ignore the walls, both front and side.
John Devore claims that when placed flush with books or records on a bookshelf, the DeVORE Micr/Os effectively use them as an infinite baffle, and become less susceptible to room acoustics.
During the listening sessions, I used a Rose RS 520, which is a network streamer and Class D amplifier, as well as a PrimaLuna EVO 100 tube integrated amplifier and Chord Hugo 2 with Tidal as the primary music provider. For desktop applications, you don't need to spend a fortune on speaker cables - just keep them as short as possible.

From R&B to Classical Masterpieces

The Micr/Os may not sound as warm and full as the O/baby - which was never the goal - but they also avoid sounding dry or harsh. Perfect tempo and rhythmic balance foster emotional engagement, making the Micr/Os a versatile choice for playing R&B music, but also seamlessly adaptable to different musical genres such as jazz, blues and classical.
The DeVORE Micr/Os excel at conveying the beauty of classical music.
A good example of this versatility is George Duke's album 'After Hours', which I am listening to as I write. Although it is not a pure R&B album, as it also contains elements of jazz, funk, and soul. The Micr/Os not only emphasize the smooth jazz atmosphere and relaxed vibe, creating the ideal ambience for Duke's signature keyboard playing and vocals but also showcase the variety of instrumental textures.
The DeVORE Micr/Os excel at conveying the beauty of classical music. These speakers produce a rich, uncoloured, and detailed sound, capturing the delicate nuances of a solo piano piece as well as the harmonic complexity of massed strings.
The Micr/Os' are too small to reproduce the full power of an orchestra as full-range speakers do, but they skilfully balance Maria João Pires' left-hand gentle energy with her expressiveness, nuanced phrasing, and unique ability to evoke introspective moods. A prime example is the Piano Concerto No. 21 in C major, KV 467 by Wolfgang Amadeus Mozart.
In the final movement, Pires engages beautifully with the orchestra, while the Micr/Os contribute to further highlight the sheer brilliance of Mozart's composition, succeeding where many full-range speakers have failed - coherence and perfect integration.

Technical Excellence Meets Emotional Resonance
The close positioning of the two drivers on the baffle provides a seamless frequency transition and a natural soundstage that brings music to life in an extraordinary way. Because it's a closed box, the Micr/O's bass response does wane off prematurely (around 50 Hz). However, it's a slow happy death, not a sudden painful one, as is the case with reflex systems. Although the latter have more extension, it is at the cost of natural decay and definition.

Thus, even rock music is reproduced with a powerful and dynamic sound, while jazz exudes intimacy that further enlivens the music. From the soulful tones of Houston Person's saxophone on the album Reminiscing at Rudy's to the subtle intricacies of Lewis Nash's drums and Russell Malone's magical wizard guitar, or the richness of Matthew Parrish's piano underlined by Larry Fuller's double bass, these speakers deliver a rich and detailed sound that will captivate you with its musicality.
Striking a Balance: Detail and Musicality
The key to an exceptional speaker lies in the judicious balance between detail and musicality. A speaker should reproduce enough detail to reveal the nuances and subtleties of any performance without being distracting or overpowering.
Though small I foresee the DeVORE Fidelity Micr/Os having a big impact on the audio world, much like honeybees in nature.
Fascinating Dichotomy in the Audio World
The DeVORE Micr/O speakers embody a captivating dichotomy in the audio world. On the one hand, they deliver technically excellent sound, characterized by crisp but not overpowering highs, insightful mids, and tight, controlled bass. On the other hand, the DeVORE Micr/O speakers also captivate our souls. They offer warmth, tonal richness, and an emotional connection to the music that transcends technical precision and resonates deep in our hearts.

This impeccable harmony between technical excellence and emotional resonance is what sets DeVORE Micr/O speakers apart from other comparably sized speakers on the market.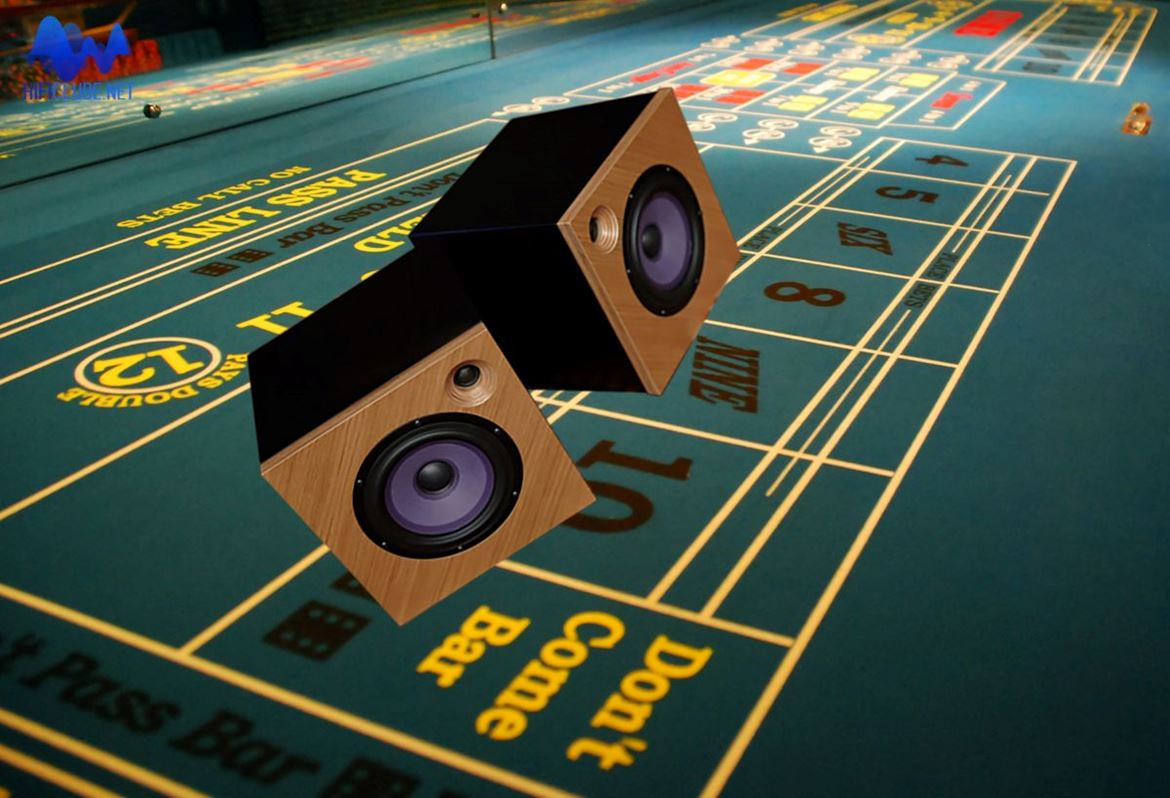 Investing in Exceptional Sound Quality  
In the US, DeVORE Micr/Os are priced below $4,000, which makes them relatively affordable by New York standards. However, across the pond, in Europe, the price is over 5,000 euros, which seems quite steep for a compact 2-way bookshelf speaker.

Don't be deceived by their dicelike looks; you're not taking a gamble with them. This is a sound investment aimed at those who are passionate about their music. It's an investment I'd be pleased to make myself, as I also take my music seriously.
Though small I foresee the DeVORE Fidelity Micr/Os having a big impact on the audio world, much like honeybees in nature.
DeVORE Fidelity Micr/O 
Price: € 5200
For further information contact:
IMACUSTICA (Portugal)
Absolute Sounds (UK)