Could Cleopatra's barge have been the inspiration for Livio Cucuzza's Omnia? Does Omnia have an 'anima' like a violin? JVH speculates about art and technology while listening to Omnia.

Omnia has the flowing lines of a Nile ship, the exotic interior style influenced by Egyptian and Byzantine art, also present in Italian culture since the Renaissance, and that mysterious aura of seductive feminine beauty, the welcome suggestion of lasting power and universal versatility of streaming that shapes the future.

Seven speakers powered by 480W of Class D power and extensive streaming capabilities meet the needs of today's environmentally conscious consumer.

Omnia thus appeals to every self-respected modern woman while seducing aspiring male audiophiles, just as Cleopatra seduced Ceasar, whose motto - Veni, vidi, vici - also applies to Omnia, as it is a newcomer and clear winner.

Omnia is a modern, wireless all-in-one system that can also be used as a versatile TV soundbar (HDMI ARC) and looks and sounds better than any of its competitors, despite costing only €1 799.00. 
The poor man's SF16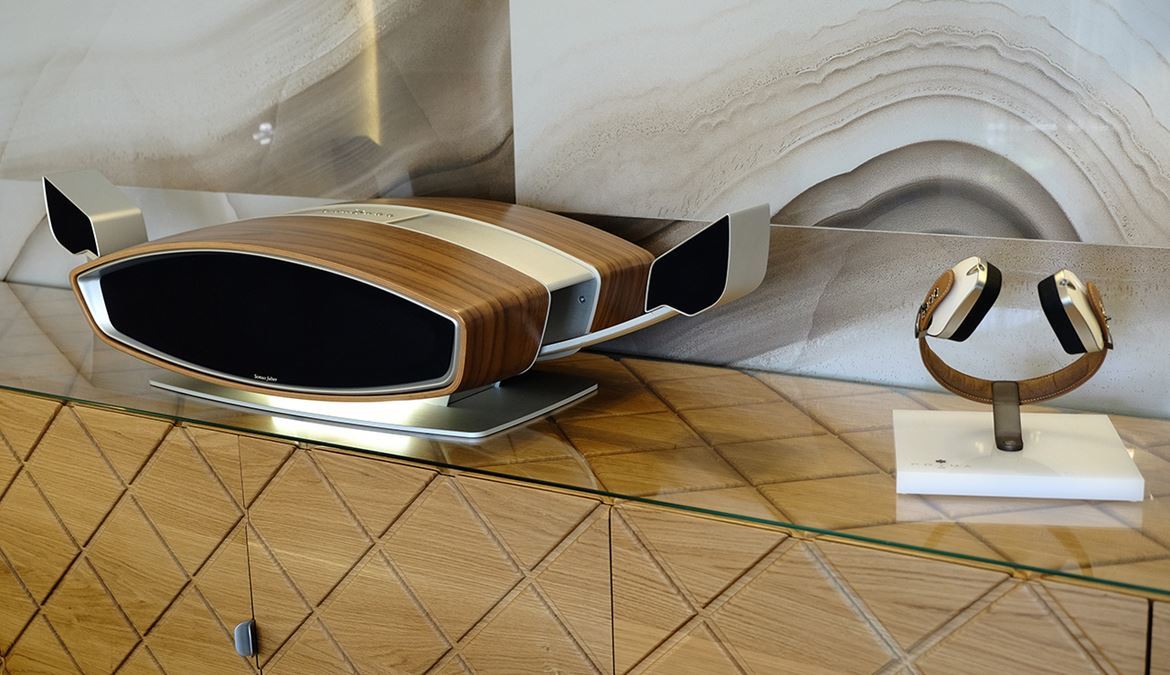 Omnia is the affordable version of the outrageously beautiful SF16. I was at the SF16 world presentation in 2016 (see the full report here).

The SF16's voluminous, curved cabinet and motorised, retractable wings, inspired by the original Snail made quite a stir among the hi-fi press, which had gathered for the occasion at a luxury resort in Sardinia.

Paolo Tezzon talks about SF16
However, the prohibitive price of €10 000 and the limited production led to a relative commercial fiasco, even if it was another artistic and technical success for the Livio Cucuzza/Paolo Tezzon team. Today it is a collector's item.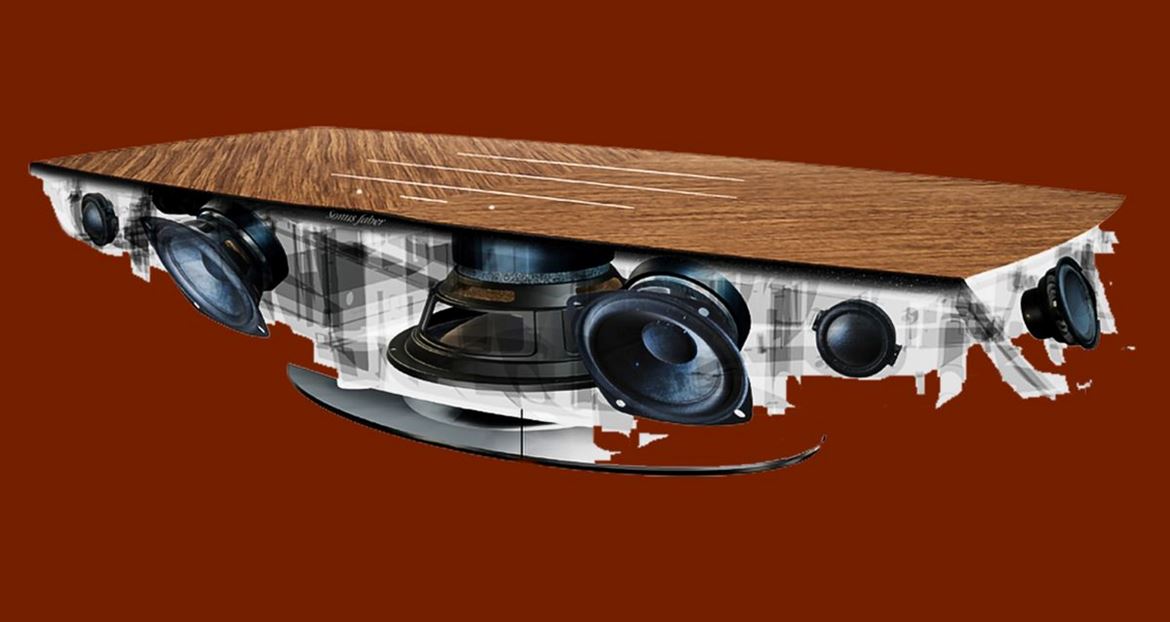 The magnificent seven

Omnia is a much simpler affair, but no less beautiful and powerful. Its front and rear are wrapped in a rough black fabric that hides the drivers: two 3-inch paper cone midrange drivers and two 0.75-inch silk dome tweeters with neodymium motor systems.

The subwoofer is a 6.5-inch long excursion aluminium cone woofer that fires into a wave dispersion cone lens.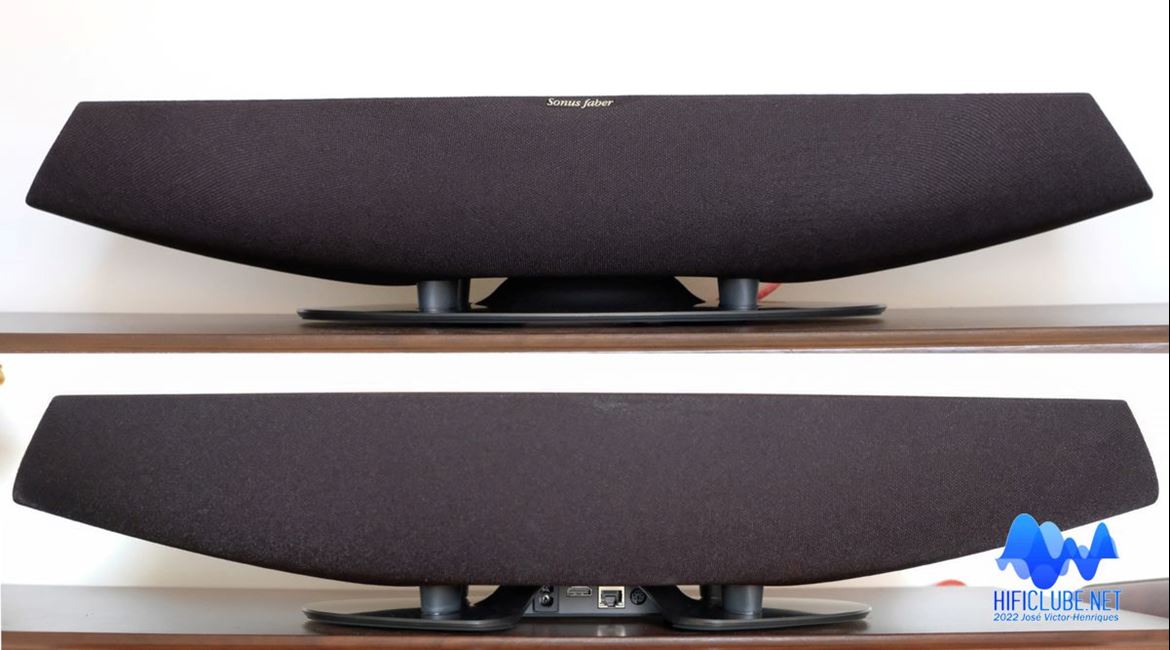 On the back, in an almost inaccessible spot, we find the input panel with connections for power, HDMI ARC, LAN /Ethernet, a six-pin mini DIN for the dongle and a phono/line switch.
...the magnificently crafted, multi-layered walnut veneered top plate (also available in satin black graphite) immediately identifies the Omnia as part of Sonus faber's noble heritage...
Crescent-shaped grilles cover the ends, where DSP -controlled 1.75-inch-wide pulp dome sidefiring units form the Crescendo system that virtually expands the soundstage, replacing the SF16's motorised, retractable wings.

The walnut on the top

The magnificently crafted, multi-layered walnut veneered top plate (also available in satin black graphite) immediately identifies the Omnia as part of Sonus faber's noble heritage.

Three horizontal white light bars (only the lower one is temporarily activated when the volume fluctuates) provide the first light show for the opening. With the cheap plastic remote control, you can also turn the brightness down or off. I prefer to leave them on. Shine on you crazy diamond...

Does Omnia have a soul (anima)?

At high volumes, the upper wooden panel vibrates slightly. I suspect that Paolo Tezzon has tried to incorporate the "anima" (the sound block) as if it were a violin body, using the tuned vibration to contribute positively to the sound. Of course, this is only speculation, but Paolo would certainly try this.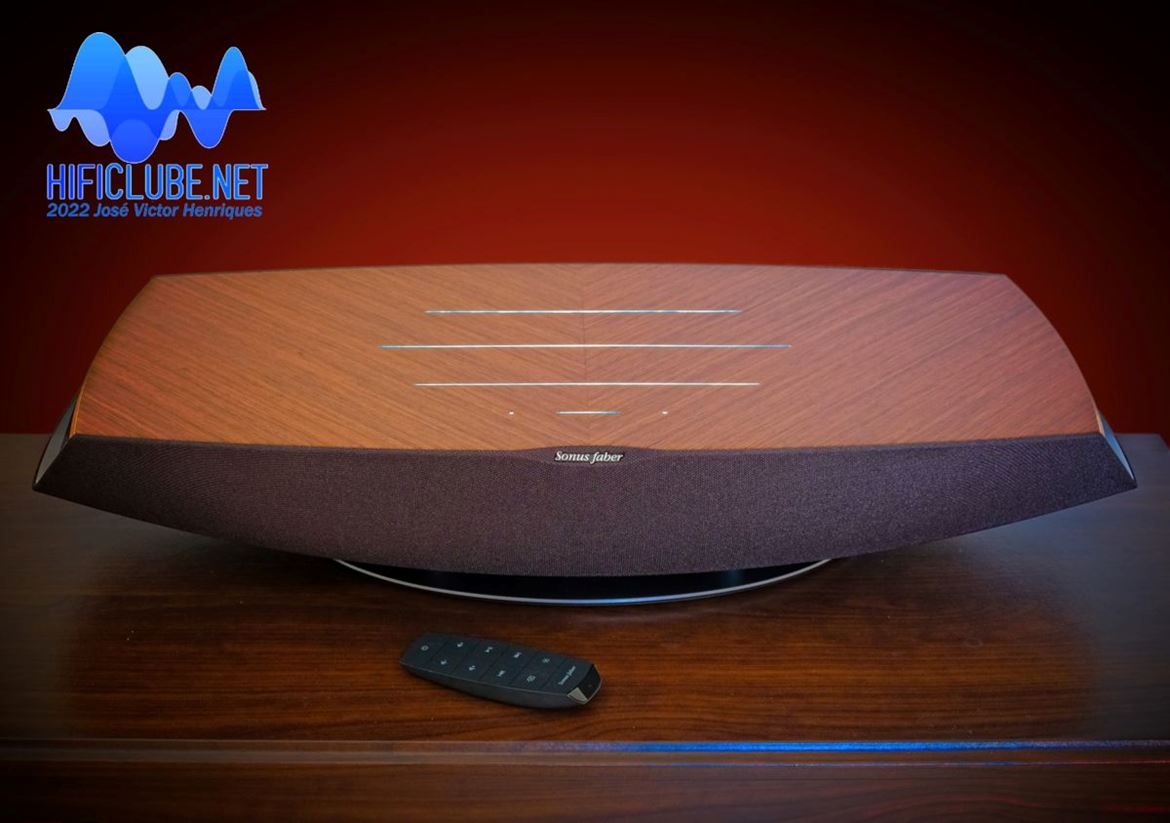 SENSO makes sense

You may need some time to figure out how the SENSO touch-sensitive interface works. For example, turning on/off or play/pause actions depend more on the time you hold your finger on the smaller colour-coded bar than on the pressure applied.

You can also swipe your finger (it works better with two fingers, as on some Android smartphones) to change the input selection, but usually without success, so you have to resort to the remote control.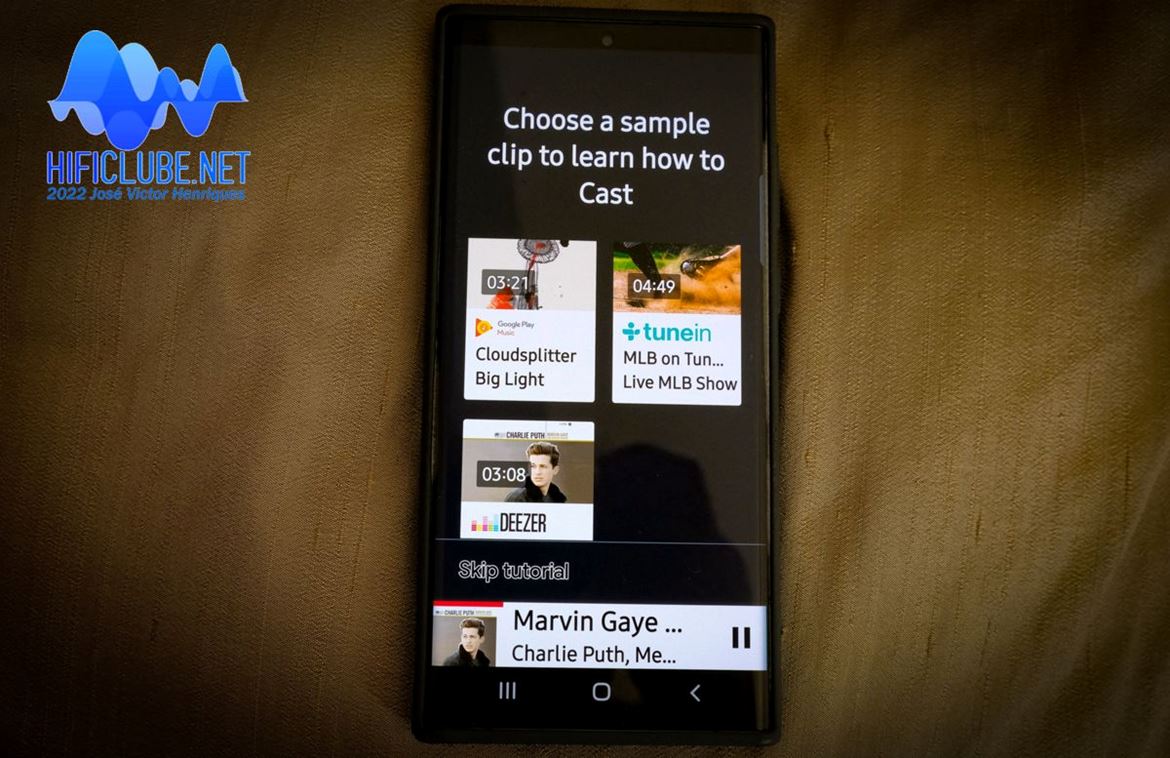 Anyway, in practise, all you need is a finger and a smartphone to sail through the streaming colour code (all inputs change automatically, except Phono- pink) and dock into any music port: Spotify Connect (green), Tidal Connect (light blue/turquoise), Qobuz, Deezer, TuneIN via Ethernet, wifi via Chromecast (yellow), AirPlay2 (white), Qualcomm AptX HD and Bluetooth AptX HD (blue).

And you can even talk to Omnia as it supports Siri and Google Assistant.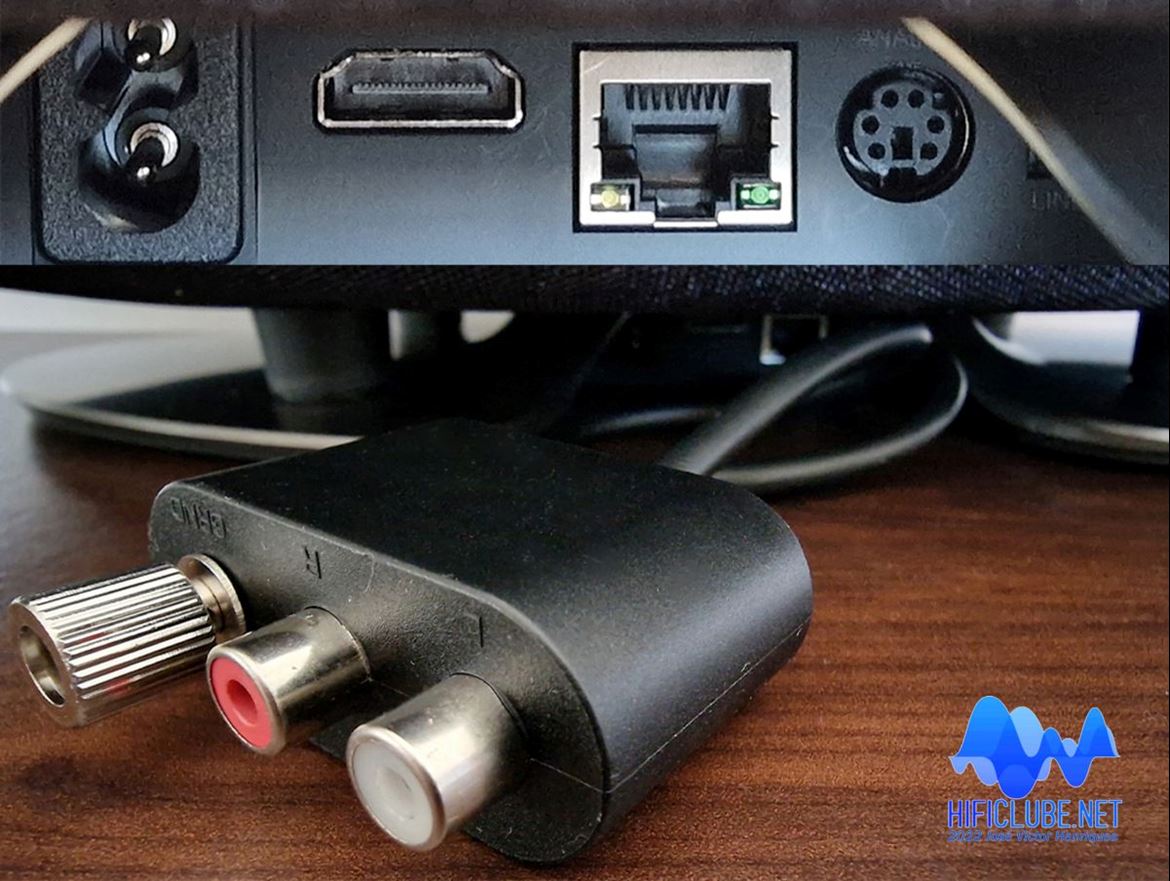 Roon ready

Omnia is Roon Ready (purple). Roon is the best GPS I know of for navigating the world of music streaming. Sonus faber was gracious enough to also provide us with a nifty dongle that lets you connect a turntable to the back (choose Phono) or a CD player (choose Line).
Omnia is Roon Ready (purple). Roon is the best GPS I know of for navigating the world of music streaming.
Under the left grille I found a USB input where I hoped to plug in a pen or a hard drive, but according to Livio: "That's a service port. Not for music, just for us to do software updates or diagnostics.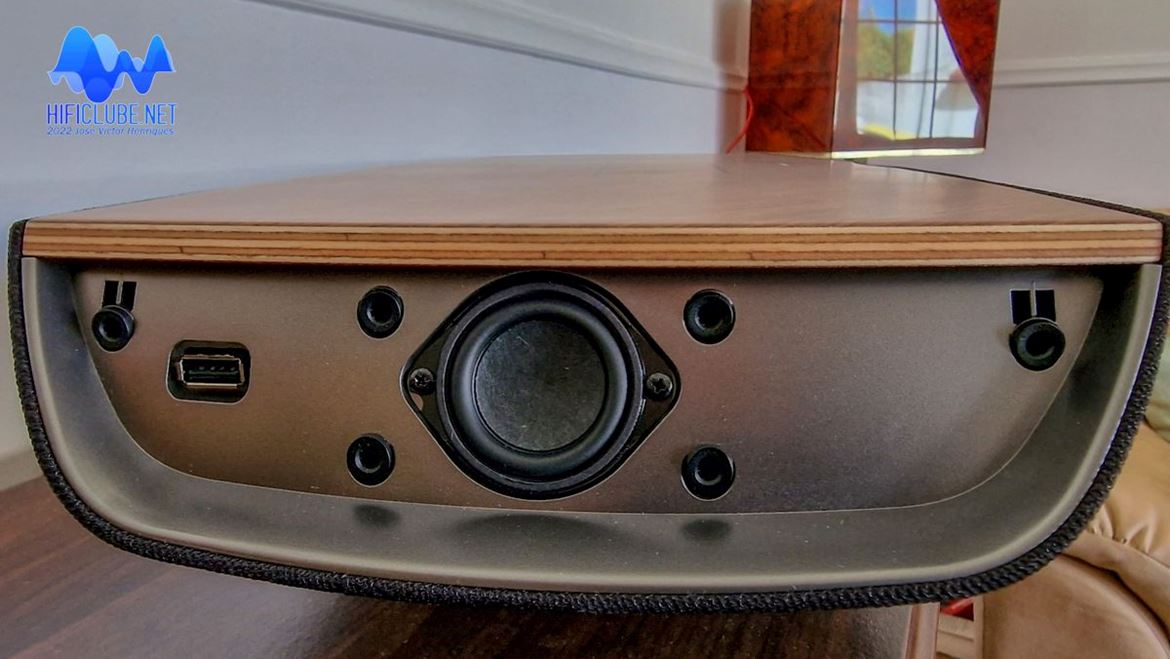 It's a pity because there is no other way to play your digital music files than via streaming services.

However, if you have dematerialised music (WAV or FLAC files with up to 192 kHz) on your computer or a NAS, you can only play them via Roon, which is not cheap.

Note: I have found a free solution that I will tell you in a minute if you bear with me.
Omnia does not offer its own app, so you must use the app of the streaming service of your choice, Spotify, Qobuz or Tidal.
Bluetooth saves the day (when the internet fails)

Even without WLAN access, you can listen to Spotify or Tidal by pairing your phone with the Omnia via Bluetooth. But of course, you get much better sound via WLAN, especially over the wired Ethernet.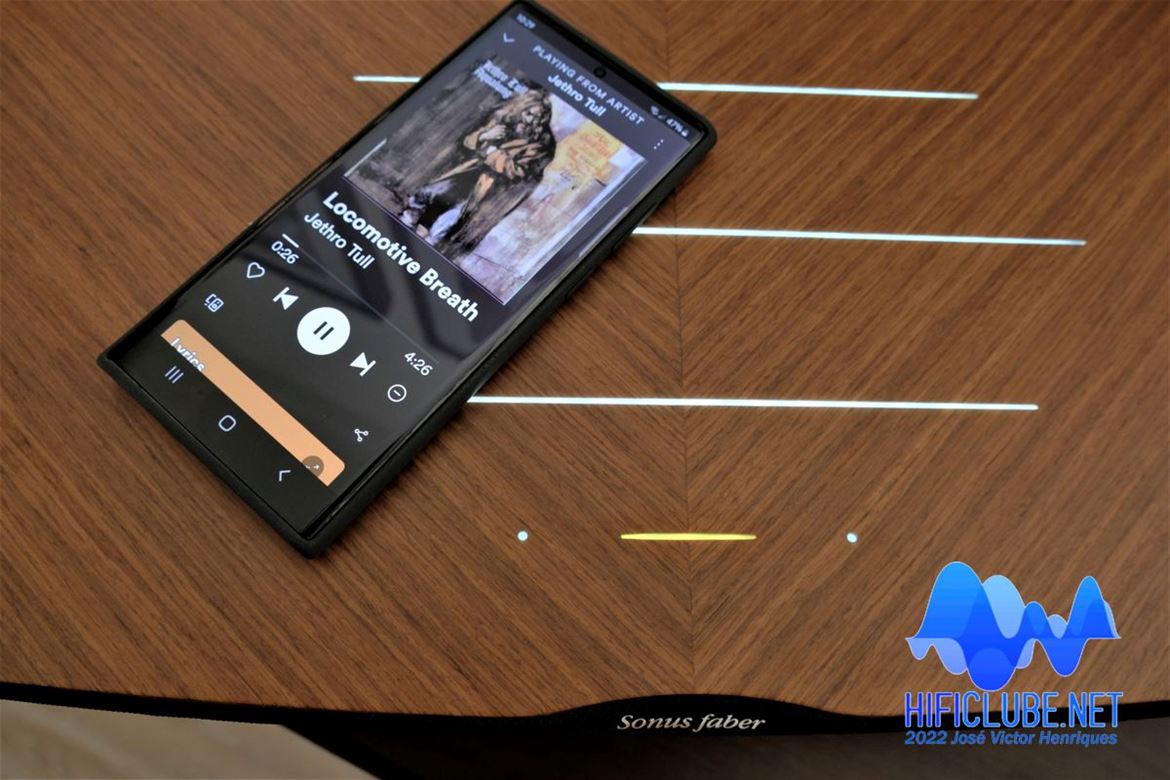 Omnia does not offer its own app, so you must use the app of the streaming service of your choice, Spotify, Qobuz or Tidal.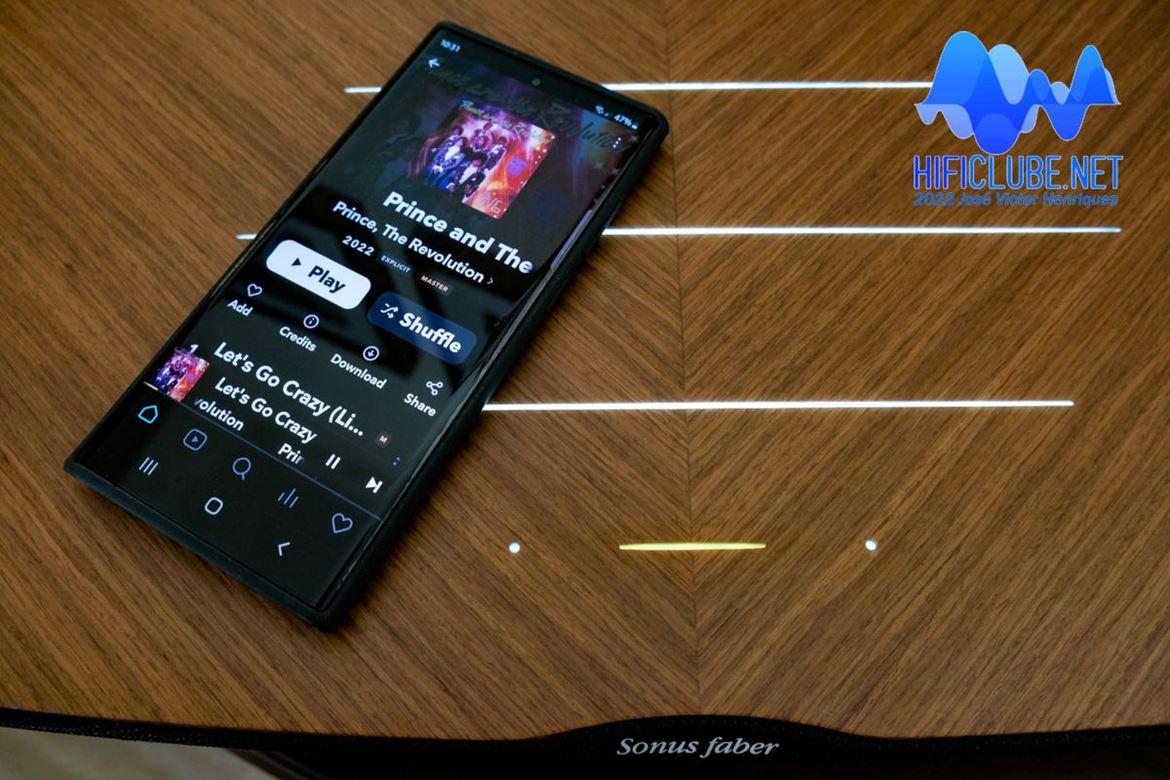 Playback of MQA and DSD files with Roon

Omnia is not compatible with MQA, so if you use Tidal, you will not get Master quality sound. It is also not compatible with DSD. So if you do not have a Roon subscription, you can not play both types of files.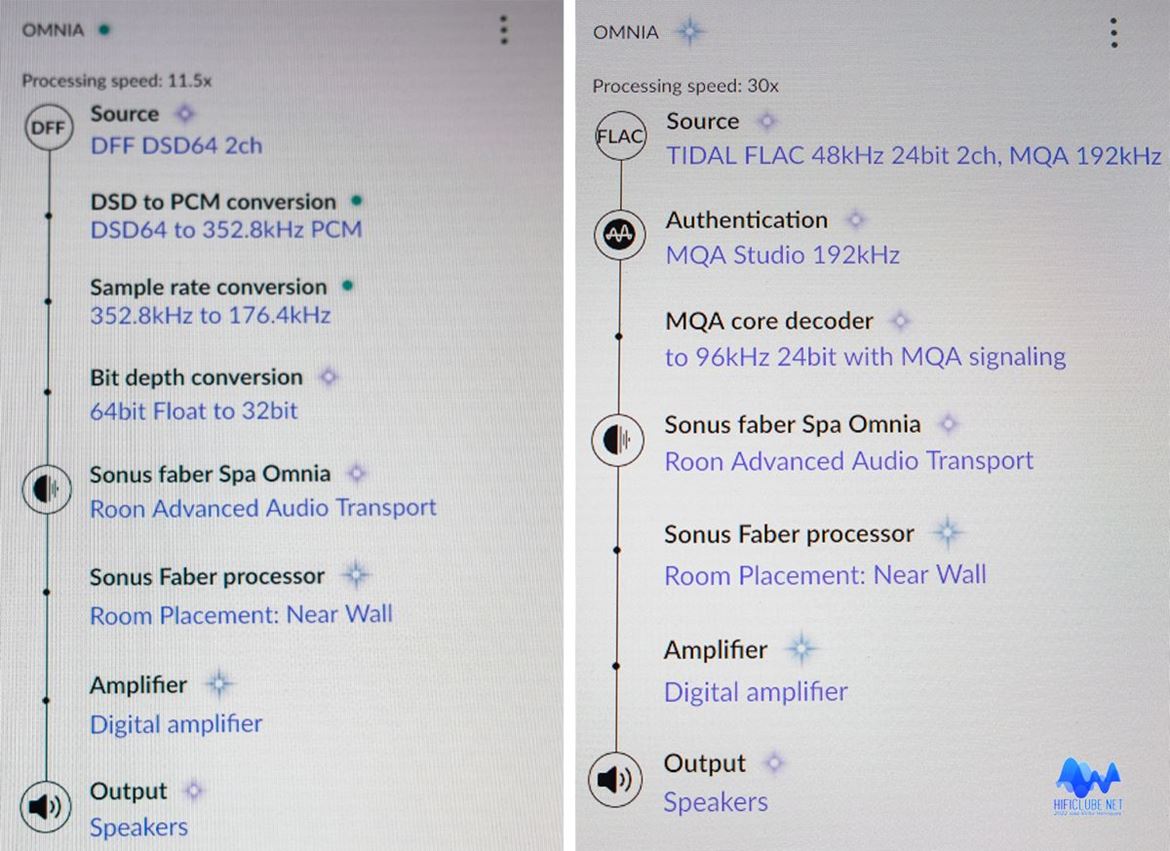 Roon does the MQA first deconvolution conversion for you up to 96kHz (Omnia is only used as a renderer) and also plays DSD and DXD files converted to PCM 176.4kHz (see photo).
mconnectLite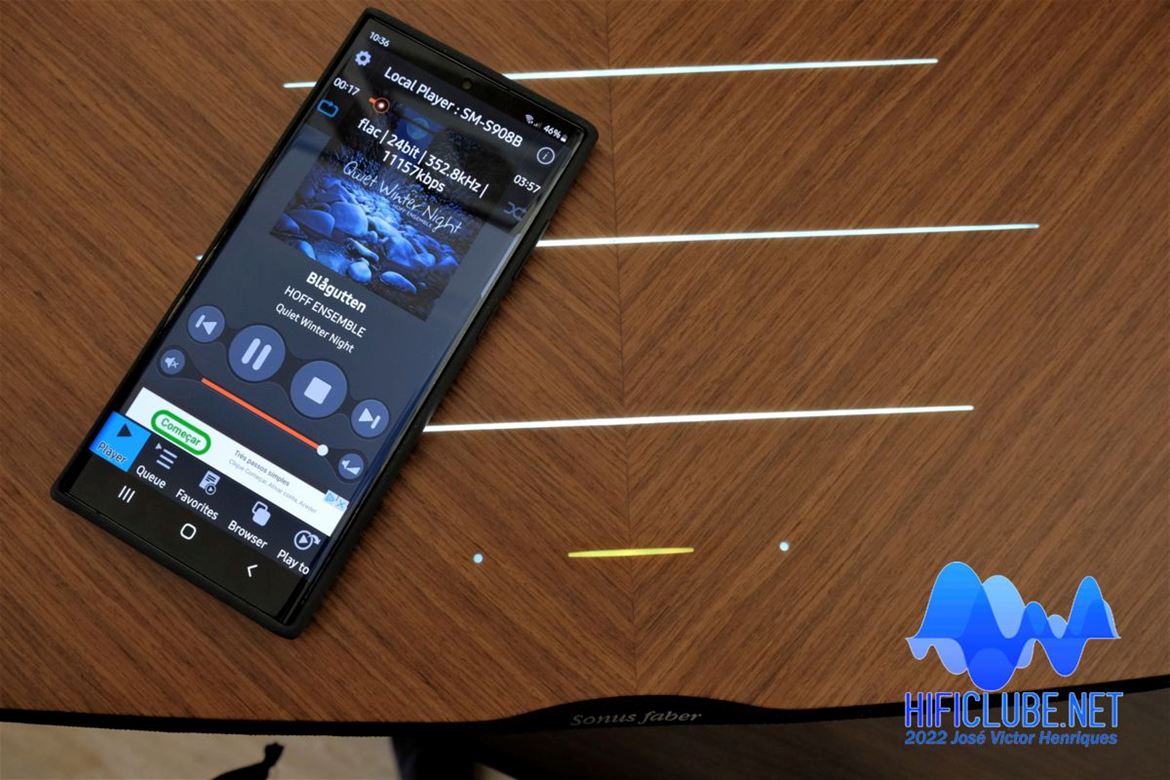 However, there is a way around this. Download the free app mconnectLite, which gives you access to Tidal or Qobuz (you still have to subscribe, of course) and any music file on your computer connected to the same network. And it works flawlessly for files up to 24/192 kHz, with downsampling above that.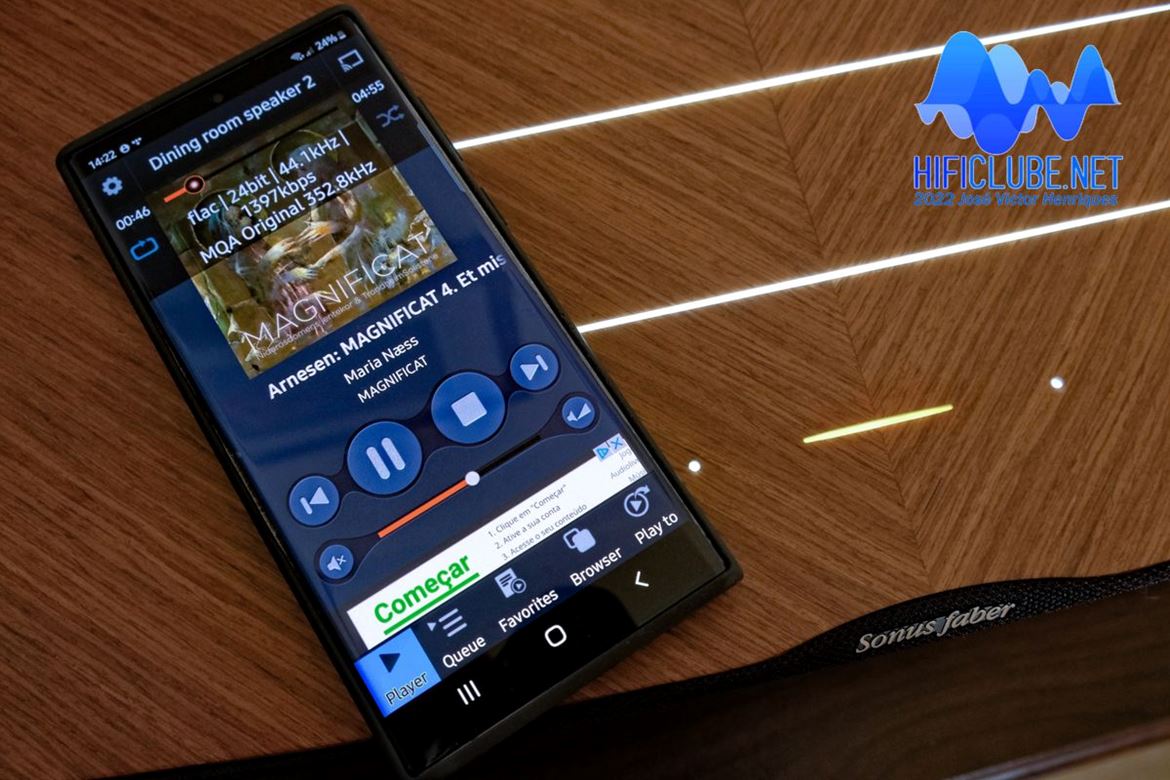 The secret menu
First you have to connect Omnia to your home network, which can be confusing as the manual is useless.

If you have an iPhone, use the Apple Home app. If you have Android, you resort to Google Home, for which you need your network credentials.

The app will then show you a small setup icon at the top of the screen. Scroll down and you will see your Omnia IP. Enter it in your browser and you will get a secret settings menu (see photo). QR Code did not work for me.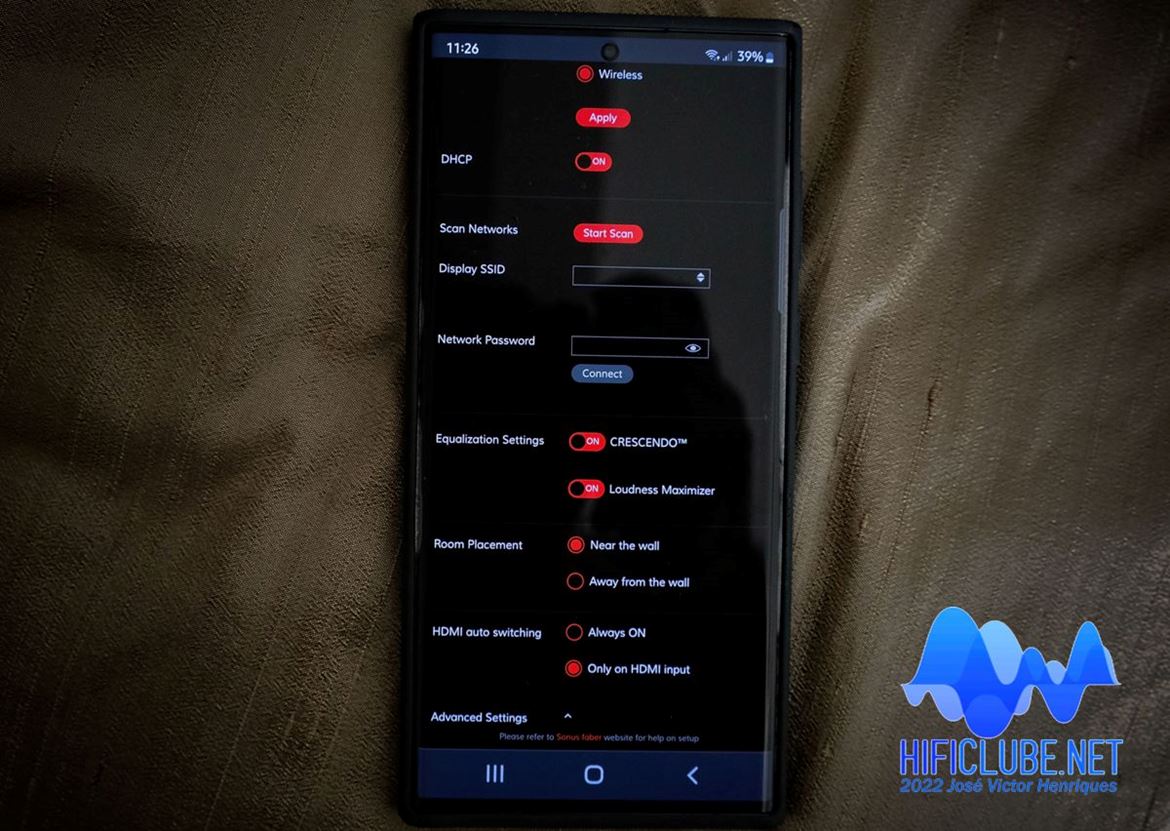 I would never have guessed that the menu existed, as it is not mentioned anywhere in the manual. And I bet many owners never found it either. So it is essential to buy the Omnia from an official dealer like Imacustica. There they will show you the way to nirvana.

In this advanced settings menu, you can switch three important functions on and off and also switch between automatic, wireless and wired Ethernet connections:

Crescendo
Room placement (near wall/far wall)
Loudness maximisation


The Crescendo button turns the side-firing drivers on and off. And, boy, do they make a difference! The room setup is self-explanatory.

The loudness maximiser works like the old "loudness" function, boosting the bass (3 dB) for night-time, quiet listening.

However, this function is controlled by DSP and works with a modern twist: it reduces the bass boost when you turn up the volume until it is deactivated to avoid too much bass at full volume.
Crescendo grows on you

Try all these settings while listening to music and you will find that they make a big difference in the sound quality.

Rules of thumb:

Leave the loudness maximiser off;

Switch to Near Wall if the Omnia is too close to the wall, leave Crescendo on for classical music and jazz, and off for high level pop and rock.

Turning off Crescendo will reduce the soundstage, even though the overall focus will improve.
However, the difference in sound character is so obvious that you will immediately miss the holographic effect and virtual spaciousness.

On the other hand, you get more texture and structure in the midrange.

You also get better, tighter, punchier, incredibly coherent and extended bass, even if you have to raise the volume a little to compensate for the lack of power from the missing two drivers. But of course, it will sound almost monophonic, somehow more like the Naim MuSo, which is an ugly soapbox in comparison.
Listen with a broader perspective

Switching to Crescendo is like switching from a 50mm to a 24mm lens. You get a much wider and airier perspective, although the elements that make up the soundstage seem practically larger than life and less focused.

Also, the sound can get a bit phased with tricky music. But I bet you will always leave Crescendo on, even with pop music, because it sounds more spectacular and involving.
If you are looking for the best wireless all-in-one streaming system that doubles up as the prettiest soundbar in the world, look no further. Ciao, Livio!
I wish Sonus faber had gone a little further and allowed crescendo equalisation instead of the radical on/off option. But you can always use the Roon settings DSP to tame excessive treble when Crescendo is enabled. Or use thin foam under the grilles.

Ciao, Livio!

If you are looking for the best all-in-one wireless streaming system that doubles as the world's most beautiful soundbar, look no further. Ciao, Livio!

What's more, it sounds so good that you'll quickly forget about your outdated hi-fi system that took you years to set up.

Omnia=happy family

Your wife will love you even more when you finally get rid of the dusty audio stuff you will not let anyone touch, and the awful speakers mounted on menacing steel spikes with cables protruding dangerously under the carpet.

Your children will see you with different eyes (Dad is not so old-fashioned after all). And they'll fight every morning to be the first to connect to Omnia, only to find out that it was your turn earlier: : Veni, vidi, vici.
For further information contact: