Ler artigo completo em Português
Unique in its ribbon technology, open-baffle design and sound quality, the SR1b is a must-listening for all audiophiles. Under the right audition conditions, and compensated for in impedance and frequency response, they are one of the best headphones I've ever heard – if not the best in some items, like transparency, speed, micro dynamics and soundstage.
Writing this review has been the most challenging task I've faced yet. However, the sheer pleasure of listening to the SR1b has compelled me to share this experience with my loyal readers. For years, they have trusted my ability to describe sound in such a way that they feel as though they are experiencing it themselves.
The Raal Requisite SR1b is unlike any other headphones I've ever tested or tried. They can sound awful right out of the box, or sublime if you meet all the conditions associated with amplification, and the mandatory adapters, equalisation and placement angle close to the ears. Please note: close, not over or around the ears.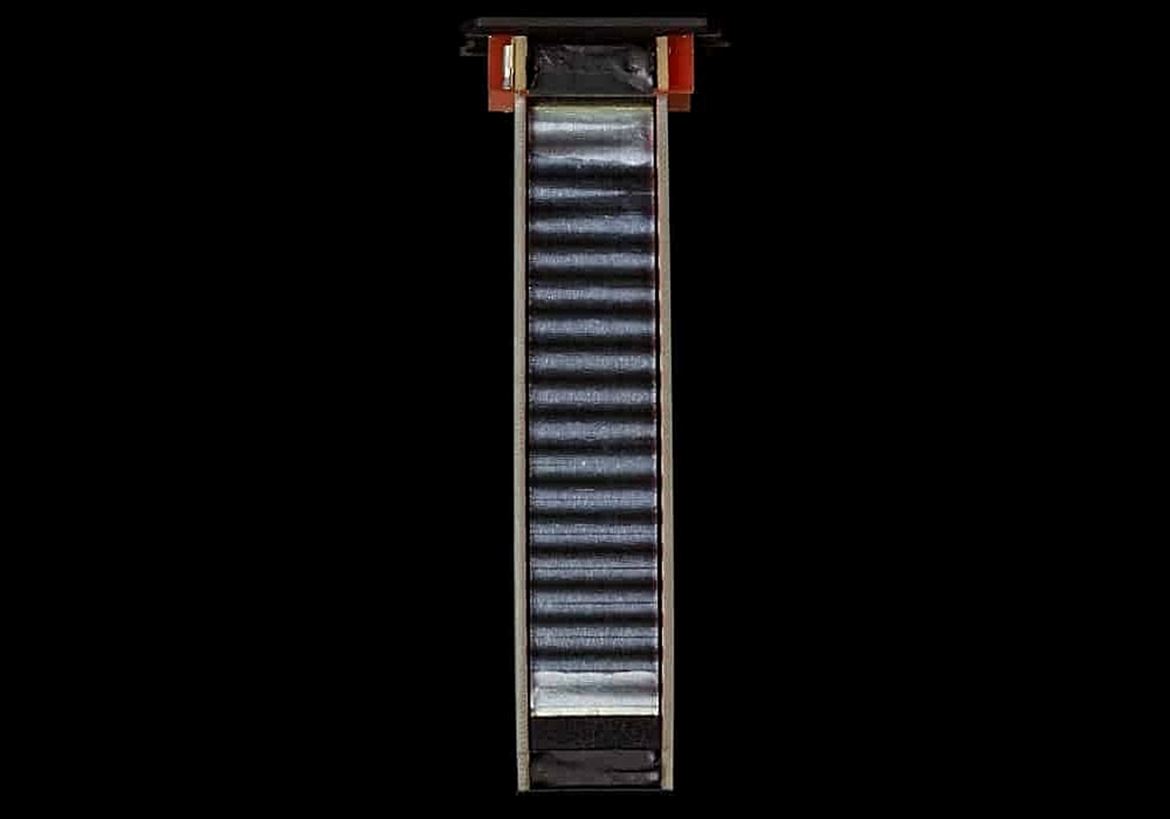 Full-ribbon earphones
Raal Requisite SR1b reproduces all frequencies using an aluminium ribbon that is conductive and practically massless. The ribbon vibrates when modulated by the signal due to a powerful magnetic field (don't place them near metal objects and surfaces) just like the ultra-thin mylar membranes of other high-end headphones. (Stax, Audeze, Hifiman, etc).
However, unlike these headphones, the SR1b's ribbon is suspended only at the tops and vibrates freely, resulting in a faster response and avoiding the "drum effect" that can occur when the ribbon is fixed around its entire perimeter. It's a unique and innovative design that sets the SR1b apart from other headphones on the market.
This is a true full-range ribbon transducer that reproduces all the frequencies (30Hz-30kHz), unlike the oBravo (hybrids), which split the frequency spectrum between two different transducers: a ribbon variant (AMT) for the mids and highs and a dynamic speaker to reproduce the bass; or Heddphone, which use a single full-range AMT ribbon.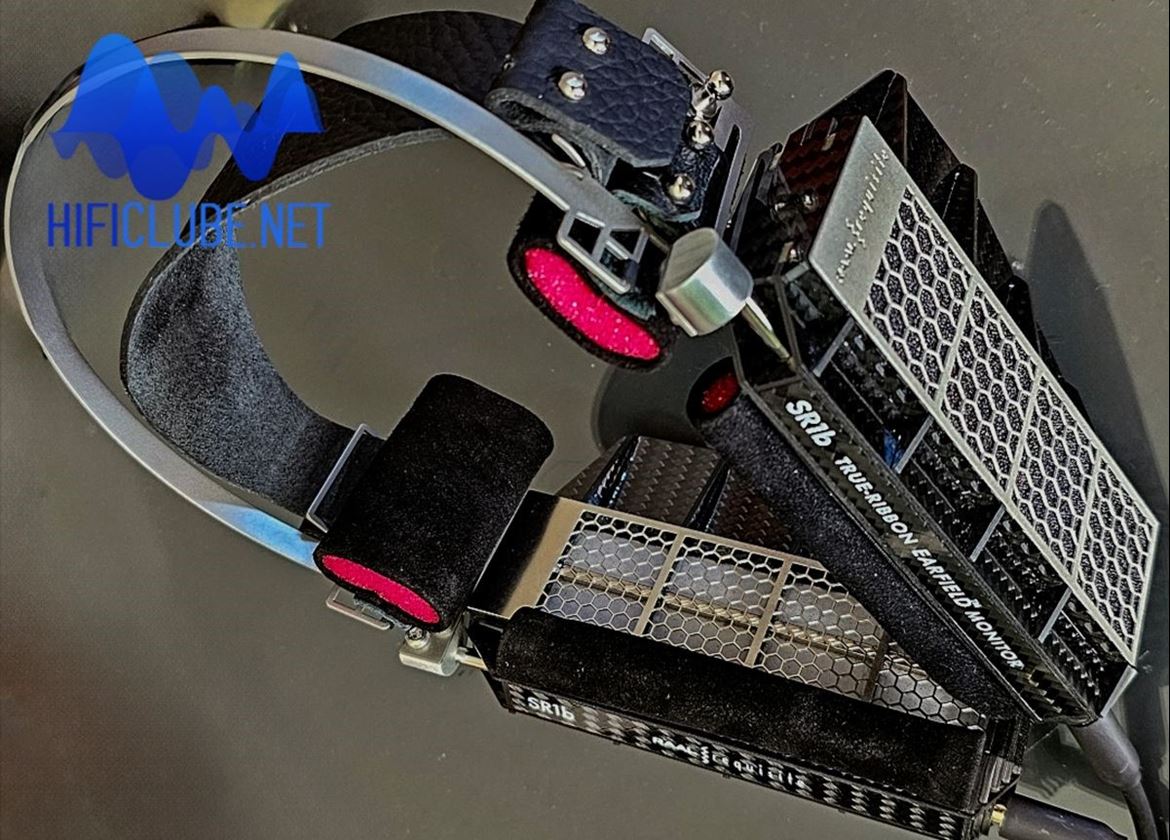 Open-baffle design
The Raal Requisite SR1b do not have traditional ear pads with soft cushions to wrap around or place over the ears. Instead, the SR1b's ribbons are mounted on a metal and carbon structure that is supported by a leather headband with a steel spring for smooth lateral adjustment.
The ribbon shells are thus suspended next to the ears, barely touching them (or not at all) and supported only by small foams placed longitudinally over the jaw and laterally over the temples. This design allows for a more comfortable and natural listening experience, while also contributing to the headphones' exceptional sound quality. Additionally, the ribbons can be easily replaced by the user in the event of a fault, and at a relatively low cost of just 150 euros each.
The earphones (if you can call them that) can rotate on an axis so that they are parallel to the ears or at an angle of up to 90º (you'll see why below).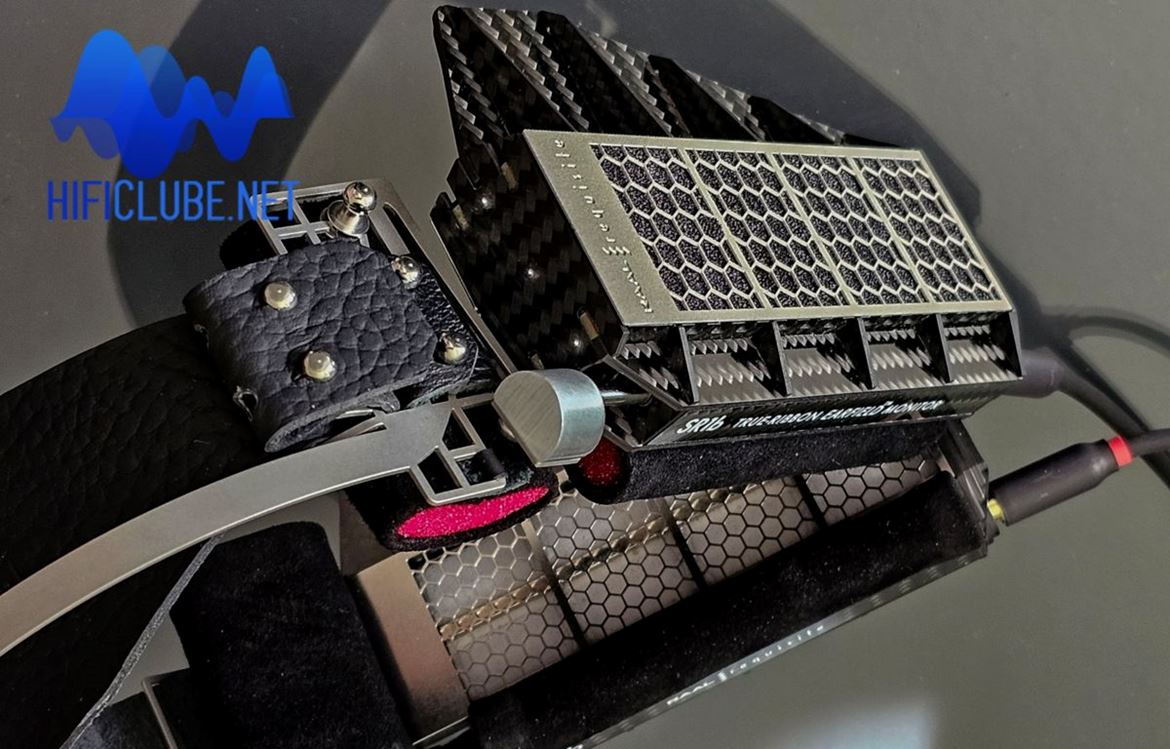 No cushions, no sweat
Two small carbon side flaps act as a baffle to prevent (unsuccessfully) early cancellation of low frequencies, which would only be possible with huge flaps. The SR1b earphones are thus open-baffle types, which is why they need, in addition to impedance adapters, frequency response compensation adapters or, alternatively, parametric equalisation (we'll get to that in a moment).
So, at first glance, they look like an acoustic contraption that shouldn't be taken too seriously. However, the construction is solid and, when you put them on, they feel extremely light (only 426 grams) and comfortable to wear, especially as they never, or barely, touch your ears, so they don't cause sweating, even on hot days.
The earphones should be placed so that the centre area of the ribbon is level with the ear holes. The vertical adjustment is made by means of holes in the leather headband, like a belt. It's a somewhat artisanal and inaccurate solution, but it works. A second leather strap is attached to the back of the head to prevent (also unsuccessfully) the headphones from moving when you lean forward.
I removed this strap because it bothered me and didn't do much good anyway. So, I kept my head upright, not least because the position of the earphones is critical. Adjust the horizontal position of the small cushions over your temples and jaw and you'll be surprised at the acoustic result: a little (millimetres!) forward or backward, and the tonality of the sound changes accordingly! The SR1b seem to have a sweet spot where everything sounds better, just like loudspeakers.
Forget jogging!
So, forget jogging with the SR1b. And not just for mechanical and practical reasons, also for electrical ones, because you can't (must not) connect it to a mobile phone or portable DAC, or even to a conventional amplifier.
And this is where the plot thickens, because the SR1b costs 3600 euros, and you'll need to spend at least as much to drive them properly. Bear with me, please, don't give up just yet, the effort will be worth your while, as the frequency compensation barrels will make the SR1b more, shall we say, universal, albeit no less demanding in terms of complementary equipment.
Unlike today's planar-magnetic headphones, which can even be connected to mobile phones, the SR1b need to be connected to powerful amplifiers capable of feeding very low-impedance loads with high current.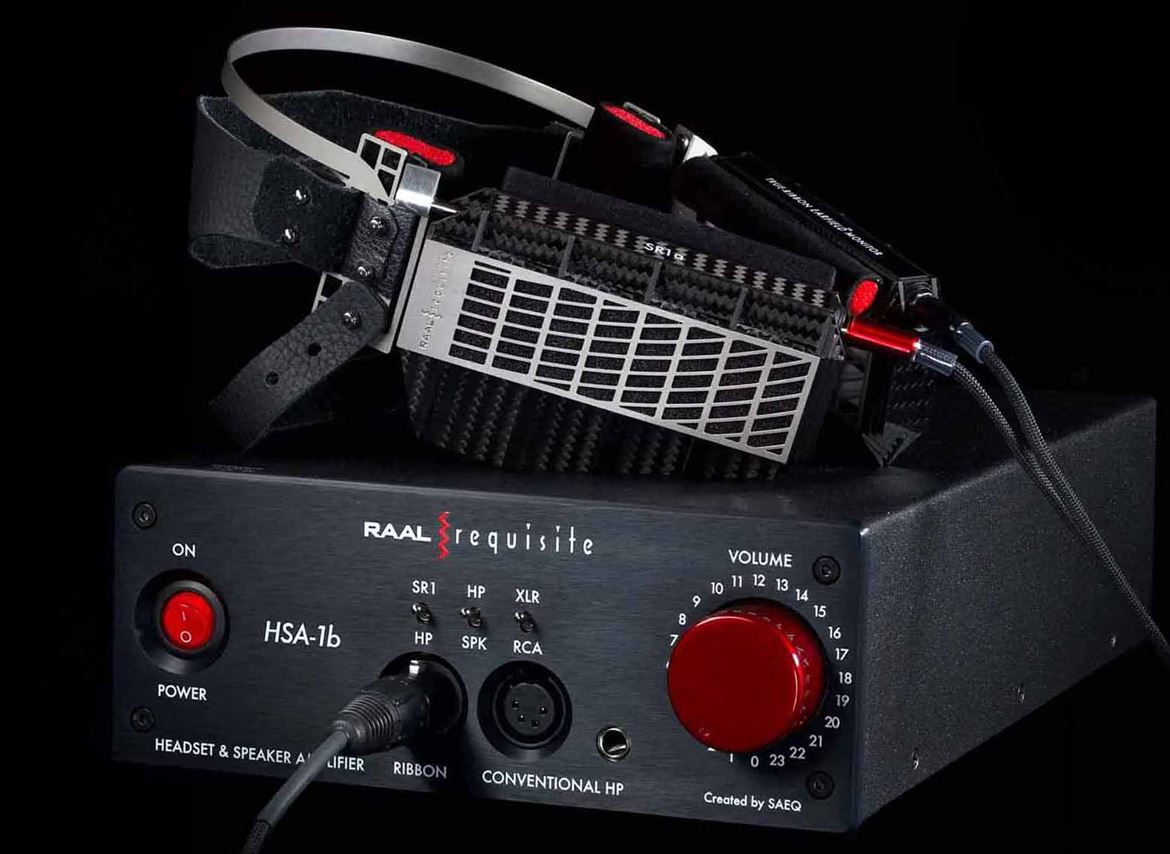 Very low impedance
The ribbon impedance is 0.2 ohms! You read that right: it's almost a short. They're like the Apogee Scintilla speakers (1 ohm), which only worked well with Krell amplifiers. SAEQ (of Serbian origin, like Raal) and Schiit are the only manufacturers that produce headphone amplifiers capable of driving it without the need for an adapter: the Raal-Requisite HSA1-C "Switch Drive", created by SAEQ (€5400), which also works with conventional planar-magnetic and dynamic headphones, is one of them.
If the SR1b already sounds sublime with an adapter in between, I shudder to think what they'll sound like with a direct connection, although I think the HSA1-C is basically just an amplifier with an integrated impedance adapter and frequency compensator.
Note: the HSA1-C also dispenses with the frequency adapter in SR1 mode (see photo).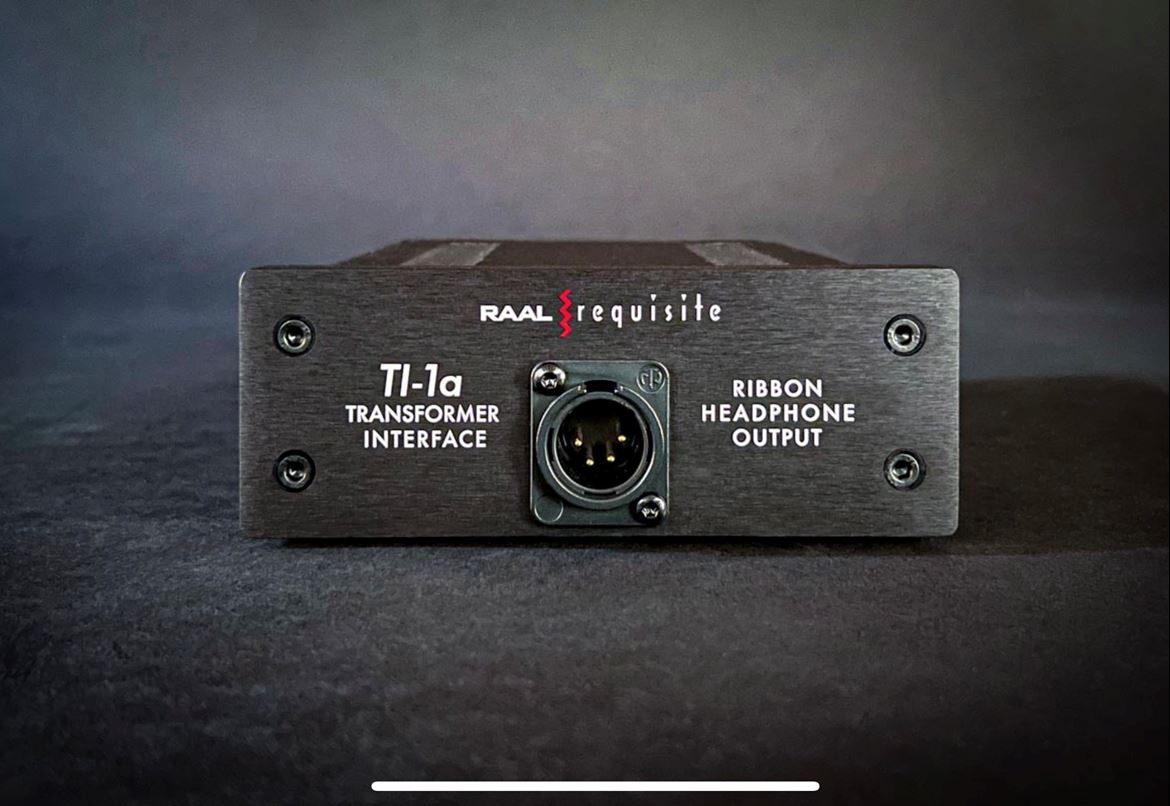 Connecting the SR1b to another amplifier means immolating it! But don't despair, Raal Requisite has a solution, in fact two, to this problem: the TI-1a impedance adapter to connect the SR1b directly to the speaker output terminals of a conventional amplifier (min. 100/150W); and the TI1b to connect the SR1b to the balanced outputs of a headphone amplifier such as the excellent Ferrum Oor (the version Ajasom supplied me with).
Note: Ajasom also promised to supply me with a TI1b adapter so that I could connect the SR1b to the speaker outputs of my Rose RS520, which didn't make the deadline for the publication of this article. That's a reason for a follow-up, as listening to the SR1b is extremely rewarding. I spent hours listening, without any physical discomfort or hearing fatigue, and I've stopped listening to my Hifiman HE1000s altogether. It's like a drug!
I spent hours listening to the SR1b without any physical discomfort or hearing fatigue. It's like a drug!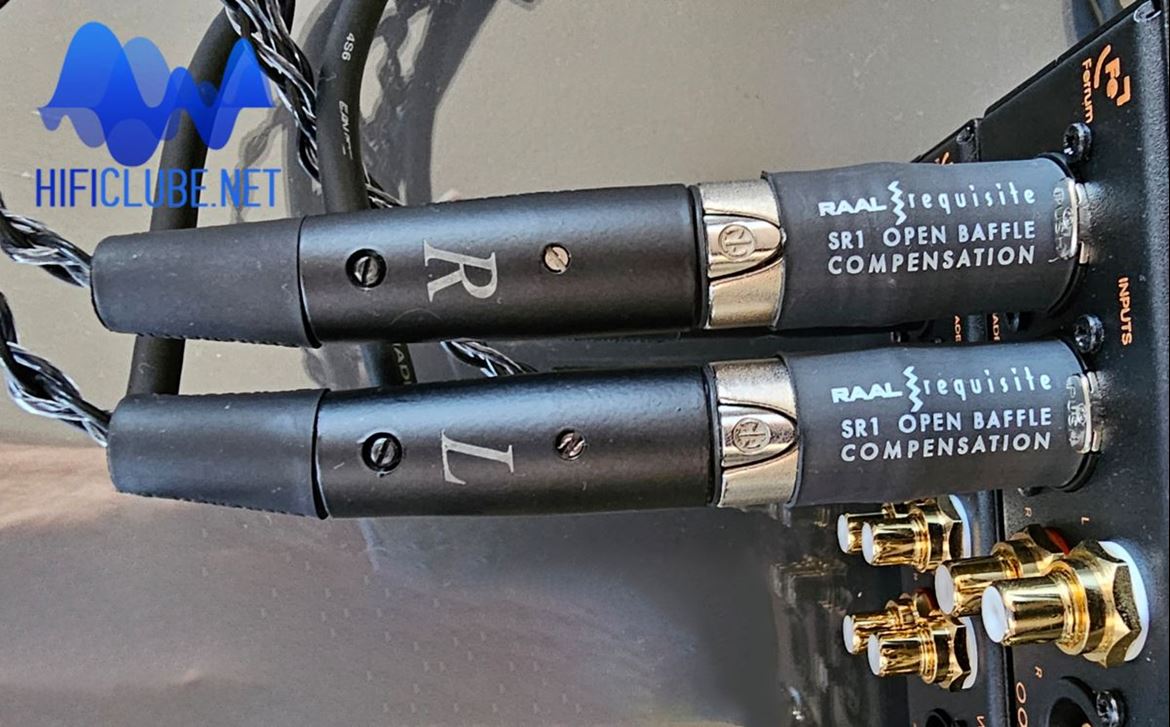 Sushi and tempura
There are those who listen to - and still love - the Raal-Requisite SR-b1 "au naturel", i.e., only with the mandatory impedance adapter, but without frequency response hardware compensation ("open-baffle compensation barrels") or software (parametric equalisation by Roon, JRiver Audirvana, etc.).
To be honest, I don't recommend them 'au naturel'. The sound is indeed ultra-transparent, ultra-fast, ultra-dynamic, ultra-detailed and free of 'box' colourations; but in tonal terms, the mid-range sounds bland and dry, the highs overly bright: and the bass is solid, articulate, ultra-defined, very tense, but not very extended or intense.
I'd say that "without compensation", the SR1b sounds bright and artificial. I admit, though, that once you've heard it, all the others sound "dull" and slow by comparison.
But like sushi, there's no denying the quality and freshness of the ingredients. If you opt instead for tempura, i.e. a "cooked" sound using "open-baffle compensation", or "well-seasoned", by parametric equalisation, the listening pleasure is unbeatable in my headphone experience.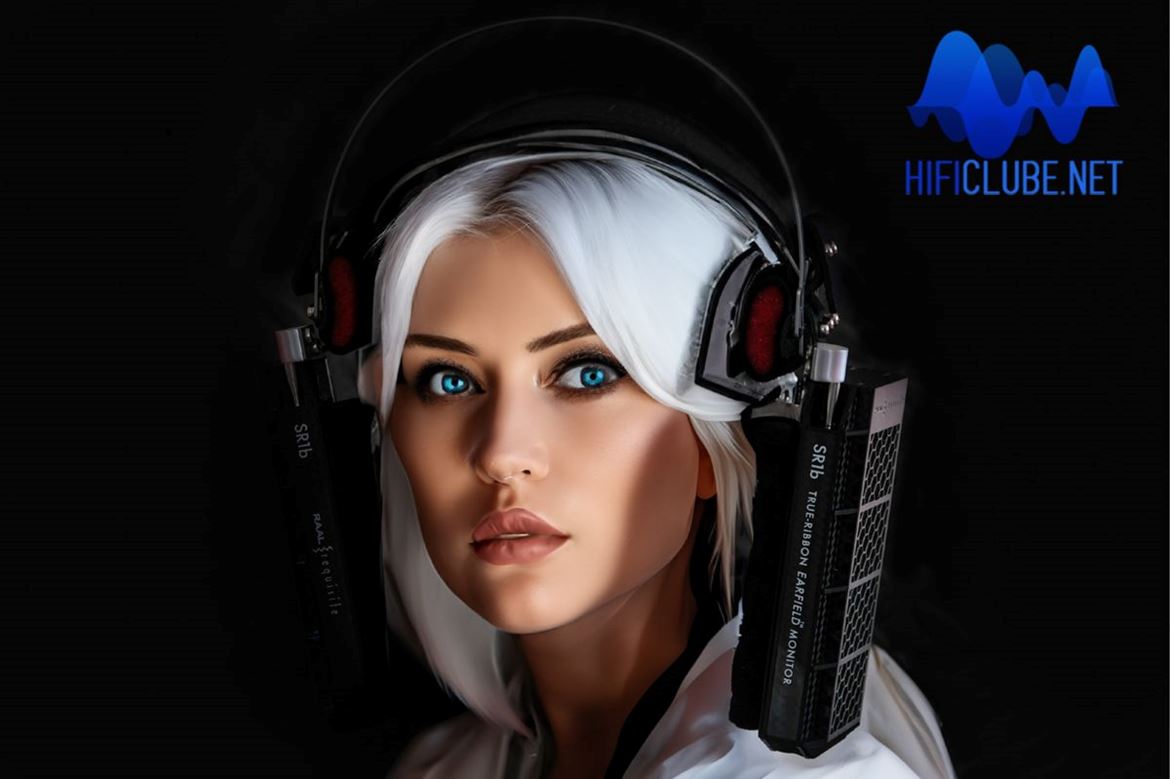 Here are some recipes:
Note: The impedance adapter is mandatory in all circumstances unless you use the HSA1-C amplifier (or the Schiit Jotunheim R). These recipes refer only to frequency response compensation, which, as we've seen, some people (and haters) unwisely do without, and I think this is where the contradictory opinions lie.
The simplest and most effective recipe is to use the "open-baffle compensation barrels" that came with the headphones. These are two XLR (or RCA) plugs with an internal compensation circuit, which I put on the balanced interconnect cables between the Ferrum Wandla DAC and the Ferrum Oor headphone amplifier.
The Oor's balanced headphone output connects then to the 32-ohm input of the TI1b impedance adapter (Note: I tried it with 16 ohms and liked it, but it seemed to give the Oor a hard time). The signal for the Raal Requisite SR1b is supplied by the TI1b adapter - not the Oor, which still regulates the volume. Note: there's no danger of swapping cables because the plug pins are different.
With this (hardware) solution you don't have to worry about equalisation anymore, although for bass freaks +2 or 3 dB below 60Hz is of rigueur. For me, hardware equalisation (barrels) is the best common denominator for all musical genres, instruments, and voices and that's all I needed most of the time.
The simplest software recipe consists of entering the following formula into Roon's parametric equaliser. Note: software solutions (equalisation) dispense with the hardware solution (barrels):
Highshelf, Frequency=1254Hz, Q=0.5, Gain=-5dB
To which you can add a pinch of bass to taste below 60Hz: Lowshelf, Frequency=60Hz, Gain +2 or 3dB.
Equalisation, like cherries, is hard to stop trying, once you've started. Here's a slightly more complicated Roon recipe: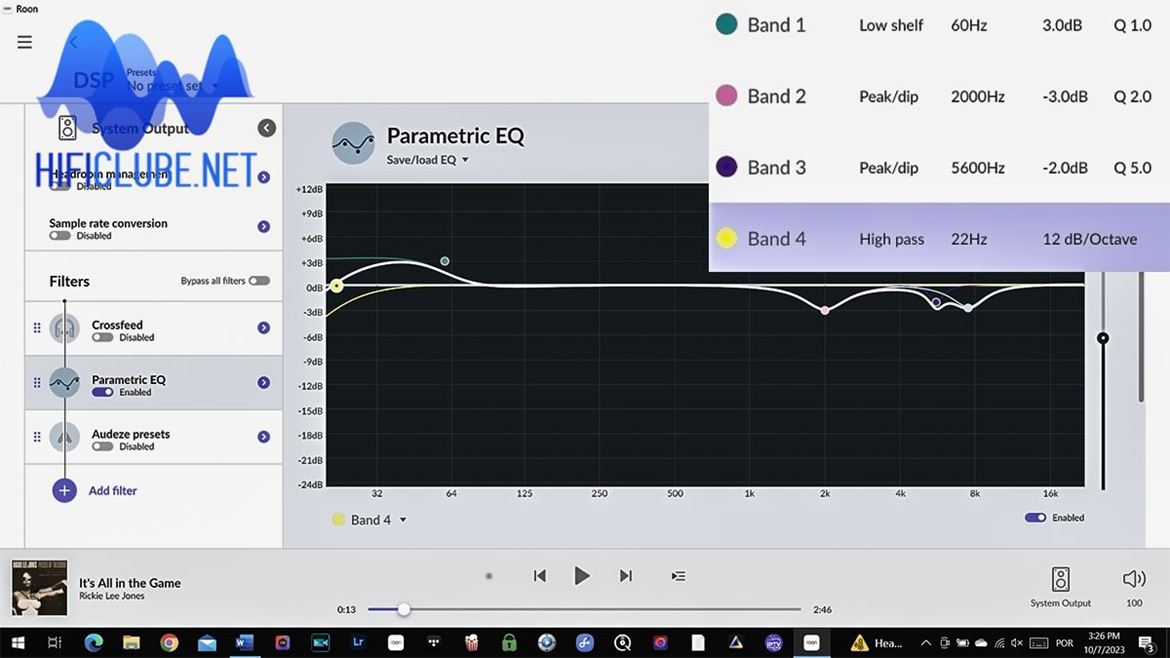 As with everything in life, enough is never enough, and some radical audiophiles suggest using the SR1b with a subwoofer below 60Hz, placed next to the feet...
In fact, it's feasible because the SR1b, being an open-baffle design, allows you to hear everything that's going on around you, including a subwoofer, of course. They say it's an unforgettable experience, but I'll pass on that, thanks. If you want to try it out, you should go for a small subwoofer with step-less phase adjustment: those that only offer 0º, 90º and 180º are no good, as tuning is critical.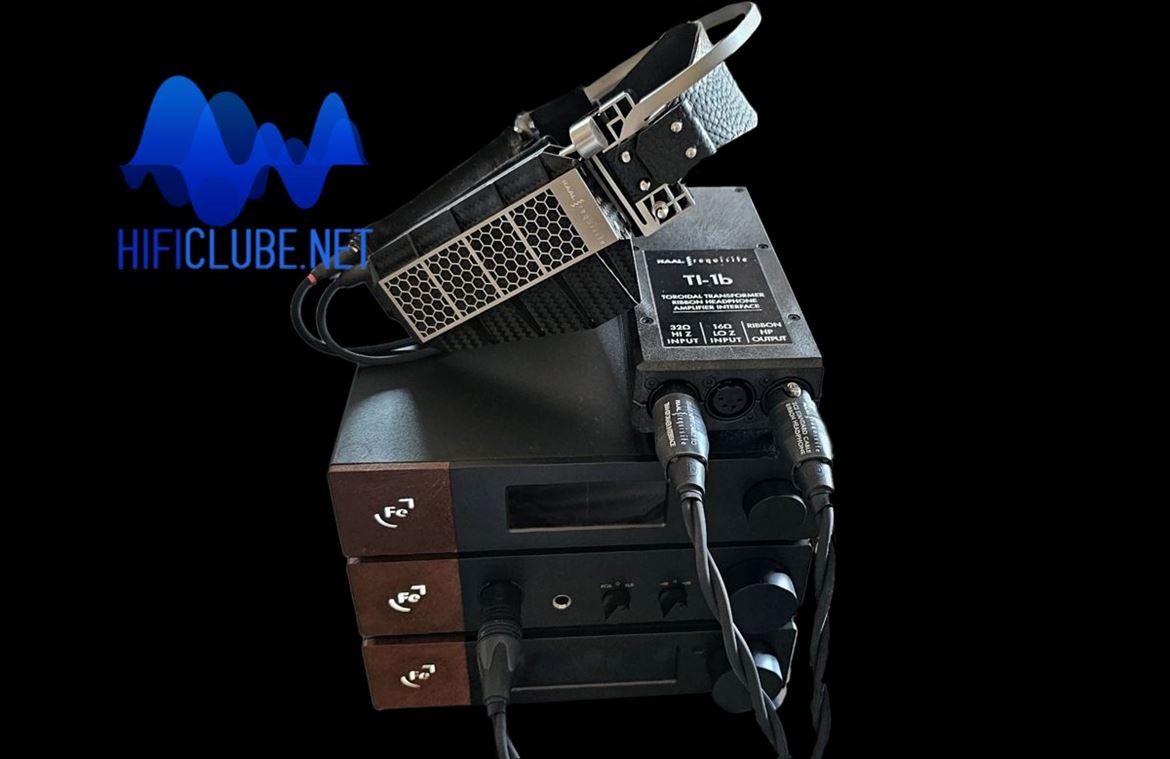 SR1b + Ferrum Wonder Trio
I listened to the Raal-Requisite SR1b for an extended period using the Ferrum Wonder-Trio (Wandla/Oor/Hypsos) as associated equipment. My music source was mainly my PC with JRiver, but I also used a Rose RS520 exclusively as a streamer, connected to the Wandla via USB (I'm waiting for the TI1a adapter to be able to connect the SR1b directly to the RS520).
The Wandla balanced analogue outputs were then connected to the Oor with the 'open-baffle compensation barrels' installed in the Kimber Carbon cables. In this case, I didn't use any additional equalization because this is how readers will probably hear them at Ajasom (distributor in Portugal). The balanced headphone output of the Oor finally drove the SR1b through the TI1b impedance adapter (32 ohms). It may sound confusing, but it works as a charm.
I almost always set up the SR1b parallel to my ears because they sound better (more body and structure) and with more bass (defined and remarkably informative). But I've also tried them slightly angled at 30º, increasing the volume slightly to compensate for the loss (wider image and more diffuse sound, with a more delicate structure and less bass).
It sounds like sensual lips whispering, so close to your ears, you feel a shiver of pleasure.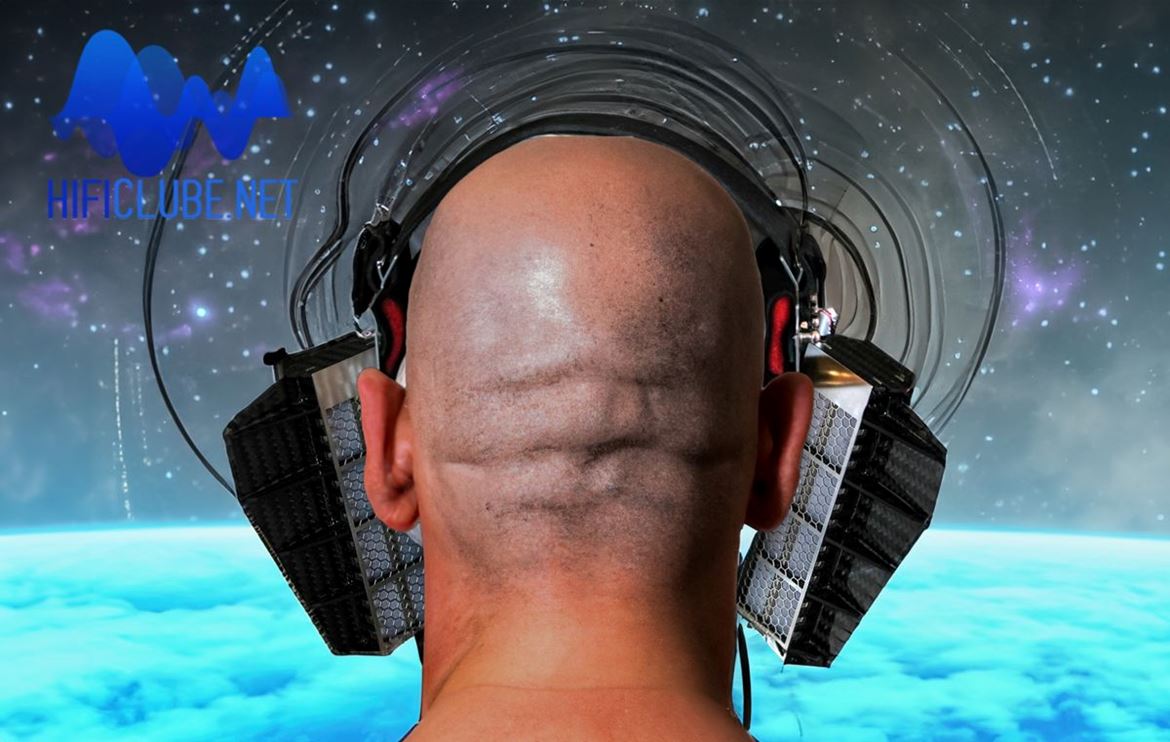 What more can I say about the Raal Requisite SR1b?
They vanish acoustically, and you don't feel them on your head after a while (unless you bend forward to tie your shoes). But, alas, they don't vanish physically for my wife teased me when I was wearing them at a 45º angle: "You look like you've got gills...";
Having met all the technical conditions above, I listened alone in silence at night, with the office door closed (you can hear the music everywhere) and found them to be one of the best headphones I've ever heard – if not the best in some items, like transparency, speed, and microdynamics.
These are the only headphones (not to mention in-ear headphones) that don't inject sound directly into your ears, creating a feeling of (op)pression: the SR1b, even when playing loud (enjoy wisely) sounds like sensual lips whispering so close to your ears you feel a shiver of pleasure (you can always move the shells a little further away if that bothers you);
These are the only headphones I know that have a true stereo image, i.e., soundstage; and a sweet spot (the exact position in which they sound best);
They redefine the concepts of resolution and clarity;
They redefine the concepts of micro-dynamics and transient response;
They redefine the concept of tonal neutrality and absence of colourations (voices, for example, sound clean, neutral and without excess chestiness);
By comparison, electrostatic headphones sound fragile whereas the SR1b sounds athletic;
Sometimes when pushed really hard I felt what sounded like a short, fleeting, and inconsequential fru-fru in the top treble and very low frequencies. But it could also be the Oor having a hard time. Or my ears.
Sometimes I felt the bass could have a little more extension and intensity, but at least it doesn't suffer from the ear cushion 'donut effect' with which other headphones artificially fatten the sound. The SR1b are so neutral that you'll have to relearn how to listen;
Sometimes I felt under the impression I was wearing a prop from a sci-fi film, or a design inspired by the Steampunk movement (see  Rose RA180 review).
And yet, the SR1b are also a work of industrial art reminiscent of the unbearable lightness of Alexander Calder's suspended kinetic art (see photo below, which I recently obtained at Serralves).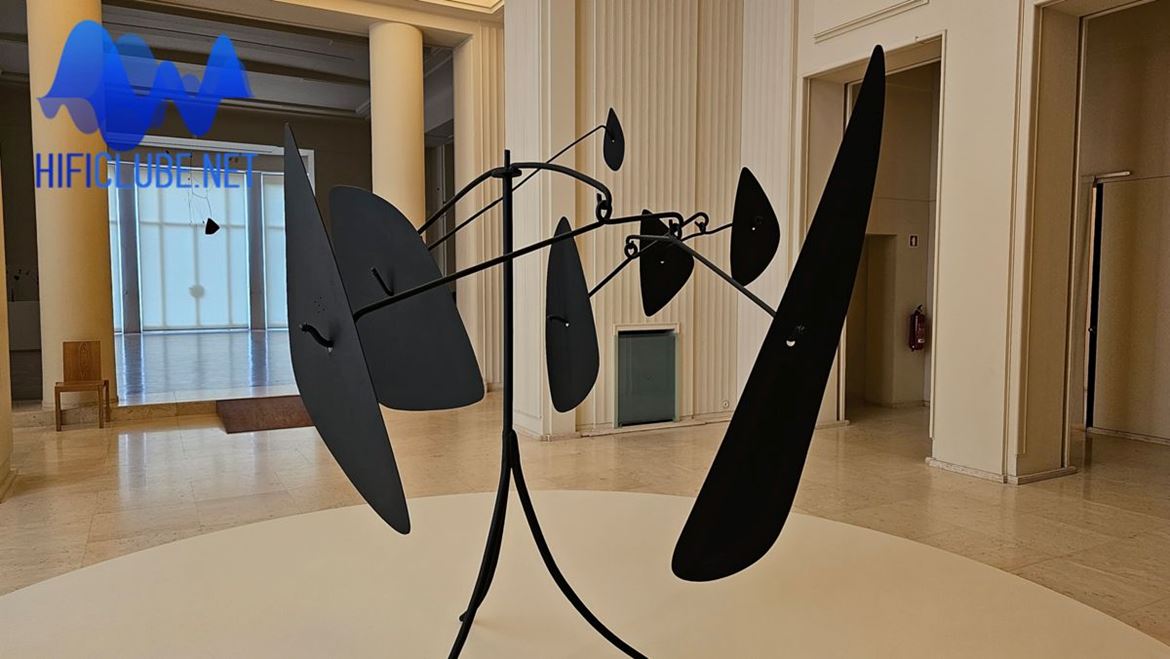 Sometimes I felt nostalgic, flashes of childhood coming to mind when I used two boxes of (shoe) polish and a cobbler's string to communicate with friends who were only a few metres away.
Most of the time, I was happy to have reached this age and still be able to enjoy, for hours, even days on end, much of the music that shaped me and that I listened to with the SR1b as if for the first time, such was the amount of new information, not so much in terms of content, but above all in the way that content was presented to me.
A few examples? This review is already long, and putting together a list of 30 plus discs would be tedious. Open with 'Thanks To You', by Bob Scaggs, and you'll soon realise that everything that's been written about the SR1b's inability to reproduce male voice and bass is nothing more than 'wounded pride' from rogue reviewers and manufacturers. And follow from there in never ending wonder.
As soon as I find out I can also get this kind of sound with a TI-1a adapter and my Rose RS520, I'll buy a pair. The SR1b is still here, and I am already missing it when it's gone.
The Raal-Requisite SR1b is the head/earphone of the year 2023 for Hificlube. Period.
For more information: AJASOM