The original Musical Fidelity A1 Class A integrated amplifier, a masterpiece designed by Tim Paravicini and launched in 1985, marked a significant milestone in my career as an audio critic. Revisiting it after 40 years is like a journey down memory lane.
In April, during an EISA webinar where Hificlube is now a full member, Heinz Lichtnegger revealed that Musical Fidelity would be releasing the Nu-Vista 800.2 amplifier in 2023. They also had plans to revive the A1, their most iconic model, and were offering samples for testing. I eagerly opted for the A1, while most other critics favoured the powerful and modern 800.2, which eventually went on to win the EISA 2023/2024 High-End Integrated Amplifier Award.
Regrettably, the promised A1 sample never reached me. However, thanks to Sarte Audio, the Iberian distributor, I finally got my hands on the A1 (2023). Gracias, Ada!
"Take care of all your memories. For you cannot relive them.", Bob Dylan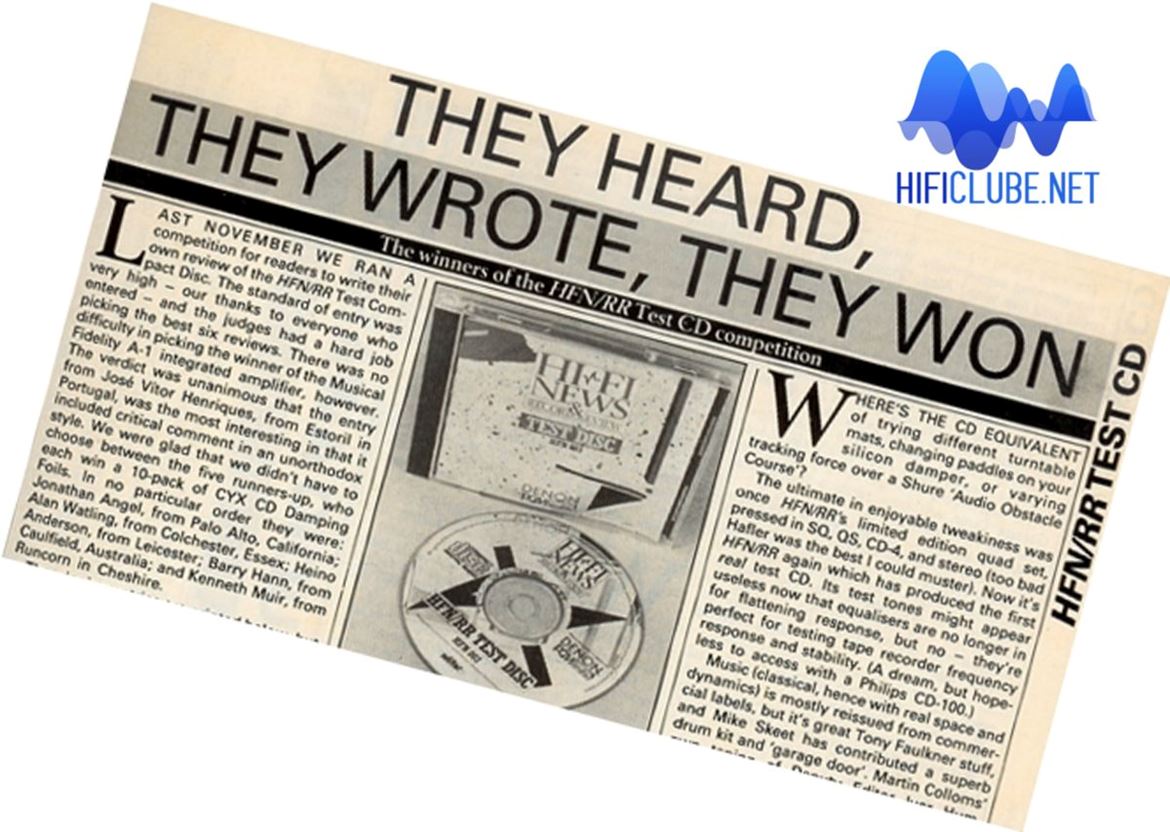 Going back to 1986, I was an avid reader of the British magazine Hi-Fi News (then edited by John Atkinson) and participated in a writing competition involving HFN Test Disc nr1 (see photo above), a CD containing various music tracks, test signals and sound effects, including the renowned 'Garage Door', recorded by Mike Skeet with a Calrec Soundfield microphone, to test the dynamics of real life.
I emerged as the unlikely winner, earning myself a Musical Fidelity A1 as a prize. For several years, this amplifier provided me with cherished acoustic memories. Revisiting it after 40 years is akin to a (nostalgic) trip down memory lane.
Note: To delve deeper into the story, open the PDF here.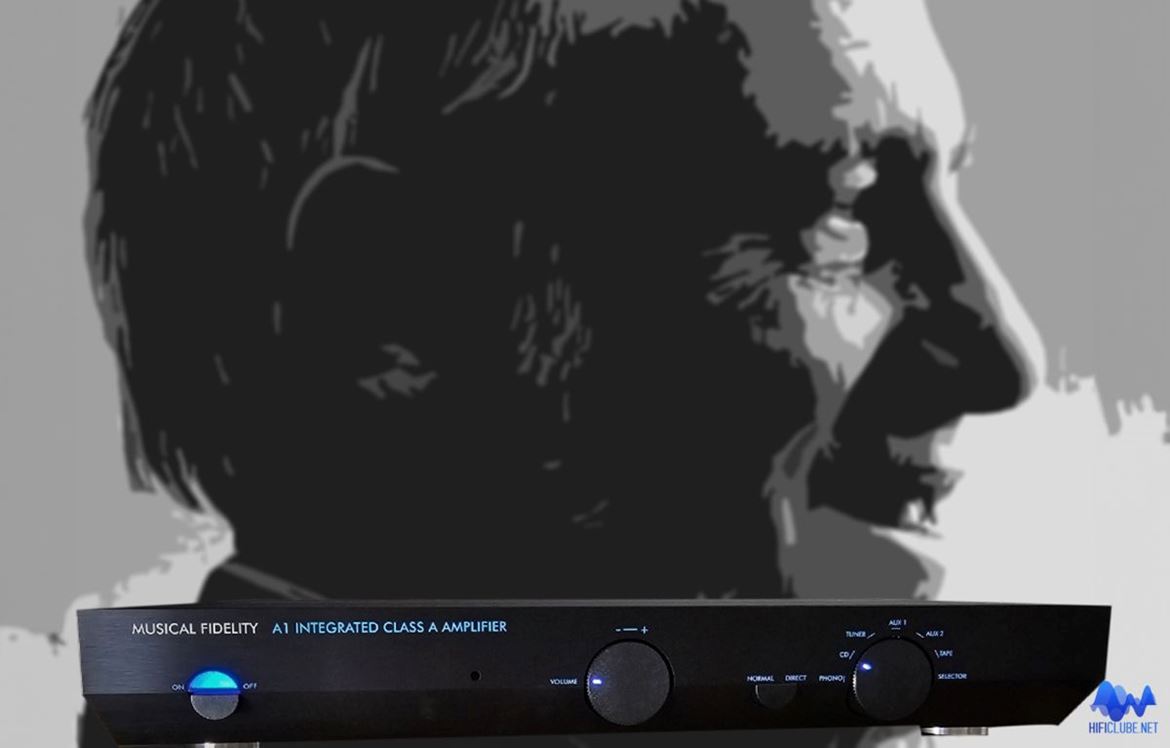 Preserving Paravicini's Legacy
The A1 (2023) faithfully replicates the iconic and budget-friendly Class A amplifier designed by Tim Paravicini in 1985, now in compliance with EU safety standards. Thankfully, Musical Fidelity, under the guidance of Simon Quarry, resisted the urge to modernize it. This remains a pure analogue integrated amplifier, devoid of digital or streaming features, preserving the same discrete Class A symmetric power circuit devised by Tim Paravicini, now transitioning more seamlessly into Class A/B as output power increases.
As per Marc Hennessy, the foremost A1 scholar, the original model operated in Class A up to 8W before shifting to Class A/B. Tim Paravicini, who sadly passed away in 2020, argued that 90W of continuous consumption equated to 16W in pure Class A, not 8W. The A1 (2023) now consumes 130W. Just do the math.
The A1 (2023) also boasts enhanced specifications: 25W of output power at 8 Ohms, a frequency response spanning 10 Hz to 40 kHz (+/-1 dB), an 82 dB signal-to-noise ratio, a damping factor of 150, and a 42 dB gain (-10 dB in Direct mode).
Spotting the Differences
Externally, the new A1 introduces five significant changes: a minimalist remote control for volume and mute, a Normal/Direct switch that bypasses the first gain stage (-10 dB), a blue pilot light (formerly red, as far as I recall), ventilated side panels for improved heat dissipation, and slightly larger dimensions at 440 x 68.3 x 283.3 mm (H x W x D), weighing 10.5 kg.
Internally, there are several noteworthy upgrades: a motorized ALPS RK potentiometer now equipped with remote functionality, a new MM/MC phono stage featuring a low-noise current/voltage converter, automatic MC cartridge impedance adjustment, independent power supplies for the left and right channels with double filter capacity, shared transformer windings in a dual mono split rail mode, and new components, including improved capacitors and 25 Planar Audio transistors designed to better withstand heat.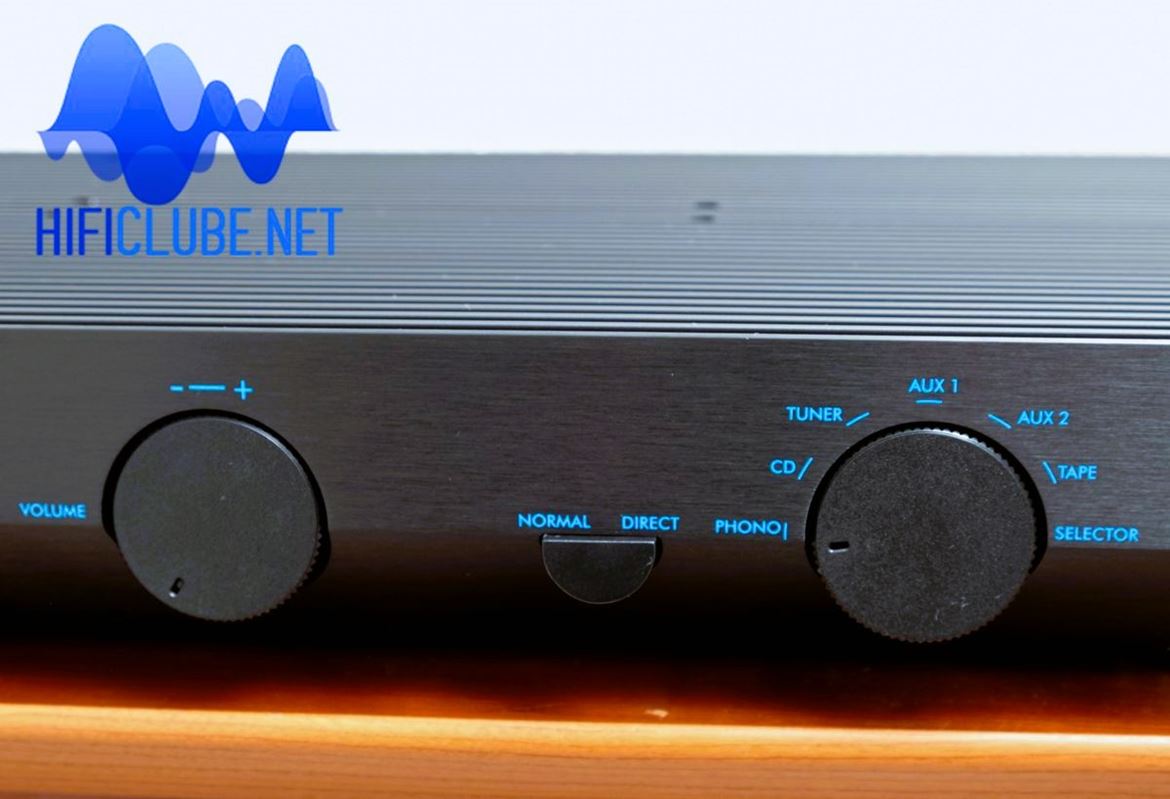 Hot stuff
The new A1 aims to recreate the original's Class A warmth, sweetness, euphony, and fluidity, while effectively addressing the thermal issues that previously plagued its internal components with constant breakdowns. The top plate still functions as a heatsink though, and can become uncomfortably hot. It's essential to avoid touching it for extended periods, as the symmetric discreet Class A circuit dissipates a lot of energy as heat.
Allow it sufficient ventilation and keep it out of reach of children. This is the price to pay for experiencing the closest solid-state approach to a SET valve amplifier that I've ever heard.
The MF A1 is the closest solid-state approach to a SET valve amplifier that I ever heard.
The A1 amplifier was introduced during a period when popular bands like Supertramp were mastering their records with emphasized high frequencies to suit American FM radio broadcasts. Playing 'Breakfast In America' (1979) through the A1 is akin to experiencing a fine remastered tape. Surprisingly, despite its low wattage, the A1 boasts the power and dynamics needed to capture the music's vitality. The sound it delivers is delectable, with a delightful sweetness and warmth, reminiscent of a freshly baked 'Pastel de Belém.'
Particularly in direct mode, where it bypasses the opamp on the gain stage, and there is a slight reduction in gain (10 dB out of 42). But this trade-off results in enhanced transparency, all while maintaining sufficient power for home use, even with speakers that lack high sensitivity.
The A1's midrange and treble exhibit the same velvety smoothness, and it seems that the bass possesses increased attack and articulation compared to the original, which can be attributed to the dual power supply.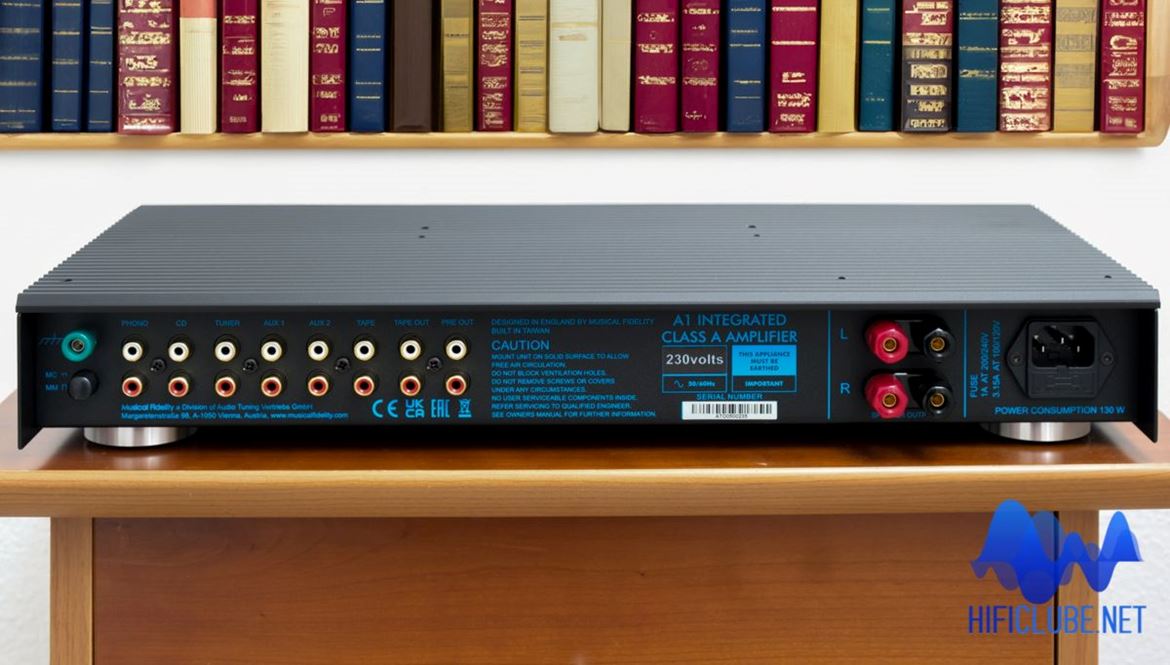 A passion for sound
I listened to the A1 with an Oppo BDP-95EU CD player and a Rose RES520 (Streamer/DAC) connected to a pair of power-hungry Sonus faber Concertino speakers. While revisiting my CD collection, I rediscovered albums from the same era that had previously sounded harsh or overly lively, such as those produced by GRP. Listening to Diane Schuur's 'Deedles' (1984), her voice had an extraordinary naturalness, partially thanks to the first-order filter of the Concertino speakers.
Similar experiences unfolded with 'At Last,' Lou Rawls' exceptional jazz and blues work from 1989, which can sound somewhat aggressive and dry with inappropriate equipment.
I also took the opportunity to sample numerous classical tracks on HFN's Test Disc No.1, from Hildegard of Bingen's early music ('Columbia aspexit') to Bruckner's Symphony No.4, along with a drum solo and the renowned garage door sound, all of which the A1 handled admirably without a stress.
The A1 may not be a strictly neutral amplifier, but it doesn't impose a warm tonal character on everything it reproduces; rather, it preserves the music's integrity across genres.
If you're searching for an ultra-detailed, powerful, and clinical amplifier akin to a Class D, the A1 may not be your (hot) cup of tea. However, if you already own a good Streamer/DAC, or still enjoy LP, and you seek an amplifier that infuses warmth into your listening experience (and your home!), the A1 is worth auditioning. You can explore the A1 at Imacustica, where I recently spotted one connected to a pair of ProAcs. It's yours for €1599.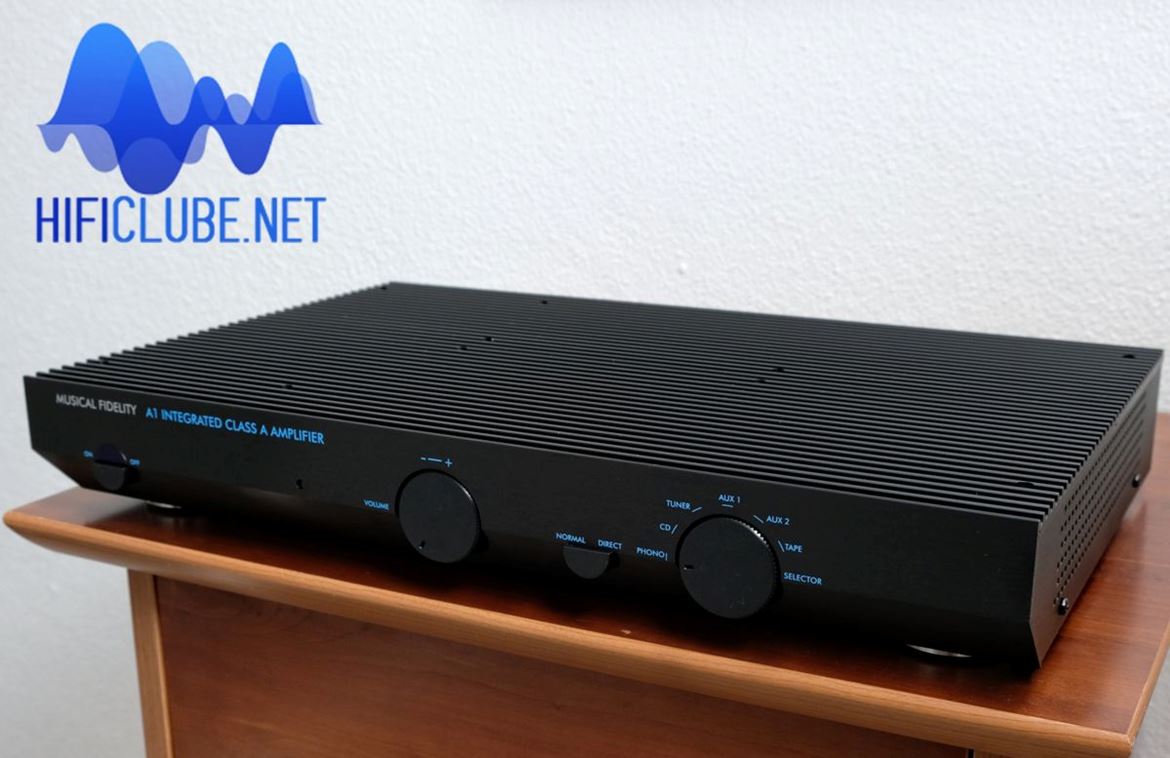 I feel warm and cosy, listening to it. I just love the A1.
In my view, the A1 represents the reissue of the year. Listening to it transported me back in time, making me feel 40 years younger, all while retaining the wisdom that only comes with the passage of time. It's a passion that I would like to rekindle, and this time, for good. I feel warm and cosy, listening to it. I just love the A1.
Kim André Arnesen's Tuvayhun II, I am poor, by Nidarosdomens Jenketor & Trondheim Solistine, is now playing, and paradoxically the A1 makes my spirit feel in peace in a world at war, as I follow the gloomy lyrics:
A world of poverty, of misery,
Of loneliness profound;
A world of hate, of sad division,
And of shocking cruelty,
…
Neighbour against neighbour,
Race against race,
Faith against faith,
Nation against nation.
In conclusion, the A1 (2023) keeps the spirit of the original A1 alive while making crucial improvements, and its sound quality continues to be a testament to Musical Fidelity's commitment to exceptional audio.
Note: The new A1 is available for purchase at €1599 from various dealers in Portugal, including Imacustica, JLM, OnOff, or your local dealer in Spain.
Further information: Sarte Audio