Nowadays, a smartphone is as good a source of music as the best. It has access to the internet and music services and can store thousands of tracks and albums to play anytime, anywhere.
I am writing as I listen to Tidal with my Samsung S23 Ultra and a pair of Devialet Gemini wireless headphones. Meanwhile, I have already answered two phone calls without taking the headphones off - and went back to listening to music after hanging up the calls.
The question is: why would anyone spend two thousand euros on the Astell&Kern SE300, which looks like a smartphone but does not make phone calls? The high quality of its sound.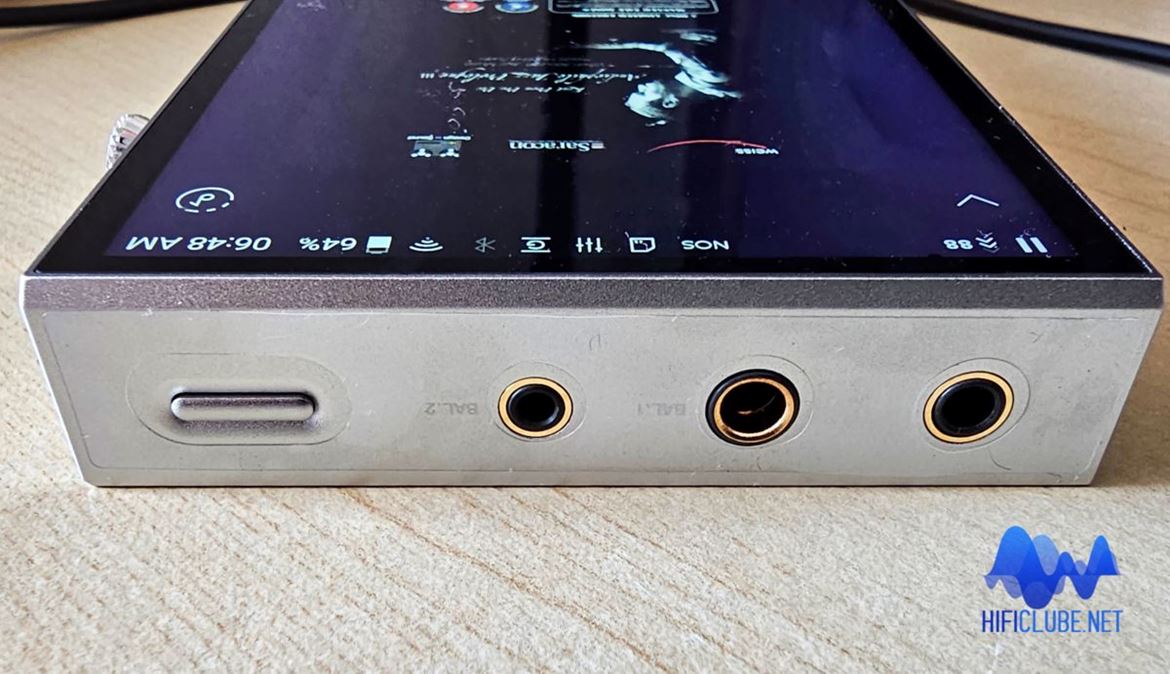 Digital Audio Player
The Astell&Kern SE300 is a DAP (digital audio player), a kind of portable pocket streamer that you can take anywhere (the 5050mAh lithium battery lasts up to 14 hours), connect to an external system like other digital players; or a computer via USB-C, although it's mainly used as a high-quality DAC and headphone amplifier, with outputs for 3.5mm jack, 4.4mm (balanced Pentacon) and 2.5mm (balanced) that can act as a line-out to drive an external amplifier. It also includes wireless Bluetooth connectivity, just like your smartphone.
Resistor ladder DAC type
The SE300 does not use commercial AKM or ESS chips like most other players. Its internal DAC is a 24-bit R-2R type with a discrete resistor ladder (48 resistors per channel), which would have been impossible in a product of this size and price a few years ago, as the implementation requires 96 resistors with a maximum tolerance of 0.1%. It's like carrying a dCS in your pocket.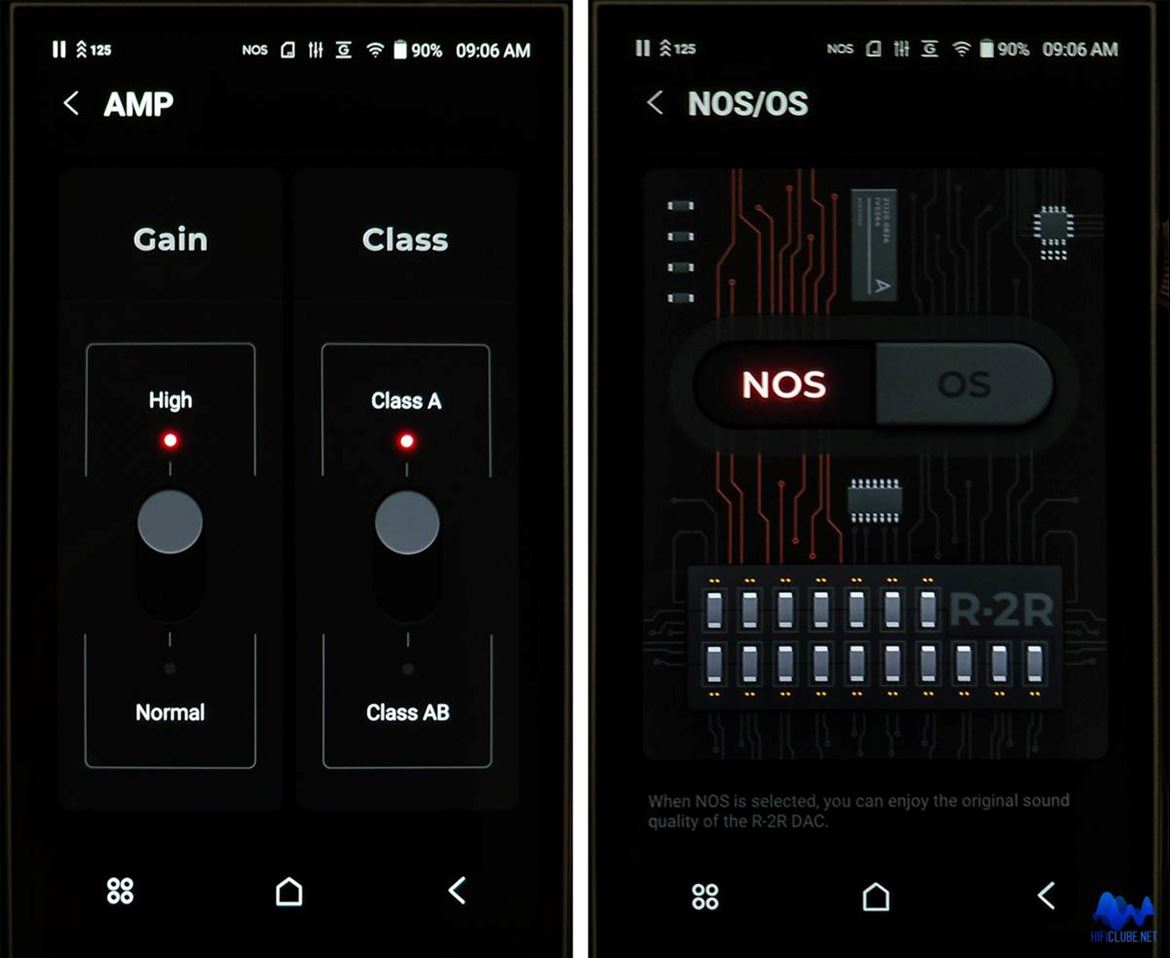 NOS/OS DAC Mode
Furthermore, the DAC offers the possibility to choose between NOS (non-oversampling, i.e., bit-perfect) and OS (oversampling) modes with FPGA (field programmable gate array) processing. And as if that were not enough, the two amplifiers can be operated in Class AB or Class A, the choice is yours. Now, my friends, all this comes at a price. And yes, it is worth every euro.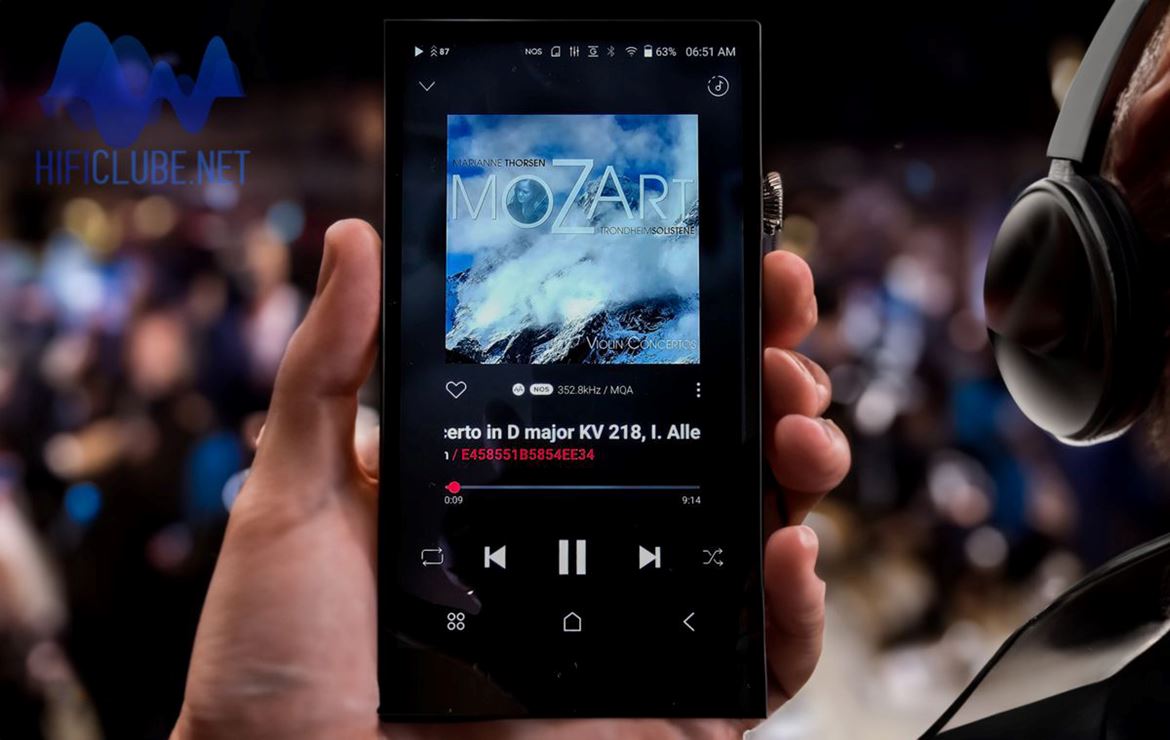 Excellent build quality

The SE300 is presented in a brushed aluminium and glass case that measures 13.97 x 7.62 x 1.91 cm and weighs 340 grams.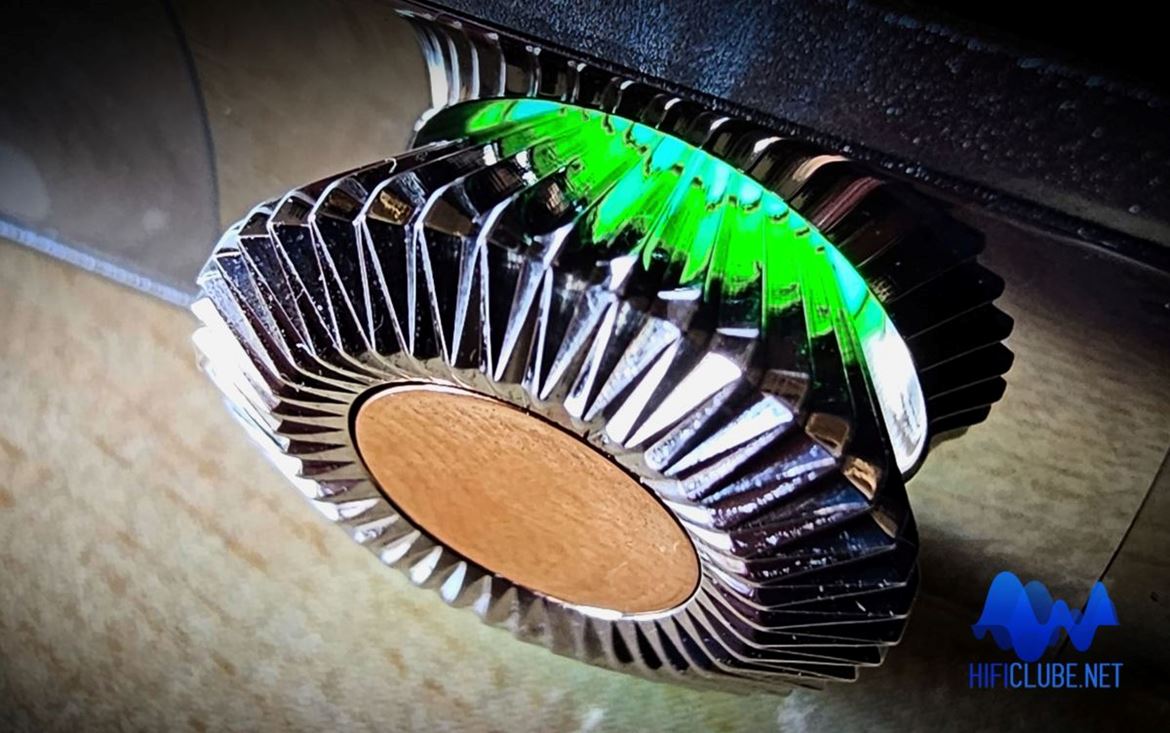 On the right side, there is an inset polished steel plate with a small bump, followed by an indentation to support the thumb, next to a backlit volume button reminiscent of a giant watch crown.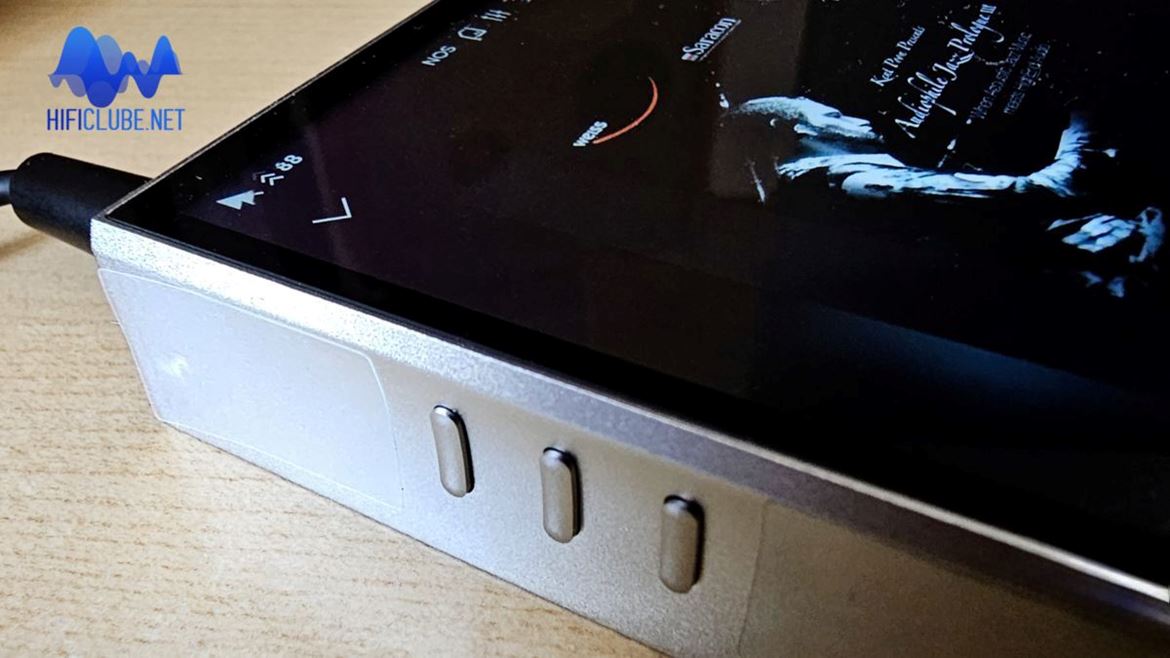 On the left side, you'll find three push buttons: play, pause, and forward. At the top the on/off button and the headphone outputs.
On the bottom are the micro-SD card slot (up to 1 TB) and the USB-C socket for charging and data transfer.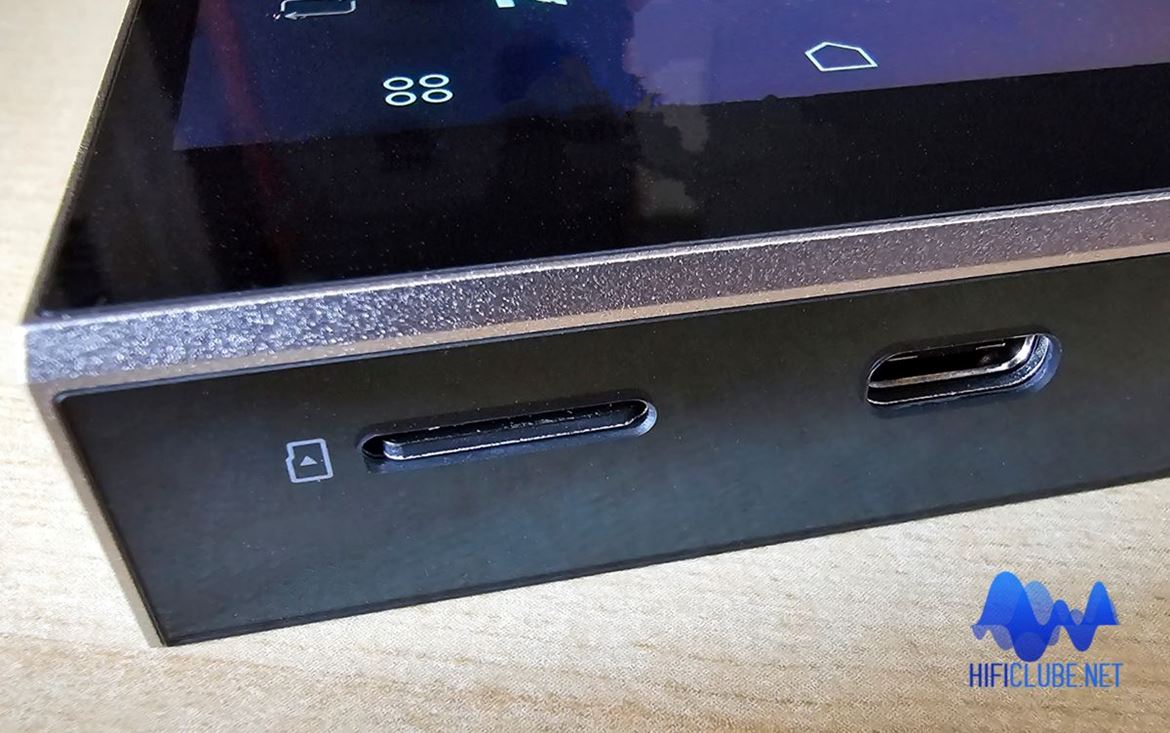 The back has a black plastic cover with the brand pattern, the Astell&Kern logo, and the A&futura series label. The OLED touchscreen measures 12 x 6.7 cm and has a resolution of 1080 x 1920, which is well below that of a high-end mobile phone.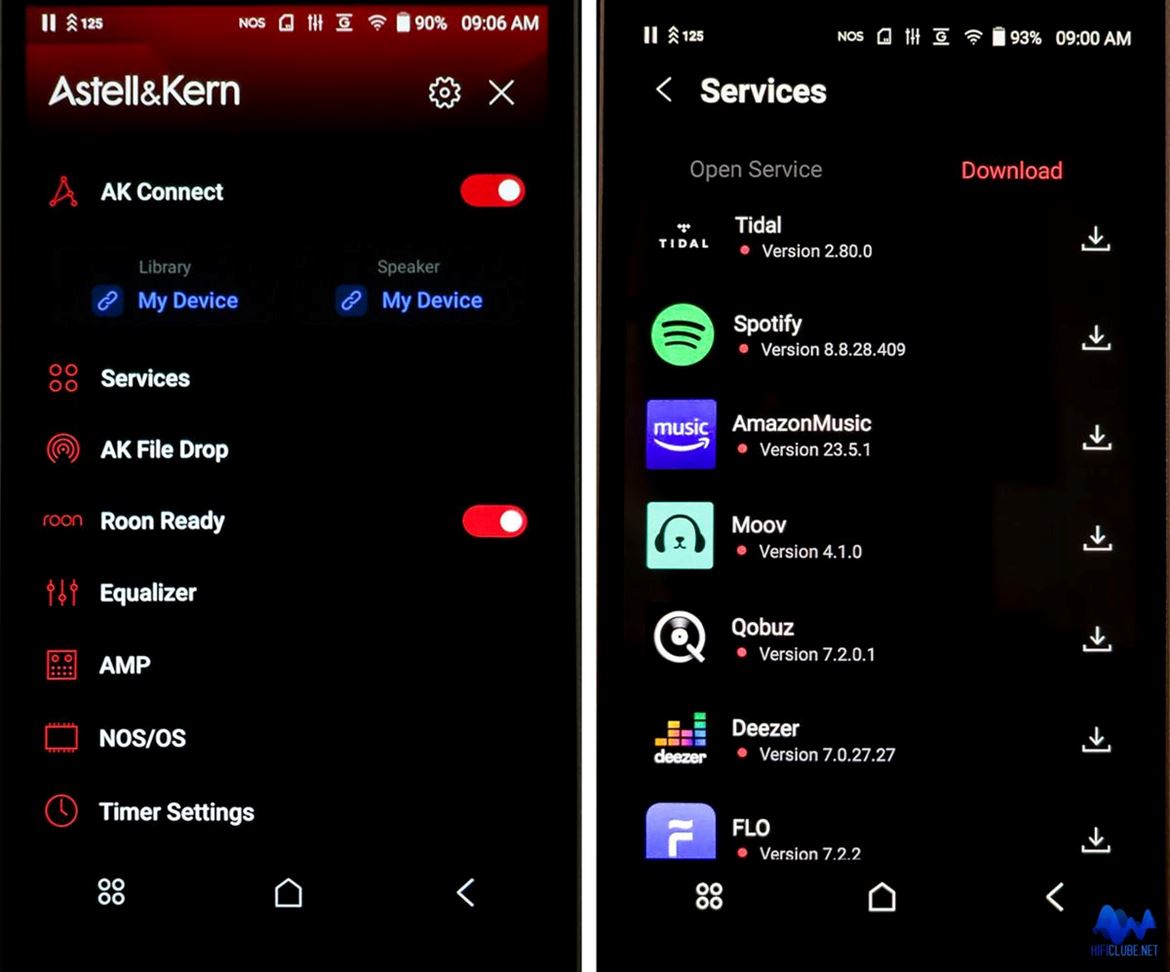 User friendly touchscreen
The Astell&Kern SE300 is straightforward to use, and you will quickly find your way around all the functions of the touchscreen (double-tapping the screen activates it). You will soon relize that it already has some tracks stored in the internal memory. Tidal is pre-installed, but you can also download Spotify, Qobuz, AmazonMusic, AppleMusic, Deezer and many others (the SE300 is Roon Ready); you can also insert a micro-SD card (1TB) with all your favourite music in all the popular formats: AAC, AIFF, ALAC, APE, DFF, DSD, DSF, FLAC, MP3, OGG, WAV, and WMA.

You can also experiment with the semi-parametric equalizer, or simply leave it off as I did; and compare the DAC modes: NOS (original quality of the R-2R DAC without oversampling) or OS (oversampling of all input signals to 352/384 kHz). Note: The DAC does not process native DSD, only DoP. However, it is compatible with MQA.

Finally, select the amplifier's gain (High for low-sensitivity headphones such as planar magnets; and Normal for high-sensitivity dynamic headphones and IEMs), as well as the amplifier's operating mode: Class A/B and Class A.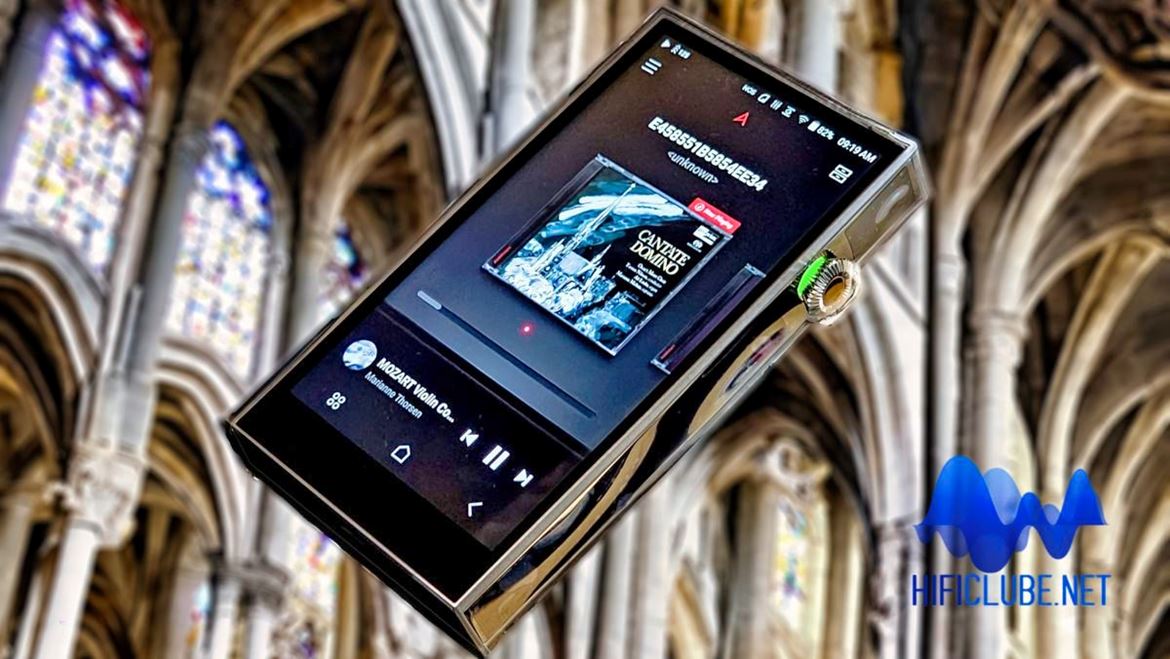 Hands-On first impressions
I have never heard such high-quality sound from a portable DAP. It's like having my headphones plugged into my base system with Chord Hugo 2 DAC and Rose RS520 streamer. Or even better, a dCS Lina or Bartok, which also use resistor ladder DACs.

I have never heard such high-quality sound from a portable DAP.
Even in High mode, I feared the SE300 would not have enough power to drive my Hifiman HE1000 headphones. But the volume does not just go up to 100, it goes up to 150! And if needed, there's always the balanced 4 V output.

After a lot of experimenting, I decided to go with NOS and Class A because everything sounded more analogue like, almost as if I were not listening to digital sound. But it's not an easy decision. I am sure some of you will choose OS (oversampling) and/or Class A/B because the sound gains dynamics, edge and more clarity and definition.
Note: in High mode and Class A, the battery will not last more than 10 hours, or less.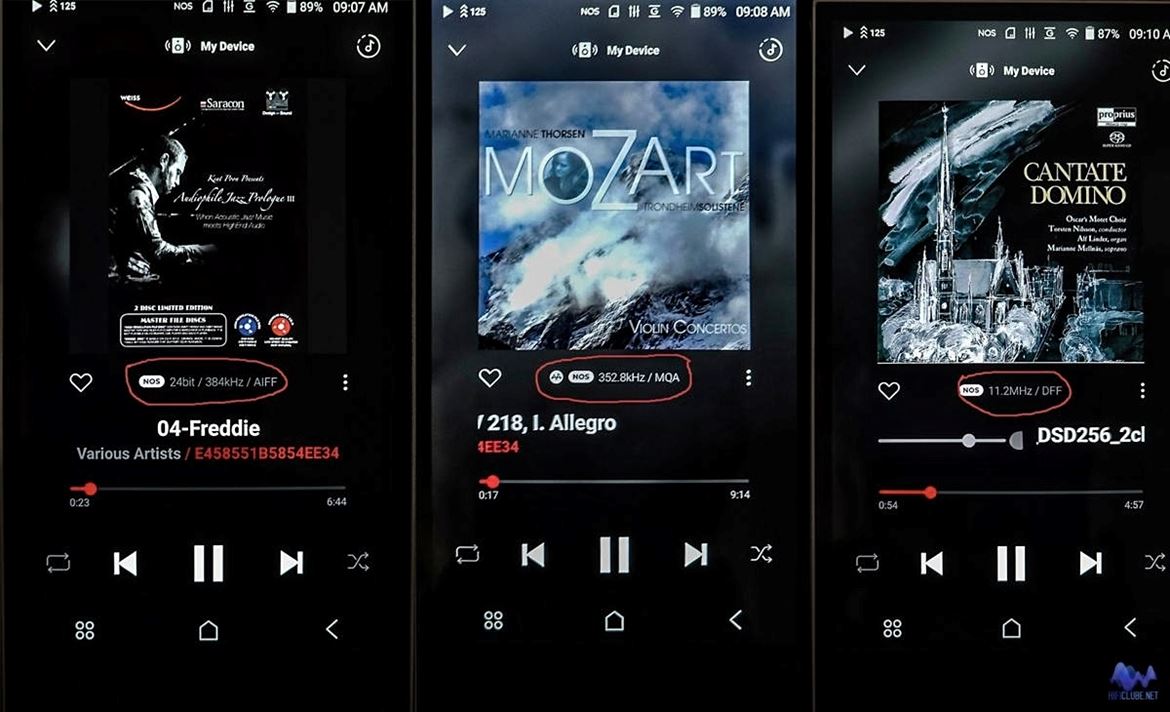 My latest generation high-end Samsung phone now sounds like ancient history. If only the SE300 could also make phone calls…
Finally, I checked that the SE300 is indeed compatible with 384kHz PCM, DSD256 and MQA 352.8kHz. And it responded yes to all queries without hesitation.
The Astell&Kern SE300 offered me the best sound I have ever heard from a portable device. And the thought that the SE3000 is even better (even though it costs twice as much) is just insane.

My latest generation high-end Samsung phone now sounds like ancient history. If only the SE300 could also make phone calls…