The ECI 80D is a €2,999 integrated amplifier from Norway with 80W of power, phono stage (MM), DAC and Bluetooth streaming. JVH took it for a ride.
Electrocompaniet is one of Norway's most iconic companies dedicated to producing quality audio equipment, founded by Per Abrahamsen, who was introduced to me personally by João Cancela more than 20 years ago. I still remember how proud João was when he signed the distribution contract in Portugal, which remained in the same corporate group until today (now at Smartaudio, since 2017), in a market where brands change distributors more quickly than a football player changes jerseys.
Electrocompaniet went through bankruptcy when it decided to bet on 'lifestyle' models in a time when it was impossible to beat the 'made in China' competition, but later it got back on the niche track with the Classic line, 'designed and manufactured in Norway', in the picturesque village of Tau, an ecological paradise.
And there is much that is 'ecological' about the sound of the ECI 80D, which is clean, transparent, dynamic, with that soft touch of southern warmth so appreciated by Nordic people, more accustomed to the rigours of icy cold winters.
The ECI 80D designation may give the wrong impression that this is a Class D integrated amplifier, even more so because it has a switched-mode power supply (hence it is so light: only 8kg).
Instead, this is a Class A/B amplifier, designed from scratch with 2 x 80W, doubling over 4 Ohm, and a damping factor of 300 (bass control is excellent).
The power amplifiers are based on two complementary pairs of MJW3281A/MJW1302A bipolar transistors in differential topology. The input stage is free of negative feedback and operates in Class A. The box made of galvanised steel feels lukewarm to the touch if you push the ECI 80 D hard.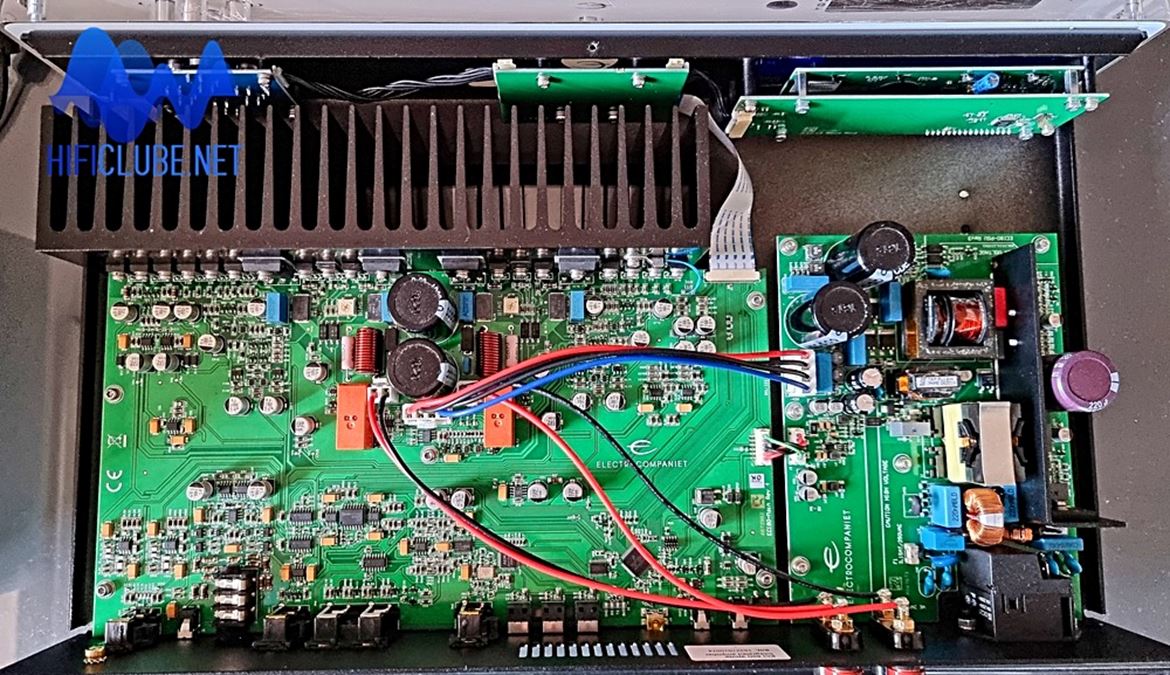 Digital is an extra
Thus, the D in the name designates only the digital functions of the D/A converter and network server (via Bluetooth 5.0 only), compatible with the aptX HD (Android) and AAC (iPhone) codecs with a maximum resolution of 48kH (Chromecast not included).
The ECI 80D offers 3 RCA inputs (2 line + MM phono); 5 digital inputs (3 optical + 2 coaxial) 24 bit/192 kHz; variable preamp output and 2 headphone outputs (3.5mm + 6.3mm). In fewer words, this is what you can read in any Electrocompaniet promotional brochure. Now let's take a critical look at the ECI 80D.
The devil's advocate
The role of the critic is that of the devil's advocate. He is supposed to investigate the arguments put forward by the manufacturer, putting them to the test based on his judgement, experience and - why not - taste. But also, to draw attention to the shortcomings of a product, or should I say the manufacturer's options, in this case?
The model sent for testing is white with silver buttons. I would rather have the black version with gold brass buttons. It is 'classier' and takes more advantage of the transparency of the 10mm Perspex panel by minimising the chromatic shock of the black display background with easy-to-read huge digits that stand out in fluorescent blue even from a distance. Interestingly, the white version is more expensive. And you can also have it with golden buttons.
However, white is fashionable in Nordic countries. I published an article on this subject in the High End 2012 report, under the title 'A Whiter Shade of Pale', speculating whether the option for white could be a graphic representation of 'the purity of sound' or just a trend.
Both outputs were placed on the back panel, allegedly to keep the cleanness of the faceplate design. And yet, there was no shortage of space at the front - the case is wider (but less deep) than the norm: 470mm against the usual 440mm. Note: watch out for rack shelves size.
Besides the display, the glazed panel has only five other buttons: on/off, volume and menu source selector. The buttons are very tactile and comfortable to use. On the other hand, the volume control is as light as a dry tree leaf. Still, it fulfils the basic functions well. For example, it can switch between 'speakers' and 'headphones'. That way, you can leave them always connected at the back.
With one catch: every time you switch, it goes to volume default 10, which is inaudible (perhaps to avoid destroying high-sensitivity in-ear headphones). And it makes sense because the headphone amplifier has so much power that if you crank it up, a protection system may come into play: PROT. It will drive anything you throw at it with an embrace of warm yet powerful sound.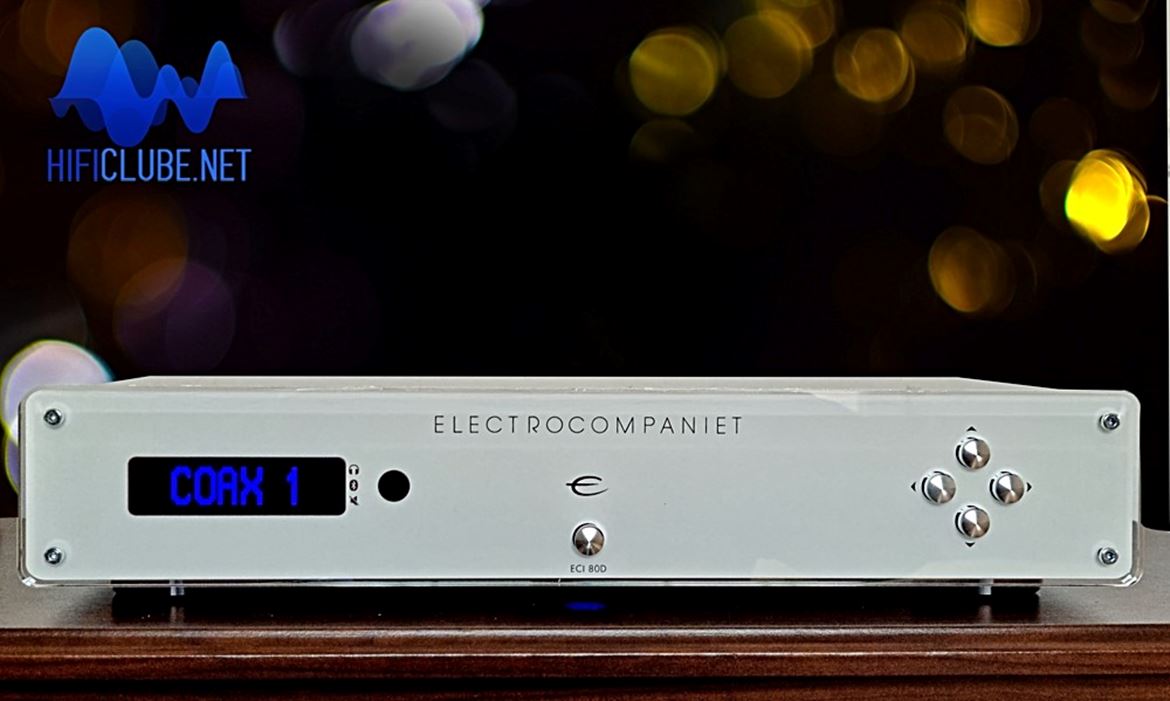 The ECI 80D has streaming functions but only via Bluetooth, with the sound quality limitations associated with this transmission protocol. Bluetooth works both ways: it receives audio signals from your smartphone and sends them to wireless headphones too.
The ECI 80D was designed for ordinary people, not for audiophile specialists. Admittedly, an Ethernet input would come in very handy. But Electrocompaniet wanted to create a product whose simplicity of design extends to its ease of use. You just need to pair the ECI 80D with your smartphone to listen to music. That's it! No computer stress and no cables!
The more demanding audiophiles have the option of buying the ECI 6DX Streaming Integrated, which boasts Ethernet input and supports Tidal, Spotify and Qobuz, plus USB connections, and balanced connections too, for twice the price.
The ECI 80D has an excellent quality internal DAC (Asahi Kasei AK4118AEQ low jitter: <100 ps). But because it has no asynchronous USB input, it doesn't allow you to play high-resolution files from files stored on a drive or your computer.
A simple amplifier for ordinary people
If you are a 'streaming addict' and enjoy MQA or high-resolution music from Amazon or have lots of DXD and DSD files, the ECI 80D is not for you.
But suppose all you want is an excellent integrated amplifier to act as a medium between your CD player (or turntable) and your speakers. In that case, you'll be delighted with the sound quality, which is at once exquisite and dynamic, detailed, and sweet, very transparent and with a wide soundstage full of the fresh, clean air of the fjords.
For those who think this is nothing but lyricism, be aware that harmonic distortion across the audio band is 0.005%, rising to 0.05% before clipping (primarily 2nd harmonic). The passband extends from 1Hz to 225kHz, with a flat response in the audio band (limited to 80kHz). The signal to noise ratio is 93dB. A satisfactory result if not technically outstanding.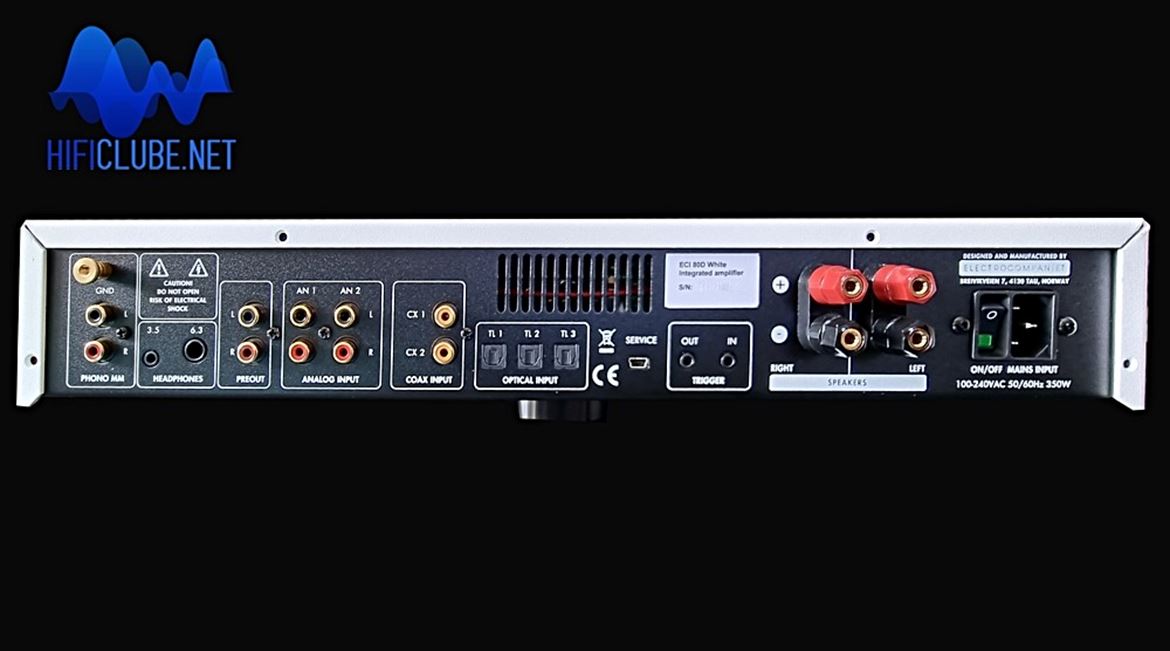 DAC Asahi Kasei
The DAC is a low jitter (<100 ps) Asahi Kasei AK4118AEQ. I have always preferred to connect my Oppo CD player by coaxial digital cable rather than analogue. The ECI 80D's built-in DAC is not only more dynamic, but it's also more informative.
Listening to CDs from my vast collection was instrumental in realising the reason for Alberto's enthusiasm about the ECI 80D's sound: there is an enveloping musicality allied to fine detail; transparency and clarity, and freedom from 'wooliness', symptomatic of low harmonic distortion; whilst macro and micro dynamics convey authority without loss of subtlety to all types of music: from pop to jazz, from rock to classic.
Verdict
The ECI 80 D has a distinctive design and boasts a fine analogue Class A/B amplifier with a surprisingly good if limited DAC (24/192 SPDIF only). The Bluetooth streaming function is a bonus for no stress informal listening situations or ambient background music. The ECI 80 D is recommended by Hificlube.net for its acoustic merits and deserves to be in your shortlist for auditioning before any decision to buy in its price range.
Product: Electrocompaniet ECI 80 D
Price: €2.990
Distributor: Smartaudio/Smartstores