Denmark-based Densen makes affordable, powerful, and neutral-sounding amplifiers with a timeless design and a ten-year warranty, and like the distributor Exaudio, they've been around for 20 years, which is an added guarantee for the consumer.
Sometimes you look all over the world for things that are right on your doorstep. To test a new streamer/DAC, I needed an integrated amplifier with an external processor loop that bypassed both the preamp and the volume control. I called João Pina at Exaudio, as he's almost my neighbour, and he suggested the Densen Beat B130XS.
The B130XS was so neutral that it just amplified the signal seemingly without touching it, if you know what I mean, and then I thought, Why not try the B130XS as a fully integrated amplifier?
I'm glad I did because it turns out the B130XS stands south of absolute neutrality - not north, as you might expect given its Nordic heritage: It's warm but never syrupy; powerful and fast without being abrupt; informative without being harsh; and it paints a deeply arched soundstage that spares us the excessive forwardness of amplifiers that like to shout in our faces.
… warm but never syrupy; powerful and fast without being abrupt; informative without being harsh…
The B130XS isn't new; I mean, it's not a new model, although it's an evolution of the original B130. The XS version also has an improved power supply and higher-quality components.
Exaudio focuses on longevity, backed by long warranties, rather than novelty. This is also true of other brands the company represents, such as Bricasti, Bryston and even Audio Note, whose models I had the pleasure of testing, and which seem to improve over time (see below in Related Articles).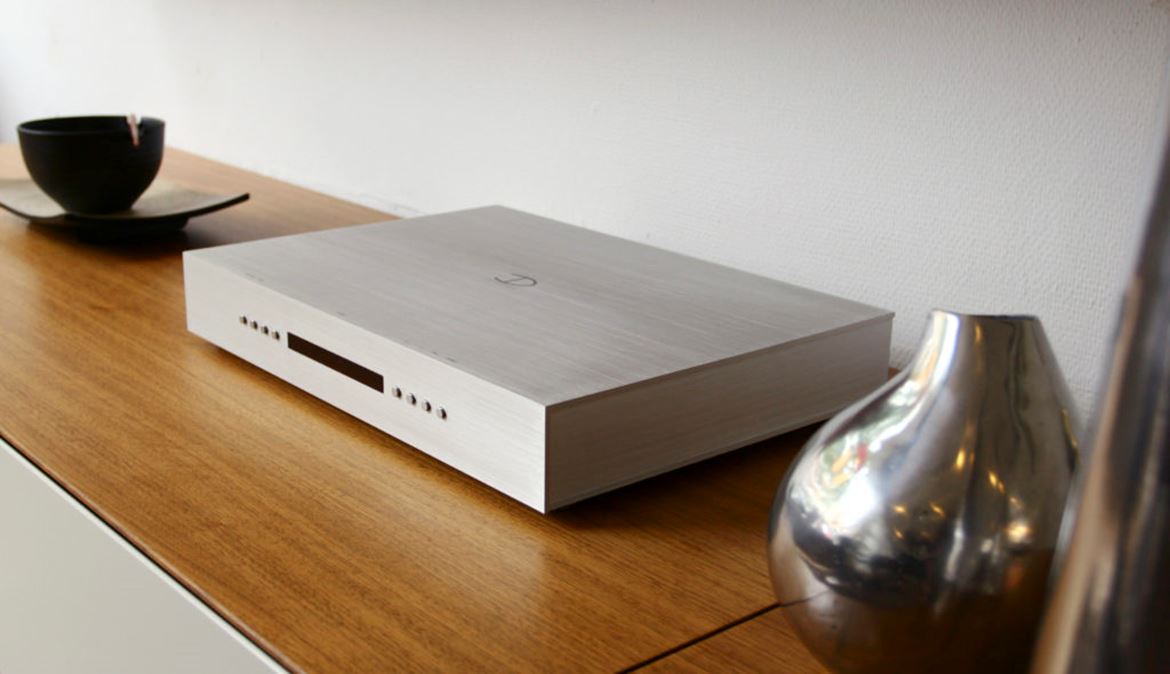 Another of Exaudio's strengths is simplicity. The Densen B130XS has no features that aren't needed. That is, of course, if you think a volume knob can be replaced by push buttons that control relays that activate resistors and are much more precise than a potentiometer.
Note: The B300XS volume scale goes from 0 to 200, so don't panic if you always have to go above 100.
Densen decided to remove all the baggage that might increase the price of the B130XS, including the remote control that you have to buy separately (at Exaudio I used a cheap universal remote), but kept the modular design to allow for future developments - I remind you that the 10-year warranty is only for the first owner.
You can fit an MM or MC phono card, for example, and, it also has a slot for a surround processor or DAC. You can also put an external DAC in the IN /OUT processing circuit. And I think it's even possible to have an active crossover built in at the factory if the customer wants it. But you'll have to check with Exaudio first.
The B130XS is extremely slim at 444 x 64 x 310 mm (W x H x D) but weighs 12 kg. This is mainly due to the 500 VA toroidal transformer, which, together with 70,000 uF filtering capacitance, enables a power output of 80 W/8 and 160 W/4. So, there is no lack of power.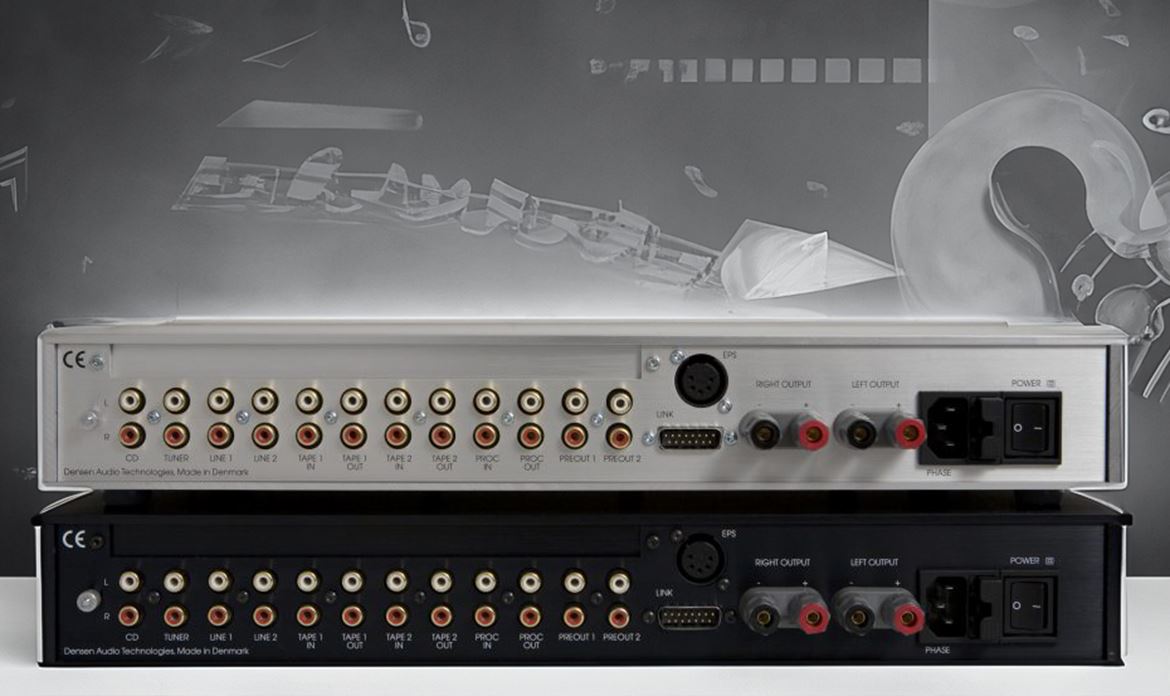 Nordic simplicity
The design is of Nordic simplicity: the sleek front panel is symmetrical, with four push buttons on either side of an alphanumeric display (red dot matrix). On the left: standby, mute, volume down, volume up; on the right: source selection up/down; Proc (AV loop); and status.
On the back are numerous gold-plated RCA connectors: four-line inputs, two for the recorder, including the tape loop, inputs and outputs for the external processor, and two preamplifier outputs to drive a pair of monoblocks, for example. There is also an EPS socket for an external power supply.
The edges and corners are sharp, so watch your hands, but the aluminium construction helps to dissipate heat without the need for external heat sinks.
It should be noted that the Densen Beat B130XS follows the brand's tradition of not using global negative feedback, with the sonic benefits of such circuitry.
Energetic sound
And indeed, the B130XS proved to be powerful and neutral, with a wonderful reproduction of tonal shifts and excellent stereo imaging (wide, deep and stable). It reproduces both male and female voices with extreme naturalness and sibilant control. Some may find it 'dry'. Maybe because it's so 'thin", but when you warm it up, you'll find that the 160 W/8 ohm isn't just a claim on paper, but more importantly, a notation on the music score.
After listening to it at home with a pair Sonus faber Concertino, I went to Exaudio to listen to it with a pair of TAD Evolution Micros and a Bricasti M3 streamer/DAC as the source.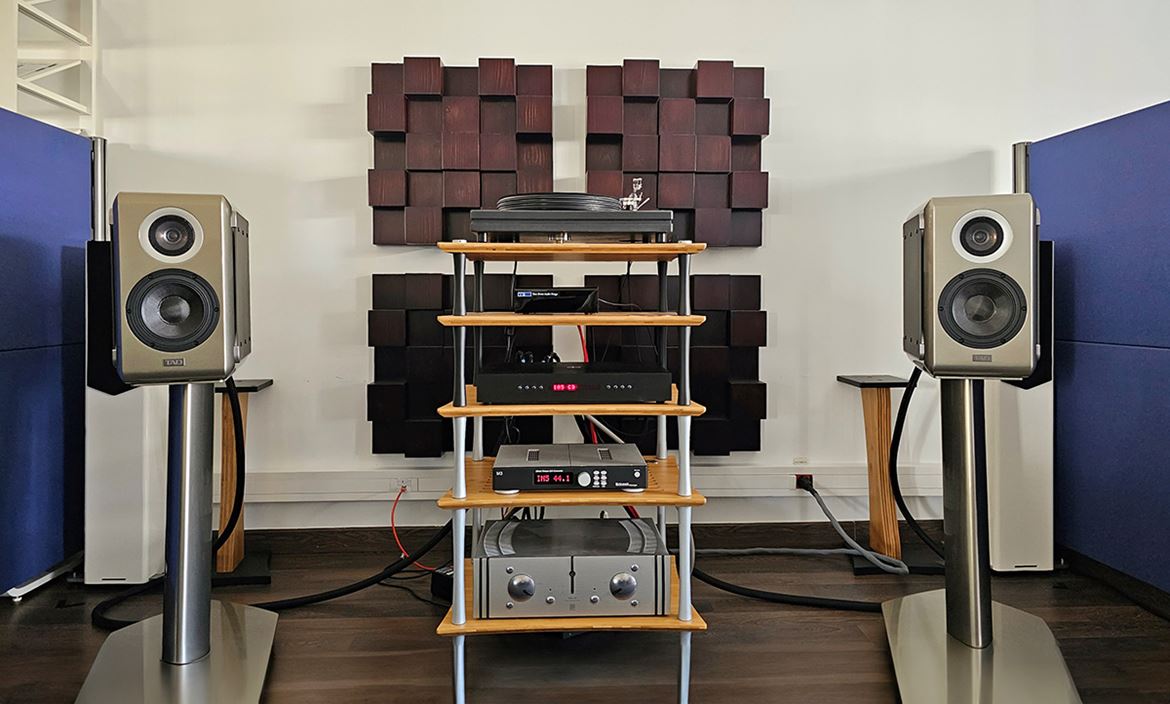 Densen quest is for Nordic spiritual perfection, something between the purity of snow and the warmth of the heart.
I listened mainly to live concert recordings: from the famous Eric Clapton Unplugged to Jazz At the Pawnshop on a DSD copy. The Densen B130XS reproduced perfectly both the natural atmosphere of both concerts and the artificial studio atmosphere of the recordings of guitarist David Elias (DSD) and Anette Askvik singing 'Liberty'.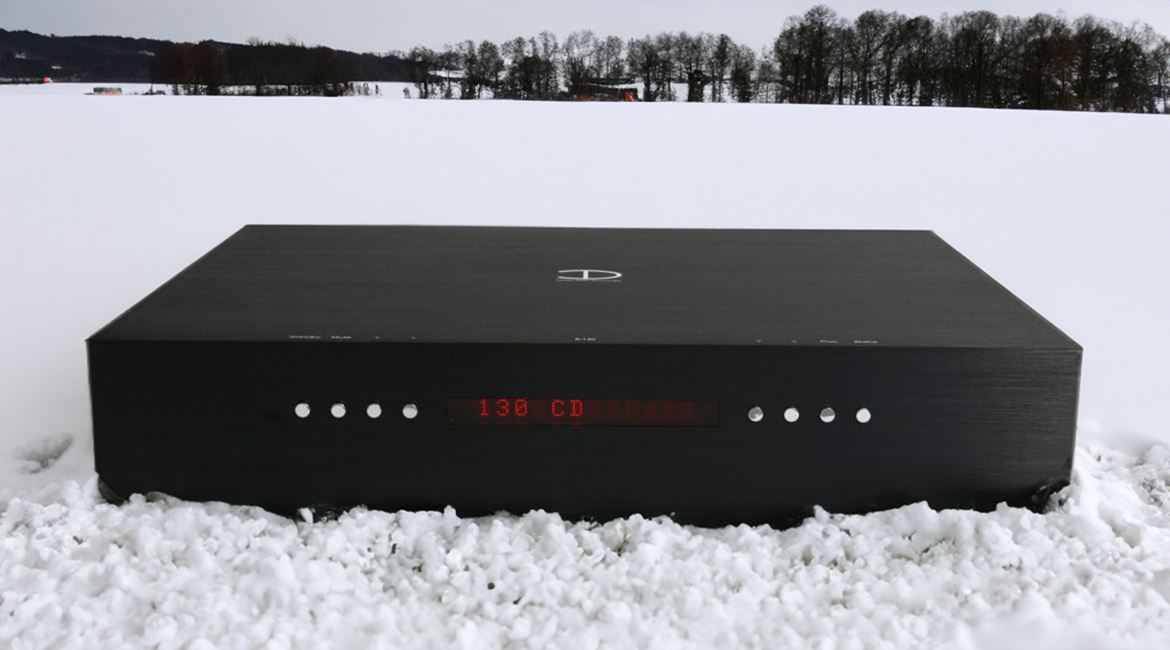 Liberty of choice
Like Anette Askvik on her records, Densen quest is for Nordic spiritual perfection, something between the purity of snow and the warmth of the heart.
In "Liberty", Anette Askvik sings about the struggle to find a sense of self and the courage it takes to pursue one's dreams, encouraging people to embrace their individuality and not be afraid to take risks to achieve their goals.
The Densen Beat 130XS costs just €2,976. Take advantage of Exaudio's 20th anniversary 20% discount—only until the end of August—and buy an amplifier for life. It is a risk worth taking. Listen to it at Exaudio, or your local dealer. You won't regret it.