JVH stays on the trail of affordable audio devices and tests the Denon PMA900HNE network amplifier, which costs just under a thousand euros.

Some anonymous Chinese amplifier brands cost half as much or less and have impeccable lab tests.
So, you are free to go your own way and even marry the person with the best health certificate, even if the likelihood of divorce is just as high as with a blind love marriage.
They say love is blind - but it does not have to be deaf too!
Similarly, all football players undergo rigorous tests to assess their physical health before the season begins. What they do on the pitch afterwards is another matter altogether. There are also genetics, training, and natural ability to consider.
... they say love is blind - but it does not have to be deaf too!
There is no genetics in electronics: either it works well or not. The history of a brand can be more decisive than its genetics.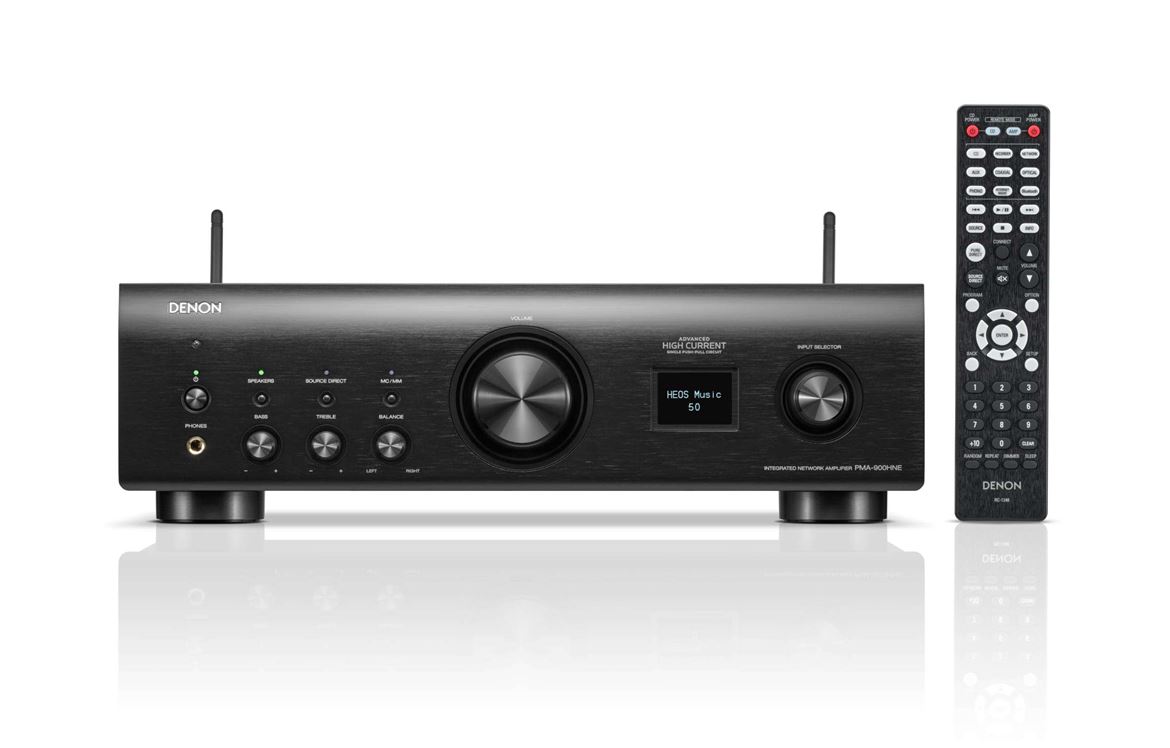 Denon since 1910
Denon has been around since 1910 when Portugal was still a monarchy or perhaps a freshly new republic. When Denon launches a product, it has two main goals:
that it justifies the price.
that it is better than the competition
Today competition is little more than a chimaera. Denon's main competitor is Marantz. Coincidentally, both brands are now part of the Sound United group. So, they don't fight, they cooperate.
Do not be surprised to find that the features and specifications of both brands' models in the same price category are identical.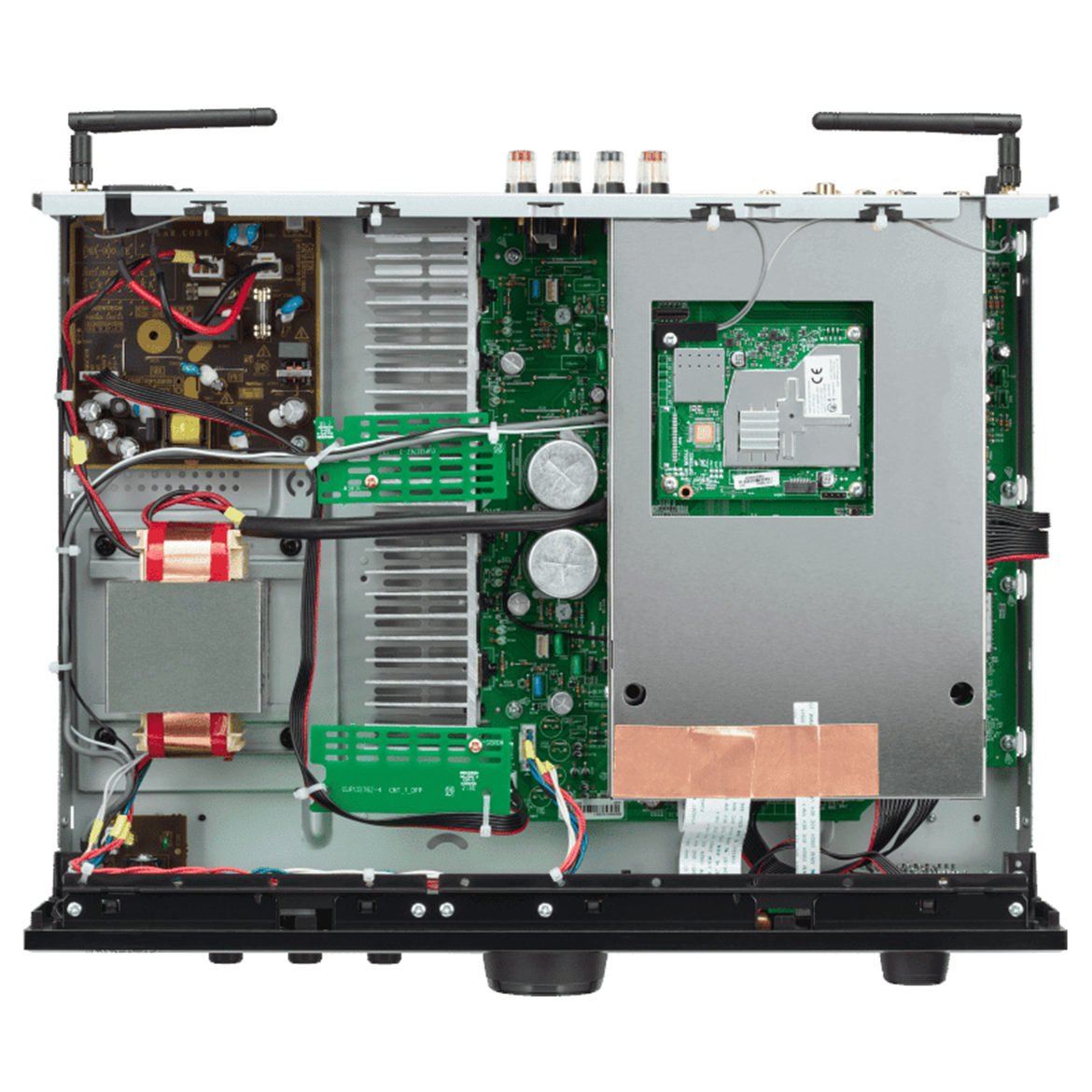 HDAM VS AHCS
However, it's not all about different packaging. Both brands use exclusive amplifier modules: Marantz uses HDAM, Hyper Dynamic Amplifier Modules, discrete versions of operational amplifiers, in the first amplification stage. Or, in some cases, Hypex and NCore (Class D) modules in the output stage (see tests under Related Articles);
Denon uses AHCS- Advance High Current Single push-pull Class A/B circuits with a pair of bipolar transistors in a high current gain Darlington configuration. Denon also opted for laminated transformers (EI) instead of the hum-prone and vibration-sensitive toroidal transformers.
Note: You can read a review of Marantz 40n in the Related Articles section (below).

Unveiled at the High End 2002

The PMA-900HNE was unveiled at High End 2022 as Denon's first network amplifier with integrated streaming and HEOS Multiroom.
The PMA-150H network amplifier already offered streaming, as did the 800NE, but only via Bluetooth and Wifi, without DLNA input (Ethernet). However, the 150H is not standard size, so it is fair to say that the 900HNE is the first of its kind.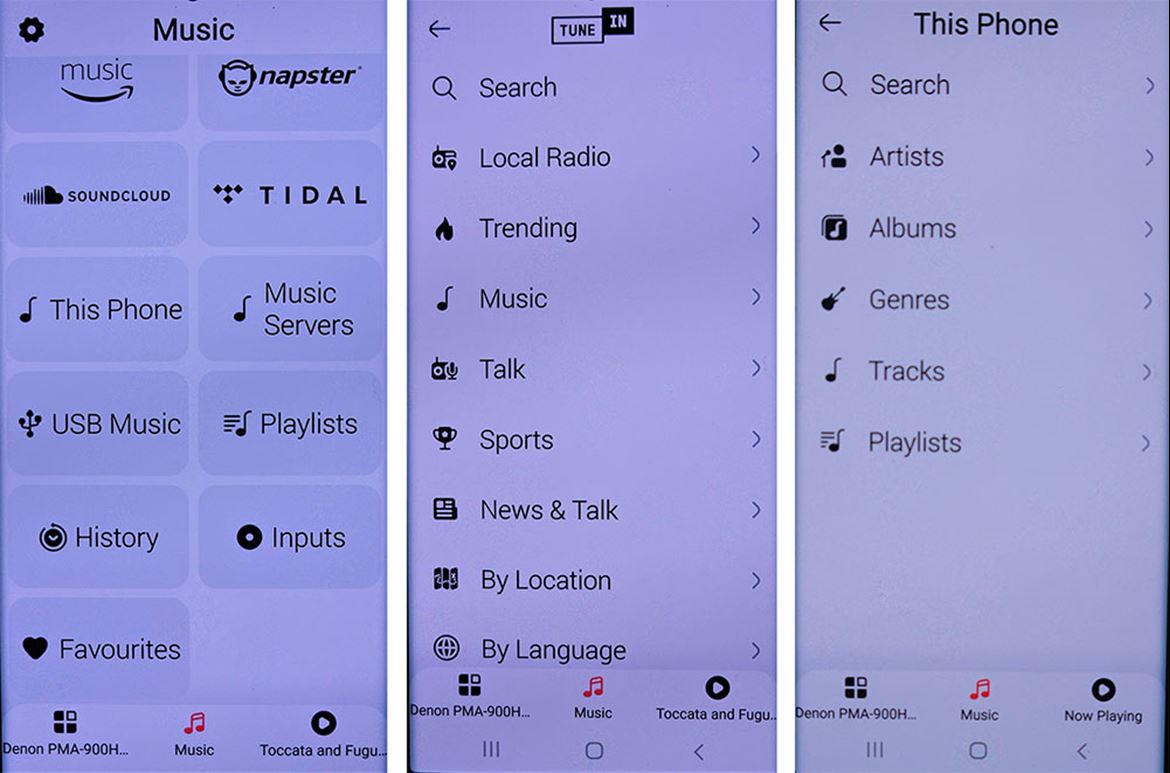 The PMA900 HNE's network player (streaming) is controlled via the HEOS app, available for Android and iOS, and is compatible with Wifi, Bluetooth, AirPlay2 and all the major streaming providers: Amazon Music (HD), Spotify, Tidal, Deezer, Music, Napster, Soundcloud and TuneIn. Unfortunately, Qobuz is not included in this list.
Tidal+Qobuz
However, I learned you could also listen to Qobuz via free (UPnP) media players like mConnect Lite. I use both Tidal and Qobuz, but it's good to know that there are other alternatives.
The icing on the cake is the Roon compatibility (via AirPlay only), which I find very useful when using a PC. However, the HEOS installed on your phone is sufficient for everyday use and has multi-room features.
HEOS
The HEOS app configuration is intuitive. It works better when connected to the Ethernet. Here, a lot depends on the quality of the home network. The same applies to Bluetooth, which only has a few metres range.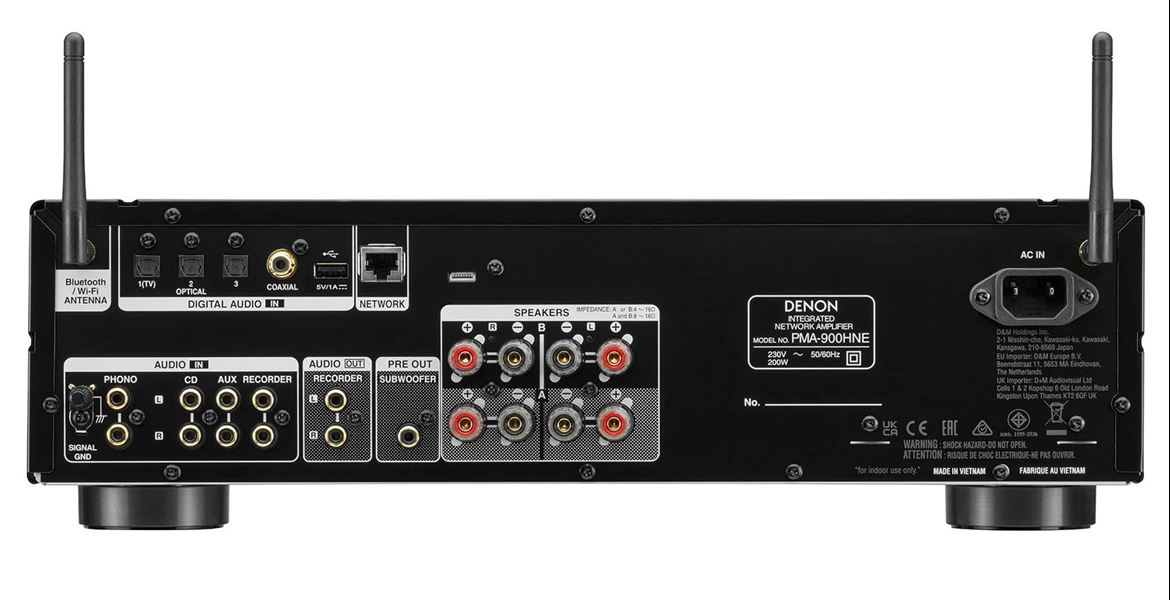 USB A but not USB B

The Sabre ESS ESS ES9018K2M DAC is specified at 24 bit/192 kHz PCM and DSD 5.6 MHz (DSD128), sufficient to play most audio files available today stored on a USB stick connected to the USB A input on the rear panel.
Note: It is not possible to connect the 900HNE via USB B to the PC; forget about JRiver and Foobar Media Player.
Phono MM /MC
But Denon is aware there are more and more LP fans and has included a phono stage MM and MM, the latter being rare at this level.
After being demonised, not least by the British press, tone controls are still found in most Japanese integrated amplifiers. The 900HNE is no exception, as you can adjust bass and treble and channel balance.
The effect of the controls is somewhat exaggerated if you overdo the gain, but you can always opt for Source Direct, which bypasses everything, including channel balance.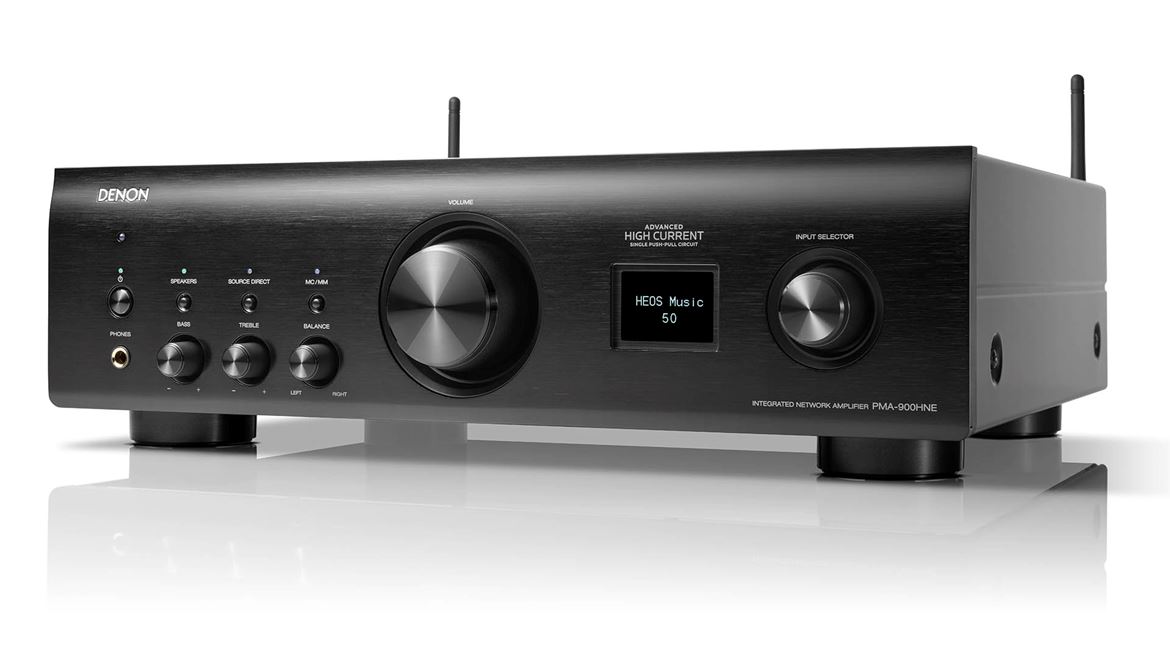 Toy display

Unlike the PMA-800NE, which had a plain fascia, the 900HNE has a small (postage stamp-sized) OLED display that gives you some extra information - not much: mainly sources and streaming, but do not expect it to show you the title of the disc or the name and photo of the artist.
... so the Denon 900HNE for €998 is a direct competitor to the Marantz PM7000N, which costs €300 more...
It also does not offer the now ubiquitous HDMI-ARC connection, although you can connect it to a TV via an optical digital output. You can also connect it to a subwoofer, which doubles as a pre-out.

HDAM or AHCS?

Whether Marantz's Hyper Dynamic Amplification Modules (HDAM) justify the price difference from Denon's Advanced High Current Single technology is for the reader to judge.
Marketing departments create all these fancy names, I guess. The best thing to do is to listen to both units with a pair of speakers identical to your own.

And then judge which device gives you the best performance: Control over the speakers, especially the bass, soundstage and listening pleasure - call it musicality if you like.

Not all watts are (sound) the same

The difference in power (50 or 60 W/8) means nothing - it's like horsepower in a car - the strongest is not always the fastest...
Although Denon's 50 W is robust, I recommend using speakers with good sensitivity, something above 89 dB/1 m, as the volume control is a bit sluggish to build up the sound level.

Do not test the 900HNE only with Bluetooth or TuneIn (internet radio), which are very convenient for listening to music. Still, the sound quality is not on par with other digital sources: CD, USB and streaming, especially with Roon.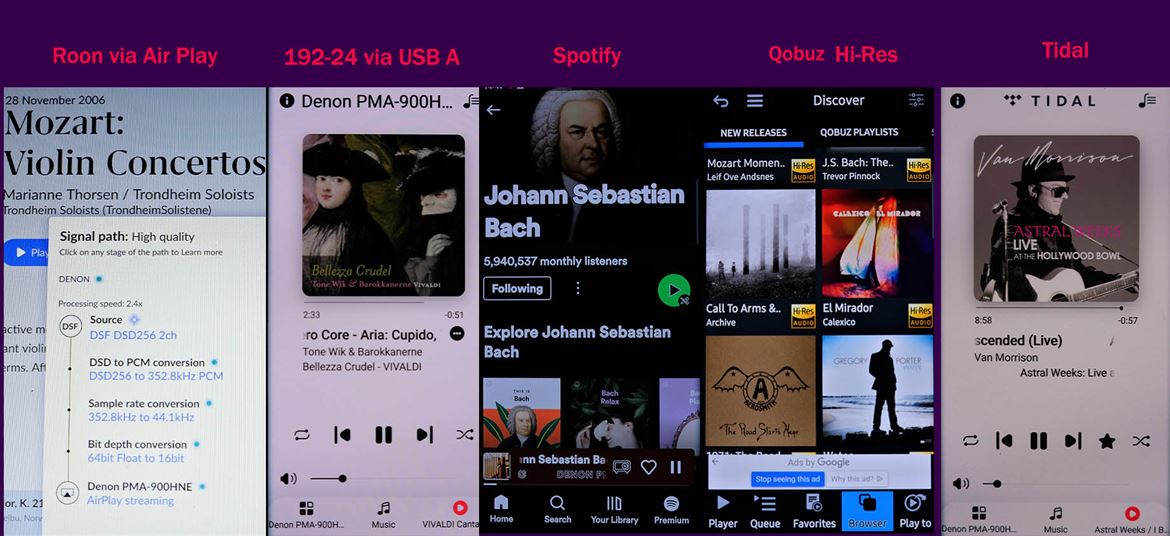 Start with the CD player via the analogue (RCA) or digital (coaxial) connections to compare the respective DACs. You will undoubtedly choose Denon's internal DAC if you do not have a high-end CD player.
It also worked very well via the USB input to which I connected a portable hard drive with hundreds of tracks in high-resolution PCM and DSD up to 192/24 and DSD128. And it also accessed my NAS, which contains thousands of digital files, although the Denon could not catalogue them all.
HEOS – MQA - ROON

HEOS and MQA have no diplomatic relations. However, with Roon, you can play MQA files via AirPlay. It plays all kinds of files, including DSD.

Denon amplifiers are not Roon Ready, only Roon Tested. Roon access is possible via AirPlay and is limited to 44.1 kHz/16 - anything higher, including MQA, is downsampled.
If you have a turntable, you should try listening to LP. Unfortunately, this is not my case, which is a gap in this report.

Tricks and shortcuts

At this level, I prefer to explore features, many of which are not even in the manual. For example, there is no reference to Roon, MQA or Qobuz, but there are tricks and shortcuts to access and play them, as seen above.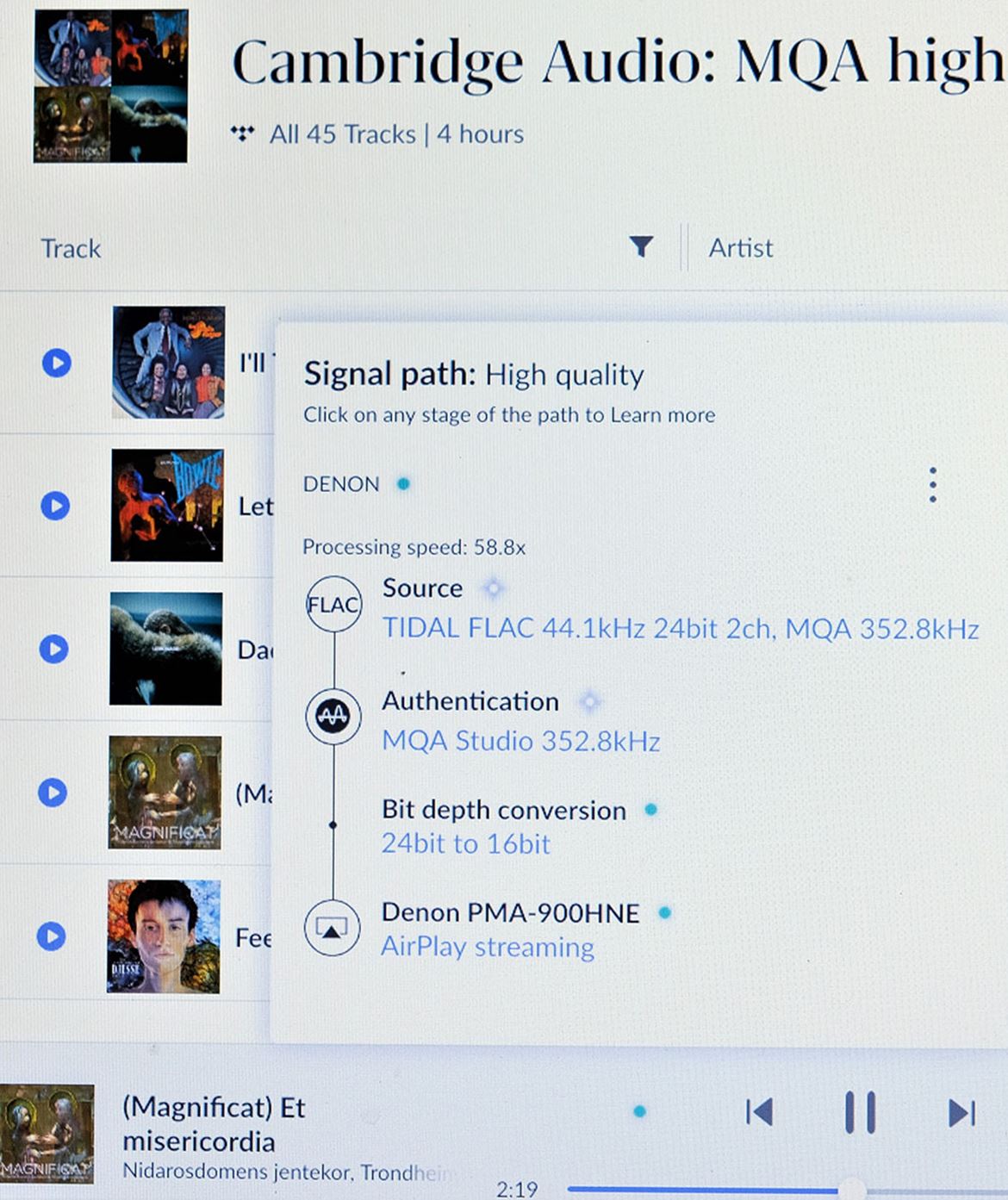 Denon 900HNE is reasonably priced. But it has all the features and specs typical of today's entry-level integrated amplifiers with digital features, which means you save money without sacrificing features and sound quality (including phono MM / MC).
...the 900HNE is a direct competitor of the Marantz PM7000N, and it can do everything the Marantz 40n can...
Denon vs Marantz
For 998 euros, the Denon 900HNE is a direct competitor to the Marantz PM7000N, which costs 300 euros more.
And for 1500 euros less, it can do everything the Marantz 40n can - perhaps with less class and performance. Is it enough to justify the price difference? I think so, but it's your money, not mine.

After the indispensable comparison with its competitors (Advance, Audiolab, Marantz, NAD, Rotel...) and others up to one thousand five hundred euros, I bet you will choose the Denon if not for the sound alone, at least for the price/quality rate.
Conclusion
I will not list all the music I listened to - and there was a lot of it. Sound analysis is subjective, and the choice of music is even more so. But the sound is clean, clear and with good transparency. And that is enough for me.
The Denon 900HNE met all my expectations of a product in its category - and beyond, especially with classical and jazz music. For modern music, however, I could do with a little more power, despite the reasonable 85 W/4.
Let us say it's a modern - and civilised - integrated amplifier. You can even give it commands via Alexa. What more do you want for a thousand euros?
For more information contact: