JVH got off his high end pedestal and sat on the couch to listen to a $1,500 integrated amplifier. Neither he nor the sound went to the dogs.

As an audio critic, I often listen to equipment I cannot afford to buy.
It's easier to analyse an amplifier that did not cost me an arm and a leg because I don't suffer as much when it does not live up to the high expectations created by its price.
…this is the kind of amplifier I would recommend to friends…
The Rotel A14MkII costs only $1,499, so it only has to meet the minimum requirements for an 80 W/8 Ohm Class A/B integrated amplifier in this price range.

This is the kind of amplifier I would recommend to friends who, after reading some of my over-the-top reviews of amplifiers that cost as much as a studio flat with an ocean view, openly ask:

"Can you at least recommend something I can buy with my holiday money in these crazy inflationary times?"

Well, here is a good alternative – the Rotel A14MkII.
The Tachikawa family

Rotel is a company founded in Tokyo in 1961 by a Taiwanese and is still owned by the Tachikawa family.
This longevity is its greatest asset. No company can last many years if its products lack quality - let alone competitiveness.

In a globalised world, competitiveness means cutting costs, so moving to Taiwan first and then China was inevitable. However, the products are still made with traditional Japanese precision. Rotel manufactures all components, including circuit boards and transformers, except for the DAC chips, at the Zhuhai plant.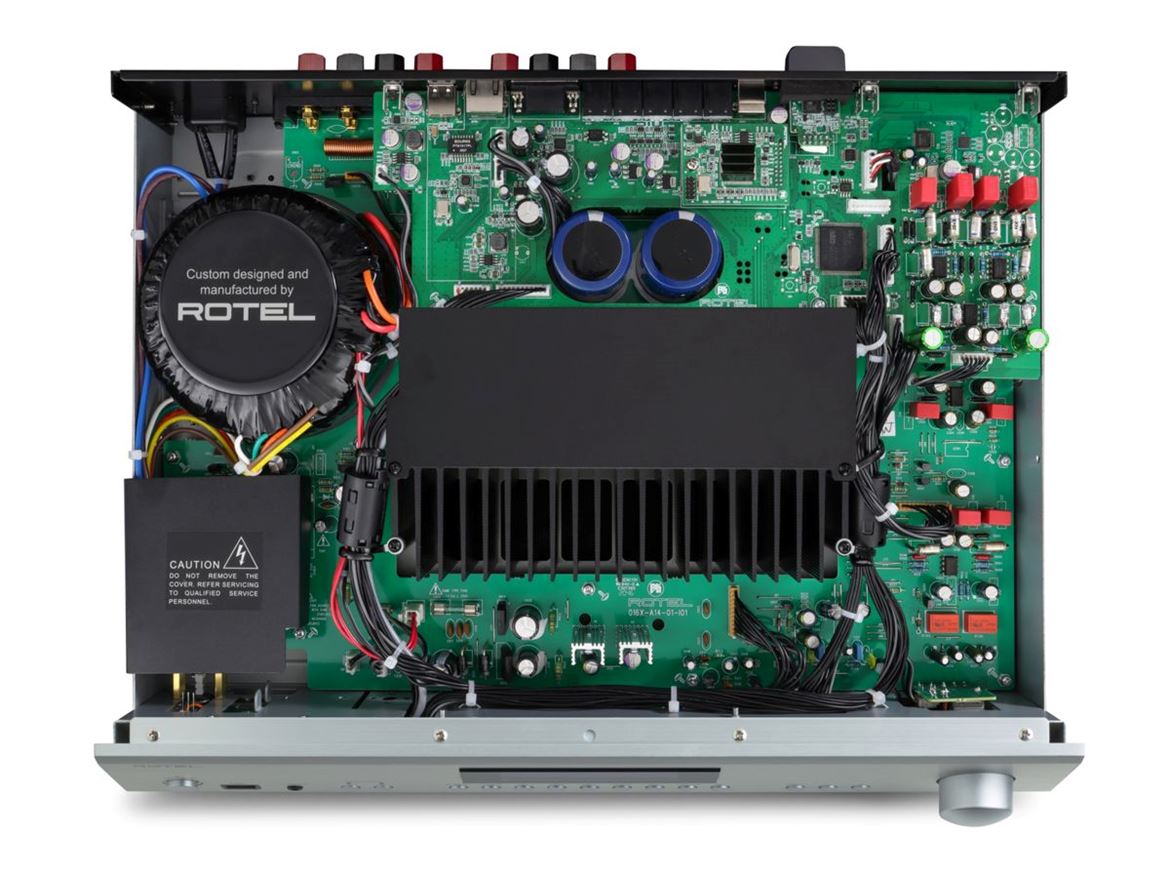 Evaluated with B&W speakers


There is a close relationship between Rotel, Classé and B&W loudspeakers, all manufactured by the same group - and by the way, also Michi - so it is an amplifier with pedigree and therefore recommended.

Daren Orth is the engineer responsible for the Rotel electronics. And like all good amp designers, he started with a robust power supply that can deliver enough current to drive speakers with an impedance of 4 ohms (150 W/4 ohms).

He also drew inspiration for the circuitry in the development of the top "Tribute" and Michi models.

Classic performance, modern solutions

But a good amplifier is no longer enough today. It must also meet the needs of the modern consumer: AAC streaming Bluetooth, PC /USB, Roon Ready and a Texas Instruments 32-bi/384kHz DAC with MQA/MQA Studio replacing the original AKM.

It lacks the streamer OK, but with the PC /USB connection, you can use your laptop to perform the streaming functions.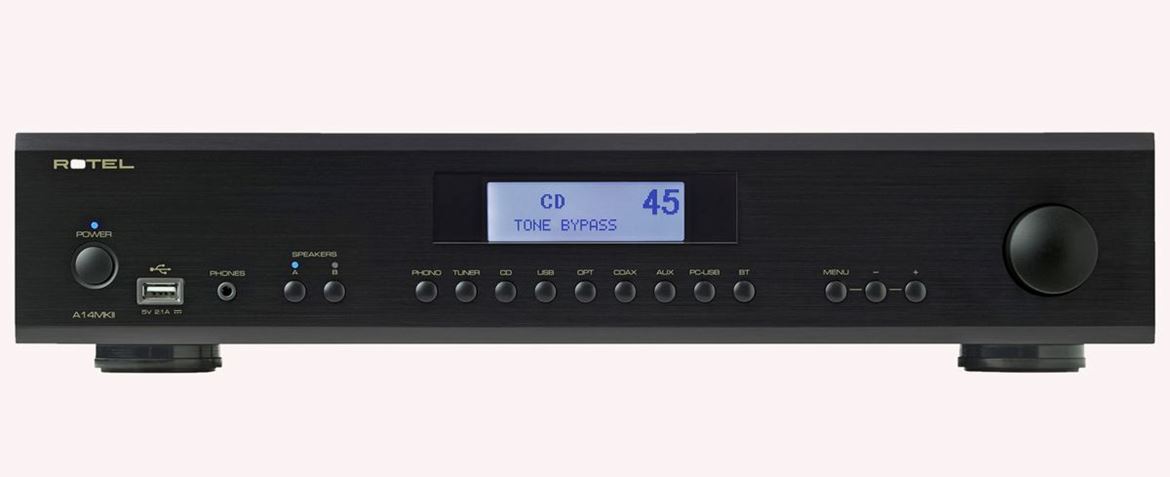 Slim and elegant

The A14MkII was delivered to me in black – you can also opt for silver. It is a slimline unit (430x93x345) with a considerable weight of 9 kg.
On the front, the only large knob is the volume control. But instead of a rotary knob, individual buttons handle source and function selection.
The display is an inconspicuous low-resolution type and serves primarily as visual support for the menu in conjunction with the +/- buttons.
It shows only the selected source, volume, and tone control (bass/treble +/-10dB) in addition to the various volume functions.

Always forward, never back.
If you want to adjust a parameter, you have to go through the entire menu because you cannot go back, only forward. Gosh. And there are thirty screens to go through, some of which are unnecessary or superfluous! The problem remains with the remote. But there is an exciting feature: you can control the maximum volume of each source independently.

I will not list them here - the manual is available on the Rotel website. But remember one crucial thing: PC-USB 2.0 is mandatory. And I will tell you why in a moment.

Bluetooth rocks

As soon as the A14MkII arrived at my house, I connected it to a pair of monitor speakers, did the Bluetooth pairing with my Galaxy S22 Ultra and started streaming from Tidal and Qobuz.
…for the average consumer, Bluetooth is sufficient for everyday music enjoyment…
As always, the sound improved after a few days: at first, it sounded soft and a bit fuzzy, lacking dynamic contrast and harmonic structure, which is not uncommon with Bluetooth either.

But for the average consumer, Bluetooth is sufficient for everyday music enjoyment. Most potential buyers of a Rotel A14MkII have neither an extensive collection of high-resolution audio files nor are they interested in DSD and MQA.

They are only interested in listening to the latest Spotify playlists or exploring their old LP (phono MM) and CD collections (avoid CD players or external DACs with an output level above 4 V as it might overload the circuit).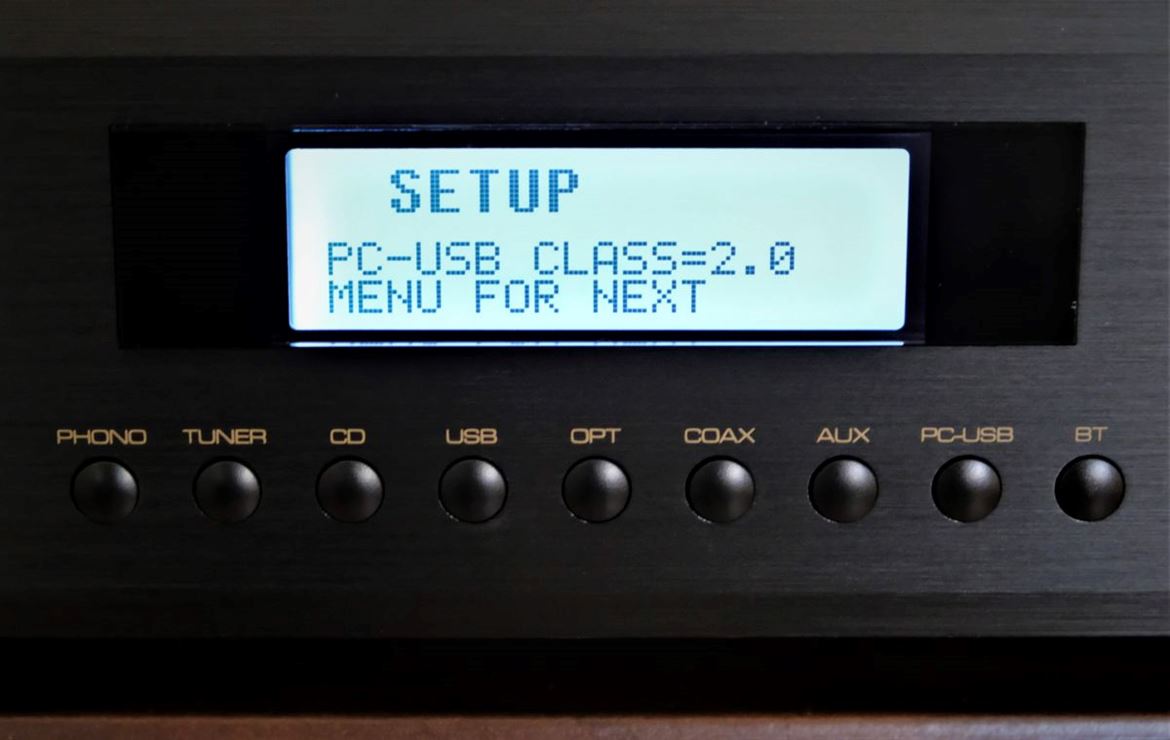 So, the sampling incompatibilities showed up when I connected it to the PC to listen to audio files via JRiver and MQA and DSD via Roon.

Let us say you use a PC as a streamer (PC-USB) to listen to Tidal, Qobuz or high-resolution files via JRiver and Roon. In this case, you first need to install the Asio driver available on the Rotel website and change the default USB 1.0 to USB 2.0. If you have a MAC, you do not need a driver.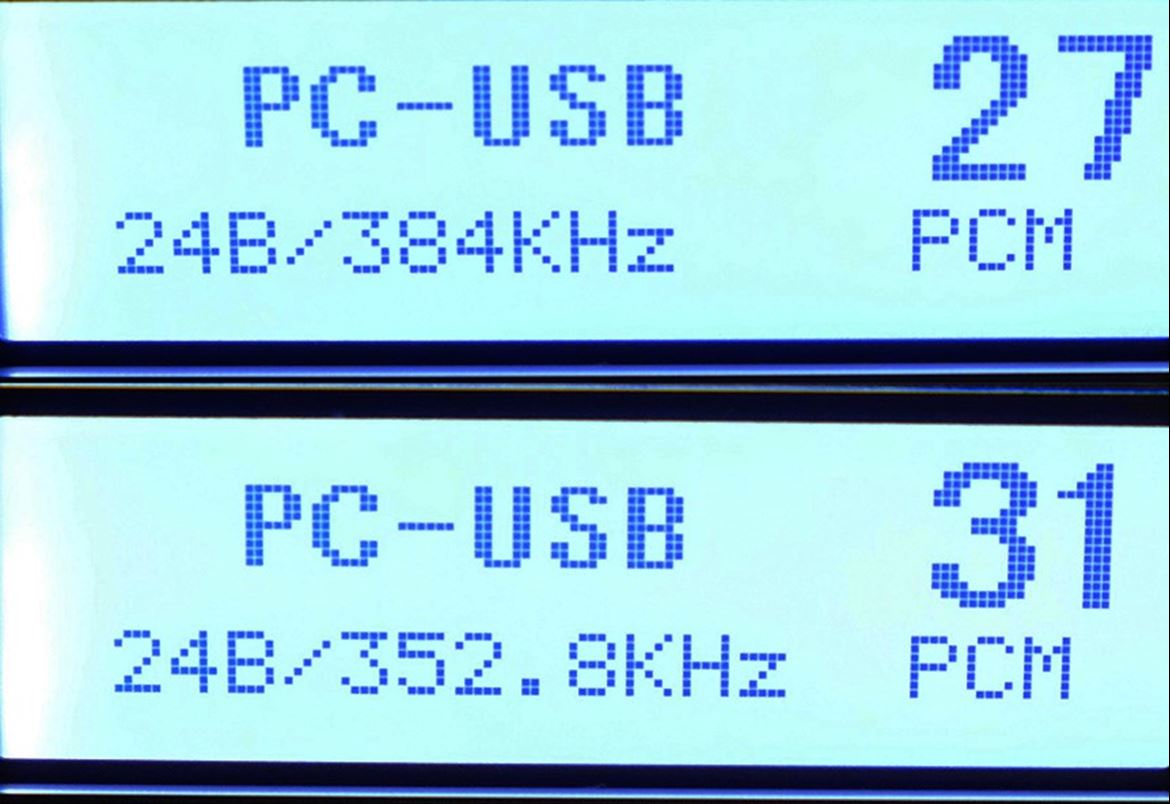 Once these computer issues are resolved, the A14MkII fully complies with the specifications: PCM 384kHz and MQA/MQA Studio 352.8kHz. And via Roon, it also plays DSD128 as PCM 352.8kHz (see display photos).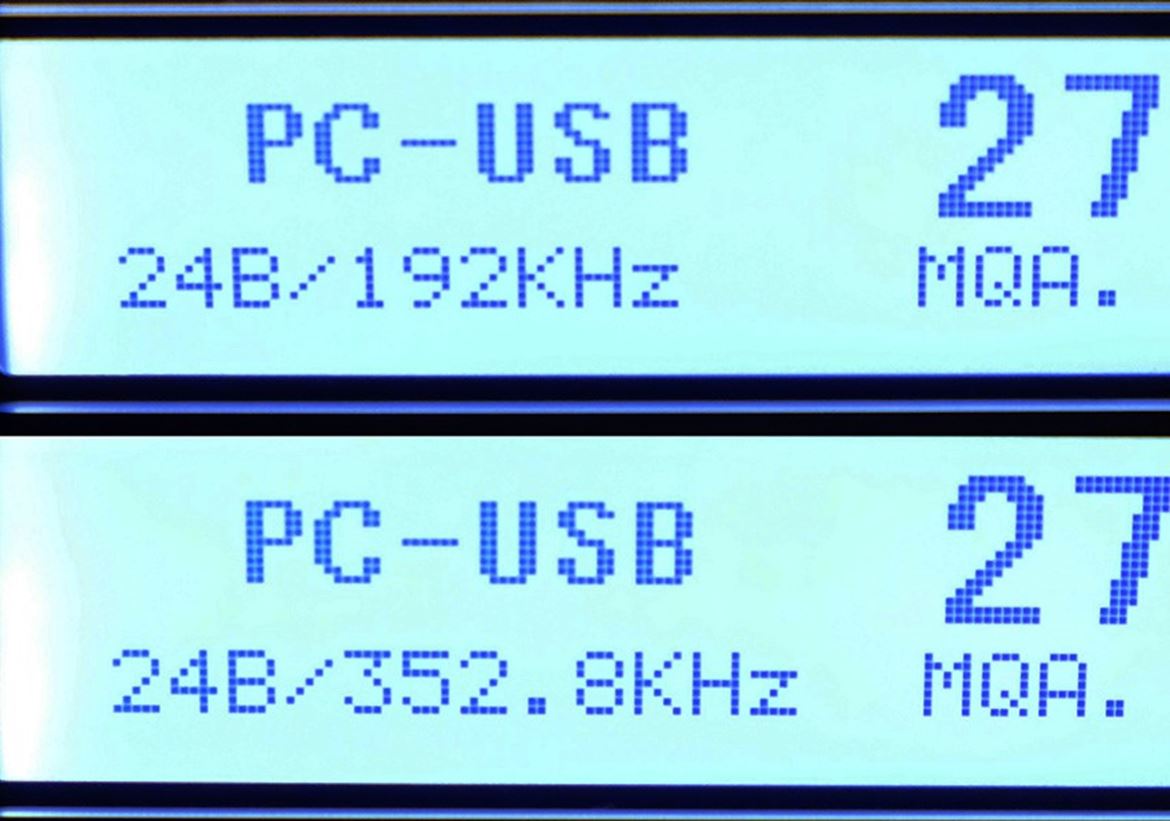 Apple rules
On the front panel, the A14MkII also offers another USB-A input, activated by the USB button. I figured I could use it for playing music from a flash drive or hard drive. However, this "mysterious" USB-A input is only compatible with Apple peripherals: iPhone, iPad or iPod. Really? Undoubtedly, a commercial rather than a technical decision. But discriminatory, nonetheless.
Fortunately, as already mentioned, you can also connect your Galaxy device via Bluetooth.
The headphone jack only accepts 3.5 mm jack plugs and does not interrupt the signal output to the speakers. However, you can switch off the speakers with the A-B buttons.
Interestingly, there is another USB-A input on the back, but it only has charging functions (5V/0.5A) - for your mobile phone, for example.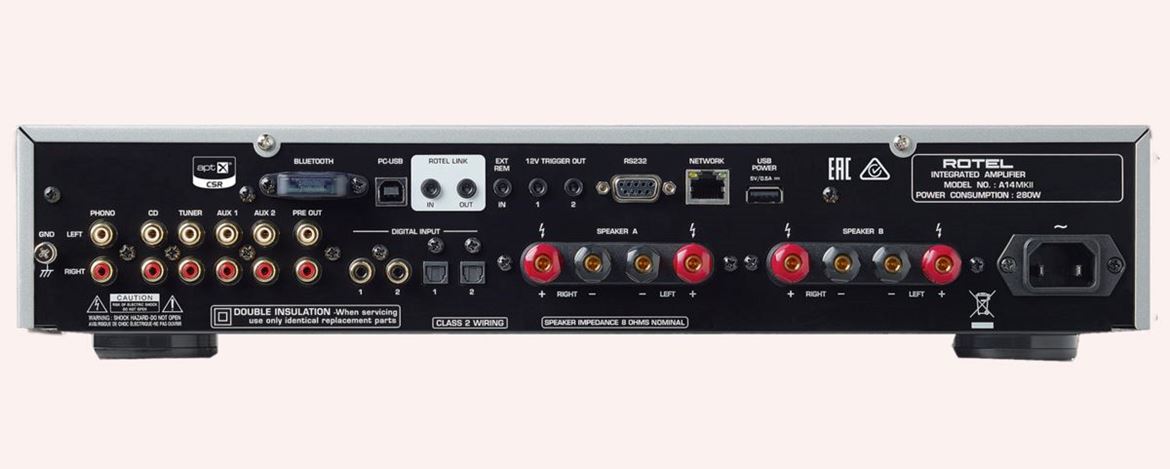 …the A14MkII has a typical Rotel sound: smooth, clean, and very linear…
First sounds

The Rotel A14MkII has a typical Rotel sound: smooth, clean, very linear, if not as full-bodied as I'd like it, with a well-defined bass (no adiposity), and it adds no colouration to the sound in general or to voices in particular, the correct reproduction of which neither robs their intelligibility nor alters their tonality.

The A14MkII is not a "brute", despite its 150 W/4, which seems optimistic to me. It has a delicacy and finesse similar to pure Class A amplifiers, so I was not surprised that it gets pretty warm after a few hours of use.
…It has a delicacy and finesse similar to pure Class A amplifiers…
I bet the first 10W are in Class A, which is why I like to listen to the A14MkII in the quiet of the night, roaming the transparency of the soundstage in search of musical information.
But of course, it is also capable of neighbour-hostile volumes when you turn up the throttle, although I find it's not as comfortable at extremely high levels as its Class D rivals.

The output volume is set to 45 by default, and it is easy to see why. Up to halfway, the potentiometer seems to have no effect and the sound rises (too) slowly. I recommend pairing it with speakers with good sensitivity.

With small monitor speakers, you should boost the bass by 2 dB. Otherwise, always listen in bypass mode. Au contraire, you can correct some excess bass with back reflex floorstanding speakers, placed close to the walls. Tone controls can also be used in reverse.

Please note: Any change will also affect all other inputs.

The Rotel A14MkII is very quiet: There is no hum, and even at full throttle (with no musical signal, of course), there is no hiss through the tweeter, which is a testament to the careful choice of topology and construction.

Compare it to the competition from NAD, Marantz and Audiolab before you buy. If you then choose the Rotel, you will not regret it, as the ratio of quality, features, and price is very competitive.
The sound of the A14MkII is the closest I have heard to my Naim Uniti Atom, which costs twice as much.
For more information:
Sarte Audio Elite