Read the review in Portuguese here
The Attessa Streaming Amplifier is part of the new Roksan Attessa line, including a turntable, a CD player, and an integrated amplifier (no BluOS Streamer).
I first met the Attessa line on a brief visit to Delaudio in November. Delfin Yanez had assembled a fully Roksan system, consisting of the Attessa Streaming Amplifier, Attessa turntable, and Monitor Audio SS300 7G speakers, brands that are now part of the same group (Monitor Audio Ltd).
For simplicity's sake, I'll call it the Attessa SA from now on.
I listened to all kinds of music, including streaming and LP, with line input using the Phono stage of the turntable itself; or the Phono (MM) stage of the amplifier (which sounded even better). Then and there, I thought the Attessa SA deserved a thorough review (I only take to review what I like on first listening).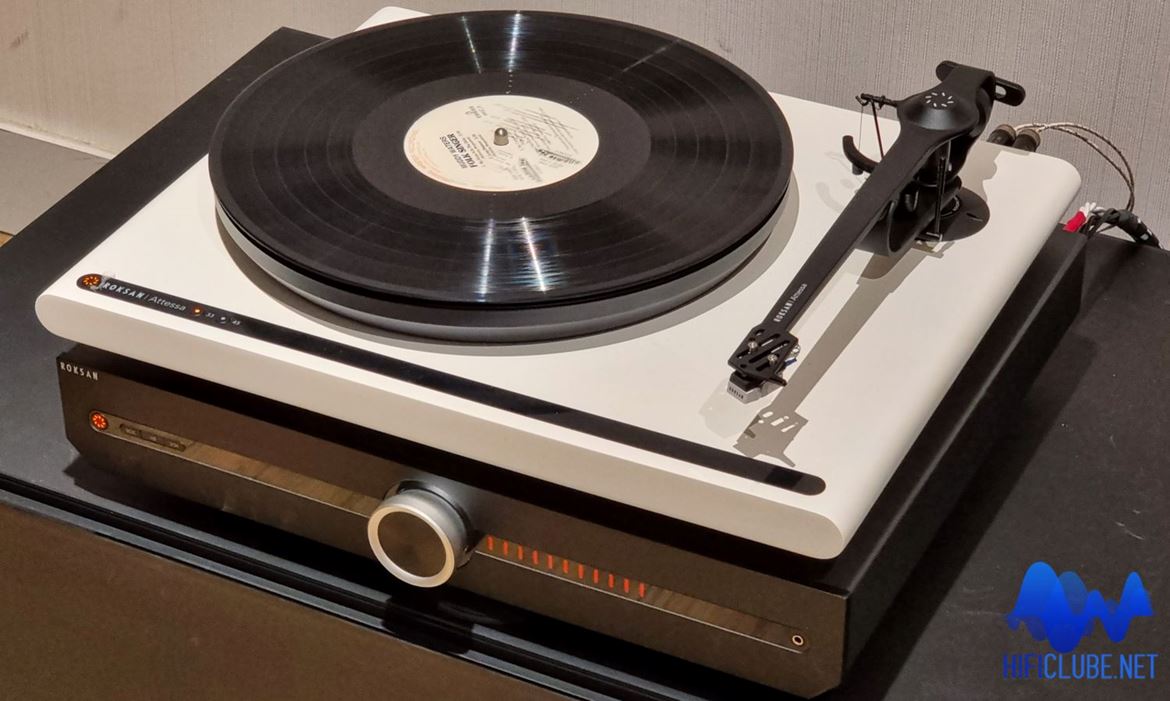 Good memories of the Roksan Caspian
The slimline type design (432 x 76 x 346 mm) is reminiscent of the Caspian M2, the father of the Attessa amplifier circuit. However, the Attessa SA front panel only has the bottom edges cut off while still giving it some visual lightness: the total weight is 10.2 kg.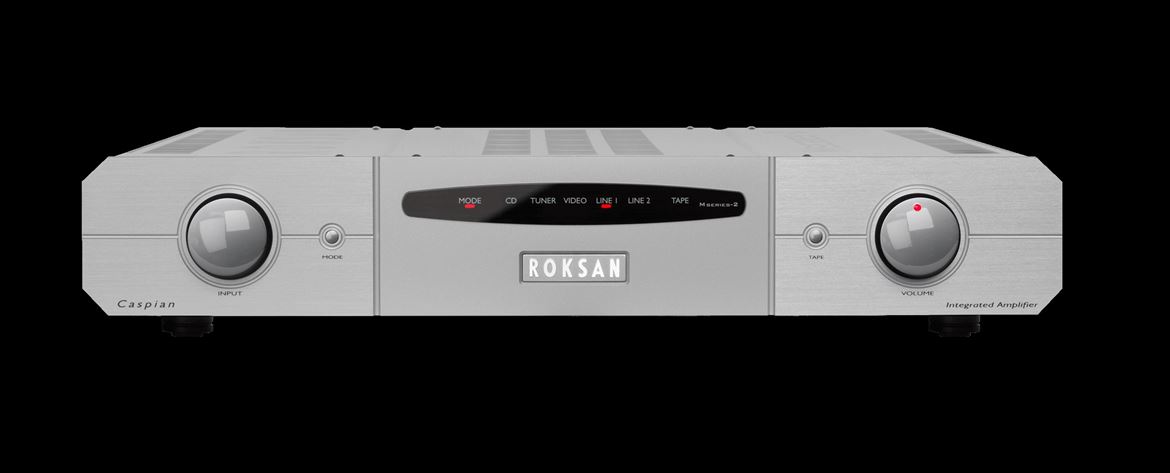 At Delaudio, the black version was on demonstration; the one I got is a discreet grey colour, perhaps even more pleasing to the eye.
The central rotary knob regulates the volume, 'quantified' by orange LEDs on the right side. When pressed/rotated, it also functions as a font selector, equally identified by orange icons now on the left side.
Note: the remote control provides only essential functions.
On the left, you find the luminous logo doubling as an on/off switch (automatic standby); on the right, you will find a headphone output (3.5mm jack).
Note: the headphone output stage is excellent with enough power (7,5V!) even for the most challenging planars.
Next to the switch, you also have small push buttons for functions that would make more sense on a CD player: play/pause and fast forward/reverse, which surprisingly also allow you to play/pause or change tracks when streaming!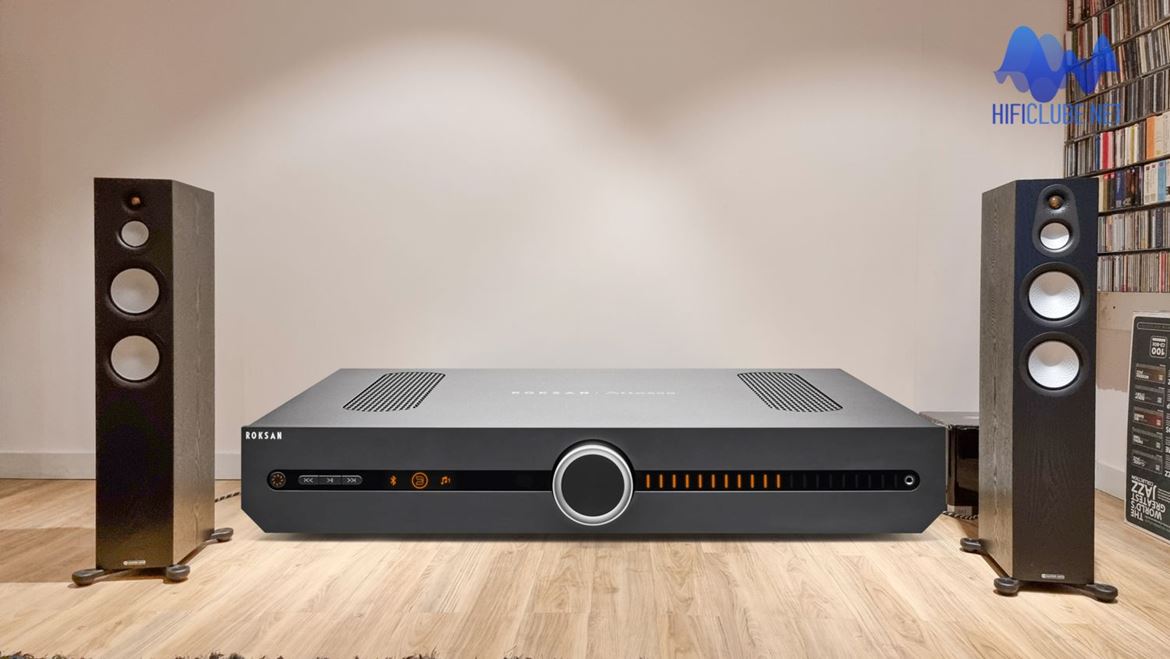 The Attessa SA does not have a large display, as some direct competitors (NAD M10, Naim Uniti Atom, both 600 Euros more expensive), nor could it have due to its slimline profile. Instead, it presents a full width 'slot' protected by black acrylic glass. Thus, the information provided had to be minimalist, albeit complemented by the (free) control Apps MaestroUnite and BluOS (we'll get to that soon).
To be or not to be DSD compatible, that's the question
The internal DAC is a Burr-Brown PCM 5242 32 bit / 384 kHz MQA, limited by the BluOS platform to 24bit/192kHz MQA and with no DSD compatibility. However, it can play DSD files in FLAC format after a complex configuration of the BluOS operating system. The Manual doesn't explain how, but that's a reviewers' job.
The amplifier has a declared power of 80W/8 and 130W/4 Ohm, therefore adequate to drive all kinds of speakers within its category, namely Monitor Audio. Moreover, they tested the Attessa SA at the factory (and at the distributor) with Monitor Audio loudspeakers. Therefore, they are recommended for you too.
The 400VA transformer guarantees these specifications are accurate, and the Attessa SA showed no weakness in the power department: it always sounded solid and controlled. But it's not a head-banger (it has an ideal cruising speed), or else opt for more sensitive speakers.
Note: I noticed noise (a slight 'hum') in the right channel, unrelated to signal, and only audible when the music is not playing or with the ear close to the woofer.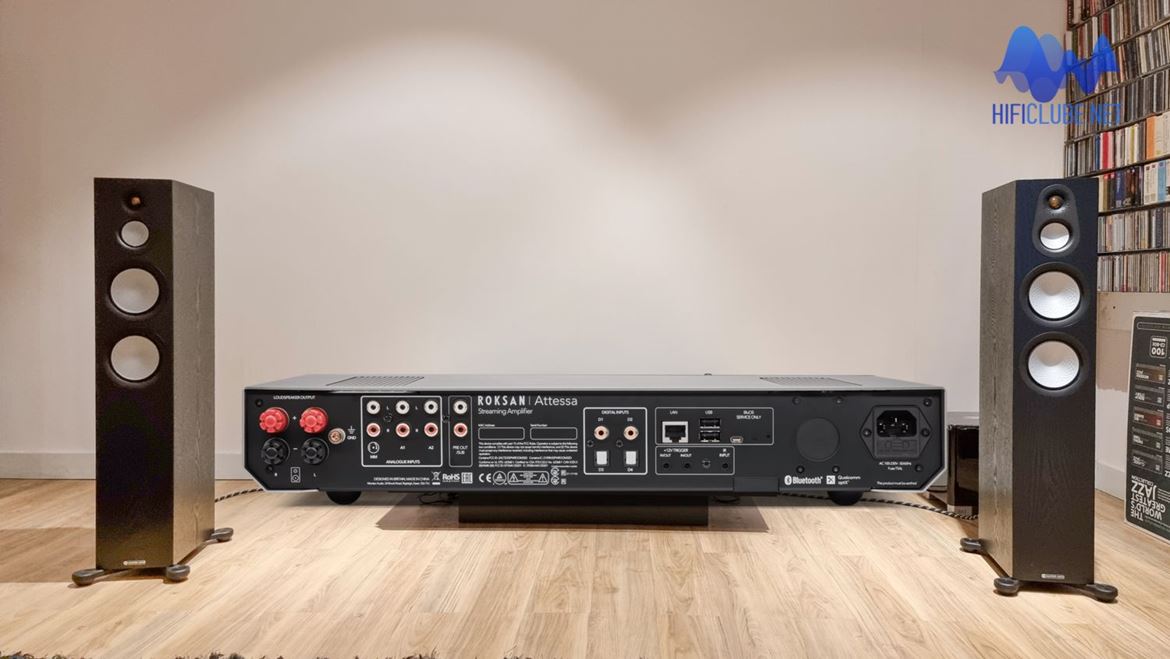 On the left, speaker terminals (in poor plastic) accept bananas, forks, and bare cables; 1 MM phono input and 2-line inputs, variable and fixed all RCA. On the right side the digital section: 2 x coaxial (192/24); 2 x optical (96/24); LAN/Ethernet network input (streaming) and 2 x USB.
Note: on the USB inputs, you can connect a pen or disk with music files and/or a dongle (supplied) for the wifi network (without an external antenna). And of course, it is also compatible with Bluetooth Aptx and AirPlay2. I have used the cable connection exclusively.
By opting for the BluOS platform from the Canadian company Lenbrook, first introduced by Bluesound and later by Dali and NAD, Roksan offers the Attessa SA extensive multi-room functionality. And also a vast streaming experience with access to hundreds of digital radio stations (including Radio Paradise on MQA!) via TuneIN, and more than a dozen music content providers, from Amazon to Tidal, Deezer, Qobuz, Spotify, and even the Neil Young Archives. All subject to subscription.
Attessa and MQA work well together
I'm a Tidal/MQA fan, and Attessa SA is one of the best MQA players I've tested. It's one of the few on the market that, along with the Attessa CD Player, also plays/converts CD-MQA. And all the native MQA files I have stored on a hard disk. Many only recognise MQA streaming from Tidal.
Note: MQA appears on the screen to identify tracks played in this format.
I know people are saying all kinds of nasty things about MQA: that it's a fraud, that it measures poorly, that it's just rubbish in the treble. So be it: but that's not what I hear - neither does anyone else for that matter! MQA is for playing music, not test signals.
I remember making a live MQA/DSD comparison at an Audioshow and, although DSD was preferred (especially by women present), nobody thought MQA was utter rubbish. On the contrary, some found it had more body and sounded more natural - this with a 40MB MQA versus a 900MB DSD file. And it did indeed: perhaps it exhibited less air, less transparency, but it had more body and texture.
Don't listen to music underwater.
If you have access to Tidal, try listening to Van Morrison Latest Record Project, Volume I, with Attessa SA, and you'll soon see what I mean. Or Radio Paradise/MQA. And then compare that to radio stations at 192kbs (sometimes less) that sound like they're broadcasting inside a submarine underwater. 
The complexity of simple things
On Roksan's website, one can read, regarding the Attessa SA:
"Designed to combine all the wonderfully complex sound of a class-leading Hi-Fi system with the simplicity most listeners crave - making it easier to connect with devices and with the people around you. A home audio product which is not intimidating for the first time Hi-Fi consumer."
Marketing departments always like to gild the pill. Please, let Delaudio's experts (or your local authorised dealer) do the installation and download and configure the MaestroUnite and BluOS apps for you. Don't give in to the temptation and buy the Attessa SA online from Spain or Germany, or you'll be on your own.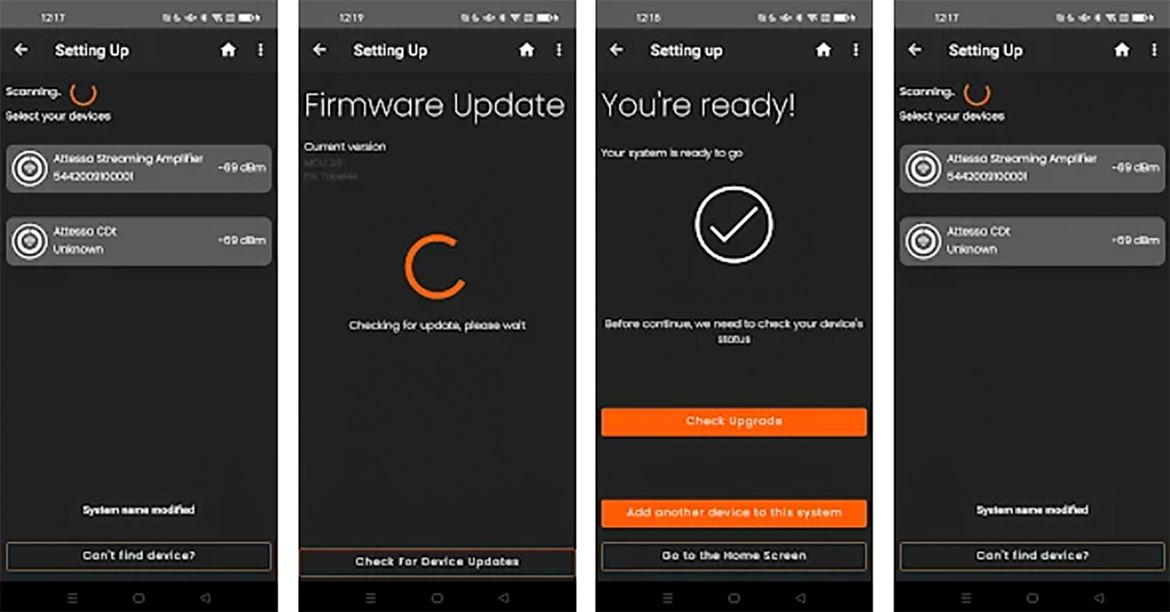 Alone at home
Alone at home, harassed by updates and complex configurations, you'll end up getting lost. From the sensitivity analogue inputs (go for High) and headphone inputs (go for Medium); to the MM cell gain and the balance between channels, a lot can go wrong in the process. And you'll still have to deal with MAC addresses for Wifi and BT.
Then you can put the MaestroUnite away and use the remote control or the delightful central button. Or better still, dedicate yourself to BluOS (the poor man's Roon), already installed on your phone, and forget the rest.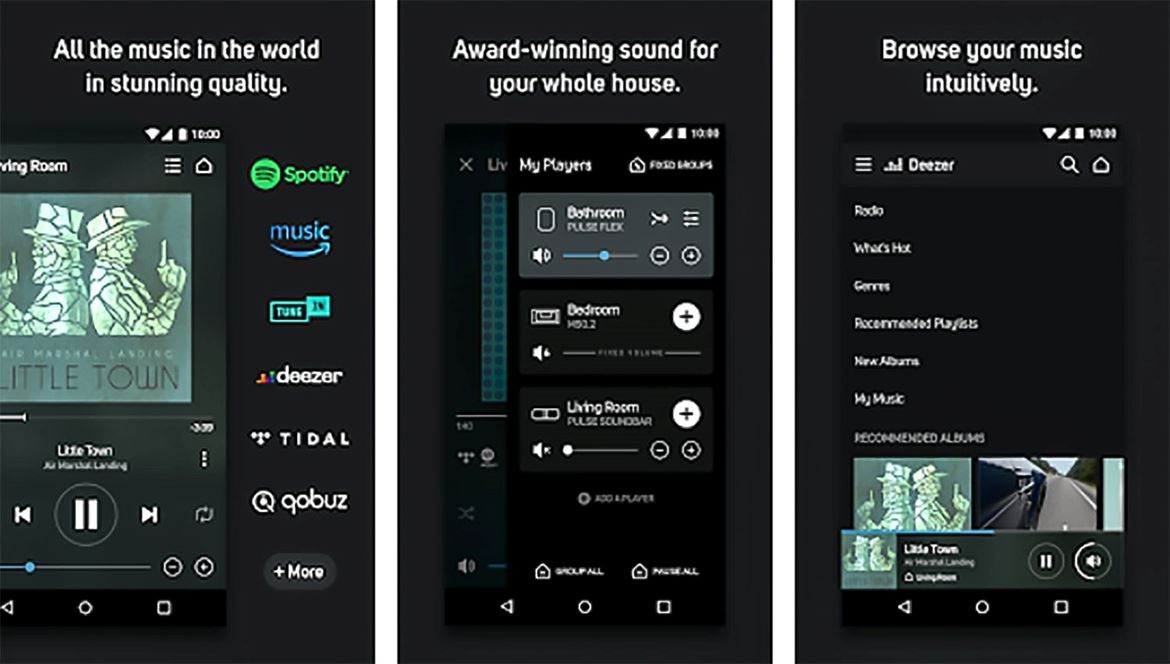 From here, navigate with your thumb through the millions of tracks of your 'Music Service,' listen to CD, LP, radio, or access your 'Library' stored on a pen, disk, or NAS. But how do you listen to files that you have stored on a pen drive or hard disk?
Let me explain: just insert the flash drive into the USB port on the back panel. Is that all? Yes, if your files are MQA to PCM up to 192kHz. All you need now is to select USB in the BluOS app and select the song, album, or artist. Wait, DSD files do not appear on the list! Why? There's no point looking in the Manual. It doesn't explain how to do it. Nor is it worth wasting time watching pseudo-tests on YouTube.
I even read somewhere that Attessa plays DSD files as DoP (DSD over PCM). Not true. Attessa SA's Burr-Brown DAC might be DSD compatible. But the BluOS platform is not. So DSD files have to be converted to FLAC by BluOS, and only then are they made available in the Library. And how to do that?
Download the BluOS desktop app version for Windows PC (or MAC).
Remove the flash drive from the Attessa SA USB port and then insert it in the computer's USB port where you have installed the BluOS desktop app.
Go to settings, music library, network shares, find network shares, enter the flash drive location, and add network shares.
File reindexing starts immediately.
Wait a while and then go to Library again: all the DSD tracks are there (including DSD256) converted to Flac. So now you can play them (the conversion quality is excellent).
Do I have to do this every time? No, from now on, every time you insert the same flash drive in the Attessa SA USB port, you can play the DSD FLAC converted files navigating the BluOS app on your smartphone.
So, it's not precisely 'a home audio product that is not intimidating for the first-time Hi-Fi consumer'.
But how many native DSD files do you have in your Library? You must realise that you are only buying a fine €1,890 'streaming amplifier,' not a professional tool used by audio critics to brag about their DSD library.
…Attessa SA has proven to be an excellent MQA streaming amplifier…
The Attessa SA has proven to be an excellent MQA streaming amplifier. It does not have the large display of the NAD M10 or the Naim Uniti Atom, and indeed not the latter's design. But they both cost €600 more than the Attessa.
With so much music available at the touch of your thumb, who cares about half a dozen native DSD files? Which you can listen to anyway, albeit formatted in FLAC.
Given its sub-£2000 price tag, good quality amplifier stage, and fine MQA streaming circuitry, the Attessa is the first candidate of the year for Streaming Amplifier of 2022.
Product: Roksan Attessa Streaming Amplifier
Price: 1875 Euro
Distributor: DELAUDIO