JBL 4305P Studio Monitor has a retro look and a modern feel. The competition is fierce at this price point (€2,500), but you won't find a more exciting active desktop monitor anywhere.
JBL stands for James Bullough Lansing, who founded the original Altec Lansing company and is best known for PA systems and studio monitors with horn treble units. The 4305P is a "fake" studio monitor designed for home use. But I'll be damned if it doesn't sound like the real thing!
The power of Samsung
JBL is a subsidiary of the Harman Group, now a Samsung Electronics division. Samsung is a powerful player in the global market. This is clear because every magazine and website, hifi-focused or not, has published the raw press release or used it in their reviews, sometimes without even checking if it meets all the factory specifications. A good example is the alleged Roon certification.
When you attempt to connect the 4305P to Roon, you get this warning:
Unfortunately, the manufacturer has not yet completed certification for this device.
Does this imply that the 4305P is incompatible with Roon? Absolutely not. You can use Chromecast streaming to connect to Roon (while you wait for the certification). And it functions flawlessly. I like it so much that I'm considering using it as a desktop speaker to listen to music while I work. It's that good!
…I'm considering using it as a desktop speaker to listen to music while I work…
Even if you don't have Roon, a somewhat pricey piece of software, the wired and wireless connection options are so extensive that you'll always be able to find what you need.
Because these are active speakers with built-in DAC and streaming capabilities, you can connect them to a mobile device via Bluetooth, Chromecast, or AirPlay2 without needing other than the power cables.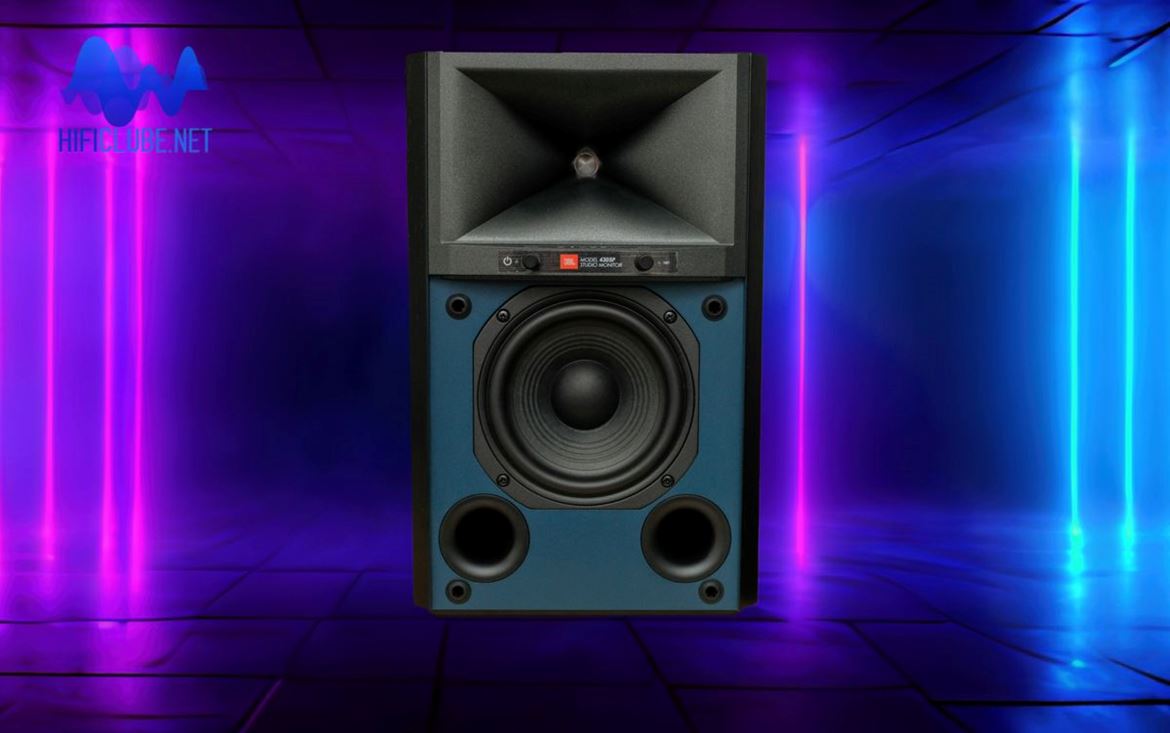 Feeling young again
The cute little JBL 4305P 210 336 223 mm box is made of 17 mm MDF with internal bracing and natural wood veneer. It weighs approximately 6.6 kg. Natural or black walnut finishes are available with a blue or black grille. My pair was the latter version with a matte blue baffle. They look (and sound!) like a 1970s JBL monitor. That's why I like them so much—they make me feel so young!...
JBL transducer technologies are used in the 4305P. To improve dynamics, a 2410H-2, 25-mm Teonex bullet-shaped annular ring compression driver is mounted down the throat of a High-Definition Imaging horn.
The mid-bass is reproduced by a 130 mm cast-frame, fibre-composite paper cone woofer operating in a bass-reflex configuration with dual front-firing tuned ports. A low 1.75 kHz crossover frequency is used to take advantage of horn loading.
Each speaker is rated at 25 W of Class D power for the tweeter and 125 W for the mid-bass driver. All you have to do is plug them both into the power supply. All other cables are entirely optional.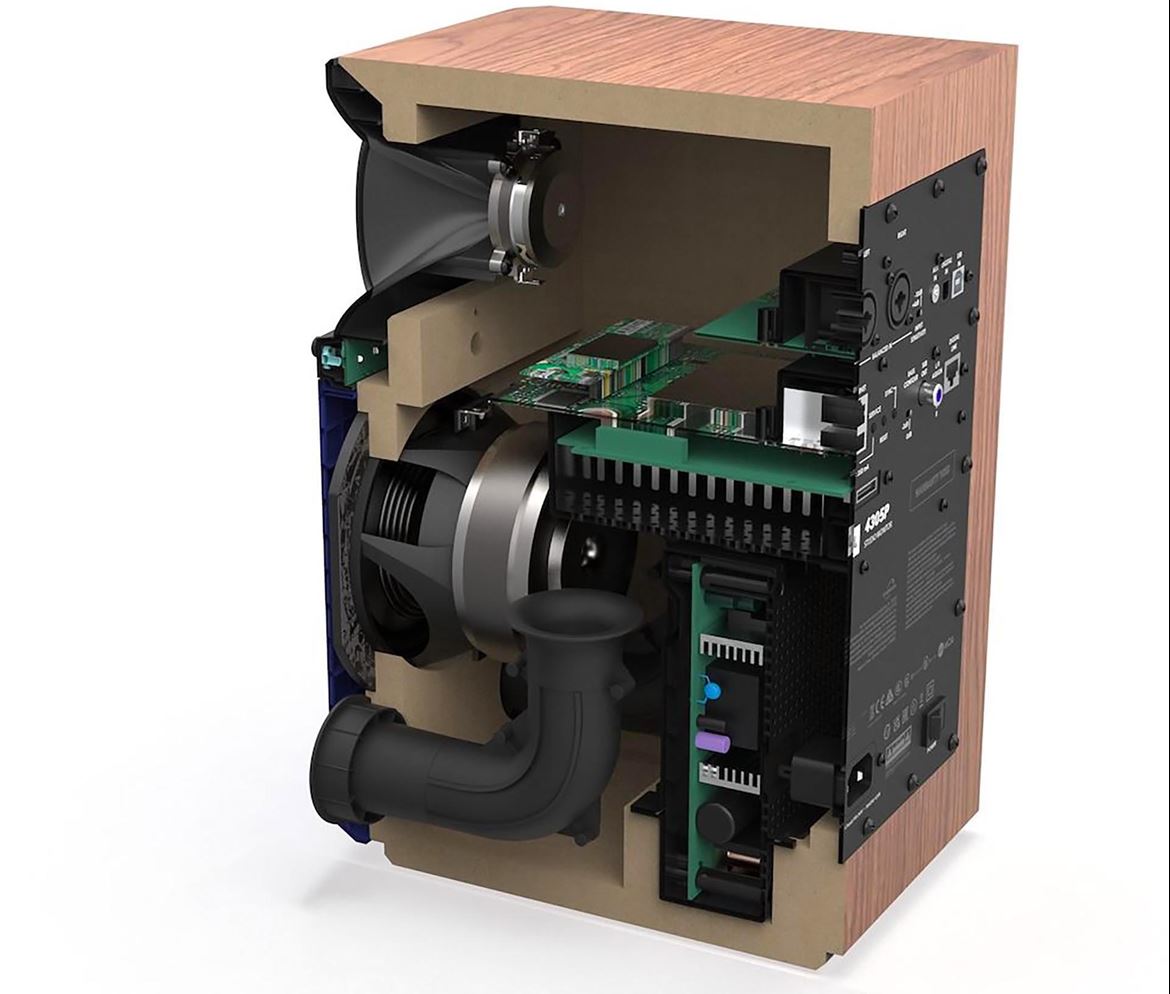 The 4305P has a primary (master) unit with tiny rotary controls for volume and source selector up front and all inputs at the back. A secondary (slave) unit is connected to the primary unit with an Ethernet CAT5 cable for high resolution (192kHz).  Even if this cable is not used, both devices can communicate wirelessly, albeit at a lower resolution (96 kHz).
The end of cable wars
The JBL 4305P puts an end to all cable wars. Except for the power cables, all other cables can be discarded. It's sure to please the wife! And the kids will see it as a clean extension of their mobile phones.
… the JBL 4305P puts an end to all cable wars …
Of course, the sound improves when wired.  My preferred way to stream music is from my PC with an Ethernet link via Roon software (with Chromecast) or directly from Tidal. With Roon, all DSD files are converted to PCM (88.2 kHz).
The 4305P supports MQA directly from Tidal, and the LED changes colour depending on the file quality (blue, green, or magenta).
You can also use a media player like JRiver to play files from a hard drive when you connect it to your PC asynchronously via a USB B cable. The 4305P might show as XMOS XS1-U8 DJ speakers in the Options menu (ST). If WASAPI does not work, try Direct. However, it only supported PCM files and not DSD files. Unless, of course, there is a driver for ASIO that I am not aware of.
You can listen to music or movies on YouTube, including Tiny Desk Concerts, when connected to your PC via USB (B). The JBL 4305P monitor excels at live concerts because it has a PA System in its DNA.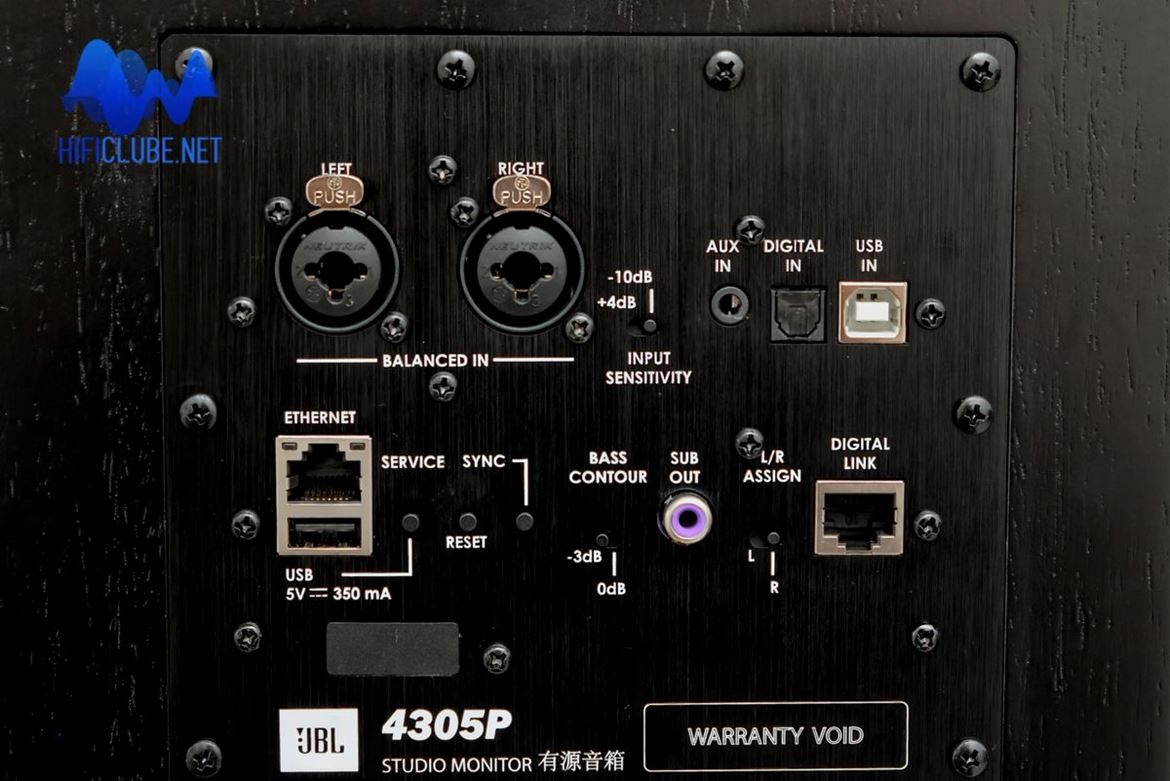 Multiple connections
There are no analogue RCA inputs on the back, only XLR, so I had to use a double RCA-to-3.5 mm Jack cable to play DXD and DSD files with my Chord Hugo II DAC.
And it worked perfectly. Don't forget to use the small rotary knob or the Bluetooth remote to select the jack icon input on the 4305P master unit.
If you've exhausted all other possibilities, connect the XLR input to a balanced preamp, DAC, streamer, or an optical digital link to your CD player, as there is no coaxial digital input.
Because the XLR connector also functions as a TRS quarter-inch jack socket, you can connect a guitar or microphone. I tried it with a Shure. The gain is too low, so try to switch at the back to +10dB.
Some will also miss an HDMI input to connect it to a TV ARC output. Use the optical instead.
The power of bass
The 4305P has two front-facing bass reflex ports that provide more than enough juice for its size, down to 40 Hz. Why is a -3 dB bass switch included when the only RCA connection on the back is a subwoofer output for even more bass?
The sound is lively and exciting, but it can be a little sharp sometimes, so I'd also be happy with a -3 dB treble switch.
The JBL 4305P Studio Monitor lacks a specific app, so I used the free mConnectLite app to stream Tidal and Qobuz in wireless mode. The results were satisfactory but not as good as an Ethernet connection, and the volume control in this app can be unstable, so use it with caution!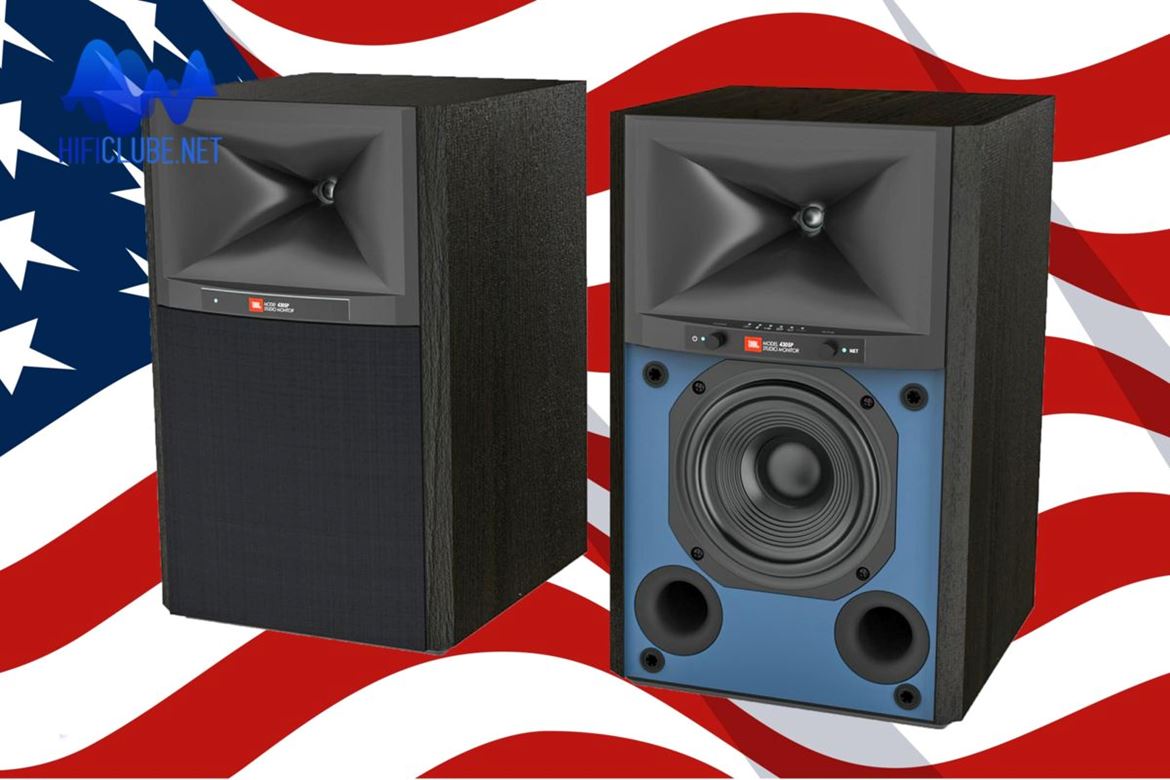 JBL speakers, McIntosh electronics, and Harley motorcycles are all cultural and lifestyle icons in America. At the heart of JBL lies the excitement of the new world: JBL 4305P rocks! If you prefer a more traditional British sound, consider the €300 more expensive KEF L50 Wireless speakers. But you'll miss out on the fun!
A taste of the Everest
If you want a compact, low-cost version of the JBL 4367 monitor with a taste of the reference Everest 67000, this is it!
The sound is inspiring, dynamic, and fast, albeit a little raw sometimes, with a tight bass and clear highs. Drums grab you by the stomach, guitars leap into your lap, and voices are clear and present with just a hint of horn colouration. And the level of detail, as well as the imaging, is superb.
The soundstage will improve if you adjust the toe-in slightly, especially if you listen up close, as you would in a real studio.
The well-tempered sound
Some reviewers thought the upper-mid horn emphasis was too much, making the sound harsh, thin, and verging on bright. I concur that it can get a little too lively for my taste, especially when raw punk music is played at high levels.
However, I have a solution: use Roon's parametric equalizer to reduce the extra treble (-3dB shelf above 15kHz), the presence region (-2dB at 1.3kHz) and the upper mids (-4dB at 4kHz) while adding a dash of lower mids (+2dB at 250Hz) and low bass (+2dB shelf below 30Hz) for good measure. And presto! It now works with any musical genre and sounds excellent all the time!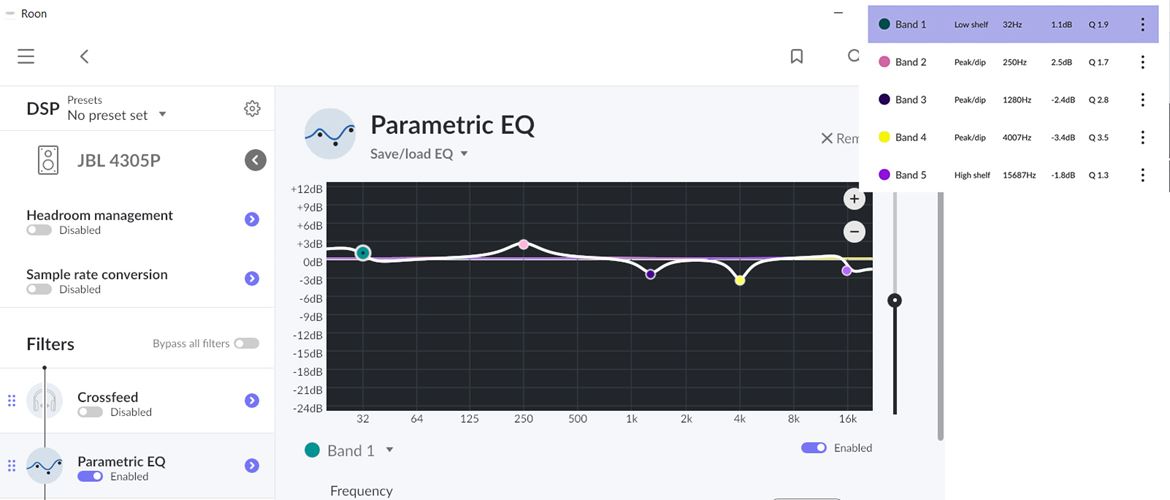 The JBL 4305P Studio Monitor has a retro look and a modern feel. The competition is fierce at this price point (€2,500), but you won't find a more exciting active desktop monitor anywhere.
For more information contact: Sarte Audio Elite