Seven years have passed since the Headamp/DAC Mojo was introduced. Mojo 2 replaces it with a twist: a sophisticated tone control for €599.
The man that hath no music in himself,
Nor is not moved with concord of sweet sounds,
Is fit for treasons, stratagems, and spoils;
…Let no such man be trusted.
(The Merchant of Venice 1.89-94)
For many, 'Music of the Spheres' is a song by Coldplay. However, in the Renaissance, it was believed that the ideal order between heaven and earth was achieved using harmonic scales through the spheres of the Universe. They called it The Music Of the Spheres. 
Chord Mojo 2 adds a fourth control sphere to navigate a menu that comprises Mute, Crossfeed (4 settings for spatial effects), a button lock for safe travelling, battery level and charging status.  
New are the tone controls that work through an innovative 104 bits UHD DSP, without any degradation in sound quality, according to Chord. 
Mojo 2 is not for the colour-blind
The tone-control-coloured-spheres will also get you closer to musical heaven through harmonic scales by tuning the lower bass, mid-bass, lower treble and high treble in 1dB steps (+9dB/-9dB).
It seems complicated, but the learning curve is not as steep as it looks. However, forget it if you are colour-blind.
Press the menu button until it lights up red to indicate the deep bass (20Hz) tone shelf is active; yellow for upper bass (125Hz); green for low treble (3kHz); and blue for extreme treble (20kHz). Then press the plus and minus buttons one dB at a time and listen to the result. You'll be amazed.
Mojo for seven years
Like Jacob worked for Lathan (from the Bible), Mojo also served me faithfully for seven years except for the battery, which started failing. And when I thought it was a marriage forever, Mojo 2 appeared at my doorstep.
I loved Mojo for its simplicity and clean sound. But Mojo 2's fourth sphere makes all the difference. Now I can tune up the sound of my favourite headphones to a T. 
Battery lasts eight hours
A new FPGA-based charging system manages Mojo 2's battery. The capacity is almost the same (+9%), but it now lasts eight hours. Of course, I could never go past 6 hours listening to high-resolution files, but still, it is an improvement over the original Mojo.
Anyway, I think Mojo 2 sounds fine in desktop mode too, running battery-free profiting from its new intelligent PSU design. You can even keep it plugged in permanently. For the ultimate performance, though, use the battery mode. As good as the PSU is, there's always some mains-induced noise lurking in the background. Not that you can hear it: both modes sound perfect to my ears.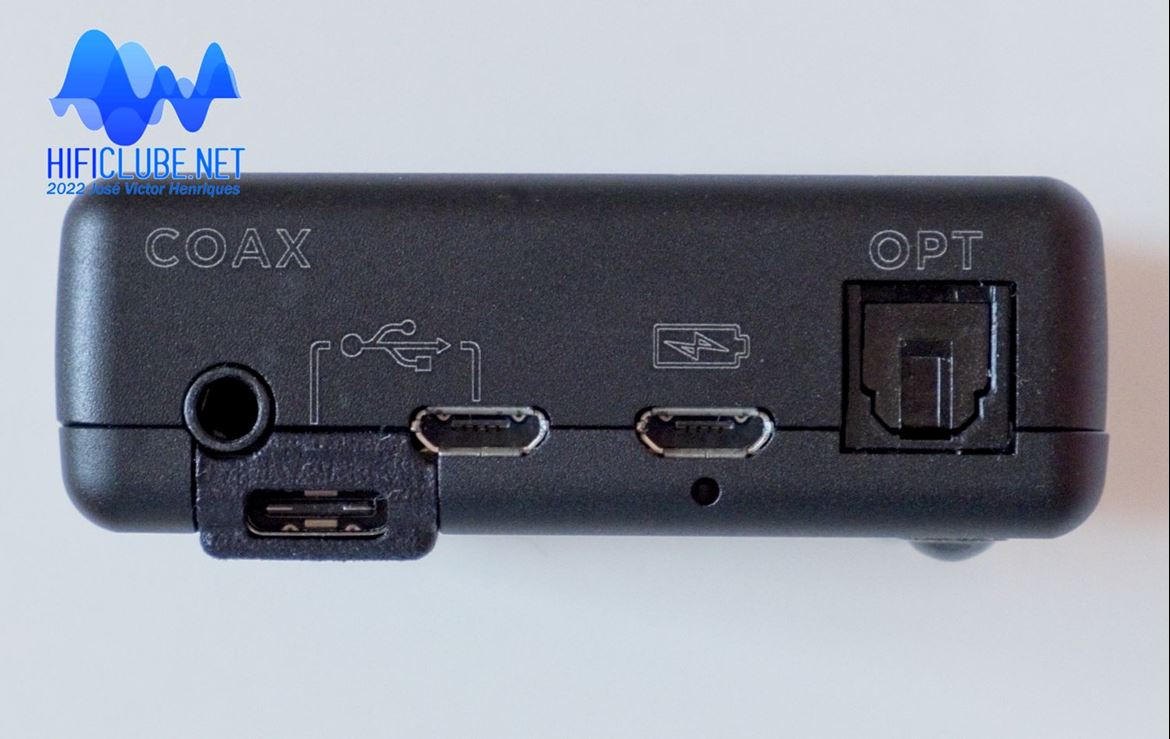 USB-C compatible
Mojo 2 has one extra input: USB-C (up to 768kHz/32-bit and DSD256), which has become the European standard and is compatible with most smartphones. It is placed alongside the coaxial, optical, and standard Micro USB inputs, one for charging (no charger included); the other for musical signal as before. The two 3.5 mm mini-jacks headphone outputs that work in tandem and share the volume control.
40,960 taps filter
For Mojo 2, Robert Watts created an improved WAT filter with 40,960 taps, whereas the original Mojo had only 38,000 taps. The noise shaper was also improved, as was the 4th iteration of the Pulse Array DAC. In addition, coupling capacitors were all eliminated (DC coupled). 
Mojo 2 should thus offer better transparency and detail perception with less distortion. The DAC is also capable of playing 768kHz 32-bit and DSD 256 files.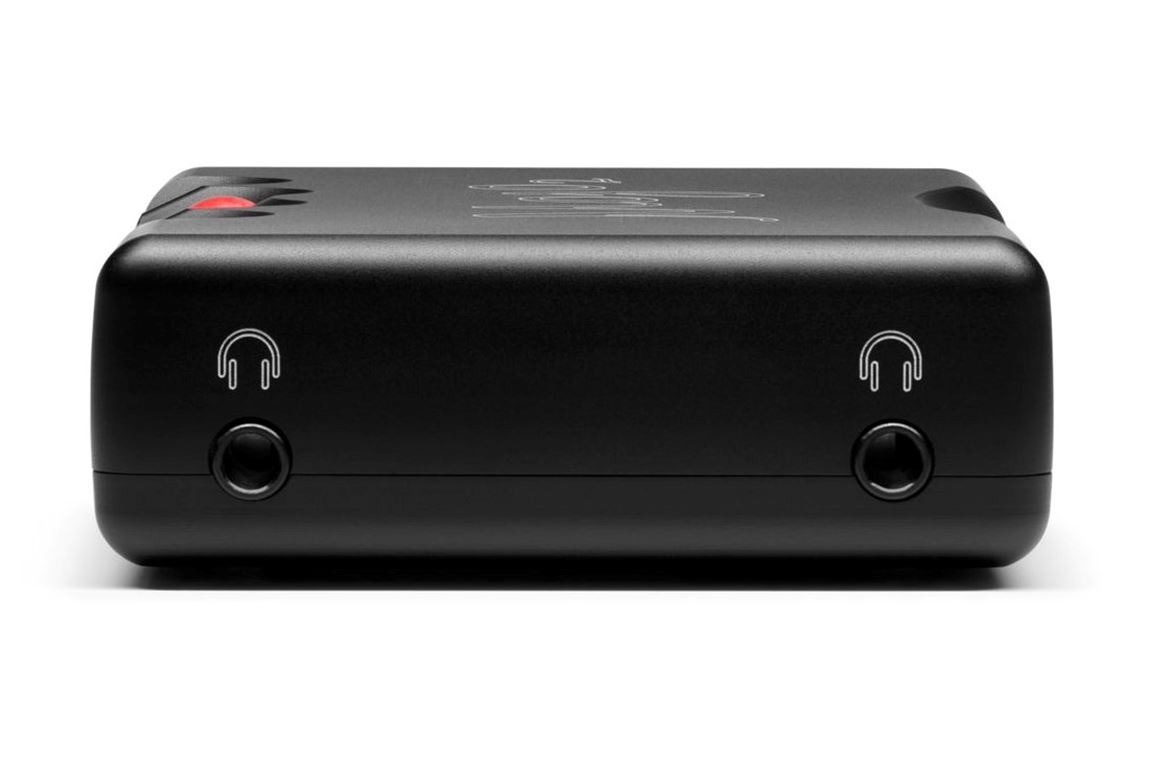 Mini Headamp/DAC
I tested the Mojo 2, mainly connected via Micro-USB to my laptop with Roon/Tidal as the source and JRiver for high-resolution files (via WASAPI only). I used a pair of Pryma headphones and a pair of Hifiman HE1000. I connected the headphone output to a pair of Focal active loudspeakers using a mini-jack to RCA cable for a different sound experience.
However, the USB-C input is the real game-changer, as it brings back the lost headphone input on my Samsung S22 Ultra. So now I can use my best headphones, not just the poorer Bluetooth types, while using my cell phone as the music source.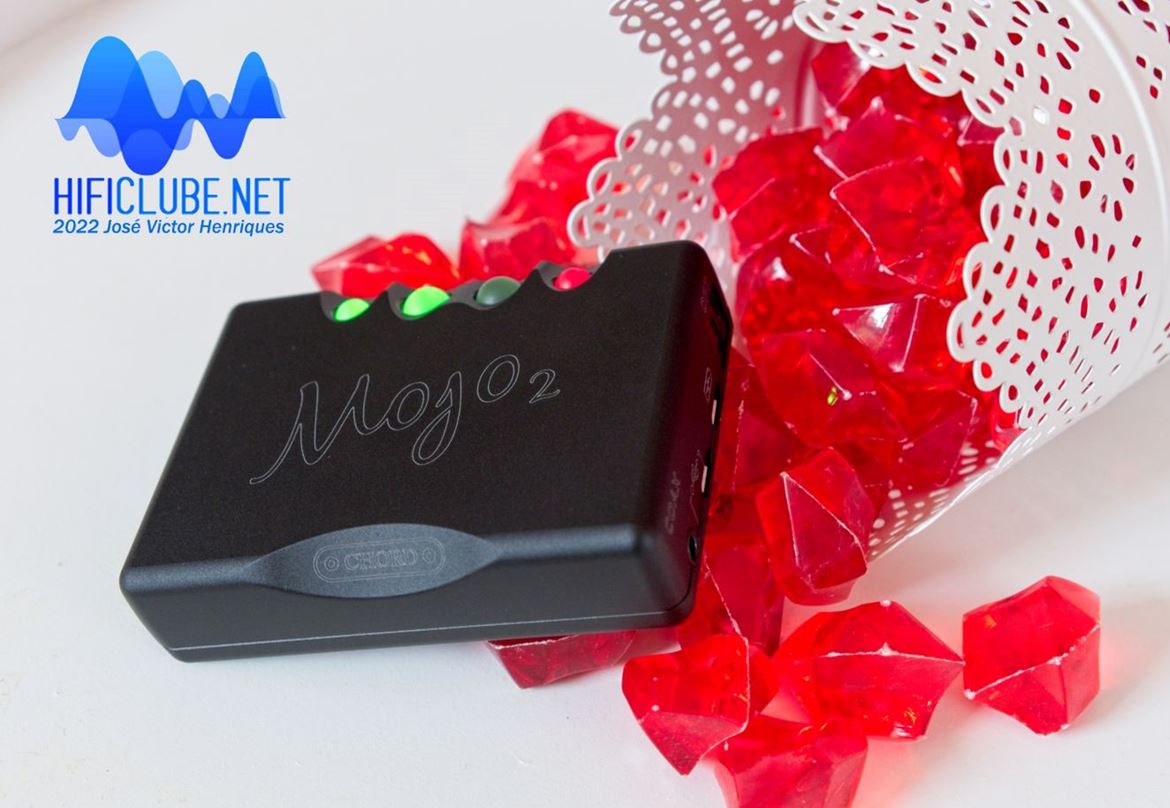 Rainbow of Sounds
Do not be fooled by its small size – Mojo 2 could be a weapon of mass destruction if you are not careful. It can blow up your cans, ears, or both.
Unlike traffic lights, red is a good starting point for moving up the volume colour code from infrared to ultraviolet and white; green is a generally safe bet; with ultraviolet (4,3V), your face will turn purple, too, if you are using IEMs!
So, save it for low-sensitivity headphones like the Hifiman HE1000, which they drive to more than adequate levels if not to top performance, as planars strive better on high current. Dynamic headphones produce the best results at or below Indigo (standard level: 2,1V). Once set up, it will return to the last volume selected by default.
Higher detail recovery
Factory-tuned Mojo 2 sounds neutral and clean as a whistle, with more meat to the bone than the original. It is also more effortlessly dynamic and with better textures.
It always sounds composed, in control of the musical process: lively yet relaxed; neutral yet harmonically rich, with a clean sound typical of a low jitter design.
You might find Mojo1 a touch warmer and easier on the ear, and that's because the Mojo 2 detail recovery and transparency are much higher.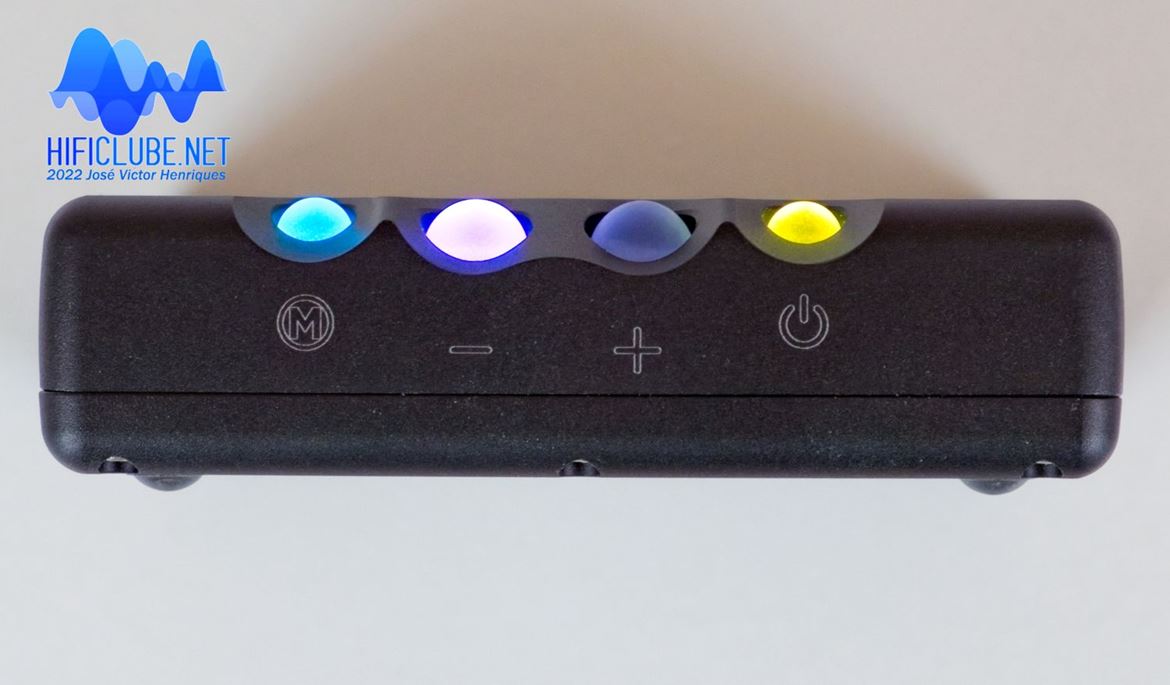 Staggering DSP – Equalisation
I could live with it without the DSP equaliser the same way I dispensed at first with the Crossfeed feature: red (minimum); green (moderate); blue (maximum). That is until I tried it. 
With Crossfeed engaged, the sound opens, and listening with headphones is suddenly less claustrophobic. But if you like your sound pure and raw, keep it off unless you listen with IEMs, as it helps to give them body and spatiality.
As to the DSP – Equalisation, once you get the hang of it, by pushing the right buttons, the effect on the sound is staggering. It is particularly useful when you try to drive a pair of difficult Hifiman HE1000 with the Mojo 2. The HE1000 awkward tonal response profits greatly from +5dB of lower bass, -2dB of lower treble (presence) and -5dB of higher treble.
Hooked on Mojo 2
You are hooked once you try it, and there's no going back to old Mojo. The problem is that you can't help trying different settings. I ended up with a sound 'flavour' during the day, and a different one (more bass) for late nigh listening. Unfortunately, there's no display, so keep an eye on the coloured spheres to remember the +/- settings and follow what your ears tell you. You can always go back to flat.
No filter selection
However, the Mojo 2 does not offer a choice of digital filters. Instead, Robert Watts chose it for you. As he should – trust me, he knows better.
As with other Robert Watts creations, optical input sounds even better than coaxial and on par with the USB input: more body and bass impact, better note decay and soundstage layering. 
Why? It beats me. Could it be the special S/PDIF 3,5 mm coaxial socket? It is a Dual data coax (for use with Hugo M-Scaler). Not that anyone would buy an M-Scaler to use with a Mojo 2. But you can also connect it to Poly for streaming.
Not another dongle
Please do not mistake the Mojo 2 for another USB dongle despite its modest size. I have been using it for almost two months now, and I intend to keep it for everyday use as my desktop DAC, replacing the Hugo 2. There I said it. Is it better than Hugo 2? No, it's a different kind of sound – that you can equalise (or not)…
That's how much I enjoy it. And I can still carry it in my pocket if necessary—both as a musical device and a defence weapon.
Rob, you did it again! Kudos to you, my dear friend.
For more information or to buy online, contact: