Chord Anni(e), it's a she!, is a €1,549 dedicated headphone amplifier with 10 extra watts on the side for driving loudspeakers. It completes a 'trilogy' comprising the Qutest DAC and the Huei phono stage.
When I tested the Qutest DAC, I found it weird that it didn't have at least one headphone output. So here it is now, not one but two (3.5mm and 6.35mm). Anni(e) also offers a speaker output, served by a 10W amplifier that uses the same technology as the Chord Ultima Series.
Anni(e) is like a sample of expensive perfume, giving us a 'sniff' of Ultima's sonic fragrance.
The basis of the Ultima is the dual-feed-forward circuit topology amplification technology created by Dr. Malcolm J Hawksford of Essex University, whom I had the pleasure of meeting in person during one of the many Hifishows I attended at the Penta Hotel in the eighties. 
Hawksford's theory was put into practice by Bob Cordel and was recovered by John Franks in the Étude amplifier (hence the name) and then in the Ultima, now taking advantage of switched-mode power supplies which were not standard practice at the time.
Mati Otala: negative feedback is like a dog chasing its tail; it seldom catches it.
This topology allows the linearity of each power device to be corrected individually and compensated for, right at the input of the circuit, rather than at the output, hence without the drawbacks of negative feedback like gain loss and temporal drift (delay in response to transients), which results in a cold sound, no matter how good static sinusoid measurements in the lab are. 
It turns out that music is a dynamic process. And, as Mati Otala once said: negative feedback is like a dog chasing its tail; it seldom catches it.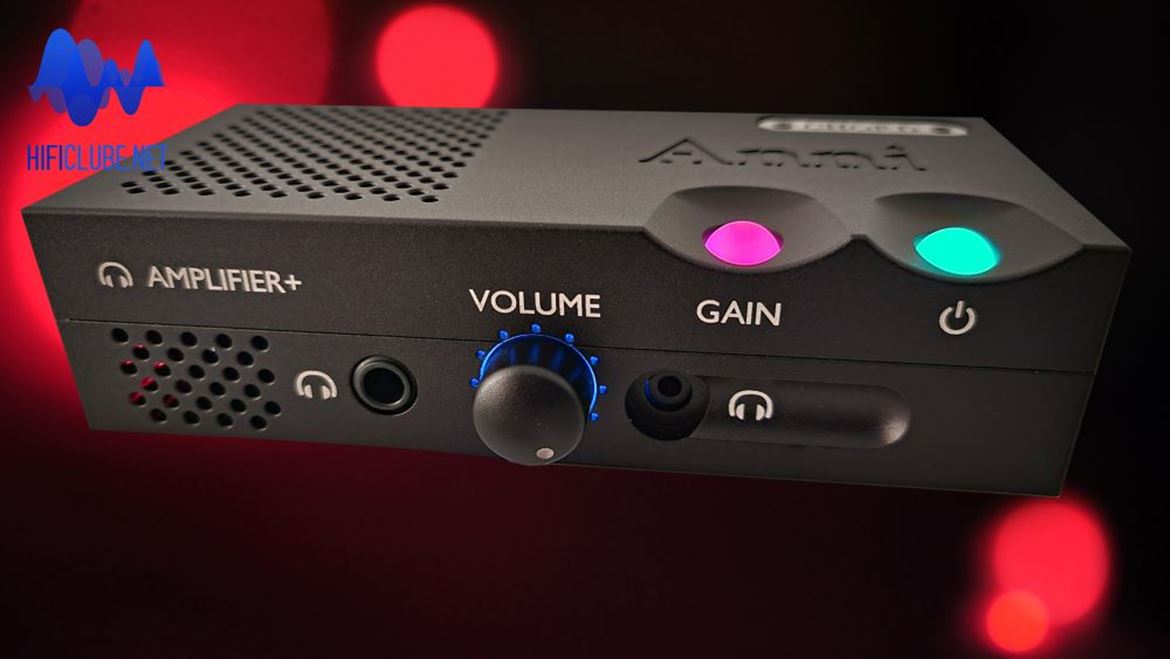 Festival of colour and light
Anni(e) 'comes in colours everywhere' much like its brothers Qutest and Huei: a black brick decorated with glowing, colour-coded marbles, which act as activation and gain selectors: High (red) and Low (blue), which is the default with headphones. It seems High/Low gain is not available for headphones as it is with speakers. Why? And you can use the two headphone outputs simultaneously, but the volume adjustment is common to both. Why?
Meanwhile, the on/off button displays green when in operation, and if you press it again shows red in standby mode. Inserting the jack turns the speakers off if connected, and the gain knob turns blue, or magenta if the gain was previously set to High, and red again when you remove it, reactivating the speakers.
Anni(e) lost the central circular peeping window of its brothers, as a grid was needed to dissipate the amplifier's heat (it gets hot!). So, the buttons were pushed aside to the right, and the grille placed on the left (top, side, and front) where the amplifier section is housed.
At the centre, in a somewhat tight spot for big fingers, if both jacks are connected, we find a temperamental volume knob (no remote supplied) illuminated by purple light, which also functions as a source selector when pressed: blue button for input 1 and red for input 2.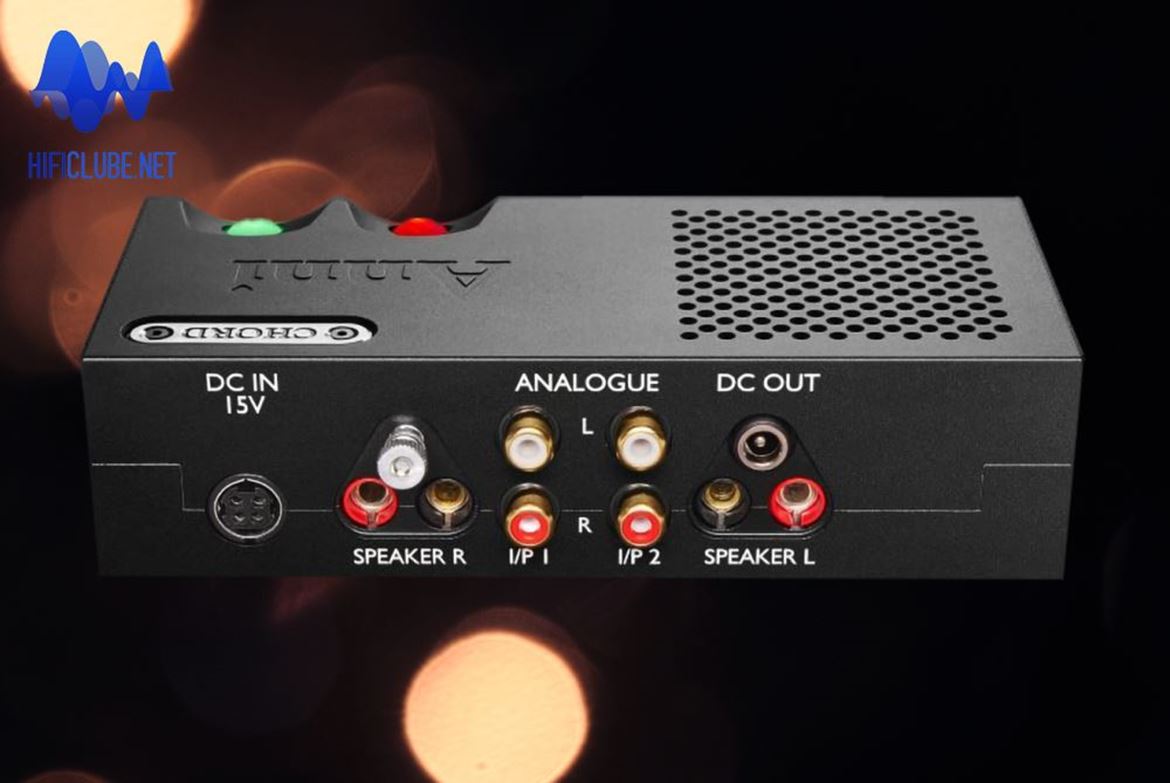 On the rear panel, you realise that Anni(e) was the missing 'brick' in this trilogy, as it has an umbilical DC output to power one of the siblings and only two RCA inputs. So this is a family affair...
Contrary to what is usual in HeadAmps, it also offers the already mentioned speaker outputs (bananas, only). And a ground terminal, probably with Huei in mind, I believe. Anni(e) is supplied with a 15W switched-mode power supply, transformer type, connected through a 4-pin DIN-plug, thus preventing me from using the Ferrum Hypsos for not having a compatible cable. It's British audio with a DIN twist again…
I didn't have a Qutest DAC at hand either, so I resorted to my trusty Hugo 2 to do the honours of D/A conversion since, as we've seen before, Anni(e) is just an amplifier, not a DAC. 
Chord has proven time and time again that it knows how to make good headphone amplifiers. Anni(e) is no exception: it has power, control, dynamics, transparency, and very low distortion. With headphones, there seems to be limitless power available. However, there is a limit above which sound may harden a little with loudspeakers. Hence the importance of matching it with high-efficiency speakers or horns. Above all, Anni(e) is more neutral than Hugo, perhaps because it has more authority over headphones, planar magnetics like the Hifiman.
However, if instead of the Qutest, you already have a Hugo 2 as a DAC and headphone amplifier, the investment in Anni(e) for the latter function alone is not entirely justified. Not least because Hugo's sound is an acquired taste: it has what I call tonal voluptuousness.
On the other hand, if you've heard a Ferrum Oor HeadAmp before and appreciated the cleanliness and total control of the musical process, Anni(e) has something similar to offer, albeit without the exceptional quality of the Oor's balanced connection. But let's be fair, the Oor doesn't drive speakers, only headphones (or active speakers).
I only regret that I didn't have the Meze Audio Empyrean/Elite headphones with me anymore. What a fantastic marriage it would have been without having to pay too much for the wedding party. Even with the Hifiman HE1000s, which are not easy to drive, I didn't get much past the twelve o'clock position on the volume control. Therefore, I didn't even dare go full throttle.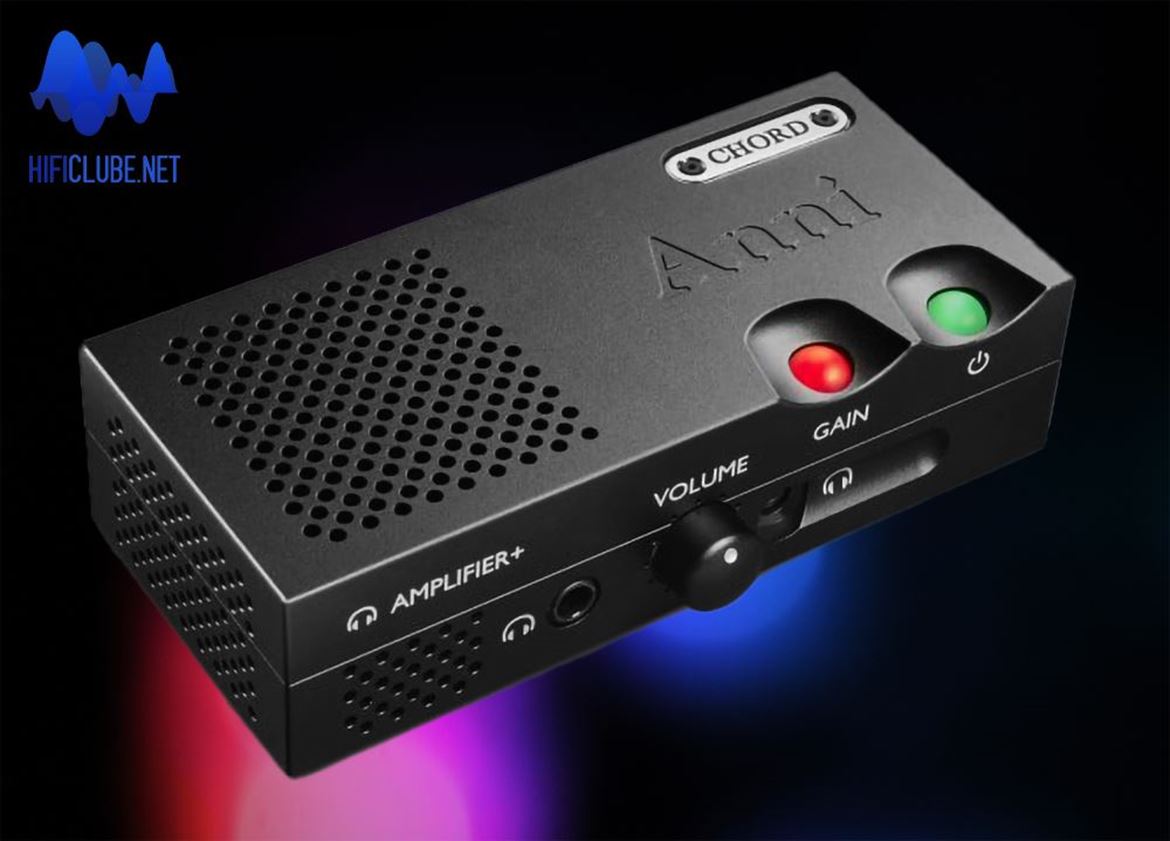 Ten healthy watts of sound
What about Anni(e)'s dowry? Is 10W enough? 
If you have a pair of high-efficiency horn speakers or a pair of Devore Orangutans, the power is plenty for any vicissitudes of audiophile life. But I had a pair of the original Sonus faber Concertino instead, which have been around for years. Although small and an easy load, they are also somewhat inefficient, so they strive better on muscular amplifiers, especially tubes. But Anni(e) stood her ground despite the meager 10W of power.
Surprisingly, sound pressure levels were more than adequate for comfortable and civilised listening to all kinds of music. My wife liked it, and so did my neighbours. I never cranked up Anni(e)'s volume to the limit to avoid distortion (heard as a slight hardness), but still, I managed a good cruising speed.
Anni(e) e KEF LS50 Meta
However, I couldn't help thinking the whole time of KEF LS50 Meta, which should be an ideal match for this desktop 'perfume sample' of floral nuances with citrus notes.
Please, try matching them yourselves, if you can, and let me know the result: audio criticism only makes sense if it works as an emotional exchange with the readers, who no longer passively accept the critic's opinions and want to hear for themselves before investing their money. And rightly so.
KEF LS50 Meta should be an ideal match for this desktop 'perfume sample' of floral nuances
Anni(e) in Concert (ino)
Armed with an Oppo Universal player, I opened with Gardiner's version of the Messiah to assess Anni(e)'s ability to paint a broad and stable sound stage with loudspeakers. She did, indeed. 
Supertramp's 'Logical song' followed, and I was surprised by how Anni(e)'s satin sweetness controlled this band's sometimes over bright productions, her ability for good timbre discrimination within the complex mix, and fearless delivery of the excellent pairing between drummer and bassist, without prejudice to the intelligibility of voices.
Next, I listened to Bob Dylan's 'Oh Mercy' SACD, a difficult disc just to see/hear if Anni(e) would let Dylan's 'bad temper' pass - and it did.
I also delighted in 'Cancion' by Claudia Gomez, from Clarity Recordings, recorded with just a pair of microphones: the two voices challenging each other, the strummed guitar, and the percussive delicacy of the clefs were all spot on.
I closed with the SACD version of 'Salamander Pie', another of my favourites: voice, acoustic bass, and piano, with stories of espionage and drunkenness. Something to, er, drink-through and cry for more...
And they still say women are the weaker sex? Anni(e)'s 10 watts will show you a thing or two about the meaning of gracious power...
Note: translated from the original review in Portuguese here.
Chord Electronics Anni: €1.549
Distribuidor: Grupo JLM