Dan D'Agostino visited Portugal for the first time in his life. Like Peter McGrath before him now he regrets not having done so years ago. He and his wife Petra loved the country and its people, the food and, of course, the excellent exposition and demonstration conditions of Imacustica new premises in Lisbon and the enthusiasm of all those who attended the meeting.
It was a long due courtesy visit, considering the high regard in which Dan's work has always been held by the local audiophile community, although in this particular case it had also a very special business goal: to introduce the Momentum line of preamplifier and amplifiers, most especially the all new Integrated.
Manuel Dias, of Imacustica, set up expressly two listening rooms, including the main auditorium, which was declared by Peter McGrath on his recent visit to Lisbon as one of the best in the world, at least as far as his vast experience in the western world goes. Dan concurred with Peter, and Petra graciously declared it as was one of the best shops she had ever visited.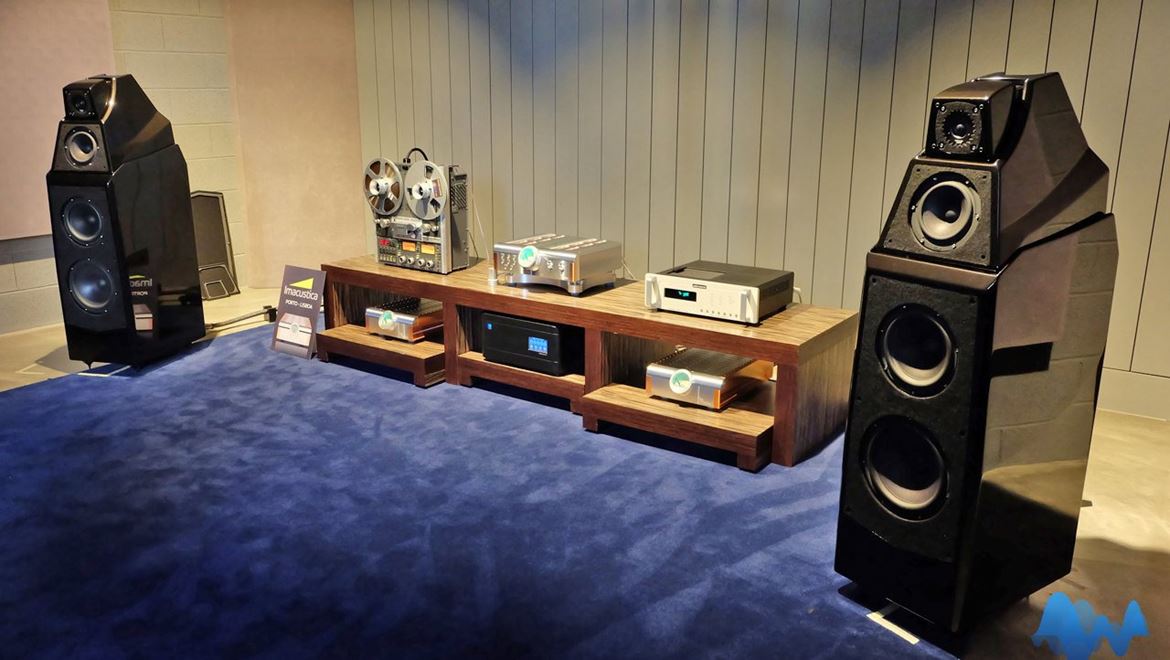 The larger room system comprised the Momentum Preamp and Monoblocks, driving a pair of Wilson Audio Alexias, the main source being a vintage reel-to-reel Revox Studer playing what, according to Luís Campos, were allegedly second generation master tapes he had borrowed from an unidentified Italian friend.
I really don't know how on earth the secret Italian friend got hold of master tapes from Sinatra At the Sands, Ella and Louis and even some rehearsal takes of Aretha Franklin at her peak. But I have to admit that the overall sound was uncannily realistic and dynamic and the piano timbre and tone at least on one particular Listz concert was spot on with a wide soundstage and a full bodied orchestra to boot.
Kudos to Luis for this unexpected and lovely surprise.
Despite some tape hiss and the occasional yet graceful overload, it sounded lifelike and powerful even awe inspiring at times. It's been ages since I have felt an uncontrollable urge to dance to Aretha singing with that inimitable funky rhythm of hers. Even in the dark I got the spirit, yeah!...
Do you feel like dancin? Then get up and let's start dancin
Start gettin the spirit, spirit in the dark

It's like Sally Walker sittin in a saucer
That's how ya do it, it ain't nothin to it
Rise, Sally, rise, put your hand on your hips
and cover your eyes, and move on with the spirit,
move with the spirit, hey now move, move with the spirit
in the dark...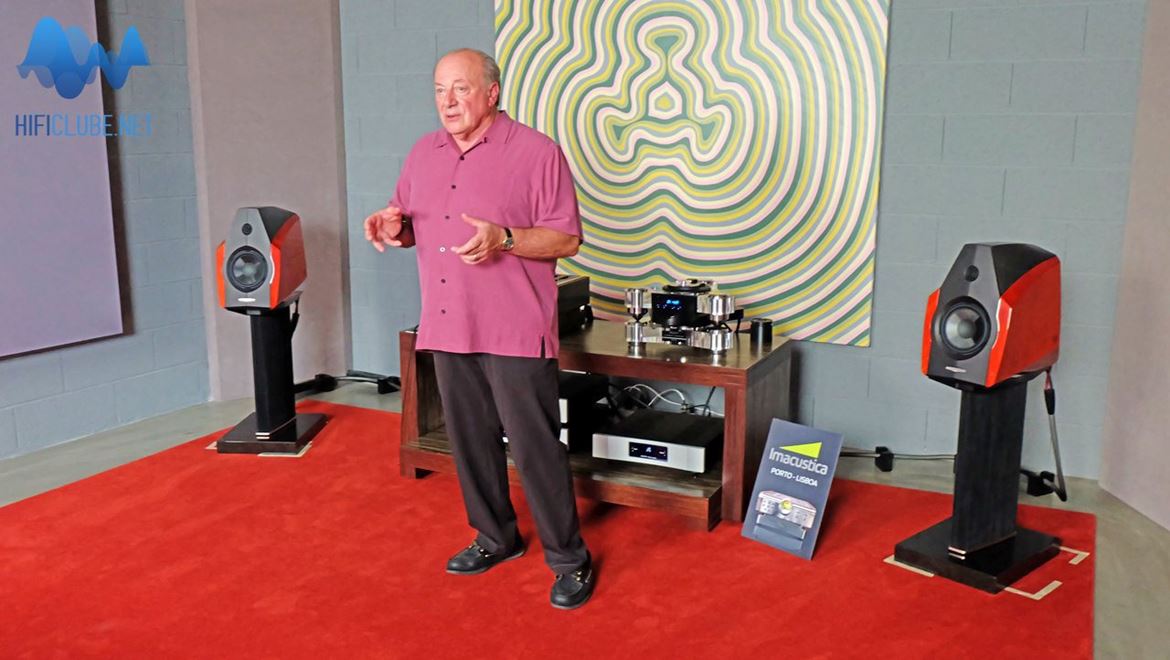 In the smaller room, the very exclusive Sonus Faber Ex3ma, introduced in March with pomp and circumstance by Sonus Faber in Arcugnano (full report here), took front stage honours and was, both sonically and visually, matched to perfection by a black satin Momentum Integrated.
Signal source was by a likewise beautiful Metronome transport and Reference setup.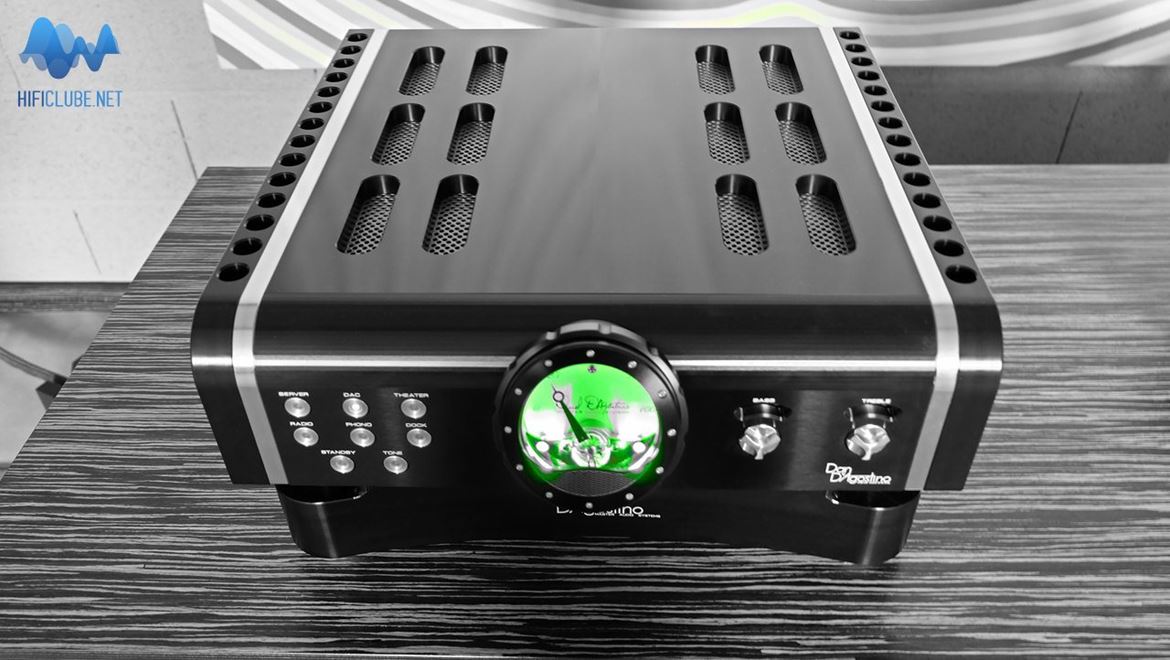 Dan was so enamoured of la bella italiana that he confessed to having a keen interest in buying a pair. Will he reach the unreachable star, no matter how hopeless, no matter how far? I firmly believe he will, because even though once he was covered with scars he strove with the last ounce of courage and did it his way...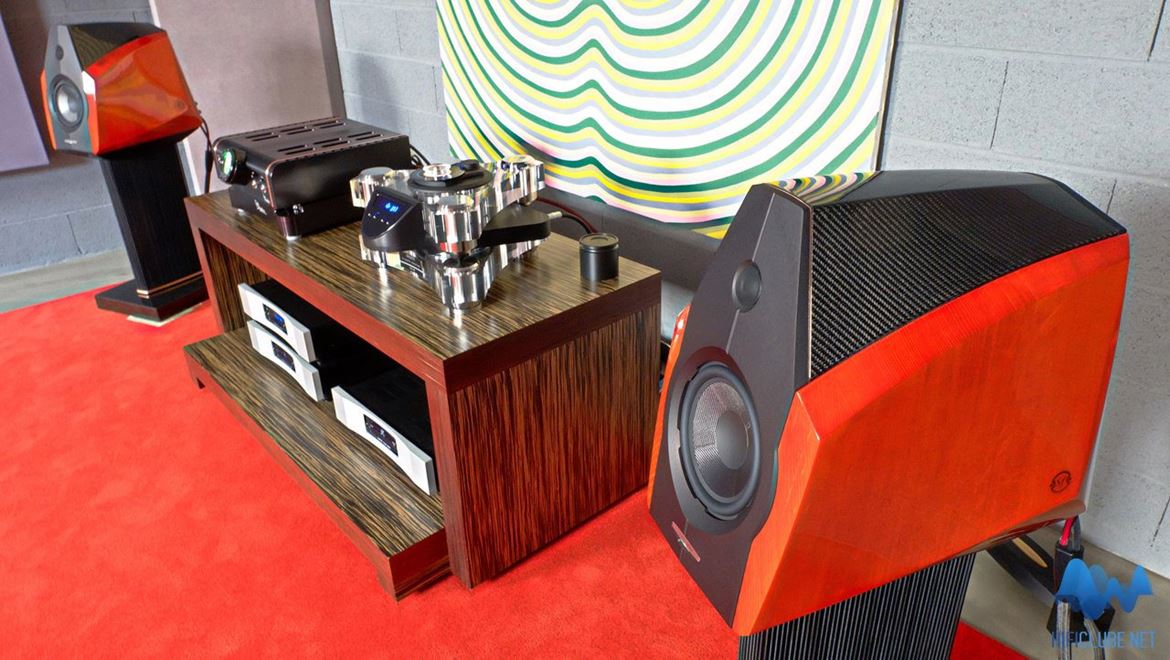 Imacustica has been for almost 30 years the brother distributor in Portugal of Absolute Sounds, of London, and the latter was personally represented on this auspicious occasion by Ricardo Franassovici, himself, who is a Portuguese at heart.
Having lived here as a young man he is proud to show off his mastery of the language which he speaks fluently, adding to his multilingual collection of English, French and Italian.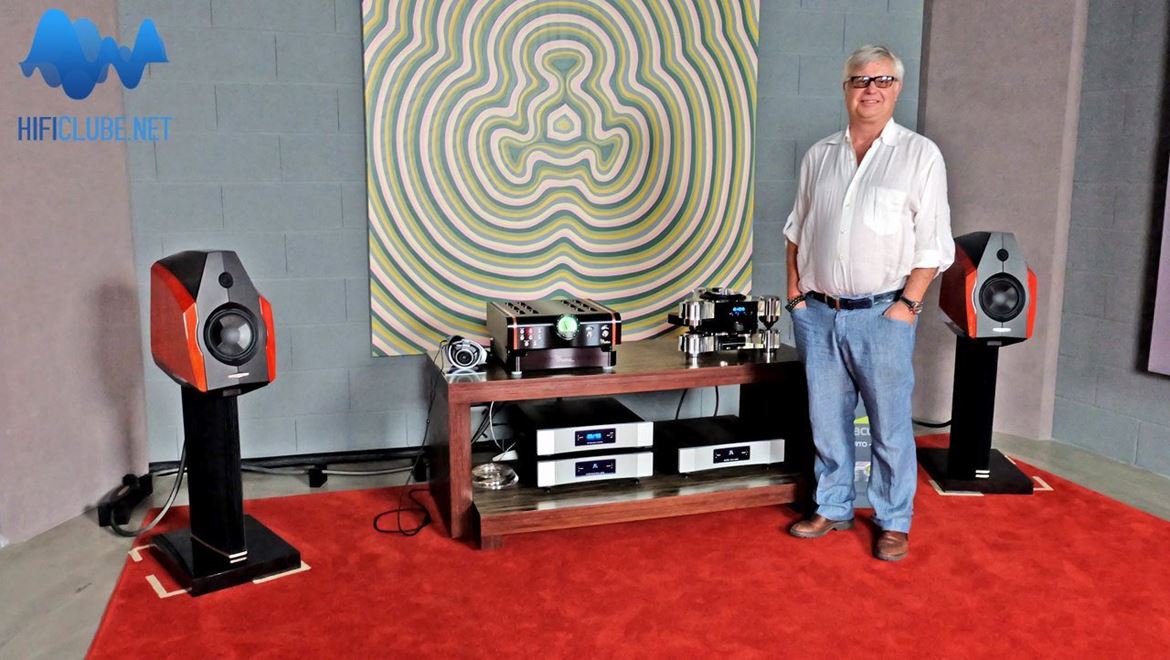 He comes to Portugal as often as he can and feels right at home with us, contradicting the aphorism that one should not return to a place where one was happy once.
Ricardo is and always will be happy in Portugal, but surely no happier than we are to see him so... er...happy!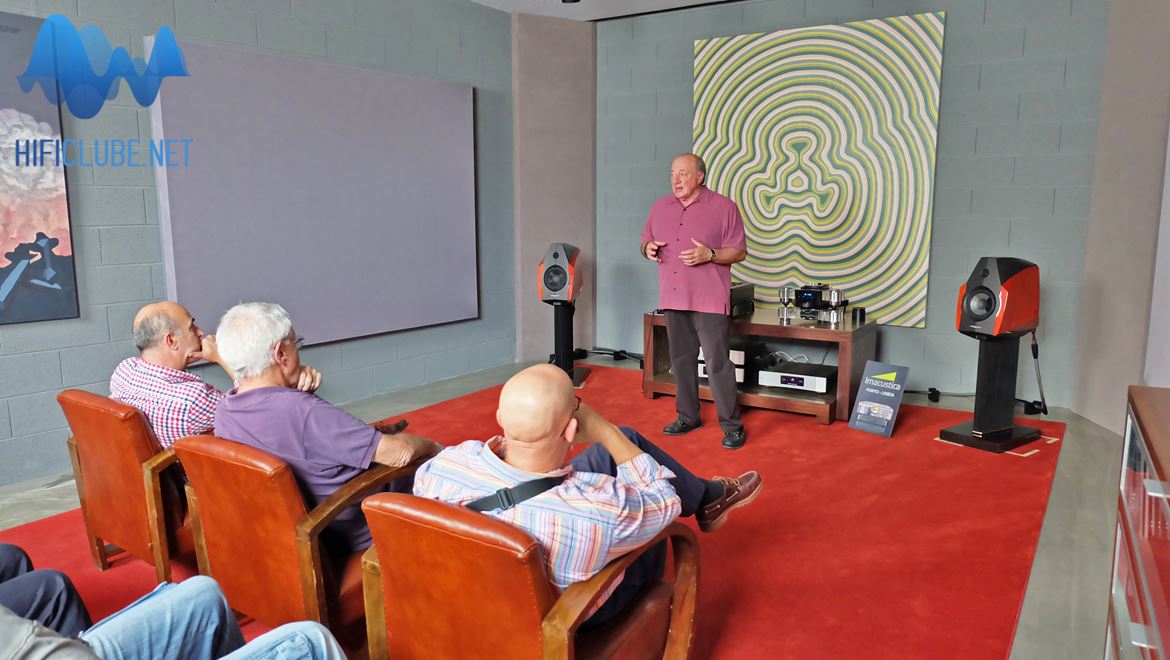 Dan's lecture
As to Dan's introduction of the Momentum Series, seldom have I witnessed such passionate and witty delivery of knowledge to an interested audience. It was more like a college lecture, a jubilee lesson by a master of audio.
It was given about electronics for sure, but also about music and beauty; unabashed commitment and unquivering effort to overcome technical difficulties in his quest for perfection. And life. In the end it's always about life. And friends. That ineffable sense of mission accomplished for the sake of those who, all over the world, trust in you to deliver what they are asked to pay for: true value albeit at premium cost.
Each feature, each specification, be it the volume and tone controls, the special PSU transformer, the polarity light indicator, the ingenious headphone input function, or the polemical retro design itself was introduced with prowess and passion as a collective achievement of, and I quote, a small but proud group of all American artisans, and not just as a personal victory.
And the funny stories on the side about how he turned his own home into a crowd project lab, or Ken Kessler's first reaction to it, only helped to lighten up the presentation.
Unfortunately I did not catch on tape Dan's final announcement, so you'll have to take my word for it. Dan D'Agostino next launching schedule:


Home Theater Processor


A second more affordable line of electronics


Helius, a dual mono amplifier capable of 1500W/8 ohm and 20 000W/1 ohm, weighing a hefty 350 Kg and costing 250 000 dollars!


It was a remarkable event indeed. And we feel lucky for having recorded it for posterity. Now we can use some of the footage to edit short illustrative videos for your own enjoyment in spite of the poor image quality due to ambient lighting conditions.
Note:
For illustration purposes some videos were edited from separate takes in both rooms. The sound in the video is not representative of the system sound.
See also:
Sonus Faber Ex3ma&Dan D'Agostino Momentum Integrated: momentos únicos