A morte anunciada do High-End na CES foi tudo menos exagerada. Mesmo assim, a NAD manteve-se firme no seu posto e apresentou o novo NAD Masters M33 e a Focal as Chora Dolby Atmos. Novo: Inclui videos oficiais da CES2020.  Não percam no video What's Hot a apresentação do futurista Mercedes Vision AVTR (Avatar), com James Cameron.
Depois do estrebuchar final em 2019, a imprensa especializada desertou, seguindo o exemplo do Hificlube que, logo em 2010, já tinha diagnosticado o mal de que sofria, e que o viria a matar dez anos depois. A Imprensa agora anda por outras paragens: Hong-Kong (antes das manifestações), Tóquio, Varsóvia, Chicago e, claro, Munique.
Salas do Venetian vazias (CES2010), com meia-dúzia de mortos-vivos a andar nos corredores, tipo 'Shining', de Stanley Kubrik
Por esta altura, já eu teria tinha calcorreado, para lá e para cá, os 3+2 andares do Hotel Venetian, em busca de novidades de 'high performance audio' para informar os leitores do Hificlube; teria assistido a apresentações e feito audições de equipamentos de sonho, e apalavrado testes ao longo do ano.
Por esta altura, ano após ano, já a internet regurgitava de sons e imagens de novas colunas, amplificadores, gira-discos, células, leitores digitais, streamers e outras 'velharias' ultrapassadas, enquanto no Zoo Electrónico, do Centro de Convenções de Las Vegas, se exibiam robôs humanóides e agora humanos virtuais, televisores ultrafinos 8K, smartphones  extensíveis, maleáveis e dobráveis, consolas de jogos, panelas e frigoríficos que falam com os donos, malas que seguem os donos pelos aeroportos, cães e gatos mecânicos que interagem com os donos, e carros que substituem os donos na condução.
É isso. O carro foi o cavalo de Tróia na CES. Hoje há mais carros eléctricos em exibição que electrónica de entretenimento. Quando antes as marcas faziam gala em apresentar o televisor com menos espessura e mais Ks, hoje exibem o carro mais rápido, mais inteligente e com mais autonomia.
Até a Sony apresentou um carro eléctrico, copiado do Tesla, nos intervalos da exibição da nova PS5. Ah, e também a reprodução de som em 360 graus para aplicações nas salas de cinema; que, como tudo o que a Sony cria, tem o problema da compatibilidade e universalidade, ao contrário do Dolby Atmos.
Vasculhei a Net, por dentro e por fora, e pouco mais descobri, na área que nos interessa, que as novas colunas Vivid Audio Kaya S15, o gira-discos ML no.5105, as JBL L82 Classic e a principal novidade: NAD Masters M33, a versão em tamanho standard do M10, aqui testado pelo Hificlube: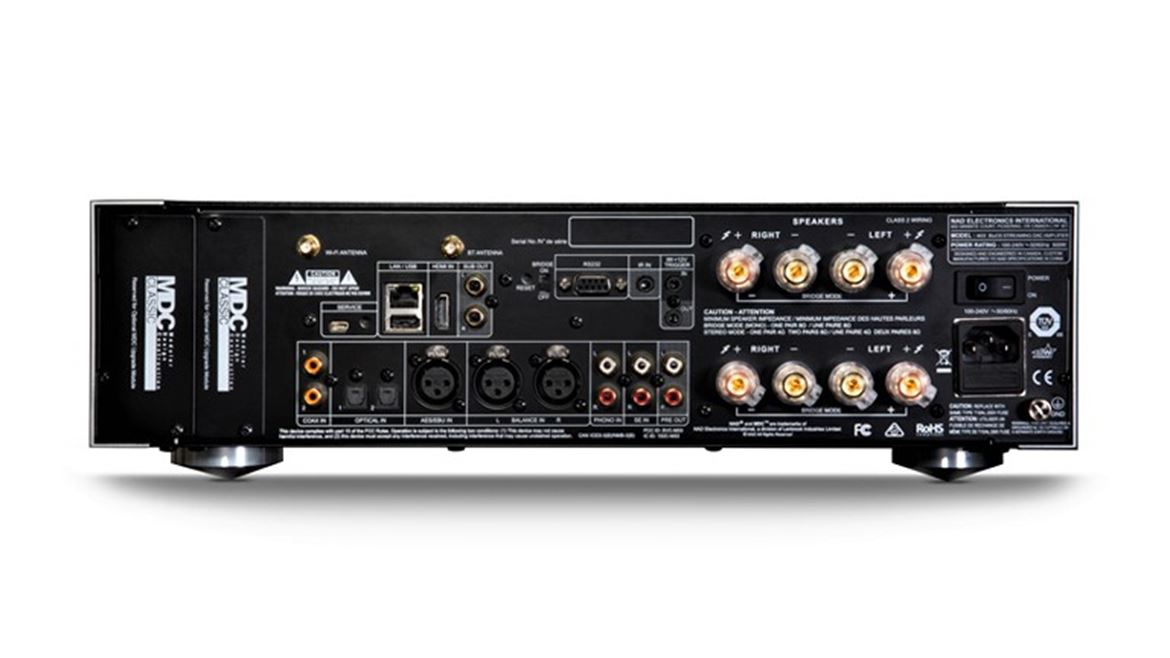 NAD Masters M33 BluOS Streaming DAC Amplifier Becomes First Integrated Component to Feature Purifi's Ultra-Quiet Amplification Technology
Flagship Model is feature-packed, including BluOS multiroom streaming, Gorilla Glass touchscreen controls, 32-bit DAC, full MQA decoding, and Dirac Room Correction.
CES 2020, Las Vegas, NV January 6, 2020 — NAD Electronics, the highly regarded manufacturer of high-performance audio/video components, unveils another new and unique Masters Series product here. The M33, a BluOS™ enabled DAC/amplifier that can serve as the heart of a reference whole-home system. In its simplest form, the M33 (US$4999/€4999/£3999 MSRP) is an ultra-high-performance streaming amplifier with superb audiophile sound. Or it can be combined with other players in a BluOS ecosystem of wirelessly networked music players throughout the home for an outstanding whole-home audio system. The M33 will be available in March 2020.
With the employment of the new HybridDigital Purifi Eigentakt™ amplifier technology, the M33 follows NAD's long-standing tradition in identifying and developing cutting-edge amplification technology. With a minimum of 200W per channel on tap, the result is lifelike performance, exemplified by ultra-low distortion and noise. The measured performance is remarkable in that it nears the limits of even the most sensitive and sophisticated test equipment available.
According to Cas Oostvogel, NAD's Product Manager, "The NAD Masters M33 is a true state-of-the-art audiophile amplifier in the traditional sense yet with a distinct difference: At the same time, it fully caters to the modern world where the majority of music is delivered over the internet with an entire catalogue of recorded music readily available at your fingertips. This is obviously a wonderful convenience. Then, the M33's ability to distribute that music in a multi-room audio system adds that much more enjoyment, simplicity and value."
BluOS High-Res Music Streaming, Everywhere
Unusual in a class of products often associated with complexity is the M33's intuitive operation, courtesy of the 7" inch touchscreen colour display combined with BluOS. NAD considers it the most advanced network streaming and multi-room operating system available.
BluOS, the innovation leader in true wireless High-Resolution multi-room systems has a growing ecosystem of compatible products that tightly integrate hardware and software for an exceptional user experience.
Besides multi-room, another compelling feature of BluOS is its high-res streaming capabilities. The latter with full MQA decoding support* from a local NAS or shared drive but also from internet streaming audio services. Among the some 20 supported services which offer high-res content are Tidal, Deezer, Qobuz, Amazon HD and others. Music services such as Spotify, Amazon Music, Slacker, TuneIn, nugs.net and many others are also supported.
With BluOS, the M33 retains all the audiophile features and further adds a range of facilities that will expand its capabilities yet simplifies ease-of-use at the same time. Operable with the BluOS app, the supplied remote control or through hands-free control with any Amazon Alexa or Google Assistant device, the M33's front panel doesn't actually need to be touched. To expand the multi-room locations, adding additional rooms is both easy and affordable.
*pending M33 MQA certification
Dirac Live Room Correction on Board
Experts agree that room acoustics are the weakest link in most sound systems with room reflections deteriorating tonal balance and dynamics. Dirac, one of the most highly regarded Room Correction systems available, not only adjusts for frequency response, but unlike other room correction systems, it also optimises the impulse response. By optimising the speaker/room interface, music sounds more natural and lifelike.
Supplied with the M33 is a precision microphone to measure the room at and around the listening position so your system can be precisely calibrated for optimum performance. The result is substantially improved musical staging, clarity, voice intelligibility, as well as a deeper and tighter bass.
Each of the 5 Dirac memory profiles can store a unique room measurement (think of the different acoustics with curtains open or closed, different listening position, for instance), or different frequency target curves to suit a particular musical taste or genre. The M33 also supports independent subwoofer outputs, compatible with Dirac's pending advanced "Bass Management".
MDC (Modular Design Construction) Offers Flexibility and Long-Term Value
In its standard form, the M33 is very complete with a wide range of in/outputs, BluOS, Dirac, HDMI and more already fully integrated. It will meet the requirements of the most demanding users. To minimize the risk of future obsolescence, the M33 comes with two MDC slots that allow for further expansion. NAD introduced the MDC platform well over a decade ago and allowed updating products with new technologies which didn't even exist at time of introduction.
Connection and Wireless Flexibility
Whether looking to connect digital or analogue sources, the M33 comes well equipped to accommodate for all of these: 6 digital inputs and 3 analogue inputs, including MM/MC phono.
Around back, the rear panel hosts two sets of speaker outputs capable of bi-wiring and 2 Subwoofer Output with a fully configurable Digital Crossover. Apple Airplay 2 and Bluetooth aptX HD allow for local wireless streaming from a phone or tablet.
Phono and Headphone Are Not Forgotten
The M33 has a high-quality selectable MM or MC phono stage that rivals specialized outboard units. Accurate RIAA equalization, a clever phase cancelling infrasonic filter, and a huge overload margin combine to bring out the best in LPs.
Furthermore, headphone enthusiasts, will delight at the sound of the discrete headphone amplifier, which is able to drive even planar and high impedance studio headphones. With high voltage and low output impedance, headphones will sound their best. For those who wish to enjoy their headphones but not be tethered to a cable, the integrated Bluetooth aptX HD module makes it simple to also enjoy wireless headphones.
Attractive Design With Outstanding Ergonomics
The all-aluminium casework is elegant yet practical. The single control knob for volume is supplemented by a colour TFT touchscreen display. Rigid panels with magnetic iso-point feet provide a solid foundation for the multi-layer circuit boards and intricate internal construction. The M33 employs a completely modern and fresh take on the traditional stereo amplifier, with features and performance from the future.
Smart Home Integration Made Easy
BluOS provides hands-free control with full integration of any Amazon Alexa or Google Assistant device. Through Airplay 2, control is also possible with Siri. Considerable effort has been spent to make the M33 fully compatible with all the leading smart home systems from leading companies like Apple, Crestron, Control4, Lutron, KNX and many others.
This means that along with lighting, shades, HVAC, and security, the integrator or user can seamlessly control the BluOS multi-room music system from a common interface. All integrations are certified for reliable operation. The custom BluOS Apps for iOS and Android tablets and phones, as well as desktop control from Windows and Apple OS are available free-of-charge and are updated regularly.
Key Features of the NAD Masters M33:
BluOS Streaming DAC Amplifier
HybridDigital Purifi Eigentact™ Amplifier Technology
Continuous Power: 200W into 8/4 Ohms
ESS Sabre DAC
Dirac Live Room Correction
Colour TFT touch display
BluOS Multi-room Integration
2 x MDC Slots for Future Expansion
Wireless control with Apple AirPlay 2 and aptX HD Bluetooth Integration
Comprehensive digital and analogue connectivity including HDMI eARC
Integrate seamlessly with leading smart home control systems
The NAD M33 will be on display and demonstration at CES 2020 at the Venetian Hotel in Lenbrook; suite # 29-140. NAD personnel will be on hand to present the amplifier and answer any questions. Also, in the Lenbrook suite, will be products from sister brands Bluesound and PSB with DALI Loudspeakers across the hall in 29-139.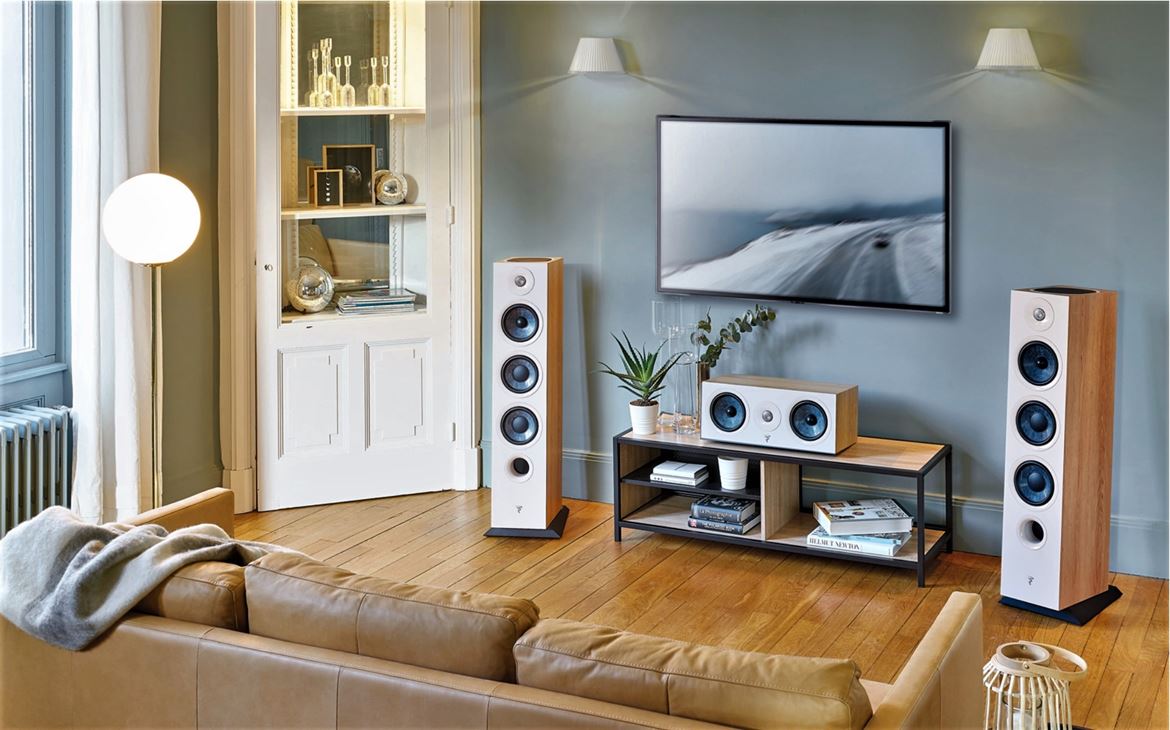 Focal Chora 826-D
CES, Las Vegas | January 8, 2020 - French speaker specialist, Focal, has added three new models to its recently launched Chora range, including its first Dolby Atmos® designs. Made in France, the Chora 826-D, Chora Center and Chora Surround combine design, technology and performance for a genuine home cinema experience – plus excellent musicality - at great prices. The new Sub 600p subwoofer completes the launch line-up.
If you are visiting CES and would like a hands-on demo, Focal has the system set up in its suite at the Mirage (Tower A / Suite 11) – please contact Clare Newsome +44 7714 790559 to arrange a demonstration.  The new Focal Chora range is also being used by Dolby to demonstrate Atmos in its suite in the Wynn.
Chora 826-D is the new reference product for the range. For the first time, Focal has incorporated Dolby Atmos® technology in a floorstanding loudspeaker: a speaker driver installed above the loudspeaker directs the sound towards the ceiling at a carefully calculated angle, so that the audio signal is reflected around the entire room. The result has the listener wrapped in the sound and immersed in a highly realistic 3D world. 
With the Chora Center – available with an optional stand, but also at home on an AV unit – voices and dialogues are reproduced with exceptional clarity and remarkable precision. Chora Surround, which can be easily wall-mounted, is ideal for rear- and side-channel action, bringing everything from movie action scenes to music concert performances to life.  Focal engineers have brought extra bass to the party with the 600-watt Sub 600P, a 600-watt subwoofer.
Slatefiber technology
All Chora loudspeakers incorporate speaker drivers with a Slatefiber cone. Designed and made in France in Focal's workshops using cutting-edge equipment, this composite cone combines thermoplastic polymer with recycled non-woven carbon fibres. The result is the optimal balance between damping, rigidity and lightness. The sound rendering is characterised by incredible richness, balance and dynamics.
This Slatefiber technology is combined with the Aluminium/Magnesium TNF tweeter, another exclusive technology included in the range to provide silky trebles and increasingly optimised sound spatialisation. The Sub 600P, meanwhile, features a Polyflex cone, heavier and more rigid to offer bass with impact and create an authentic Home Cinema experience.
The Focal signature is not just apparent in the technologies and the quality of French manufacturing, but also in the choice of design and finishes. Chora loudspeakers offer modern shapes and finishes (Black, Light Wood and Dark Wood), complemented by the slate effect of their Slatefiber cones, that suit contemporary homes.
Suggested retail pricing is TBC but will fit with the positioning of the wider Chora range, which launched last year and is available now from £600-£1299.
CES 2020 - Las Vegas - O zoo da electrónica