Just a few random highlights. The list will grow as time to sit down and write allows.
Gryphon Kodo Reference Loudspeaker System
The all new Gryphon Kodo flagship is a four tower loudspeaker system that weighs a tone, stands 2.37 meters tall, and incorporates 38 drive units and costs 220.000 euro (plus 23% VAT in Portugal). The bass towers houses eight 8 inches woofers and a built-in 1Kw amplifier with 4Kw peak power. The center of the Kodo upper/frequency towers is a Mundorf Air Motion Transformer high frequency driver. Directly above and below it are bass/mid modules each housing two 4 inches Scanspeak Illuminator midrange drivers and three proprietary 5 inches Gryphon midbass drivers.
If you buy it, three months after installation at home by the local distributor, you will be visited by a specialist from Gryphon, who could be Flemming himself if he happens to be in the neighborhood. And during those three months you will get a 15% discount on any Gryphon product.
Note: from the Gryphon press-release
The presentation at the High End in Munich was transmitted live by Hificlube and you can still watch the four separate videos on our Facebook webpage:
https://www.facebook.com/HIFICLUBE.NET/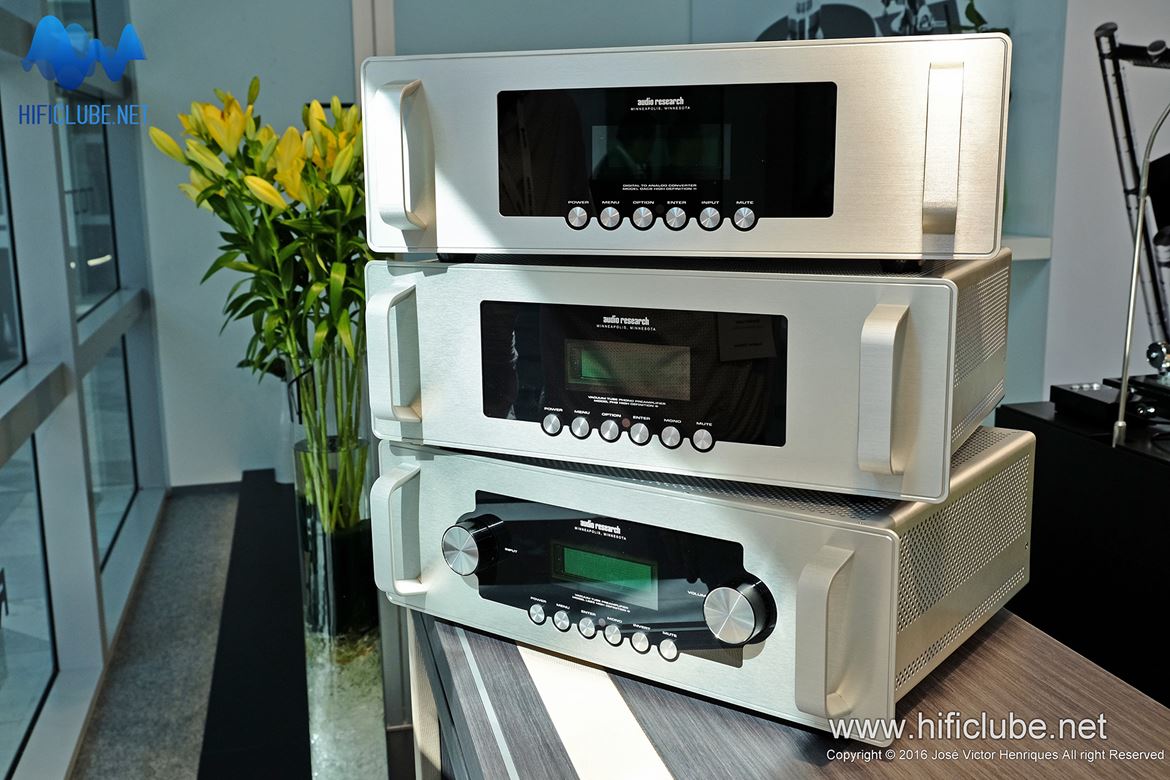 Audio Research introduced the Foundation Series vacuum tube components
 The first three components include the LS28 line stage preamplifier, the PH9 phono stage, and the DAC9 digital-to-analog converter. A new amplifier will follow, with other products to complete the series. All models will be available in both black and natural anodized aluminum finishes. Each unit comes with its own custom metal remote control.
The LS28 line stage features four balanced and four single-ended inputs, and two sets of both balanced and single-ended outputs, allow maximum connectivity. At the heart of the LS28 are four 6H30 vacuum tubes in the analog circuit.
The PH9 phono preamplifier uses a trio of 6H30 vacuum tubes. Five different impedance settings allow for cartridge loading, which can be changed on the fly with the included metal remote. Cartridge impedance, tube hours, auto shutdown, and other features are included in the menu system.
The DAC9 digital-to-analog converter decodes most current formats with state-of-the-art vacuum tube technology. Five digital connections - USB, RCA, BNC, AES/EBU, and Toslink - provide connectivity to all of your digital sources. Quad DAC architecture provides a balanced digital signal,  wide dynamic range, and decoding resolutions from red book CD up to 384 kHz and native DSD sampling rates. A pair of 6H30 vacuum tubes are the heart of the analog circuit. Both balanced and single-ended connectors are provided for output connectivity. Native-rate upsampling and selectable digital filters allow customization of the digital signal.
Note: from the Audio Research press-release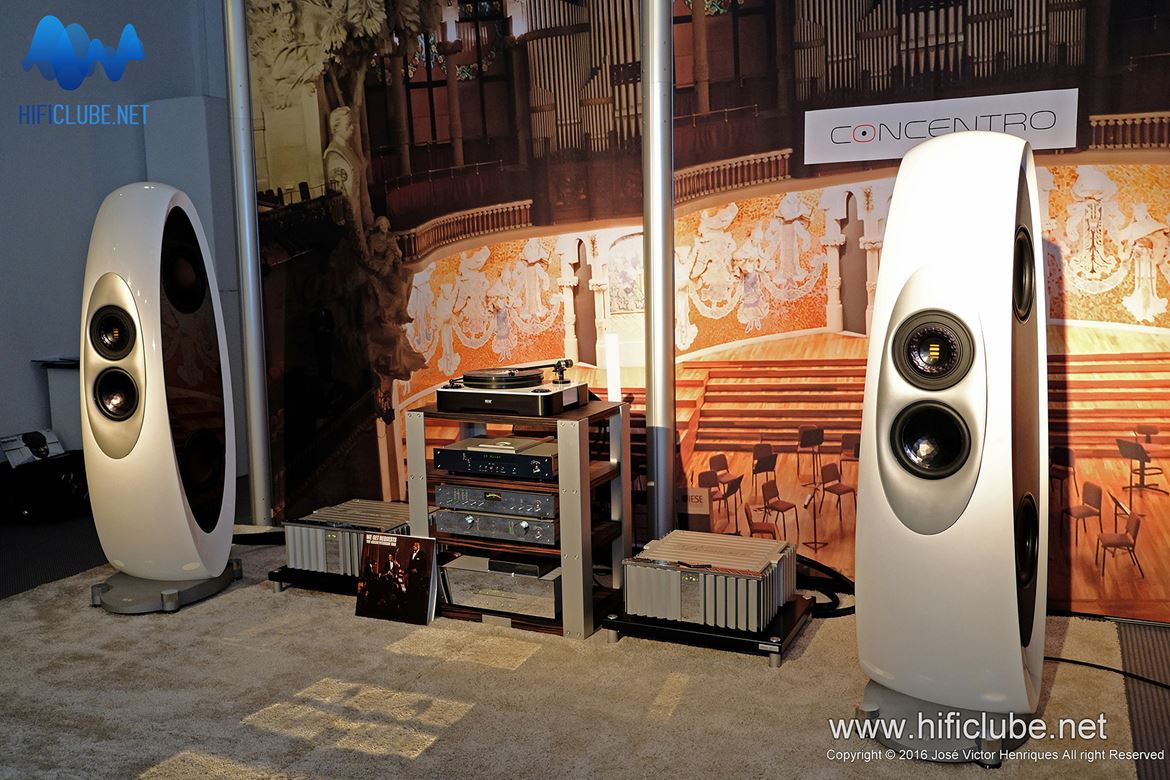 Elac Concentro
The Concentro cabinet is made from a sandwich of machined MDF layers glued together. Each one features four side-firing 10' woofers, a 7' front-firing woofer, and an AMT tweeter mounted concentrically inside a 5' midrange. The ELAC Concentro will cost around 60 000 euro (plus taxes). It sounds like a TAD Reference One, only better, and looks like a rethinking of KEF Blade, only...er...better too...
Andrew Jones says the project is not finished yet. It sounded so good he may as well call it a day...
Important: later in the day talking to a representative of Elac I found out that Andrew Jones had no part in this project other than a few ideas about the cabinet shape. It does not change at all what I think about how it sounds. And it sounds great just as it is.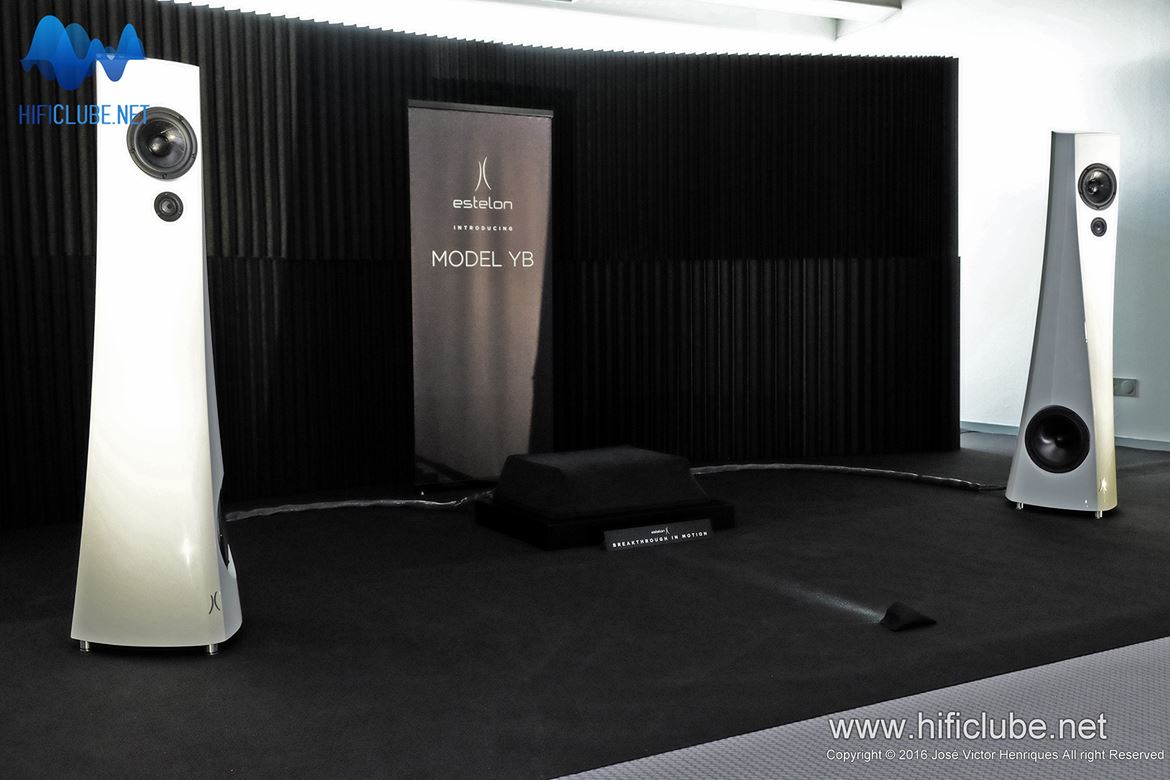 Estelon YB
Slim, elegant and Y shaped, the YB is the new baby born from Estelon. The white glossy model shown here molded from a composite that feels like marble will cost you around 17 000 euro.  It incorporates an 8' SEAS woofer, a 5.25' Scan-Speak midrange, and a 1' beryllium-dome Scan-Speak tweeter. Difficult to photograph against a black background, easy on the ear...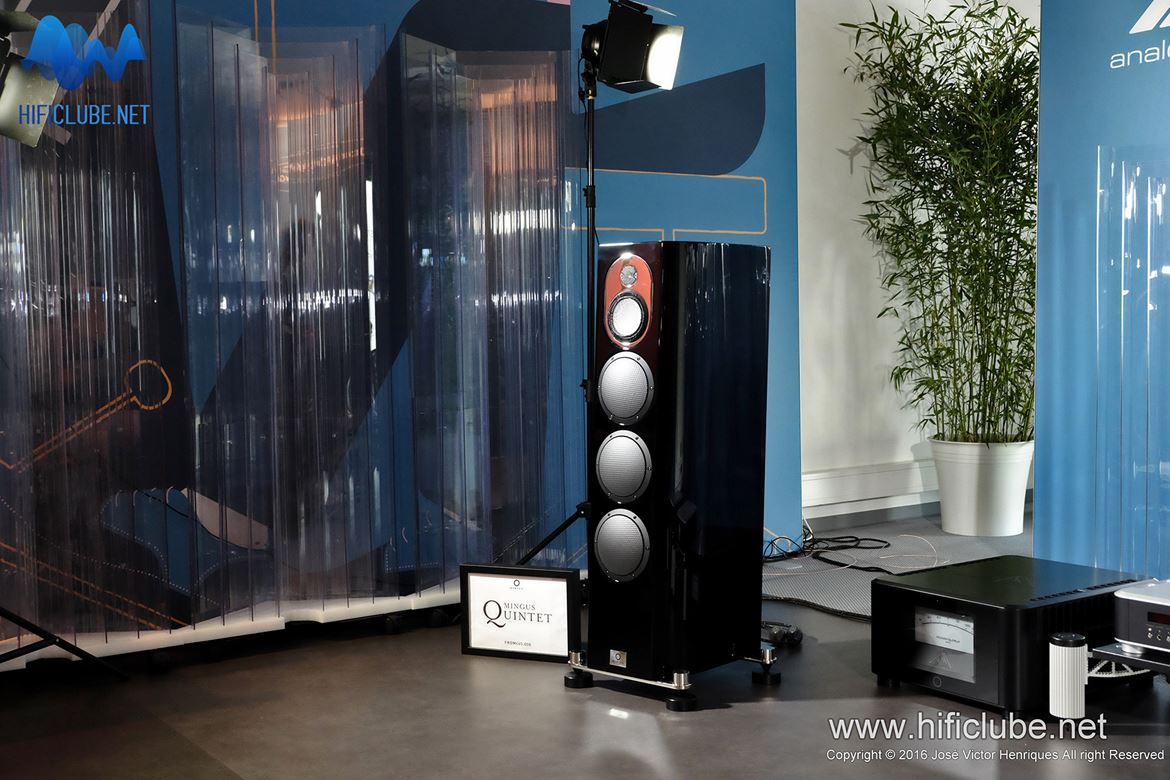 Marten Mingus Quintet
It uses the same technology in Mingus Quinet as in the new Coltrane Supreme
2 and Coltrane 3 speakers. The diamond tweeters and midrange are exactly the
same as in the €390,000 top-of-the-range Coltrane Supreme 2. Hence the hefty 50K price. The crossover is a first order three-way filter for perfect time and phase, coherence and coincidence.
All units benefit from Cell technology, the 20mm diamond tweeters and the 5" midrange drivers. Together with the three 7" woofers, this ensures the Quintet plays together in perfect harmony, according to Marten.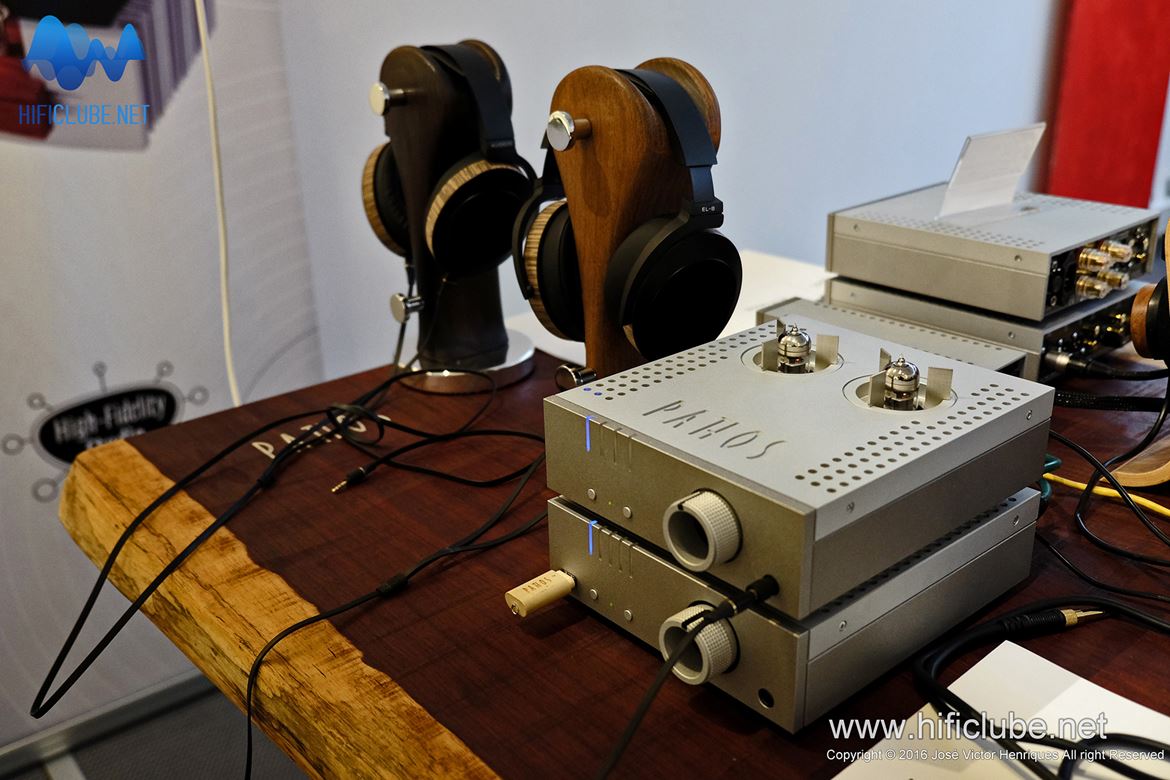 Pathos Aurium
Pathos Aurium hybrid headamp. A cute little thing that uses both tubes (2 x 6922) and MOSFET solid state devices to output a strong 4W of power into 32 ohm. Gain and balance (really!) are on the rear.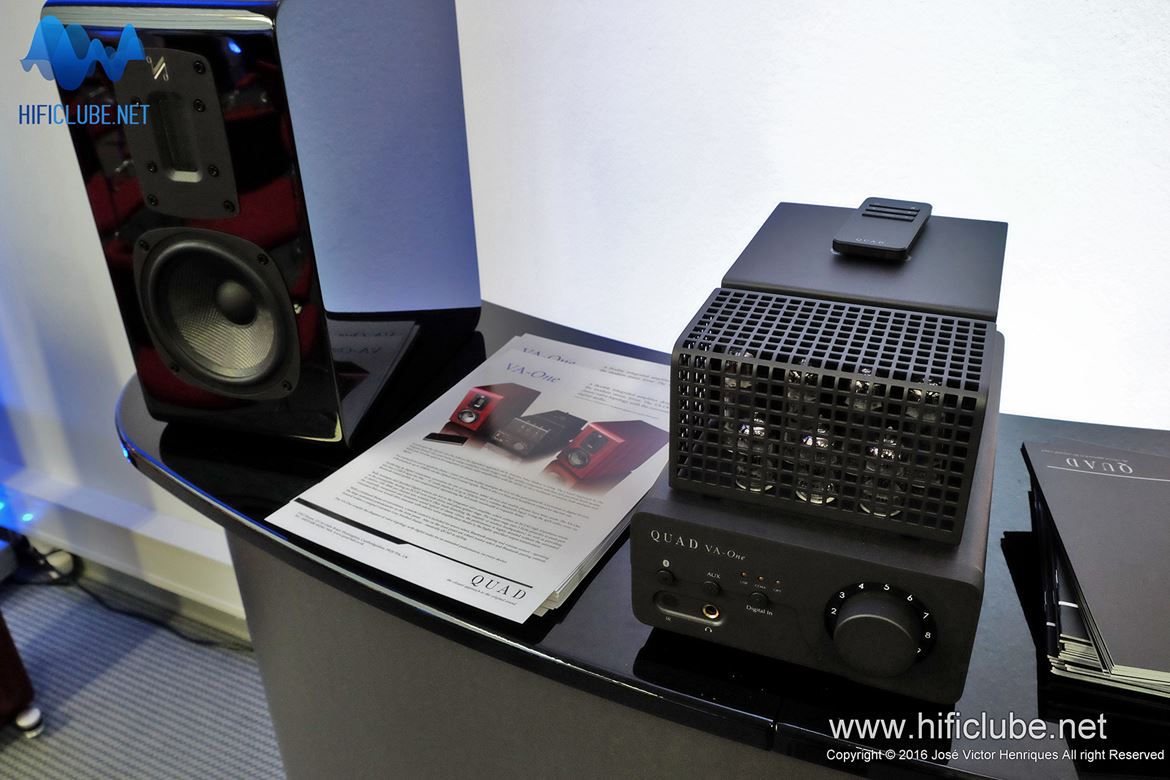 What is the world of hifi coming to? A small classic looking tubed Quad amplifier that has a USB B input!, and Bluetooth connectivity. At just 12 W of power it looks more like a headampDAC than an amplifier but it fits both sides.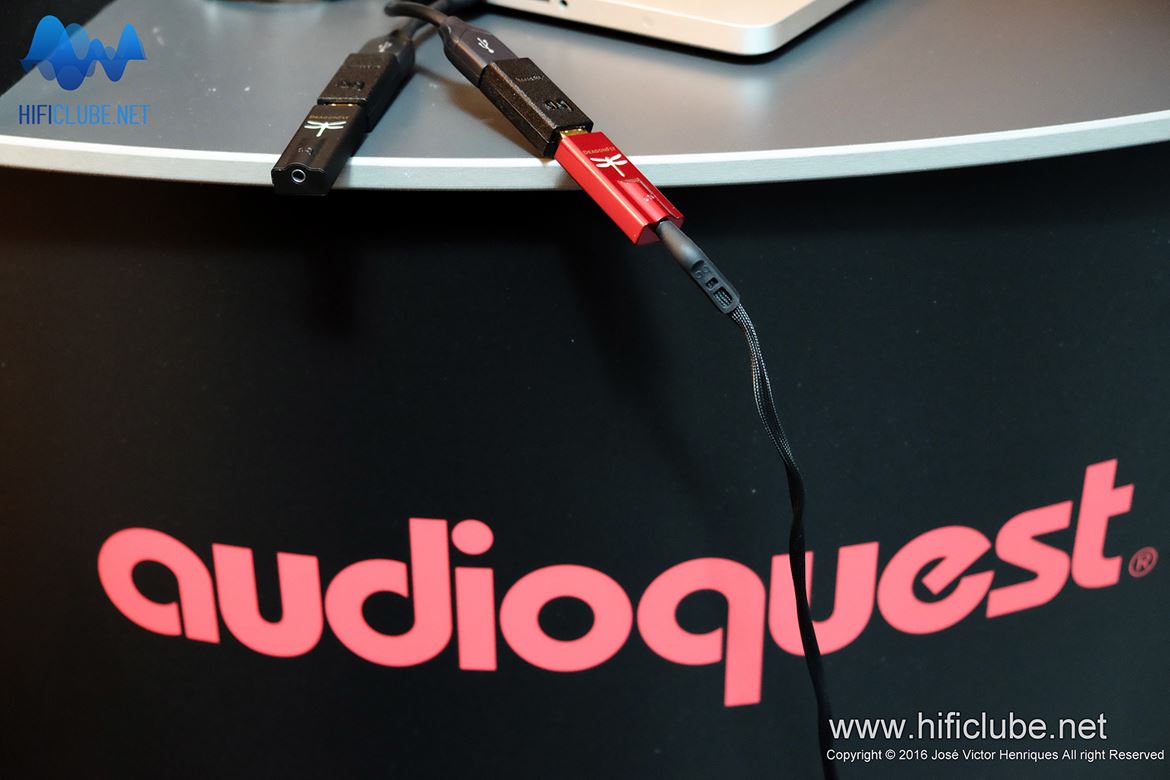 Audioquest Dragonfly Red
The original Black has been improved and the price dropped substantially. For almost double price you can have it in Red, a more sophisticated version and more capable of driving difficult headphones via a "superior sounding" 32-bit ESS 9016 decoder chip and 64-bit, bit-perfect digital volume attenuation. I will cost you roughly 150 euro.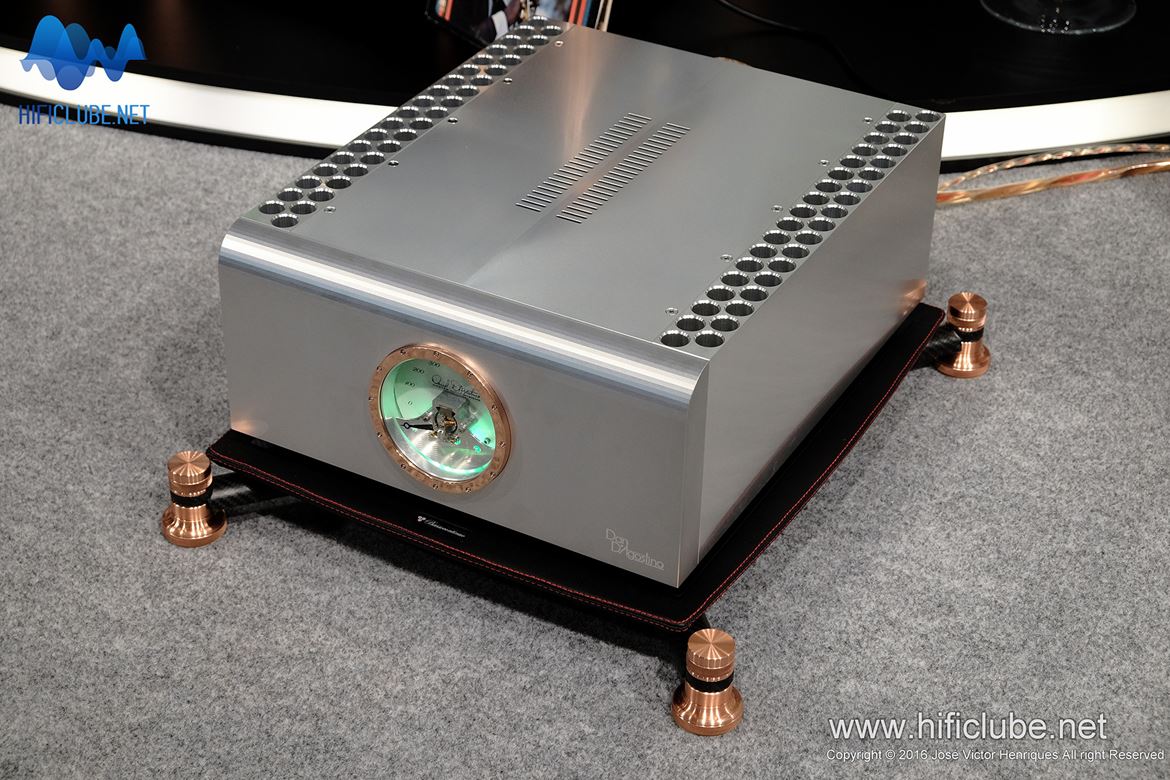 Dan D'Agostino Progression
The Progression mono amplifier is the largest and most powerful Dan D'Agostino Master Audio Systems has made to date, delivering 800 watts into 8 ohms, doubling to 1,600 watts into 4 ohms and doubling again to 3,200 watts into 2 ohms. It employs a fully complementary driver stage, beefed up with 84 output transistors, a 4000 VA power supply transformer and 400,000 microfarads of power supply storage capacitance.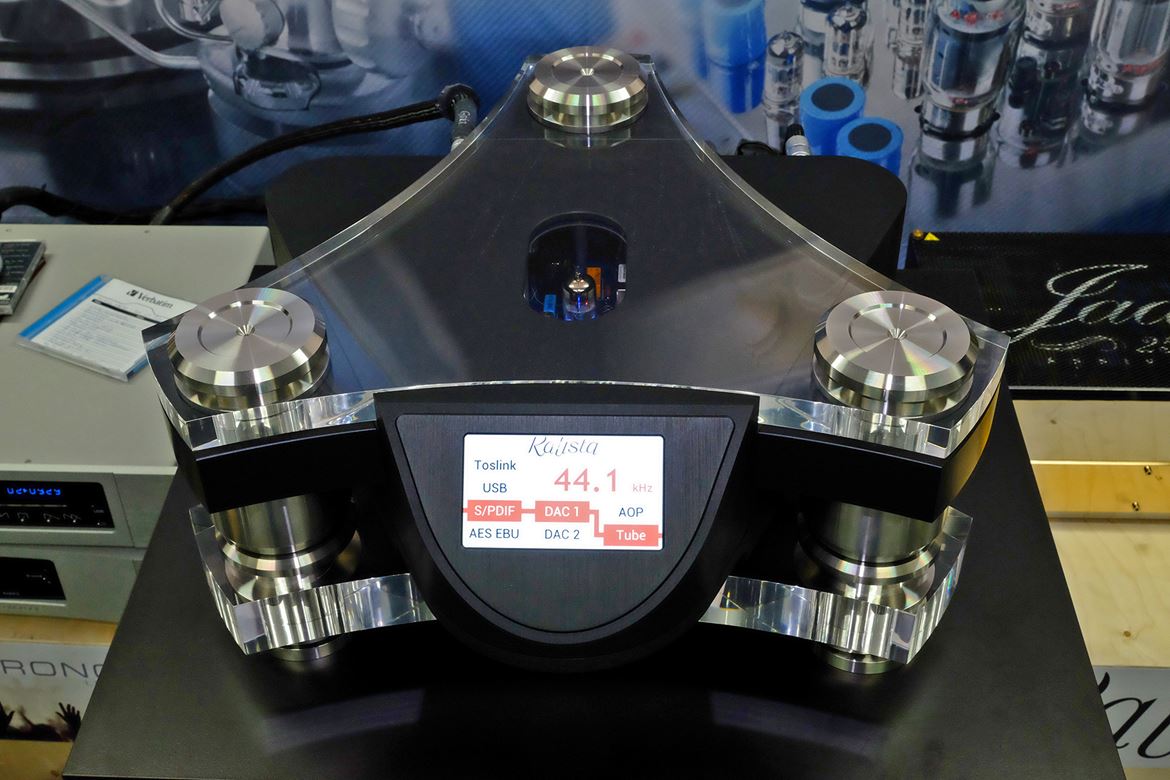 Metronome Kalista DAC
The brand new DAC of Kalista range was introduced at Munich High-End show. This very high end D/A converter will be the most performant ever, being able to read DSD 64, 128 and 256. Integrating 4 DAC chips, the user is allowed to chose the DAC he prefers and the resulting sound profile. And also choose the preferred output (solid-state or tube), according to the genre of music. With its touchscreen, the Kalista DAC is the perfect pair for the Kalista transport.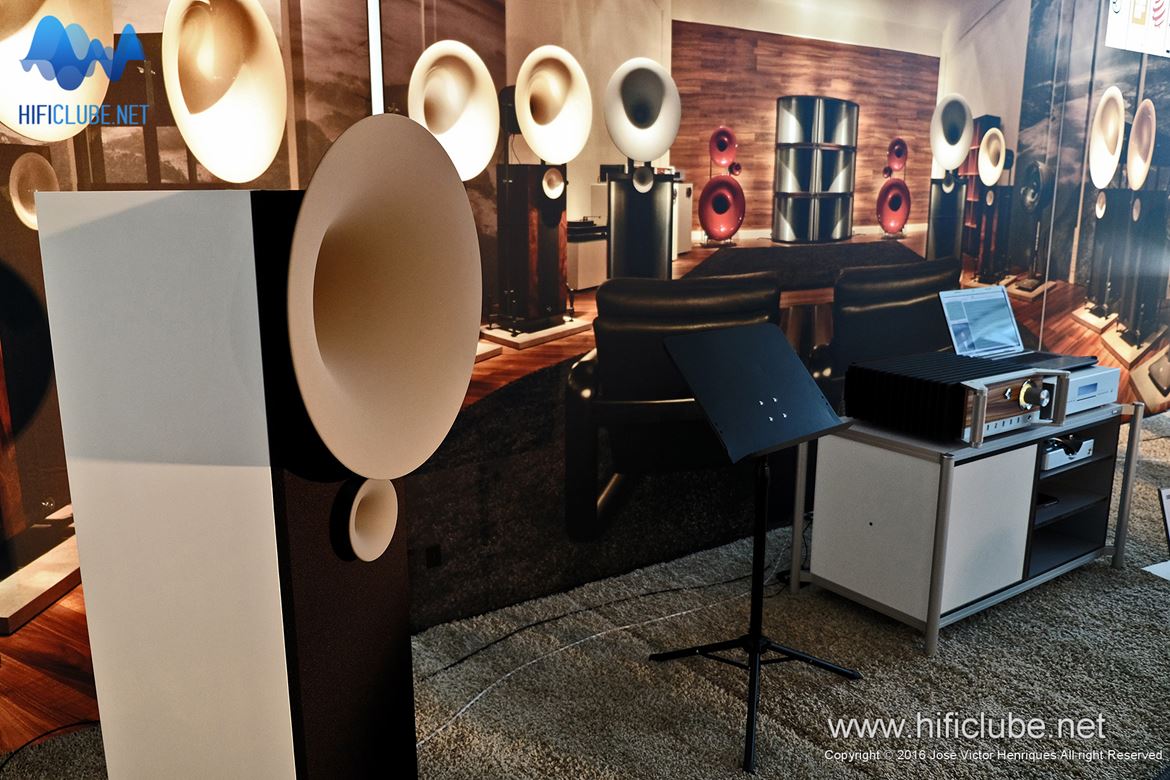 Avantgarde UNO XD
The Uno XD is a scale down version of the classical DUO system. By employing smaller 10 inch bass drivers and by integrating the horns as part of the speaker body cabinet structure was considerably reduced.