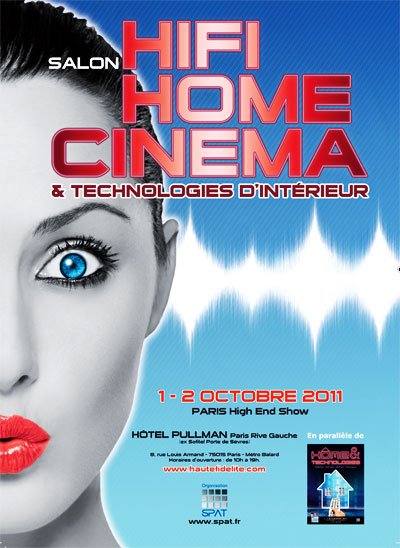 HIFICLUBE  has great expectations for this report JVH is now editing and getting ready for publishing. So keep coming to our website everyday. You never know when there's something new, exclusive and/or exquisite. The report will consist as always of beautiful still photos, slideshows, videoshows, selected HD Videos with live sound!, and the usual witty (and sometimes naughty) comments by JVH about all he has observed, seen, heard, loved and hated at the SALON HIFI 2011 in Paris. Not that there was much to hate. Jean-Marie Hubert is the perfect host and a gentleman. And the hostesses were nice too...
It will also include:
An exclusive interview with Ricardo Franassovici, of Absolute Sounds, both in Portuguese and English (Oops!, not in French, sorry…), on the subject of high resolution music files. Is  96/24 and 192/24 the "fillet mignon" with which everybody must feed the high end systems from now on, or is it just hype? Or a scoop, as Ricardo put it. Food for thought. Don't miss it soon in HIFICLUBE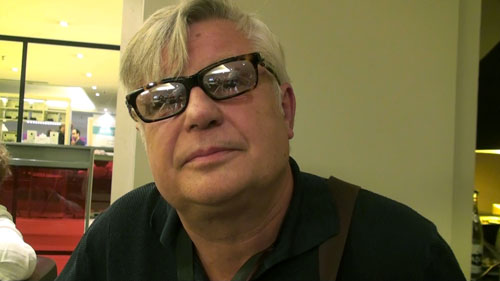 Ricardo Franassovici, Absolute Sounds of London
KEF 50th Anniversary with special guest Ken Kessler, who has just published and presented at the show KEF 50 Years Of Innovation in Sound (forthcoming review), after his monumental books on Quad and McIntosh. Wilson Audio will be next. And there are more waiting in line...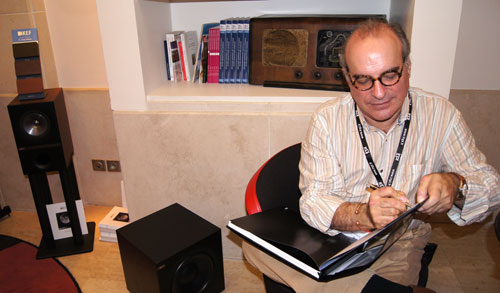 Ken Kessler dedicating his new book to JVH
An exclusive presentation of the incredible modern art installation "The Tree" by Ellipson at the even more exclusive Athénée Plaza Hotel.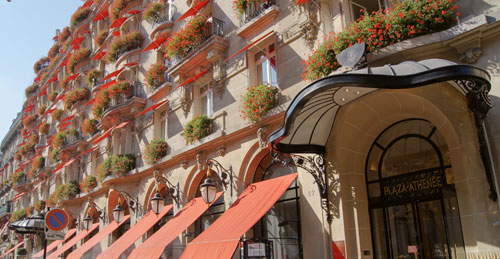 Athénée Plaza Hotel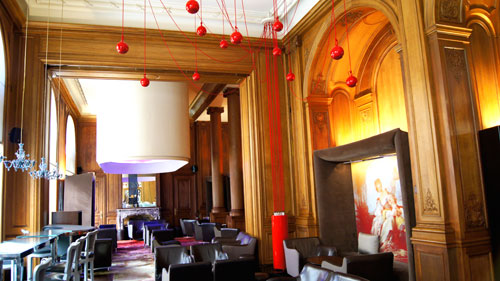 The Tree, by Ellipson
The explosive and thrilling home cinema demonstration by Mark Levinson/JBL, who also offered us a glimpse of what Michael Jackson's This Is It show could have been, had he not died prematurely. We looked at JVH's notes and he commented in the end: I don't care how BAD some people say he was, Lord was he GOOD!...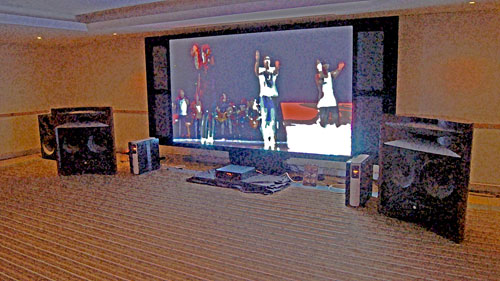 JBL Everest: incredible dynamics
And, of course, the BEST and WORST (?)sound at the Salon Hifi 2011. 
Magico/Soulution, unheard of natural sound. Almost spooky in its realism and human presence
SALON HIFI 2011 PARIS
OPENING SLIDESHOW 
Note: To better enjoy the pictures select 720p or 1080p and full screen. Pictures change every 7 seconds but you can use Pause to allow a more detailed observation or move on using the arrows. A few photos were heavily processed and even equalized with Photoshop to give them a more appealing and dramatic presentation, due to poor lighting conditions, like the one in the JBL room.

What is life without a little fantasy?... JVH

Salon Hifi 2011, Paris _ Slideshow by JVH for HIFICLUBE. All rights reserved.    
VIDEOSHOW NR 1: A VOL D'OISEAU 
A video walkaround at the Salon Hifi 2011 Paris just to give you a general idea of the show ambiance. Mostly you'll watch people walking, talking, showing products, demonstrating sound devices, trying to sell them, or just loitering with intent, in a word having a good time indoors on a gorgeous sunny day outside, which takes some hard passion for hifi. Music playing and people listening to it comes next. Stay tuned to HIFICLUBE.
 
Le Salon HIFI 2001, at the Pullman Hotel in Paris, just as if you had gone there with JVH...
Note: open Related Articles above