Having been invited by Franco Serblin and Cesare Bevilacqua to join the Hifi News «team» represented by Steve Harris, Ken Kessler and Martin Colloms, who flew from London accompanied by Ricardo Franassovici of Absolut Sounds, for a most memorable audition of the new Stradivari speaker at Sonus Faber new premises in Arcugnano, I profited from the fact that the internet is a faster medium than a conventional magazine: so this must be the world's first (p)review of the Stradivari. Sorry, Ken!...
The factory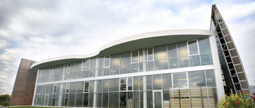 Sonus Faber new factory in Arcugnano-Vincenzo
The new 'venue' is a modern architecture white building with the classic Sonus Faber trademark touch of decorative side wall panels mimicking the slabs of wood of the Guarneri cabinet. Just by standing outside looking at the monumental glass façade, you know you are on to something special.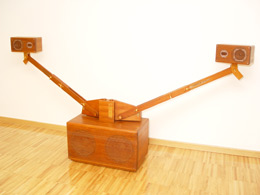 Sonus Faber Snail, Franco's 'opera prima'
Franco Serblin's first artworks await you in static and proud display at the foyer, including my beloved 'Extrema' and his 'opera prima': the original 'Snail', a complete 'triphonic' system consisting of a double subwoofer in a single cabinet who supports two dedicated satellites mounted in long extensible wooden arms, of which only seven were ever made and are now a collector's item. Later at dinner it was hinted that a 'Snail 25th Anniversary Special Edition' might be envisaged while taking advantage of new technologies and materials.
Franco admitted he felt allegedly so exhausted after the 'delivery' of the Stradivari it could very well be his final statement, to which Cesare retorted: 'He always says that after he delivers another masterpiece but two days later he comes back with new ideas'.
And I could almost swear I saw a new prototype just lying there: a new monitor that looks like the Auditor but features aluminium side panels...
Before we were given the opportunity to behold and listen to the Stradivari, Franco and Cesare chose to build up an atmosphere of suspense by leading us in a tour of the factory - the perfect working environment for giving birth to several generations of speakers from the cute Concertino to the amazing Amati. Here men and women have different tasks, the latter being preferred for the more delicate stages of assembly, like leather cutting and upholstering.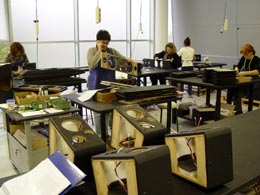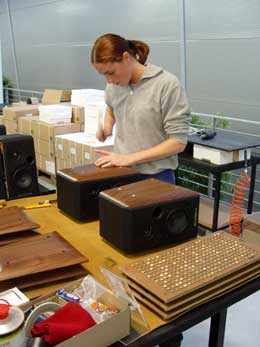 Women have specific tasks at the factory
Cesare revealed that many of these female workers were selected among local handcraft artisans who traditionally make bags and other leather fashion objects for sale.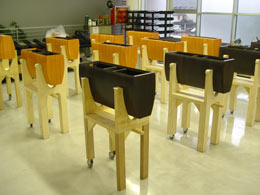 Cremona cabinets in their cradles
Sonus Faber relies on outsourcing for cabinet supply - a small sister factory specialized in woodwork - thus allowing the company to grow at a steady pace (35% sales growth in 2003) while keeping the right size for this type of business:
'We only employ 24 people', Cesare continued, 'because our philosophy is one of quality not quantity. Our typical customer is like a Ferrari owner who doesn't mind being put on a waiting list just for the sake of possessing such a beautiful and exclusive car. Our policy is to stick to what we do best. We take our time to do it well and don't apologize for it. The Stradivari gestation period took years, the last four being determinant for the spectacular outcome that soon will be presented to you', he said adding the excitement of anticipation to our already high expectations.