Eversolo set the audio market on fire with a product that meets all consumer demands in terms of build quality, innovation, ergonomics, design and price.
The Eversolo DMP-A6 is a streamer/DAC of Chinese origin that retails for €859 (€1290 for the master version) and meets all the functional and technical requirements of a modern audio device in the digital age.
Eversolo is a subsidiary of Zidoo, a company that has been manufacturing audio and video equipment for many years. The Eversolo Master Edition DMP A-6 is essentially the audiophile version of the Zidoo Neo Alpha model, with the video functions removed to reduce the price.
Eversolo's advertising policy differs fundamentally from that of its American and European competitors. Instead of investing thousands of euros in advertising in traditional hi-fi magazines, the company has sent several test samples of the DMP-A6 to the most popular Youtubers, also known as influencers, who have in some cases spread the word with thousands of views.
Clean Bill of Health
They went even further and sent a sample to Audio Science Review, where Amir Majidimehr put it through its paces in the lab with an Audio Precision 555, and passed the technical test with flying colours. By doing that, Eversolo DMP-A6 killed two birds with one stone: the subjectivist and the objectivist.
Real user test: my thoughts and findings
Now it's up to me to test the unit and see if it lives up to its specifications, especially in terms of resolution and compatibility, which isn't always the case, no matter what anyone else tells you.
As always, my opinions should be taken with a pinch of salt. You can accept them, reject them or confirm them with your own listening tests. Or just ignore them. There is so much on the internet about the Eversolo Master Edition DMP-A6, who needs another opinion, right?
Before the digital age, when my reviews were printed in a newspaper, I was quite happy if they were used to wrap flowers at the market the next day. Nowadays, that's not possible at all.
Buy on Amazon
The Eversolo Master Edition DMP-A6 is sold on Amazon. But in Portugal you can listen to it (and buy it) at Delaudio and Imacustica, which makes more sense to me because it's always better to have a friendly face behind the product in case something goes wrong.
Delfin Yanez (Delaudio) was kind enough to send me a Master Edition DMP-A6 sample for testing. This was more out of curiosity for my 'expert' opinion than any commercial interest, as he has sold hundreds of units and my opinion cannot change that, for better or for worse.
Note: Apart from the golden logo, the main differences between the standard version of the DMP-A6 and the Master Edition version tested here are the quality and accuracy of the internal dual clock (Accusilicon Femtosecond), the operational amplifiers (OPA1612 with ultra-low distortion) and the switching power supply with high-frequency noise filtering up to 5 megahertz.
Master Edition DMP-A6
Everything you'll read here about ergonomics and features also applies to the standard version, which costs €400 less. If anything, the Master Edition measures even better. And maybe the sound quality is better too, but I haven't compared them side by side. I don't think you'll hear a significant difference, even if there is one objectively, at least in the quality of the components. But for editorial reasons, I'll just call it the DMP-A6 for now.

The touch screen experience
When I took the DMP-A6 out of the box, I was surprised at how much smaller it looked than the photos suggested. Let's just say it's a miniature version of the HiFi Rose RS150/250A. And it works as a streamer/DAC too, with a large, easy-to-use touchscreen that you can quickly get to grips with without a crash course, although I did have some initial difficulties with internet connectivity and compatibility with Roon and even JRiver.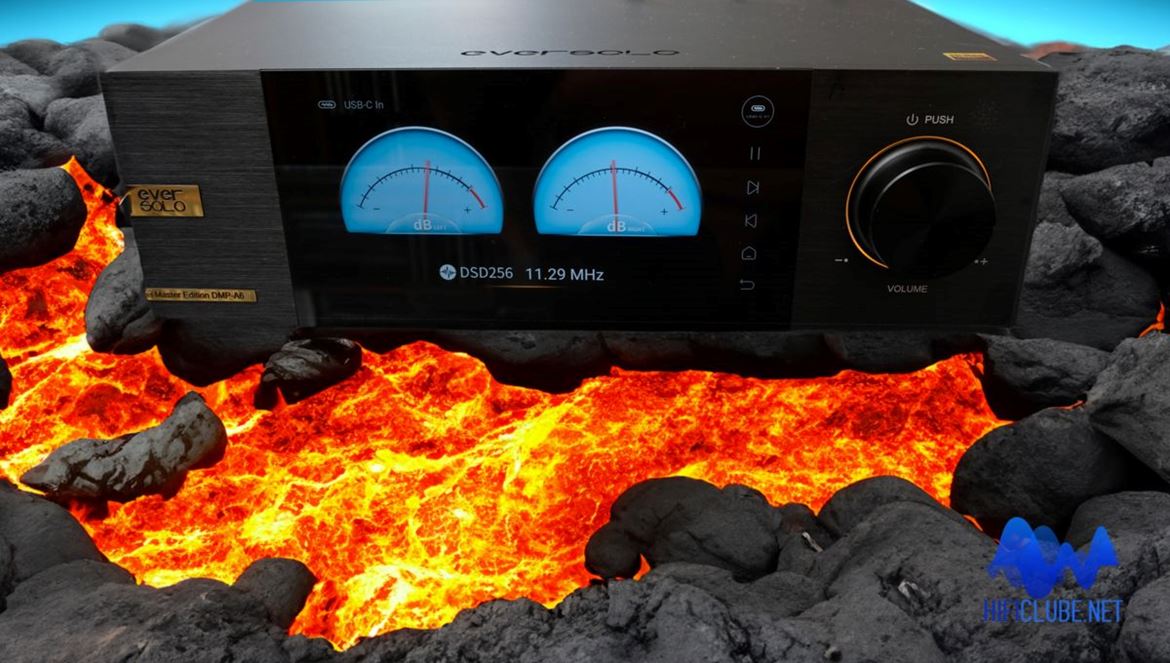 I own a Rose RS520, so it's like riding a bike, you never forget it. The RS520's touchscreen is much bigger, but the operation is basically the same, and it also includes four VU meters, which you can use just for fun.
Impressive specifications
The DMP-A6's specs are breathtaking for people like me, who only see such technical features (and quality of components) on devices costing several thousand euros - and even then, not all of them deliver.
Just a few highlights:
- 2 x ESS ES9038 Q2M DACS with dual differential conversion for PCM resolution up to 32-768kHz; and DSD512, plus MQA
- 3rd generation XMOS 316 USB interface for reception and decoding via USB
- High-resolution Bluetooth based on a Qualcomm QCC5125 chip, supporting the following codecs: SBC, AAC, aptX, aptX LL, aptX HD and LDAC
- Fully balanced circuit from DAC to analogue outputs
- Independent high precision internal clocks for 44.1kHz and 48kHz.
- 4GB DDR + 32GB eMMC internal memory, expandable with a 4TB M.2 NVME 2280 SSD disc (you can rip your CDs to the internal memory).
- In addition to the usual analogue outputs: XLR and RCA, and digital: coaxial, optical (24-bit 192kHz/DSD64) and USB-C (32-bit 768kHz/DSD512) DMP-A6 also offers an HDMI output to connect to an AV Receiver, compatible with native multi-channel DS64. And you can connect it to your PC via USB OTG (On the Go).
- You can connect it to an external hard drive or Flash drive via USB and to a NAS via Ethernet (DLNA), plus of course streaming via Roon, Tidal and Spotify Connect and access to all music and internet radio services (Spotify, Qobuz, etc.), with metadata retrieval from the cloud.
- Personalised management of your library by genre, album, artist, etc. and even sampling frequency.
- Plus the luxury of Wima, Nichicon, Murata, Omron and Texas Instruments components. 
Yes, yes, you read that right: the DMP-A6 costs €859 and the Master version €1,290. I didn't get the zeros wrong.
And how does all this technical gadgetry work in practice? Very well, indeed. Connect it to your home network, do the usual 'updates', then just browse through the various configuration and operation options on the touchscreen or in the app (iOS and Android) and start listening.
Tailor the sound to your taste with filters
It should also be noted that the DMP-A6's DAC function offers all seven of the ESS ES9038 Q2M's digital filters: Fast Linear (default), Slow Linear, Fast Minimum Phase, Slow Minimum Phase, Apodising, Hybrid and Brickwall.
The audible differences are minimal - but they are there. When in doubt, go for Default: Fast Linear. But be aware that, in general, 'Slow' filters have an earlier slope (they start cutting at 16kHz, hence they sound 'sweeter' in the highs) and they also have less quantisation noise reduction but have better temporal performance; 'Fast' filters are more linear (flat to 20kHz: they sound livelier) and offer more quantisation noise reduction above the audio band because the slope is much faster. Do your own experiments.
No headphone output: a dealbreaker?
Unlike the Rose RS520, the DMP-A6 has no amplification as it is only a streamer/DAC and preamplifier. And like it and the RS 150/250, it doesn't have a headphone output, which is a shame because it's always handy.
The first thing I did was to connect my Chord Hugo 2 DAC/headamp to the USB-A output so that I could use headphones. Of course, this connection bypasses the DMP-A6 DAC (and volume control) but it allowed me to assess the quality and transparency of the streamer. First positive note. It's a match for the Rose in its streaming function.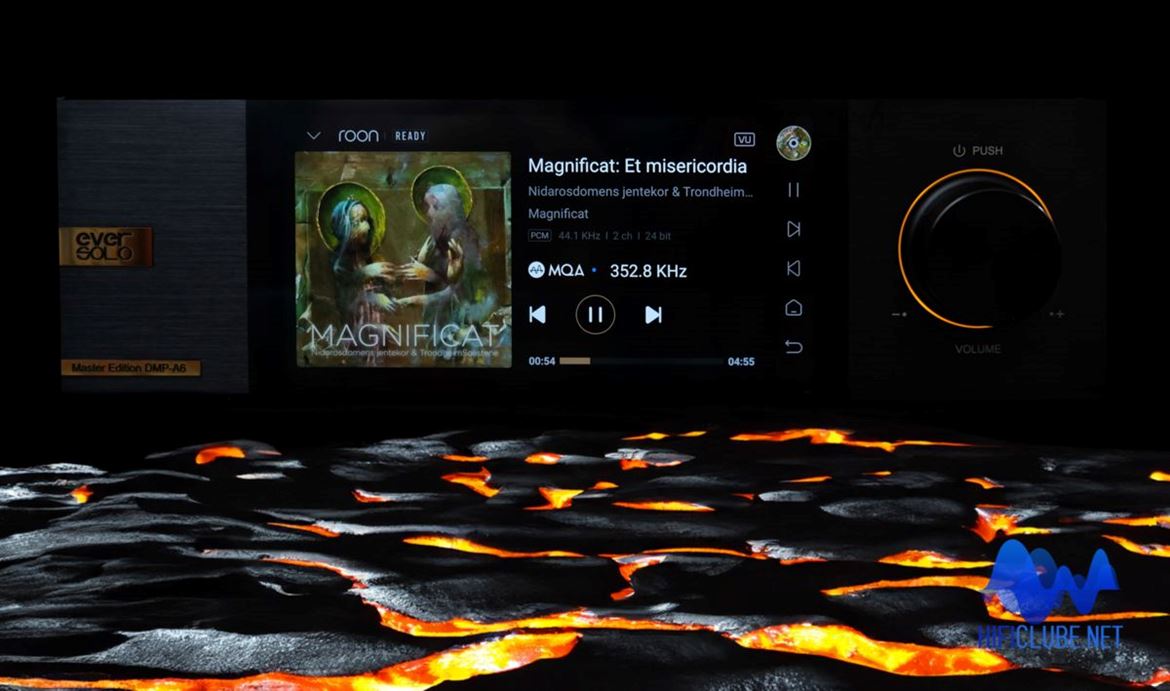 I then navigated quickly and intuitively through Tidal on the touchscreen, confirming that the DMP-A6 does full MQA file decoding up to 352.8kHz.
I switched to Roon on my PC via Ethernet. I was a little confused at first because the Eversolo appeared in Roon as the Zidoo Neo Alfa, although the Eversolo DMP-A6 is listed in Roon under the Roon Ready and Roon Tested categories.
However, the Eversolo DMP-A6 was only available in the AirPlay protocol, which has resolution limitations (AAC). But since the Zidoo Neo driver worked fine, I changed the name from Zidoo to Eversolo and went ahead anyway. (Note: you don't have to change the name for it to work, of course).

I also tried the PC/DMP-A6 connection via USB-C. With this connection, the DMP-6 doesn't offer an external USB DAC output in its configuration, only analogue outputs. I connected the DMP-6 to a Densen amplifier (via RCA) and the latter to a pair of Sf Concertino speakers. In this DAC/Pre role too, the DMP-A6 showed excellent sound quality and overall transparency.

Meanwhile, I plugged a USB stick with high-resolution files into the USB OTG input (set to External Audio Device), accessed the Setting/File screen and, with the Chord connected to the other USB A output (Source/USB DAC), listened to all the audio files through my headphones up to the maximum possible sampling frequency.
With Audirvana, PCM768kHz is only possible with kernel streaming and I could not play files in native DSD512. Why is this?
The mystery of the missing USB Asio driver
If you are using a MAC, the 3rd generation USB XMOS 316 interface is in principle compatible with native DSD512. But if you're using a PC like me, you'll need to install an XMOS Asio driver for Windows. It turns out that version 4.13 of the driver released by Zidoo/Eversolo is from 2017 and is incompatible with native DSD (only DoP). Technically, it does not mean it always converts DSD to PCM, albeit it sometimes did, and I couldn't figure out why (see photo below).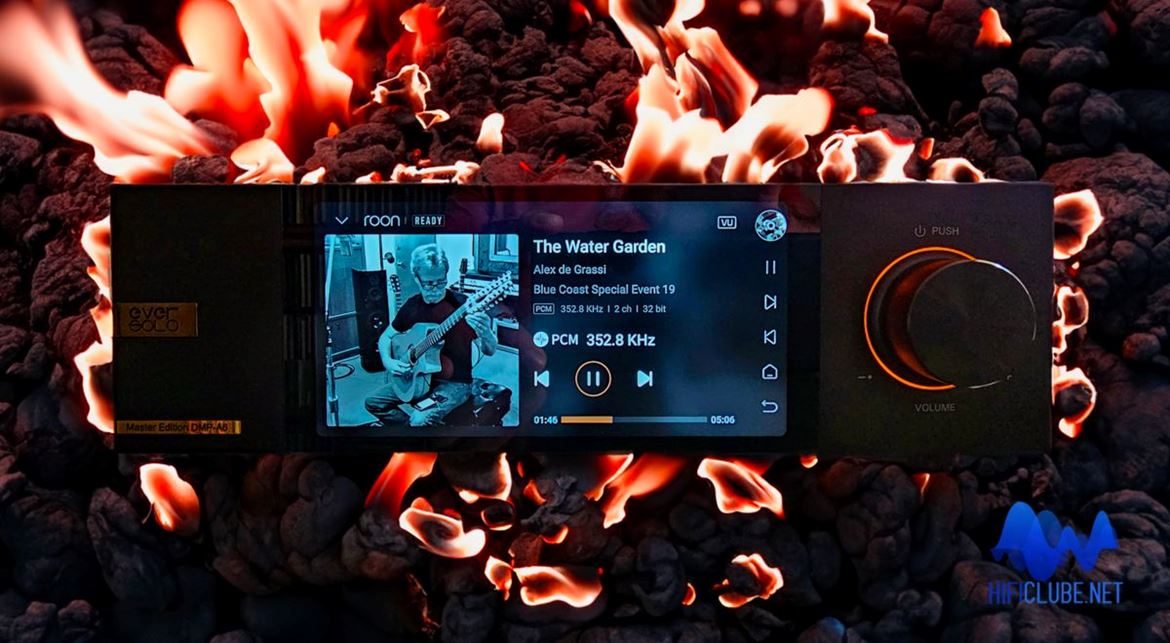 This would require Zidoo to have licensed the latest version of the XMOS USB driver from Thesycon, which has already given rise to heated discussions on the Zidoo Forum. 
Important note: new firmware available here for download: 
https://dl.eversolo.com/dac/usb/EversoloUsbAudio_v5.58.0_2023-09-05_setup.exe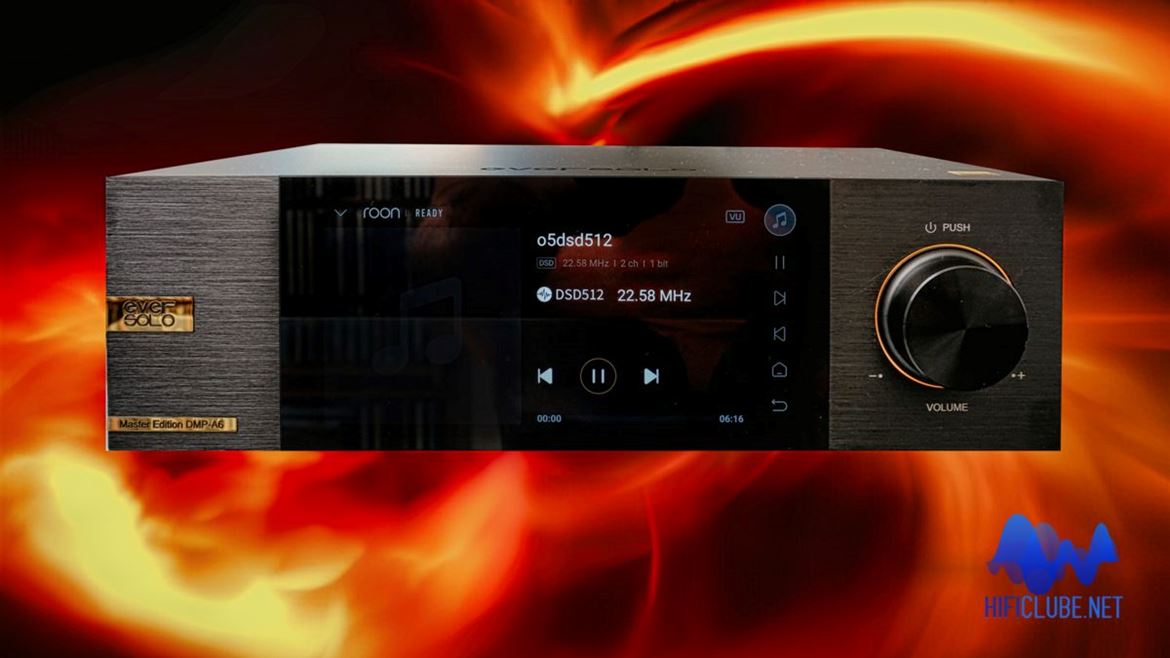 The Thesycon Asio Driver requires expensive licensing, which would affect the final price (you can't have everything). Zidoo thought it best to keep the price low, not least because with the current driver the DMP-A6 already plays pretty much everything that 99% of potential consumers will ever need. Incidentally, I was able to play DSD512 (Roon+USB-C), despite the forum staff saying it wasn't possible (see photo above).
If you are using the DMP-A6 purely as a streamer (with an external DAC), you can set it up to stream Native DSD via USB or HDMI to an external DAC or receiver. But with a digital source of this quality, who needs a PC? The goal of anyone who buys a streamer is to get rid of their PC anyway. Nevertheless, it is my job to do a thorough test of all the equipment before publishing.
The DMP-A6 truly delivers at an unbeatable price and is the strongest candidate for Streamer/DAC of the Year 2023.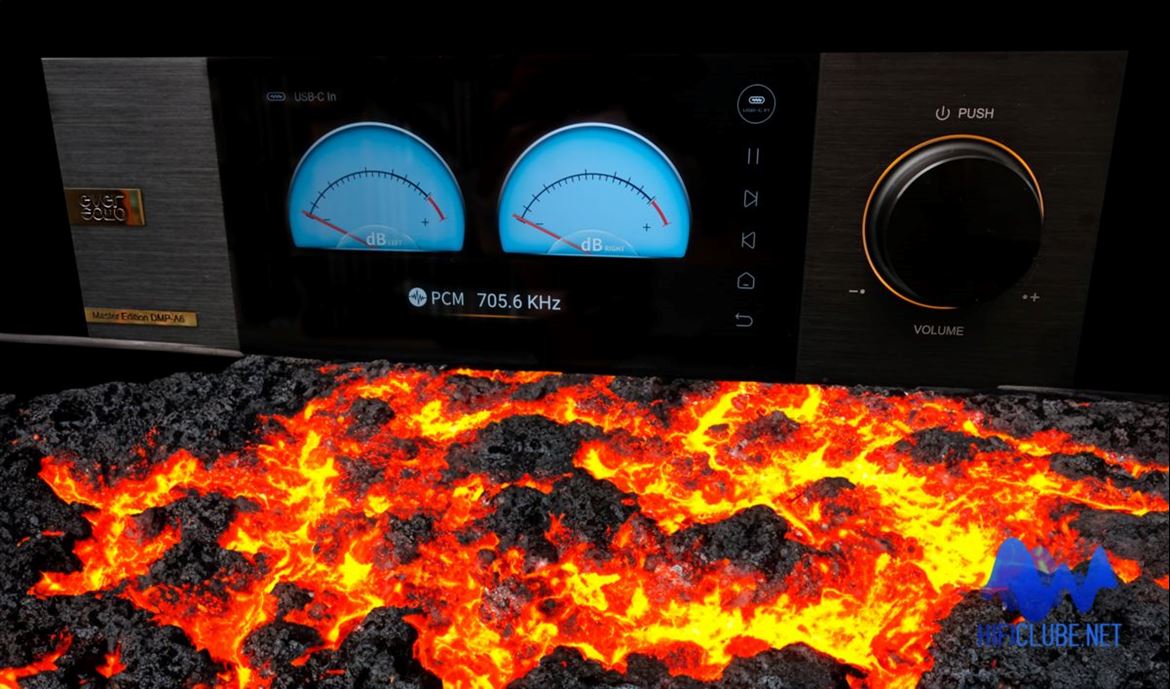 For resolution freaks
But this is an academic discussion, of interest only to resolution freaks like me. The DMP-A6 reproduced my PCM, DSD and MQA files with the transparency and sound quality I've come to expect from more expensive streamer/DACs.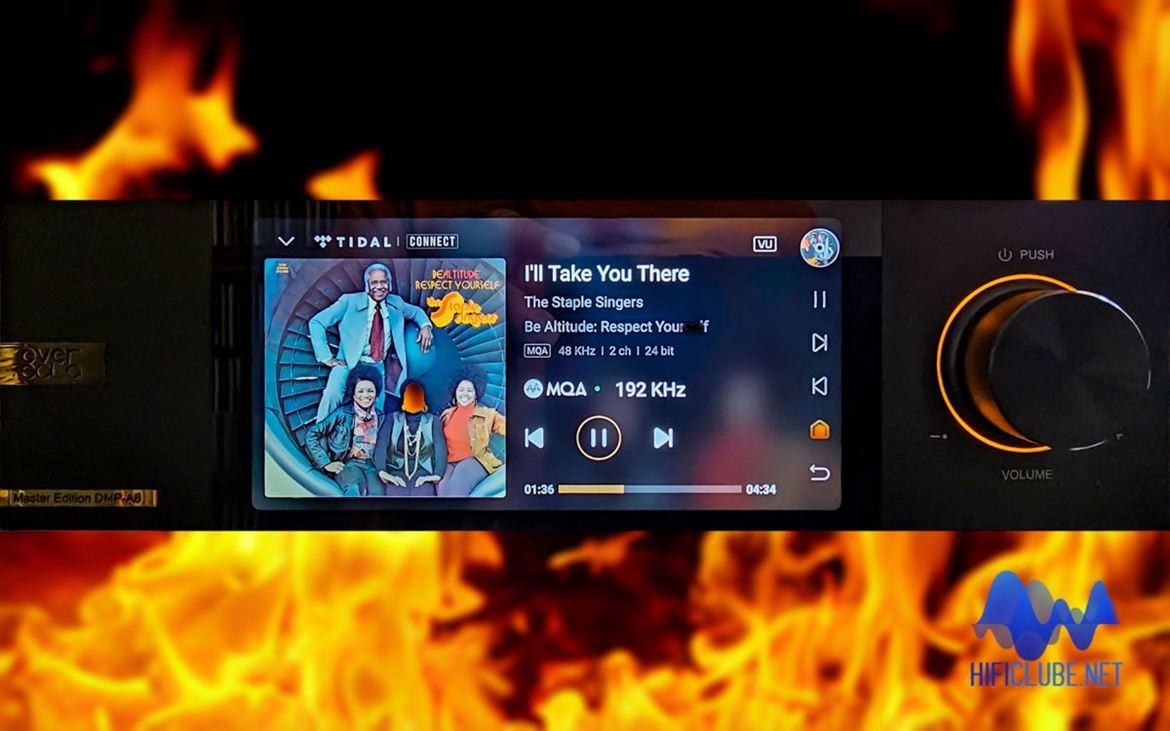 The truth is that most files available for streaming today don't go beyond PCM 192kHz, for example on Qobuz. The DMP-A6 truly delivers at an unbeatable price and is the strongest candidate for Streamer/DAC of the Year 2023 and gets a strong recommendation from Hificlube.