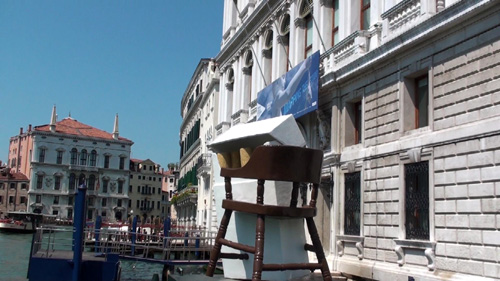 Palazzo Grassi
The launch took place at Palazzo Grassi, an 18th century palace. Located in Campo San Samuele and overlooking the Canal Grande, Palazzo Grassi presents major temporary exhibitions, like Mapping the Studio which brings together a selection of works from the collection of François Pinault.
We got there by taxi, which in Venice means a motor boat. Before I could set my eyes on the secret Sonus Faber loudspeakers (they kept the suspense for as long as they could), I joined a group to tour the museum with a guide. Being of Latin origin the Portuguese understand most of what is said, and I just love the musicality of the Italian language.
The tour took the best of an hour. Works by artists such as Jeff Koons, Sigmar Polke, Cindy Sherman, Richard Prince, Cy Twombly, Takashi Murakami and Jake & Dinos Chapman – are shown alongside works by emerging talents such as Matthew Day Jackson, Adel Abdessemed, Wilhelm Sasnal, Rob Pruitt, Richard Hughes, Nate Lowman, Mark Bradford and Kai Althoff.  We didn't tour Punta de la Dogana where they exhibit some of the best modern art work.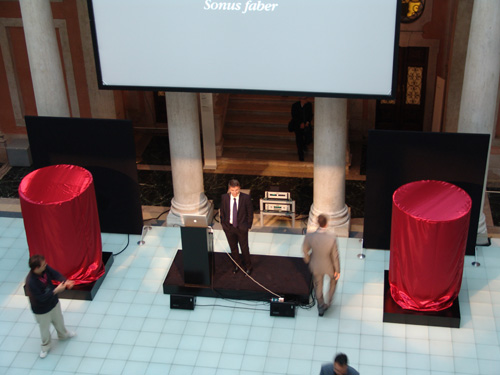 Modern art is an analogy between creativity and intimacy and seeks to provoke a strong reaction from the visitors. With honourable exceptions, like the superb murals by Takashi Murakami, modern art is not for the faint hearted. In fact, it is too often just plain ugly. Or maybe I wasn't paying due attention, since I was too anxious to finally meet La Fenice downstairs, where Giovanni was patiently waiting for us.   Like Charlie Parker, first the modern artist masters the instrument and then forgets all about it and creates art from a tabula rasa, a clean set of mind,thus striving to discompose, deconstruct, dissolve, disrupt and disunite reality twisting matter into dysfunctional, chaotic shapes that negate both form and function.

Exactly the opposite of what we were about to witness downstairs. Fortunately, Paolo Villa, the designer of Fenice is not into modern art, or we might have ended up with an impracticable loudspeaker...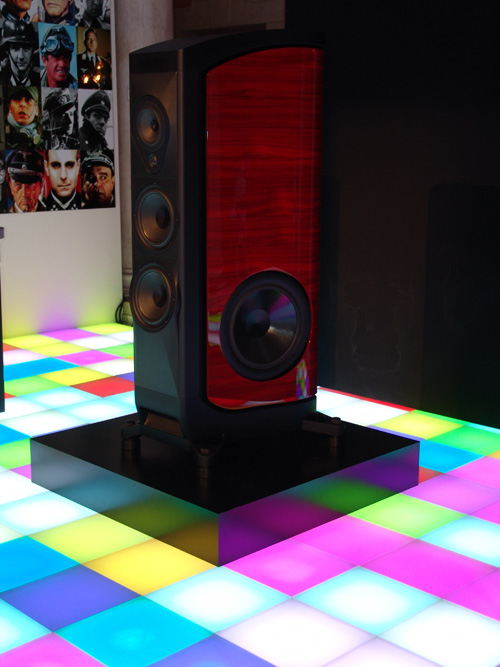 Sonus Faber Fenice: functional art in a modern art context

Modern art makes sense if you manage to assimilate its significance, if any (the explanation offered by the guide only helped so far). Hélas, sometimes not even the artist himself seems to have any clue, we were told, giving one's fancy full scope to find inner equilibrium in outer chaos.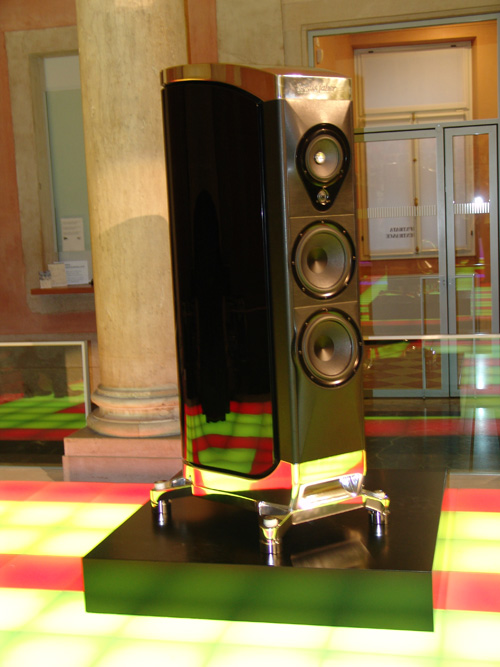 So before I could sit and listen to Fenice, itself the corollary of a happy marriage between modern science and classical art, where form follows function and vice versa, I walked unaware into a giant mother's womb, peeped into a room where everything was broken and shattered like the staged scene of a matrimonial discussion, stumbled on a severed leg on the floor, complete with shoe and sock, and an opening on the trouser at knee level to stick a candle on it (the artist's mother was a nurse that helped at amputations at the local hospital, the guide hasted to explain), watched various illegible scribbles on the walls and kindergarten paintings, including the most dreaded by parents, when children stick their hands into the mud outside and rub them against the walls inside running upstairs, while our group looked flabbergasted at a huge empty canvas trying to make something out of an evanescent circle with a cross inscribed inside.
And there were all sorts of phallic symbols more or less protuberant either from tumultuous patchworks or gender undifferentiated grotesque sculptures and personifications of some very impressive spirits induced by nightmares indelibly impregnated on the souls of the artists, so the gentle guide tells me.
The message was clear: do not abide by any rules. Be free. Be yourself. Do whatever your guts tell you to. Do one thing and its opposite. Be different and start a trend. And make some money out of gullibility if you can.
Could there be an unintentional subliminal message that bad loudspeakers from the competition can sometimes sound like modern art – distorted and ugly? Si non è vero, è bene trovato…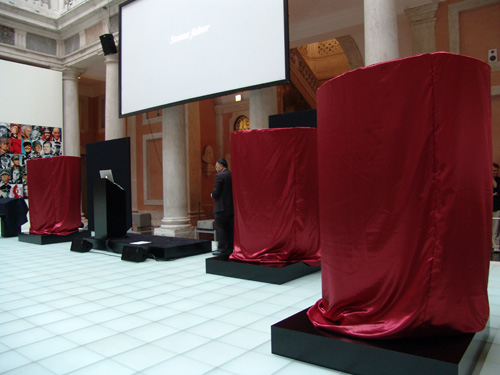 One of the paintings showed an eyeless woman. The artist pretends to convey the idea that eyes are not essential to the apprehension of art. When it comes to music I tend to agree. And yet, downstairs there was a crowd with eyes wide open eagerly waiting to see the new Sonus Faber Fenice hidden under the red silk burkas.  
Beauty will always be in the eye of the beholder. And in the ears of the listener for that matter. At Sonus Faber they have known that forever.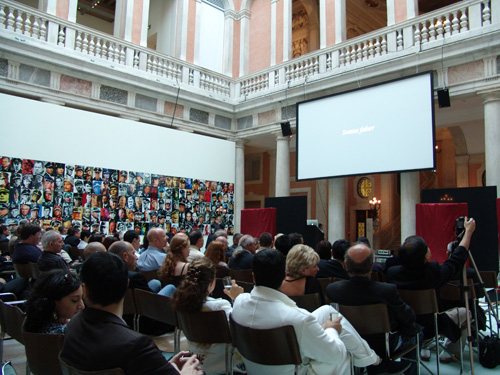 The presentation took place in the center hall right inside an art installation by Piotr Uklanski, Dancing Nazis, a disturbing but visually stunning mural of historical and impersonated German high rank soldiers and leaders (can there be beauty in evil?) and an illuminated dance floor.   It was there that an assembled audience of audio press and distributors from all over the world learned from the new Sonus Faber CEO Mauro Grange that sales skyrocketed 100% in 2009 and 60% in 2010. That the new flagship loudspeaker is a statement by Quadrivio that investment in highend is to be continued despite the financial crisis.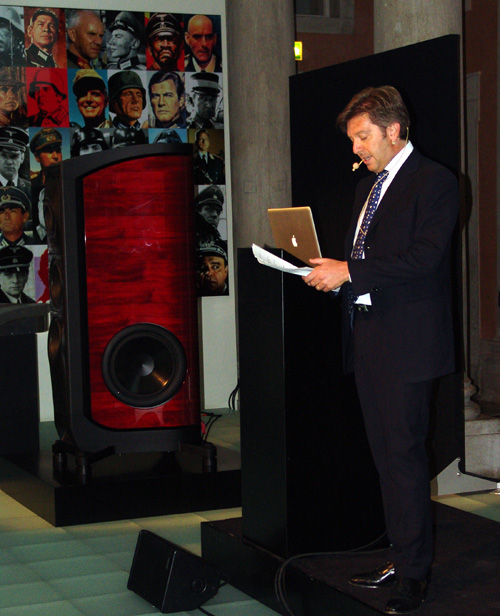 Mauro Grange Sonus Faber CEO  
That 18 000 SF loudspeakers are made every year of which 87% are exported and there will be new and more affordable models next year based on the development of the Fenice. SF is now directly distributed in China while the rest of the world is served by 43 official distributors. All this from a staff of 10 with 20 production workers and 10 outsourced consultants.
All the technical staff had a chance to explain its role in the new project and some of the original solutions developed to overcome old problems: from cabinet design to cabinet vibration, from the selected drivers to the passive (non DSP, mind you!) depth of field control.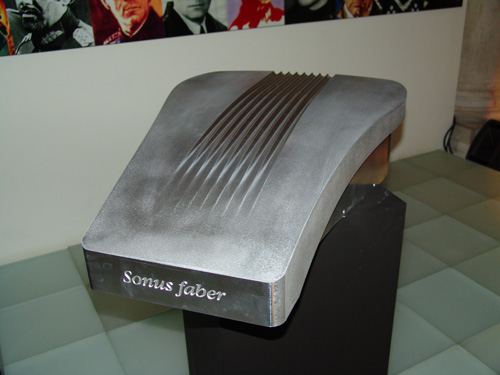 Fenice top clamshell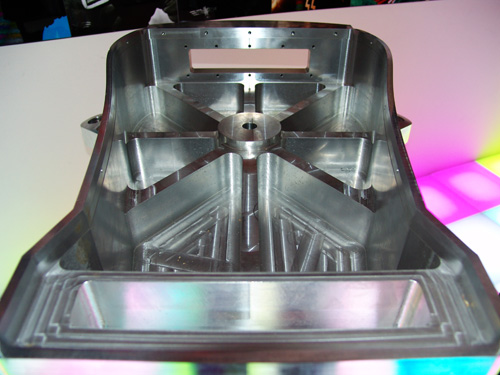 Fenice bottom clamshell      
R&D director Paolo Tozzen told us about the Anima legata based on the top and bottom heavy aluminium clamshells connected by an internal shaft, the Soul Pole, that collects vibrations like the parabola of an antenna achieving the perfect silent case. Curiously the hernia inducing loudspeakers wobble on their feet by just pushing them with a finger, since they are decoupled from the floor not by spikes but by a new suspension system similar to some cones I use under my CD player.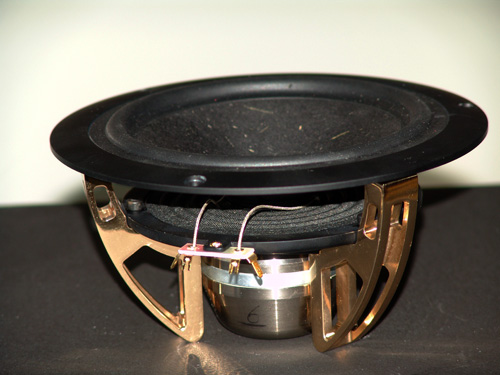 Fenice midrange unit
Joseph Szall showed the new midrange unit with a paper cone made of cellulose and papyrus and the powerful motor mounted in a chassis molded out of avional and gun metal.
Umberto Nicolao explained the effect of the Sound Field Shaper which uses extra drive units on the rear in a bipolar configuration to allow variable radiation geometry.
And designer Paolo Villa proudly explained how he had been inspired by the mythological Phoenix firebird and the shape of the Lyra, the most divine of all instruments, in his own words, which now replaces de Lute. He also revealed that the Fenice has a cabinet inside a cabinet separated by a viscoelastic damping material to guarantee stiffness.
Projected on a screen above we could watch videos showing the lavish care with which SF loudspeakers are made in the factory at Arcugnano and the commitment of all those involved with short but meaningful declarations by Mauro Grange, Paolo Tezzon and Paolo Villa.

They all have a dream which becomes reality every day.
All in all a fine stage production conducted by maestro Giovanni Menato.
THE REVELATION
And finally the Fenice was unveiled right before our eyes. Reporters jumped at it with their cameras flashing away to get a clean picture before everybody got in the way trying to stay in the snapshot and bring it home as a souvenir: I've been there!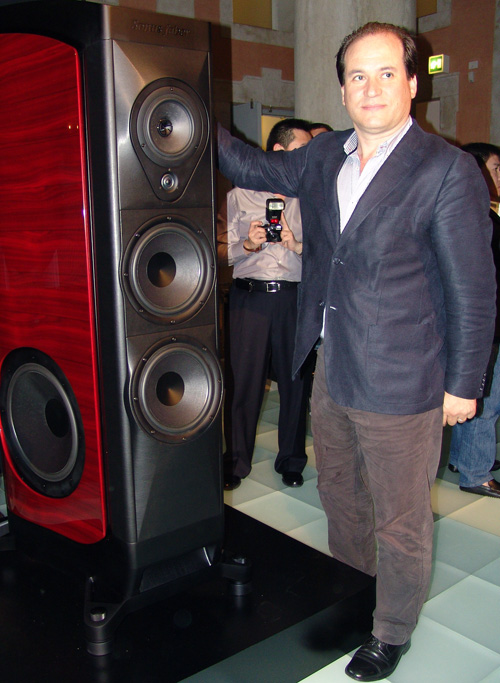 Manuel Dias, CEO of Imacústica, distributor of Sonus Faber in Portugal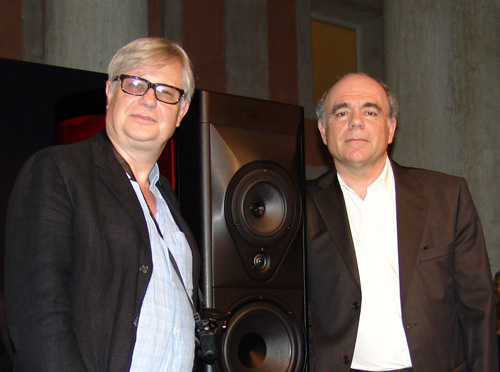 Ricardo Franassovici and JVH

THE FIRST AUDITION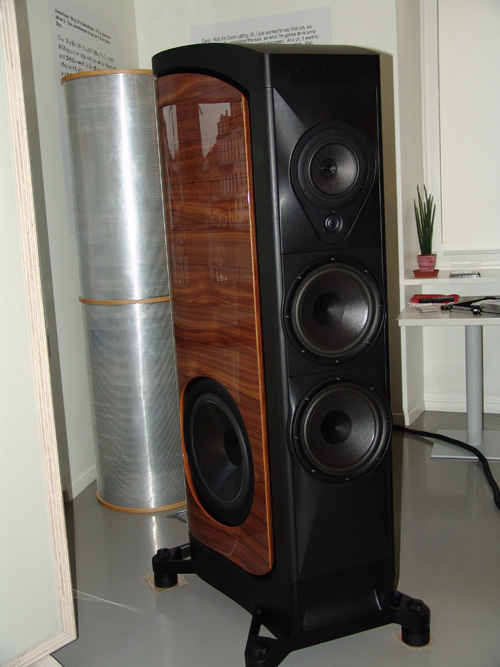 The audition was probably the only set-back of an otherwise perfect organization. The room was too small and everybody had to queue up (some more than others…) to get in and have a brief taste of audiophile heaven
Fenice: first public audition
Hificlube managed once again to publish the world's first HD-video of the Fenice first public audition (watch the beautiful effect of Venice Grand Canal outside reflected on the highly polished veneer) allowing our readers to have a hint of what to expect for 150 000 euros!   Stimela is probably the most played track ever in hifishows and is about people who have to work deep, deep in the belly of the earth for almost no pay. The sound was good and powerful, on the sweet side of neutral, and it also went deep, deep into the belly of the earth, albeit for a lot of money in this case.
Associated equipment was supposed to be all Audio Research (a sister company also owned by Quadrivia) but the amplifiers were delayed in transit and Viola amplifiers were used instead.
Only 30 pairs of Fenice will be made and I heard they are all sold out at 150 000 euros a pair (crisis what crisis?). Thus listening to them briefly in Venice was the chance of a lifetime. And I just have to thank Sonus Faber for the unique opportunity.