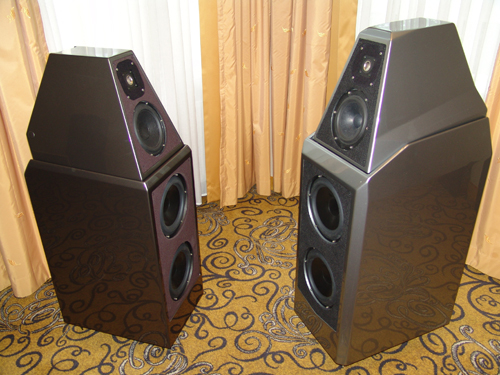 On the left corner Watt Puppies 8; on the right Sasha W/P,
the new champion of the world




Sasha embodies (or rather, personifies, considering its humanness…) the new spirit of America, one of dialogue between American and European cultures, under the egis of a sincere wish to put aside the too often conflicting approaches to perfection in sound reproduction.
The upper bass bravado, midrange jactancy and treble alacrity, which by European standards allegedly afflicted earlier generations of Watt Puppies, were all sensibly dealt with by David Wilson in his latest creation. Sasha W/P was, and I quote, brought up in a Viennese environment, and is indeed of a more amiable nature and consensual poise to us Europeans than previous Watt Puppies.
The proverbial Wilson stentorian presentation is henceforth performed with such eloquence and elegance of diction: inflection, intonation and enunciation, all leading to a new level of intelligibility of speech, as to render one flabbergasted by the undisputable success of this impossible task David courageously set himself up to accomplish: the taming of the shrew.
Mind you, this is not just another upgrade, it's a totally different grade in itself, and as such judged by David Wilson worthy of initiating a new dynasty.
Impressive, outstanding, overwhelming, these are all worn out terms that fail short of encompassing the wave of keen excitement one feels when listening to Wilson Audio Sashas, imparted by their energy and sheer dynamics, so buoyantly delivered and without any kind of inhibition or compression.
To simplify what would be otherwise a complex evaluation, let us say for the sake of argument that it is not easy to decide whether to be amazed at the awesome improvements in timbre accuracy, lack of coloration and spurious resonances, or just marvel at the spectral cohesiveness wrought up by the judiciously balanced tonal quality of this wonderful loudspeaker system.
This is a superb performance even by the most stringent audiophile standards. Listening to Sasha is a compelling, exhilarating experience: the closest I have ever been to a live concert without leaving home.
The only diminutive I could find was in the given name: Sasha (short for Alexandria).
The saga is not over yet. This is a never ending story of passion and total commitment to the quest of the Holy Grail, and I hereby take the pledge not to retire until I review the Sasha V…
 
José Victor Henriques, Editor
 
http://www.hificlube.net/



For the full review in Portuguese (includes a dozen photos and video HD) click here




DAVID WILSON TALKS ABOUT HIS NEW CREATION