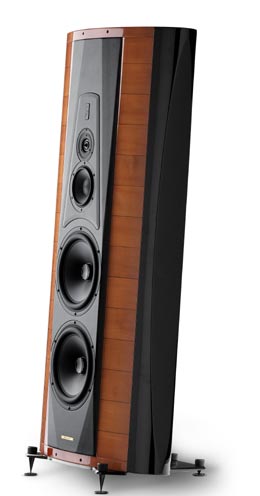 Sonus Faber Stradivari without grille
Finally we had a close encounter with what is no doubt one the most extraordinary speakers in the world of highend today: Sonus Faber Stradivari, Franco Serblin's "capolavoro", the "grand finale" of the Homage trilogy, which has been presented to the market at the right pace in a crescendo of art, emotion and technical achievement. And yet I must admit that nothing had prepared me for what I was about to experience.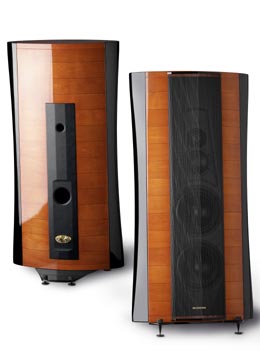 Sonus Faber Stradivari front and back
The Stradivari is unlike any of the previous works of art with which Franco has graced the audiophile community over the years. They look - and sound - like panel speakers having roughly the footprint and pose of a Quad 989. I confess I was expecting (weren't we all?) a larger and taller Amati.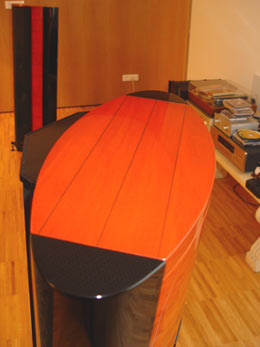 The Stradivari seen from above: notice the elliptical shape
Instead what my eyes beheld in awe for the first time was a "double Amati", as if two of these superb lute shaped speakers, previously stripped of their drive units, had embraced in a passionate and eternal kiss, thus creating an elliptical design, with the drive units now mounted on one of the larger surfaces.
Wearing the traditional black grille of strings of other "Homage" models, which further enhance the vibrant "violin red" deep lacquer, the Stradivari is indeed a gorgeous speaker whatever the viewing angle and perspective.