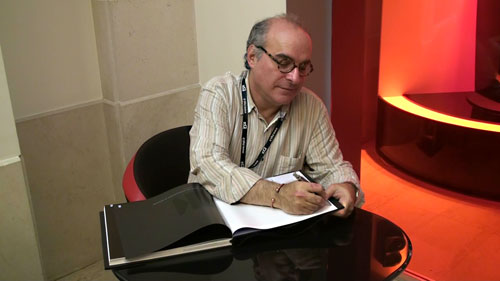 Ken Kessler signing a copy of the book for JVH ( Paris _ 2011)
Ken Kessler is introduced in the editorial as a leading audio historian. Ken is the best story teller I know. Now he has also justly earned himself a reputation as a historian.
History is mostly facts and what you make of them in writing. In this book, facts are so well laid out that chronological transitions are almost seamless. A story is how you tell the facts. It is all about style and empathy with the listeners.
In Portuguese we use the same word (história) for both. Ken has that unique capacity to write history in a way that readers may also enjoy as a good story. Thus you can read the book from the intended perspective centered in England, or from a personal point of view anywhere in the world.
As the reading progressed, and I got immersed in the history of KEF, I recalled facts that I had witnessed myself, emotions being triggered by photos that brought back memories of my intimate relationship with KEF, both as a consumer and reviewer. I had no idea how important KEF had been in my audiophile life until now, thanks to this most captivating book.
Suddenly I felt the urge to dive into the chaos of my archives searching for documents that might contribute with my own story to the collective history so passionately laid out in these pages.

I found hundreds of articles, tests, photos and videos related to KEF that would make for a follow-up of the book. But this is about Ken's work not mine. So I'll share no more than a few photos and videos with you in order to accommodate my own personal experience. Just one of the many possible thousands of stories from all over the world, each reader will no doubt mentally intertwine to the interesting 30 stories that contribute to the history of KEF.   Actually I cannot think of a single established brand in the world that wouldn't strive to be next in this wonderful and duly respected ongoing collection dedicated by Ken Kessler to the history of audio and its true heroes - from yester and today. All the three books already published are so well edited and lavishly documented and laid out that they feel, look and even smell good! This is a must have collection for anyone with an interest in the history of the audio industry, not only for the audiophile community.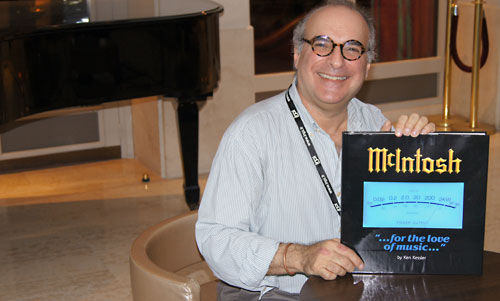 Ken Kessler showing his second book: McIntosh '... for the love of music...' (Paris 2011) 
KEF 50 YEARS OF INNOVATION IN SOUND is the third book of a series, an iconographic saga which started with the Quad family, was followed by McIntosh, and hopefully will continue with Wilson Audio and many others, so I am told.
The book has 20 chapters, seven appendices, including list of products, awards, bibliography and a thorough index which is very helpful for specialty consultation: driver and enclosure technology for instance, with more than a little help from Dr. Andrew Watson, who was Head of Acoustics and Technical Communications at KEF.
There's a profusion of photographs and the layout is outstanding. It follows the technological evolution of KEF by using each new product as a milestone to set the chronological pace, while some episodes are revisited by several of the 30 intervenients, who shed new light, occasionally in a sidebar, on a story already told.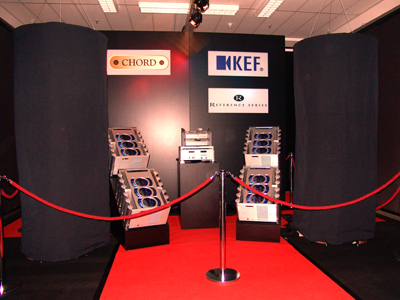 KEF Austin prototype loudspeakers were covered by black hoods suspended from the ceiling (Highend 2006, Munich)

Having witnessed it myself I particularly enjoyed Johan Coorg's 'Austin in Munich' episode. It was almost bizarre because in a Highend Show they wouldn't 'show' it to anyone. But I never take no for an answer and in the end I got my exclusive picture for HiFICLUBE. The loudspeakers were covered by a hood and the general attitude was: you can listen but you cannot look. As far as I can remember, the bass was impressive.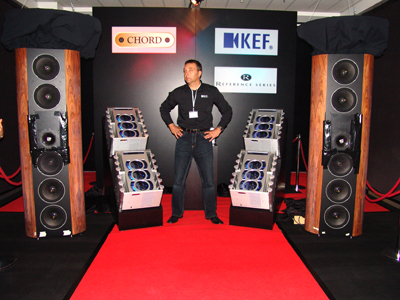 Johan Coorg playing the role of Austin Powers at the KEF Austin presentation in Munich driven by Chord monoblocks (Highend 2006)

I am proud to have been part of the special press mentioned by Andrew, and when I finally had the chance to peek under the hood, it all made sense: they looked outrageously ugly! Thank God they were just the instigation of what later became the Muon taking full advantage of Gold Peak investment…
The history of KEF is primarily the story of Raymond Cooke, whom I regret deeply never having met formally, although I have seen him more than once at the Pentashow. Cooke was a Royal Navy veteran and a gentleman who got his technical expertise in wartime, and later worked for the BBC and Wharfedale. KEF even suffered what today would be called terrorist attempts: fire and floods. Like Winston Churchill, Raymond Cooke never gave up.
The book opens with pomp and circumstance, at the Buckingham Palace, where Her Majesty the Queen is about to present KEF's founder, Raymond Cooke, with the medal of Officer of the Most Excellent Order of the British Empire, only 18 years after its humble inception, in 1961, at the Nissen Hut on the site of Kent Engineering and Foundry in Maidstone, where KEF Electronics was born, and ends with The Blade, a technical and industrial design tour-de-force, covering legendary loudspeakers (High Fidelity Loudspeakers, Ma'am, he dared to correct Her Majesty) like the LS3 5a and the innovative 105 which for the first time offered deep powerful bass in a domestically acceptable package.
In the beginning KEF created the KI Slimline
KEF LS3 5a is the most iconic model of all time in the audio industry
KEF Model 105.2 was a breakthrough that delivered powerful bass in a domestic package

The original KEF specialized in agricultural sprayers, hence probably Raymond Cooke's inspiration and quest for an 'organic' sound, pioneering the use of Fast Fourier Transform analysis. And yet, Cooke never lost his pragmatism, venturing on an ambitious program of large scale production of drivers and selling them to his competitors – I still remember the awesome B139 iterations used by Wilson Audio Wamm and SF Extrema.
Even I used KEF drivers in the age of DIY (see photos and videos below), which until now only seemed to be ages ago, and yet, feels so present again, thanks to Ken Kessler's remarkable and unconditionally recommended work, a most wonderful journey into the past and present of KEF and…mine.
Thank you, old friend!...
 
                   MY KEF STORY WITHIN THE HISTORY OF KEF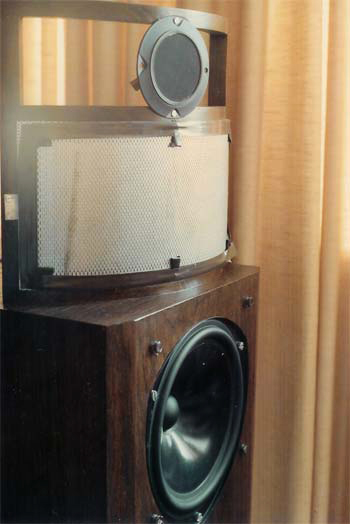 JVH ELS HYBRID ONE    
In the eighties I used to build my own equipment. The driver array of the loudspeaker  in the photo above comprised a Schackman electrostatic driver, a piezzo-electric tweeter and KEF B200G mid-bass loaded by a quarter-wave Bailey transmission-line. For the crossover I had a little help from Ben Duncan. I later sold them. The guy, alas, passed away in the meantime but the JVH One are still alive and kicking...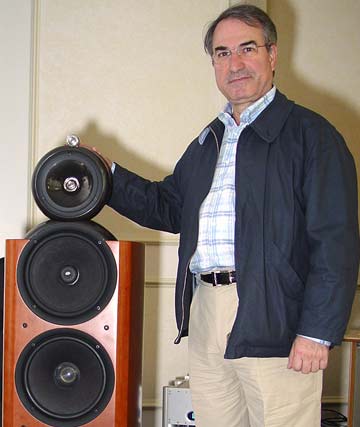 Eduardo Rodrigues and KEF 207 Reference    
Eduardo Rodrigues (a good friend of mine) was for many years the best KEF salesman ever in Portugal and the best 207 salesman in the whole of Europe!
He always bought for himself one of the first pairs of any Reference Model since the 105. This particular pair of 207 has a golden plaque with his name on it as a token of gratitude from KEF.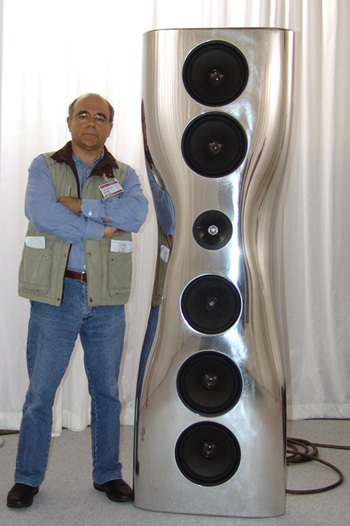 My first encounter with Muon (Munich 2007)
At the Muon world premiere in Munich (2007) KEF did the vanishing act again, hiding it behind a maze of white veils. All you had to do was finding the entrance. Follow me...
My latest encounter with Muon (Ultimate Audio, Lisbon, Portugal 2011)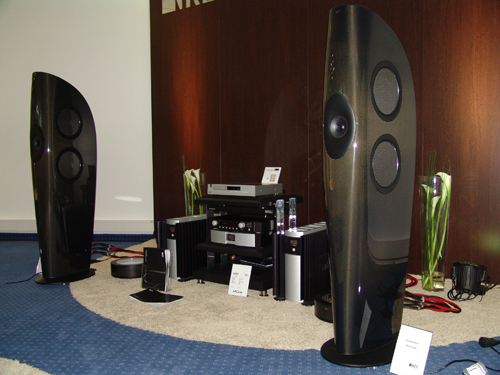 The original (not for sale) Blade in carbon fiber (Munich 2009)
The original Blades performing live in Munich 2009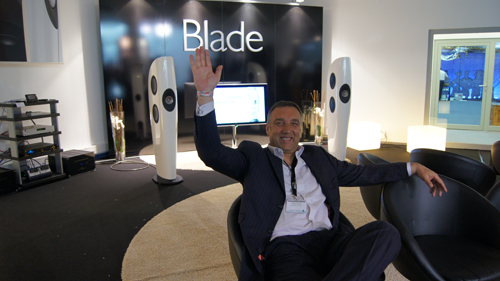 Johan Coorg: Hi, José, now you can buy the Blades!... (Munich 2011)
KEF Blade (glassfiber version you can now buy) presentation in Munich 2011